Find some cute and amazing first birthday ideas for your newly appointed 1-year-old!
Are you gearing up for your little one's first birthday?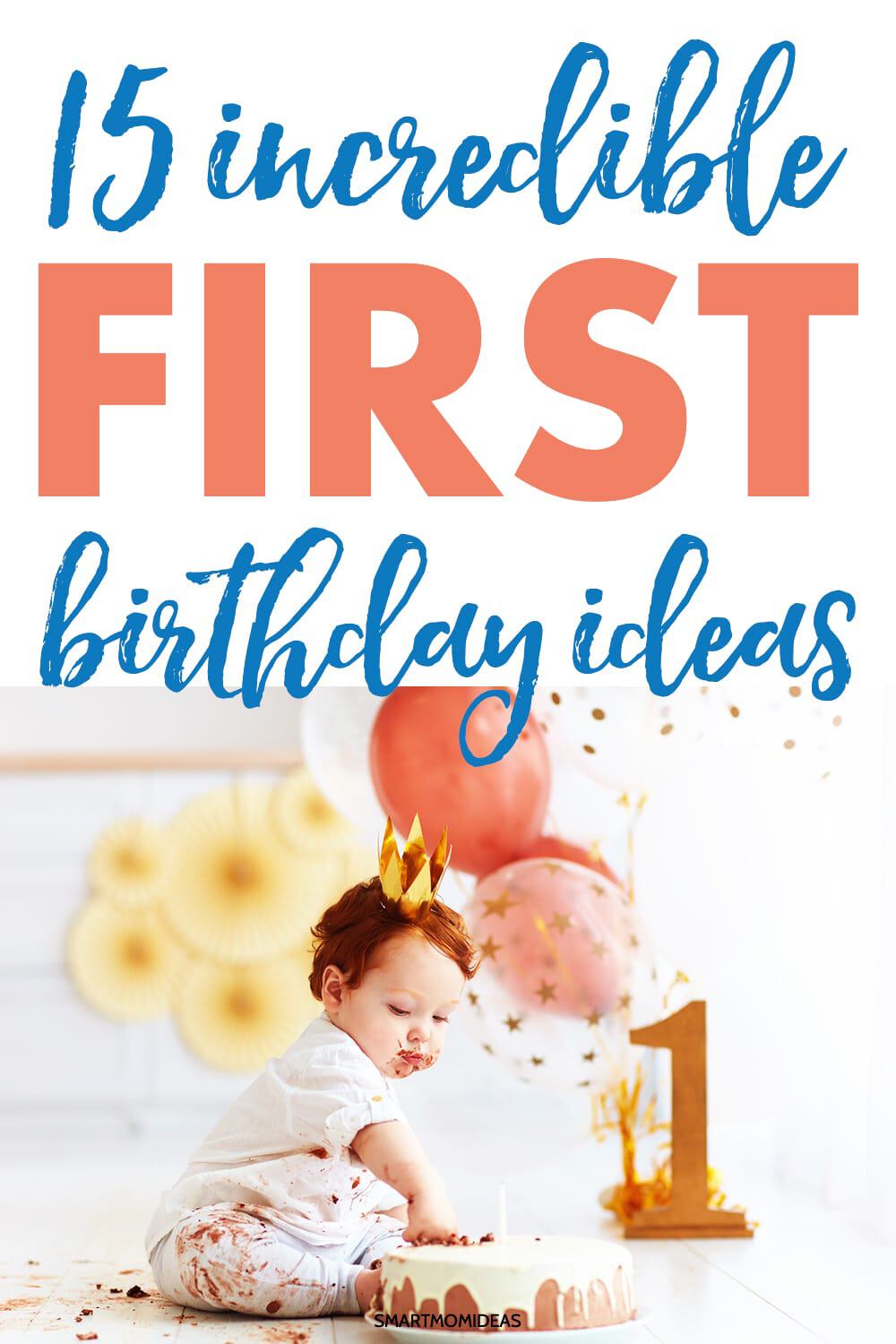 A baby's life is full of firsts: First steps, first words, first foods.
Each milestone deserves to be celebrated, but having your baby's first birthday party is a special occasion.
While each birthday should be memorable, your kiddo will only have their first birthday once!
You can make their first birthday incredible with the following amazing ideas! The best part? You don't have to break the bank to throw a unique and fun-filled event.
Here are some great first birthday ideas on Pinterest and Instagram that are sure to create an event you and your guests will never forget:
15 Incredible First Birthday Ideas:
1. A Year in Photos
Use this perfect photograph display to remind guests just how much your little one has grown during their first year!
This photo frame will also make an amazing keepsake as well.
2. Time Capsule
During your little one's first birthday party, have guests write a short note to place in a time capsule.
Have your child open it when they turn 18. What an awesome reminder of how awesome they are!
3. Decorate the High Chair
Your baby deserves a seat of honor at this first birthday party, so why not decorate his or her highchair for the occasion?
It'll make a great photo-op too!
4. Personalized Thank You Cards
Show your guests your appreciation by stamping your baby's hand or foot on blank thank you cards.
Be sure to use non-toxic, child-friendly paint.
5. Have a Smash Cake
Your little one will only turn 1 once, so why not let him or her smack into a delicious birthday cake!
It doesn't have to be elaborate – just a small cake your baby can dig their little hands into to get a bit messy.
Make it cute for photo ops by decorating it with adorable cake toppers!
6. Decorate a Teepee
Decorating a teepee or tent with birthday decorations is another great way to create some beautiful photo ops.
Plus, your little one will enjoy playing in their tent even beyond their birthday party!
7. Serve Cupcakes
Calculating the guest-to-cake-size ratio can sometimes be a hit and a miss. Why not take the guesswork out of birthday cake by serving each guest with their own cupcake?
Baking cupcakes is super easy and decorating them is a snap with a cupcake decorating kit.
8. Pick a Theme
Your little one may not have any defined interests yet, but you can always choose a theme for their first birthday.
This makes choosing colors and decorations much easier!
Whether your kiddo is into dinosaurs or princesses, there are a variety of themed birthday decorations you can buy all in one pack.
9. Have a Play Center
Whether or not you have other little ones crawling around the birthday party, you will need activities to keep the kiddos busy.
While your baby is the center of attention, he or she will need some distracting during the event.
You can set up some age-appropriate toys on a mat or grab a ball pit for hours of fun!
10. Birthday Duds
You don't want your little one running around in their birthday suit, but you definitely want to get them dressed up in some special birthday duds!
While tutus and hair bows are perfect for little girls, boys look equally adorable in suspenders and bow ties.
You can also dress your little one a bit more neutrally by choosing printed tees.
"Wild One" seems to be a popular phrase to describe first birthdays and is available in many different styles.
11. Unique Party Favors
You can send your guests off with a traditional treat bag, or you can offer them something more unique and memorable!
Plant some seeds in small terracotta pots and let your guests nurture them and help them grow – just like they nurture your little one and help them grow!
12. Donut Bar
A cute alternative to serving cupcakes in lieu of cake is to offer guests a donut bar!
Use these wooden donut stands to hold and display a variety of donuts.
You can opt for a large selection of flavors and have the donuts decorated to match your child's birthday theme.
13. Adopt a Pet
You want to make sure you have something fun and exciting for the younger guests to take home at the end of the party.
Again, treat bags are a common tradition, but you can offer something more unique by allowing your little guests to "adopt" a pet.
Simply place some small stuffies in a basket and allow your guests to choose their pet. They can spend the rest of the party taking care of them and playing with them before taking them home!
You can match the stuffies to the party theme. For instance, if the theme is dinosaurs, you can offer these super cute dinosaur stuffies.
14. Decorate the Yard
Let your guests know where the party's at by decorating your front yard!
You can use birthday banners and balloons, but why not don your yard with pinwheels? The bonus: You can let guests take a pinwheel home!
Or invest in an air dancer to celebrate your little one's first birthday. You can use it for everyone's birthday each year.
15. Create a Facebook Group/Event
While this is commonplace for organizing birthdays and other events, having a Facebook group or event is helpful not only in keeping track of attending guests but for sharing photos as well.
Have your guests take lots of pictures and share them to the group/event. You can then go in and save the photos to add to your collection of memories.
It's an easier way to organize photos instead of having guests send them to you via Messenger or SMS – this keeps them all in one place!
It's Time to Celebrate!
Every moment of your baby's life is precious, but having an incredible first birthday party should be a significant event to remember.
Just remember that you don't have to spend a lot of money to make this happen! It's all about creating memories, not being impressive.
When your kiddo looks back at the photos and keepsakes of their first birthday, they won't care how fancy it was. They will appreciate the care and effort you put into this special day.
And, if you need some gift ideas, check out my post on first birthday gift ideas!
Your turn! What are some of your first birthday ideas? Add them in the comments below!