Amazing and fun fidget toys that actually calm your kids
Is your child obsessed with fidget toys?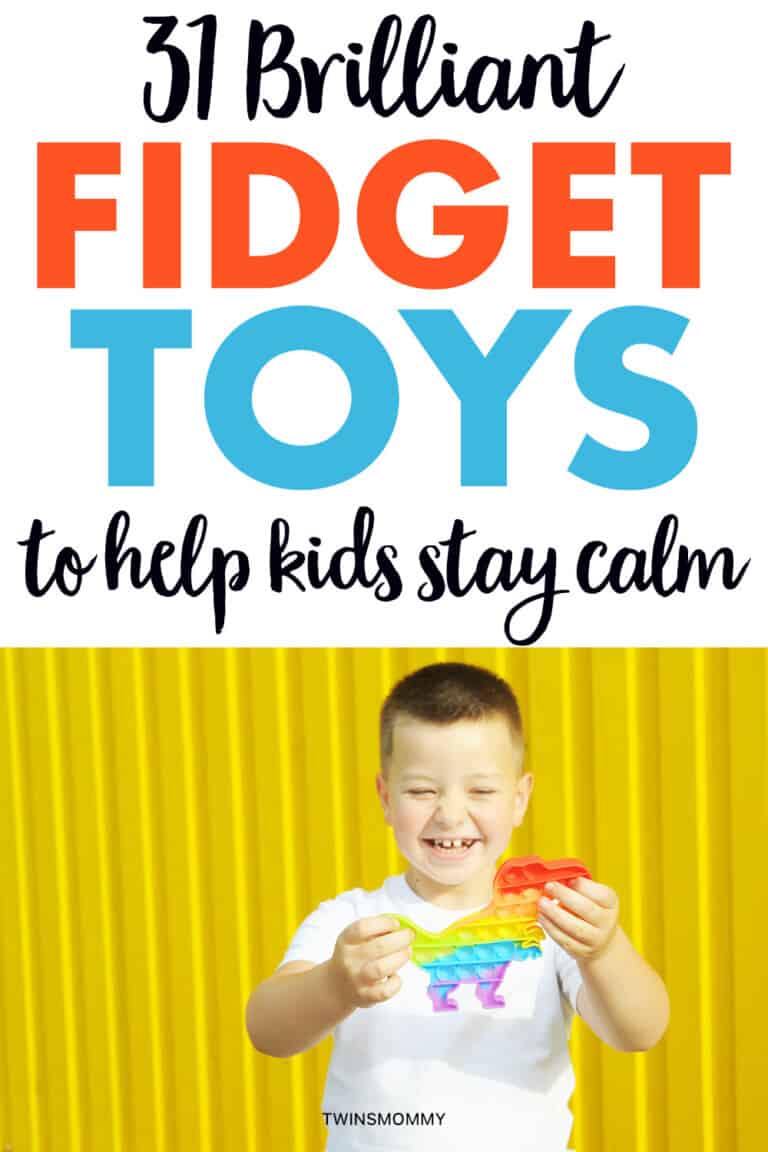 In the past couple of years, I've seen them everywhere!
Hanging from bookbags, around necks, and in the hands of little ones.
But are these fidget toys just a passing fad when it comes to toys?
It doesn't seem to be. In fact, fidget toys are proven to help kids stay calm and focused, especially in school or if your little one has anxiety.
And I can't argue with a toy that helps with a child's development!
If you're thinking about grabbing up some fun fidget toys for your little one, this list has some insanely fun fidget toys you should check out on Amazon.
But first, let's look at what fidget toys are and how they help children stay calm.
What Are Fidget Toys and How Do They Help?
Fidget toys are small toys or objects that help kids self-regulate and improve their focus and attention as well as help calm them down.
Fidget toys come in all different shapes, textures, and sizes but they all have one thing in common: They promote tactile input and movement.
These toys have become super popular over the past couple of years because parents and teachers are finding that using them helps to enhance a child's learning.
According to science, movement helps with learning because it requires the child to use both sides of their brain.
What's great about these toys is that they are small and non-intrusive.
They can be used quietly without disrupting the rest of the class!
Apart from using them in school, they are also great for situations in which a child feels tense and anxious. The constant movement and different textures help to regulate their systems and calm them down.
Plus, they are really cute and fun to collect.
And, with different styles to choose from, you're sure to find one that your child thoroughly enjoys using!
The Best Fidget Toys on Amazon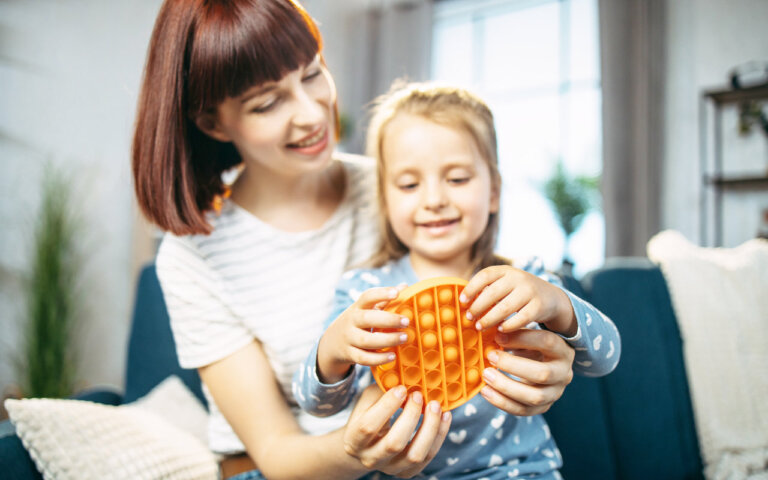 Pop It Fidget Toys
It seems that nowadays kids are collecting pop it fidget toys like I used to collect slap bracelets!
It's not surprising since this type of fidget toy is fun, colorful, and extremely relaxing for kids.
1. Penguin Dimple Pop It Fidget
This keychain-style dimple pop fidget toy it is small and easy to carry around. Instead of a full surface of poppable bubbles, this one only has one but can be effective when it comes to helping your child stay calm.
2. Mickey Mouse Pop It
The great thing about fidget toys is that you can find pretty much any character you want! There are a variety of Disney fidget toys on Amazon, including this Mickey Mouse pack.
3. Pop It Phone Case
If your child is old enough to have a phone, you can get a pop it phone case!
These work as protective phone cases but also provide your child with stress relief wherever they go.
This is the one my daughter uses and she loves it!
4. Pop It Purse
Pop it fidget toys are versatile and I love this little pop it purse!
Your child can use it to store stores and other treasures while having a calming activity on hand when they are out and about.
5. Pop It Puzzle

Why not combine the calming effects of a fidget toy with something that will keep the brain busy?
This pop it puzzle will provide movement and sensory input to your child while they concentrate on putting the puzzle together.
6. Pokemon Pop Its
Do you have a Pokemon fan in your home? This show is still very popular among children of all ages and you can get these Pokemon fidget toys on Amazon.
This one includes Pikachu, Bulbasaur, Charmander, and Squirtle.
7. Dinosaur Pop Its
Delight your dinosaur-loving child with this pop it fidget toy that includes a super cute T-Rex and Triceratops.
Oh, and did you know you can make games out of pop it toys? If you have two pop its, have a race with your child to see who can pop all of the bubbles first!
8. Pop It Ball
I thought this was a really cool pop it fidget toy.
Instead of a flat surface, this pop it is round so your child can also squeeze it or knead it like a stress ball.
Fidget Spinners
I remember when fidget spinners came on the scene – almost every kid had one! While you don't see them as often anymore, they still make for a great fidget toy.
9. Classic Fidget Spinner
Here's a classic fidget spinner – nothing fancy.
Your child can hold it between their fingers or sit it on a surface and spin it for comfort.
10. Magnetic Fidget Spinner
Of course, fidget spinners have upped their game over the past couple of years.
This fidget toy is one is really cool because it's three magnetic rings that spin around and it's a bit less distracting than the classic spinner model.
11. Harry Potter Golden Snitch Spinner
For the Harry Potter fan, check out this Golden Snitch fidget spinner!
This spinner is lightweight, compact, and great for children aged three and up.
12. Super Hero Fidget Spinners
These superhero spinners are great for Marvel fans and are a perfect way to help your child focus and feel calm.
This set comes with a Spiderman, Captain America, and Ironman spinner.
13. Robot Spinner Toys
Honestly, I am impressed with this fidget spinner!
Not only does it spin but it also transforms into a twisty-limbed robot. How cool is that?
14. Fidget Spinner Dimple Combo
This fidget spinner combines the anxiety-reducing benefits of spinning with the calming effects of popping. These can be spun or your child can pop the dimples to help them relax and focus.
Fidget Cubes
Fidget cubes are neat little fidget toys because they offer different activities to keep little fingers busy such as pushing buttons and sliding switches.
15. Infinity Fidget Cube
Okay, so this one doesn't have any switches, knobs, or buttons but it's enough to keep your child's hands busy so they can calm themselves.
With this style of fidget cube, each rube can be moved in different angles and directions to make a variety of shapes.
16. 12-Sided Fidget Cube
This 12-sided fidget cube offers all of the calming activities of a regular cube but with more sides! It features toothed gears, a gel ball, joystick, finger massagers, and more.
17. Classic Fidget Cube
When we talk about fidget cubes, we can't forget the classic! This portable fidget is perfect for helping your little one stay focused and calm.
18. Rounded Fidget Cube

This rounded fidget cube's shape makes it a bit easier to hold than its squared counterpart.
And it's worth mentioning that fidget cubes are great for grown-ups too! Seniors can use them to improve their manual dexterity and adults can use them to break bad habits.
Fidget Jewelry for Kids
Who says fidget toys can't be stylish? Check out these pieces of fidget jewelry that your kiddos can wear all day long:
19. Pop It Bracelets
If you're worried about your little one losing their pop it, you can always get them this bracelet style. This way, they can wear the pop it and use it to stay calm all day.
20. Sensory Chew Necklace
Sometimes it's not hands that need to keep busy in order to stay focused.
Many children have oral-sensory issues and need to chew to stay calm.
These sensory chew necklaces are made of 100% safe food-grade material and are recommended by the Canadian Association of Occupational Therapists.
21. Hermione Time-Turner Necklace
I promise I'm not Googling Harry Potter fidgets! But for older kids who want to look stylish, this necklace is an elegant way to provide a fidget throughout the day.
22. Pop It Rings
These pop it rings have a windmill design that allows them to rotate along with the bubble pressing feature. It's a great wearable design for kids who need to calm down and self-regulate throughout the day.
Other Cool Fidget Toys
Fidget toys come in all shapes and sizes! Here are some other cool fidgets you should definitely check out:
23. Marble Fidget Toys
Marble fidget toys are really cool because your child can squeeze, bend, fold, or slide the marble back and forth. They're made with high-density nylon so the marbles won't pop out.
24. Classic Tangle Toys
Classic tangle toys allow your child to twist and turn the pieces to improve their concentration and help them feel calm. If the pieces come apart, they can easily be put back together.
25. Wacky Tracks
I couldn't resist adding these wacky track toys to the list!
It's similar to Tangle toys but adds a different feel and texture when playing with this fidget toy.
26. Mini Skateboard Fidgets
I remember when finger skateboards were popular among kids – and now they're making a come back as fidget toys!
27. Magic Beans Fidget Toy
This magic beans fidget toy features two modules that can be rotated to move the magic beans. This fun little toy will help calm your little one as well as promote thinking and hand-eye coordination.
Fidget Packs
Again, collecting fidget toys is just as cool as collecting slap bracelets were back in the day! Check out these cool fidget packs that include a variety of fidget toys:
28. Pop It Purse and Fidget Pack
I talked about the pop it purse earlier in this list, but I love this one because it comes with fidget toys that can be stored in the purse!
There are also some neat little squishy toys to provide your child with calming textures.
29. Pop It Bookbag and School Fidget Pack
I love fidget packs with a theme! This one includes a pop it bookbag to store all of the school-themed fidgets.
30. Unicorn Fidget Pack
This unicorn fidget pack features all things cute! These would also be a great goody bag toy for a unicorn birthday party!
31. Video Game Fidget Pack
I love this video game fidget pack that includes dimple controllers, finger skateboards, and a pop it Nintendo Switch! This pack comes with 50 pieces.
Fidget Toys and Safety
While fidget toys are fun and practical, it's important to keep your child's safety in mind when giving them one.
For instance, the United States Consumer Product Safety Commission (CPSC) recommends that you do not give fidget toys to children under the age of three.
This is because some fidgets have small pieces that can present a choking hazard. In fact, children up to the age of 14 have been known to choke on these small pieces.
To make sure your child is using their fidget toy safely, be sure to teach them not to put fidgets with small parts near their mouth – especially spinners.
Otherwise, pop its are generally safe as long as they are made from food-grade materials. Just make sure your little one doesn't chew on them.
If they tend to chew, opt for a sensory chew toy instead.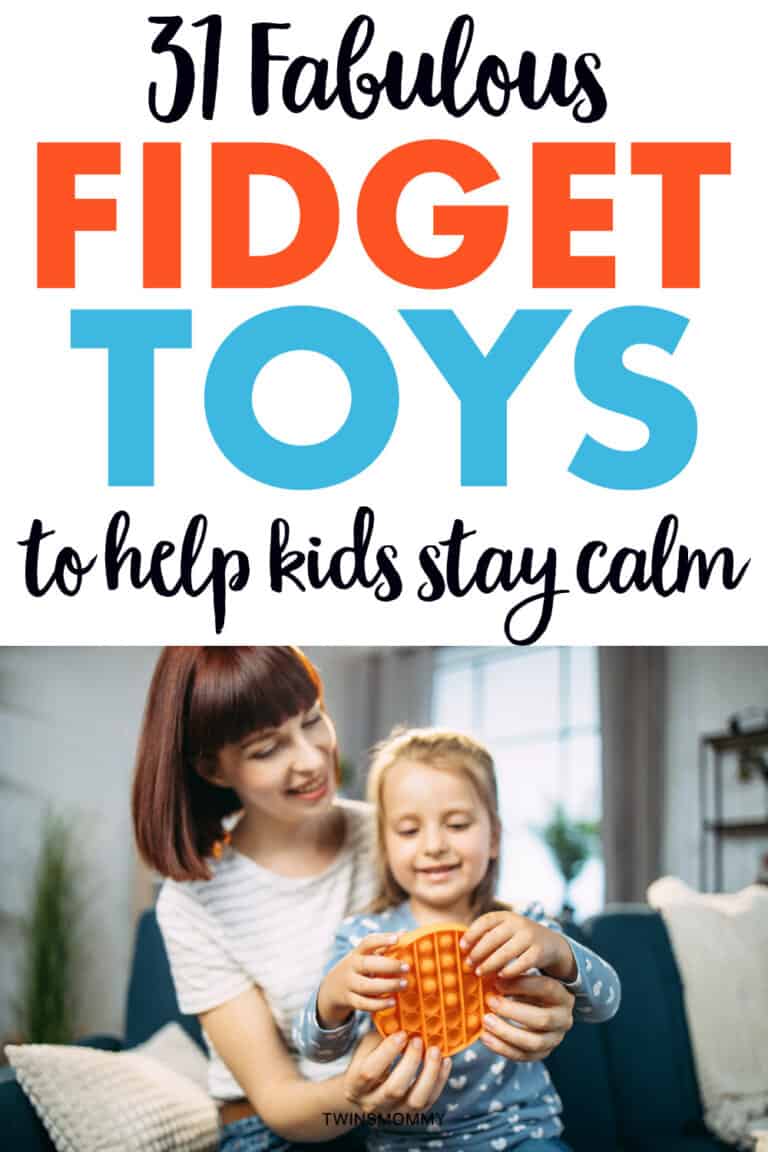 These cannot be chewed apart.
Also, if your child wants to take their fidget to school, check with the teacher first.
Although fidgets are great for helping your child concentrate, the school may have certain rules regarding their use.
Fidget Away!
Fidget toys are not limited to kids who can't pay attention during the day.
They are a great toy for all kids to help them stay calm!
Just be mindful of your child's age when choosing a fidget for them to play with.
So be sure to check out these fidget toys from Amazon and let me know in the comments if there is a fidget toy your child absolutely loves!
And don't forget to pin this list for later!