Find some amazing newborn toys to help your little one have the best development!
When was the last time you walked through a toy aisle or scrolled through infant toys on Amazon?
There are SO MANY options!
Where the heck do you even start?
From every type of stuffed animal you could imagine to things that light up and make noise (that for some reason don't have an off switch!)
While it might seem that with an infant at home, all you are ever doing is feeding, changing, rocking to sleep, and repeating. You might be asking yourself, when is the best time to start to work on developmental skills?
Well, it's never too early to start to stimulate those little brain cells.
Even with tiny babies, there are things you can do to engage them and promote physical, social, and emotional development.
Not only does sensory play help to stimulate your baby, it also helps to build that bond between baby and their caregiver.
Even when they aren't actually playing, babies are still taking in their surroundings and being stimulated through sights, sounds, and touch.
By choosing infant toys for development, you can maximize the times they are awake and set them up for success with early learning concepts.
Even newborns can benefit from developmental toys.
Which is exactly what we are going to talk about here.
The Best Types of Developmental Toys for Newborns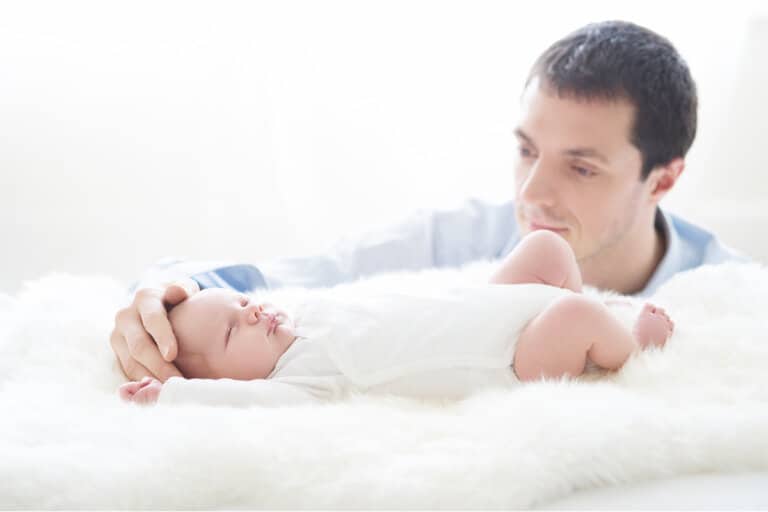 While they won't be rolling balls around at this point, there are a couple different types of toys infants can benefit from.
Activity Mats
There are so many different types of activity mats for babies of all ages. For newborns, you'll want to look for ones that have toys hanging from them that they can look at. Bonus points if they light up and make noise. Just be aware that these should be minimal and aren't too jarring, you don't want to overstimulate and make baby fussy.
Toys that Play Music
Your baby is never too little to listen to music. Playing calming music can help to soothe a fussy baby and promote brain development. Not to mention, it might also help mama to relax.
Mobiles
Again, anything that hangs overhead of them that they can look at is going to help promote visual stimulation. This can be in a bouncer, attached to their cribs, or hanging from an activity mat.
Newborn Toys for the Best Development
There are many infant toys that are high-contract and come in black and white, this is not for your home aesthetic (although that's a bonus), it's because babies can't see color until about three months of age. Furthermore, within the first three months, babies can only focus on things that are 8-11 inches away. That's roughly how far away a mother's face is to her baby when she is nursing.
1. The Play Gym by Loverly
This versatile playmat is great for babies from newborn on up. It includes three toys that hang from the wooden legs and lots of textured fabrics. The mat includes five Montessori-inspired areas to promote physical, visual, motor, and cognitive development.
Easy to put up and take down, the play gym includes removable staged based learning accessories with interchangeable learning card sets. This gym is the perfect way to start them out on tummy time while promoting physical and mental development.
2. Mind Cubes
These high contrast, soft cubes are great for promoting visual stimulation in baby. From the makers of the original black and white development toys, these cubes include designs that range in color and complexity to promote visual development.
These three by three inch blocks are made specifically for little hands to hold. Even newborns can easily clutch them and feel their texture.
3. High Contrast Flash Cards
Newborns do a lot of laying around. Be sure that they are visually stimulated with these high-contrast flash cards. Help baby to boost brain development and concentration through visual perception.
The cards come attached on a ring so you can easily attach them to any other number of baby accessories and toys. It even includes a parent guide to help get the most out of play with your newborn. Lay them on the ground during tummy time or show baby and talk to them about the images on the cards.
4. Tummy Time Floor Mirror
Even from the very beginning, babies love to look into mirrors. This baby safe mirror is great for newborns for a few reasons. It's made from soft, yet durable materials. It's a multifunction toy that promotes development at several learning levels. You can use it in the crib, on the floor, and even pack it in the diaper bag for easy travel.
This floor mirror helps to promote tummy time, which helps to build strong leg and neck muscles. Giving tummy (or side) time early on also helps to prevent a flat head.
And when baby starts to stick things in their mouth, there is even two teething toys attached to the mat.
5. Sock and Wrist Rattles
Babies love to listen to the pleasant sound of things shaking. These wearable shakers promote hearing development and will encourage them to start making their own sounds. Whether laying around the house or out on the go, these sock and wrist rattles are sure to keep your little one entertained. Perfect for little wiggle worms.
6. Baby Bunny Soother
Your baby lives in a noisy environment when they are in utero. Think about it. Not only can they hear you talking, they can also hear everything else that goes on within your body, including your heartbeat.
This baby bunny soother has a cry activator that helps to soothe and relax baby. Rather than having to push the button to turn it back on every few minutes, it will automatically turn on via a smart sensor. There are several different soothing sounds to choose from, mother's heartbeat, white noise, and lullabies. It even includes a red light on the foot for a calming glow.
7. Montessori Baby Crib Mobile
Give baby something to stimulate them while in their crib with this high-contrast black and white crib mobile. A wonderful way to engage and stimulate baby when they are just starting to wake up. With a battery operated music box, your baby will have both visual and musical stimulation.
8. Baby First Soft Activity Cloth Book Set
It is never too early to start reading to baby. These durable books will last far beyond their first developmental stages. With a set of two books, you can choose from faces, babies, and things they will discover out in the world. Each book includes the high-contrast black and white with pops of bright colors and tags for touching and chewing on. Early reading is a great way to bond with baby and stimulate their key skills.
9. Classic Wooden Rattle and Teether Toy
As soon as baby can start grabbing and putting things in their mouth, they are going to love this toy. Made from wood rather than plastic, it's a good sized and lightweight infant toy. This toy doubles as a teether and a rattle and will help baby to develop fine motor skills as well as color recognition. The large beads on there move back and forth and make it easy for tiny hands to grab.
10. Rattle and Sensory Teether Toy
This sensory rattle and teether toy is on all of the top toy lists for newborns and infants. It's made up of soft BPA-free tubing for tiny teethers and perfect for little hands to grip. This lightweight and colorful toy is perfect for promoting two handed play. It includes a soft square in the middle with a pleasant rattling sound to promote auditory development as well.
11. Mommy and Me Fabric Activity Scarf
This is a great toy to take on the go with baby. Mommy can wear it while out and about, at the store, chatting with friends, or just hanging out around the house. It includes the high-contrast black and white colors for early visual development and lots of fun things for baby to play with.
The end of the scarf includes different colored and textured tabs that are large enough for even tiny babies to grab onto.
12. Yoee Sensory Toy and Teether

With newborn toys it's all about sensory, color, and sound. This adorable sensory toy is perfect for promoting play with parents or older siblings. Use the sensory tail to gently rub baby's face and tummy for a pleasant experience that will have them cooing and smiling. The Yoee is actually a 5 in 1 toy that includes a rattle, teether, sensory tail, crinkle sound, and a stuffed animal.
13. Hanging Rattle for Car Seat
Even from the moment they open their eyes, babies are taking in their surroundings. Be sure they have something to look at while traveling around in their car seat or stroller. There are many different kinds of these toys available with many different designs and attached toys for baby to play with. With its versatile spiral design, you can even attach it to the side of a crib.
It's never too early to start promoting your child's developmental stages with newborn toys.
Over to You
What newborn toy are you excited to give to your new baby?
These baby toys are full of joy and can make for lasting memories for those few months they are immobile and watching your every move!
Tell me in the comments what newborn toy your little one loves!
Please pin me!