Check out these best bras for pregnancy that are oh so comfy and supportive!
With so many changes happening with your body during pregnancy, don't forget about your boobs!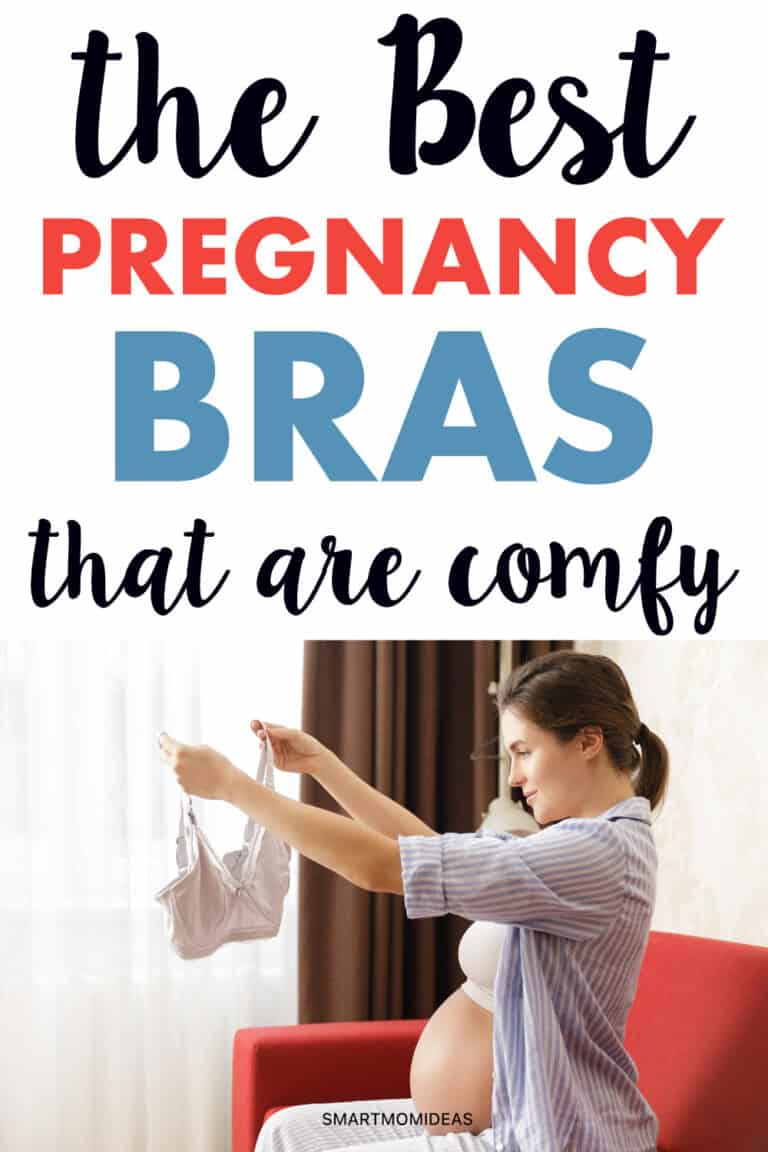 Your breasts are also experiencing a lot of changes as they gear up to produce breastmilk and need ample comfort and support.
Having the best supportive bras for pregnancy will help relieve breast discomfort and back pain and prevent sagging!
You may be tempted to stick to your tried-and-true collection of bras, but many common styles (such as those that have underwires) are not appropriately designed for your breasts during pregnancy.
Luckily, you can always get a pregnancy bra!
Pregnancy bras come in all kinds of shapes and styles.
From sleep bras to nursing bras, there are a lot to choose from.
But don't worry!
I have a list here with a bra for everyone!
From bump to baby, here are the best bras for pregnancy.
The Different Types of Maternity Bras & How to Choose the Right One
If you're looking for a bra to wear during your pregnancy and postpartum, you're probably going to come across these three terms: maternity bra, pregnancy bra, and nursing bra.
Maternity bras are typically designed for only pregnancy and do not accommodate breastfeeding, while nursing bras do.
Pregnancy bras are designed to be worn throughout your entire pregnancy and after your baby is born to help with nursing.
Most of the time, however, these terms can be used interchangeably.
Most of the bras on this list are designed for nursing, but you can still wear them during your pregnancy.
Talk about getting more bang for your buck!
When choosing the best bras for pregnancy, look for ones that have no underwire (maximum comfort!), are soft and stretchy, have plenty of support, and fit during all three trimesters of pregnancy during breastfeeding.
Just try not to buy "normal" bras in bigger sizes.
The structure and fabric of normal bras are not designed to properly support your breasts and body during pregnancy and after childbirth.
Sound good?
Then let's get into the best bras for pregnancy!

Best Sports Bras for Pregnancy
Just because you are pregnant doesn't mean you have to slow down! If you want to keep up your active lifestyle and workout routines, check out these best sports bras for pregnancy:
1. Cake Maternity Maternity Sports Bra
This pumping bra is perfect for hands-free pumping but provides all the support you want and need from a sports bra.
There are no wires, and it is made of high-quality soft microfiber to provide the perfect fit.
2. Kindred Bravely Low Impact Maternity Sports Bra
This sports bra for pregnancy has an easy pull-on with no hooks or snaps.
It has a supportive elastic chest band and adjustable straps, making it a great bra for active moms-to-be!
3. Playtex Nursing Sports Bra
This super comfortable bra from Playtex has plenty of stretch and support so that it will grow with you during your pregnancy!
The breathable fabric will help keep your skin nice and cool, while the strap clips unhook easily for easy nursing.
Best Bras for Early Pregnancy
During your first months of pregnancy, seamless and wireless styles are probably the best bras for pregnancy during the first trimester.
Breast tenderness commonly happens during those early days, so make sure you have a comfortable bra that also keeps you supported!
4. Olga Wire-Free Contour Bra
The floating cups of this bra provide a flexible fit, and the seamless stretch provides comfort throughout the day.
It has a brushed inner lining – perfect for sore breasts!
5. Warners Cloud 9 Wireless Bra
This bra's smooth and invisible look means no underwires and a super stretchy fit.
This one is made of breathable fabric with a comfortable and supportive back design.
6. Bali Cotton Everyday Bra

Made of 95% cotton, this bra for early pregnancy is breathable, soft, and comfortable for all-day wear. The wide straps are adjustable for maximum fit and support.
Best Bras for Large Breasts During Pregnancy
It's no secret that your breasts will get bigger and sore during pregnancy. So what do you do when you are already a large-breasted lady?
These best bras for large breasts during pregnancy provide ample support, style, and comfort:
7. Gratlin Full Support Plus-Size Nursing Bra
This pull-on nursing bra is perfect for moms and moms-to-be with larger breasts.
The front drop-down cups also provide easy nursing access, and the underband provides ample support.
8. Kindred Bravely Simply Subline Nursing Bra
This nursing bra by Kindred Bravely is designed to support larger breasts while providing seamless comfort and style.
The adjustable straps and removable padding make it easy to create the perfect fit for your body!
9. Gratlin Nursing Bra with Lace Trim

Just because you're having a baby doesn't mean your bras have to be boring!
This style by Gratlin features a lacy top but still provides ample support for larger breasts and easy access to nursing.
Best Sleep Bras for Pregnancy
Wait a second!
Haven't we always been told not to sleep in our bras?
Fortunately, you can wear sleep bras during your pregnancy and even as you're breastfeeding!
The wireless design of these best sleep bras for pregnancy will provide comfort and support without affecting your health.
10. Suekaphin Sleeping Maternity Bras
This 5-pack of sleep bras features a wireless cup, adjustable straps, removable padding, and comes in some really beautiful colors!
They are designed to support your breasts both during pregnancy and nursing.
11. Hofish Seamless Maternity Sleep Bras
These sleep bras come in a pack of three and include bra clips and extenders!
These hook in the back but are made of a super soft material that will provide comfort and support while you sleep.
12. Motherhood Maternity Wrap Front Sleep Bra
This soft and wireless bra has a wrap front, making nursing access easier during the night.
Plus, they are supportive enough to wear during your pregnancy as well!
13. Lataly Sleeping Nursing Bra
These sleep bras for pregnancy have no underwire and cups that drop away from the breast for added comfort and support.
They have discreet nursing clips, making it easier to breastfeed in the middle of the night.

Best Nursing Bras
One of the keys to successful breastfeeding is allowing your little one access to your breast comfortably.
These best nursing bras are perfect, especially if you are nervous about nursing in public!
14. Momcozy Nursing Bra
I wrote an article about the amazing Momcozy wearable breast pump – but I didn't realize they make nursing bras as well!
This nursing bra is super comfortable and soft and features a one-handed breastfeeding clasp for easy nursing.
15.
GXXGE

Nursing Bras

Check out this 4-pack of nursing bras!

They have a v-neck style to better accommodate your wardrobe, along with a one-step feeding clasp to make breastfeeding a breeze.
16. Cluci Nursing Maternity Bra
This 3-pack of nursing bras is made with excellent elasticity to support your breasts and provide comfort while you are nursing your little one.
I love the cross-front design – you can use the one-step feeding clasp or simply slide the bra over to nurse.
17. Kindred Bravely Crossover Nursing Bra
Kindred Bravely's crossover nursing bra has an easy pull-on style with no hooks or snaps to worry about.
It also provides easy nursing access and includes removable padding for a customized fit.
Best Maternity Lingerie
Whether you are looking to feel more oo-la-la or are looking to do a maternity photoshoot, check out the best maternity lingerie:
18. Mommy Jenny Maternity Dress
This maternity lingerie dress is loose-fitting, stretchy, and made of breathable and comfortable materials.
It has a simple design but comes in some amazing colors!
19. Ziumudy Maternity Lace Dress
This maternity dress has stretchy waist edges to create the perfect fit and comfort.
It features scalloped eyelash lace and a beautiful floral pattern for your maternity photoshoots or romantic evenings.
FAQs About Bras for Pregnancy
1. Can I Wear My Regular Bras During Pregnancy?
For the most part, no.
Your breasts are going to change a lot during pregnancy as they prepare for breastfeeding, so it's best to avoid underwire bras and opt for more comfortable styles.
Another reason is that your body is going to change shape and size, so your regular bras may not fit as well or be as comfortable.
Wearing a bra will not prevent your breasts from sagging during pregnancy.
However, choosing a supportive and well-fitting bra can help reduce discomfort and pain caused by breast engorgement and growth.
The best supportive pregnancy bra will also help prevent your breasts from bouncing around too much, which can cause pain in your back and neck.
3. What Size Bra Should I Buy During Pregnancy?
It's best to wait until your second trimester to get fitted for a pregnancy bra.
Your breasts will continue to grow and change shape, so you want to make sure you get a bra that fits well and provides ample support.
Once you know your new size, it's also a good idea to buy a few different styles so you have options to choose from.
4. How Should I Buy a New Bra When Pregnant?
The best way to buy a new bra when pregnant is to get fitted by a professional.
They will take into account your new breast size and shape and find a style that fits well and provides ample support.
You can also ask for recommendations on the best type of bra to buy for your stage of pregnancy.
Support Your Girls!
There you have it!
Plenty of maternity bras for you to choose from that will help support your breasts during pregnancy and provide you with maximum comfort.
Pregnancy is hard enough on your body, so be sure to give yourself relief whenever possible!
Oh, and check out my article about hands-free pumping bras.
That's right! You can pump milk for your little one using a bra!
Now it's your turn – What kind of bra do you think would work best for you? Or was there a maternity bra you couldn't live without?
Let me know in the comments, and don't forget to pin for later!