Approaching trimester two? Congratulations! Get ready by gathering these top 10 pregnancy must-haves.
The days seem long and it's harder to get comfortable when you're carrying a little one in your tummy. Everyone says you have that gorgeous "pregnancy glow", but you just can't see what they're talking about.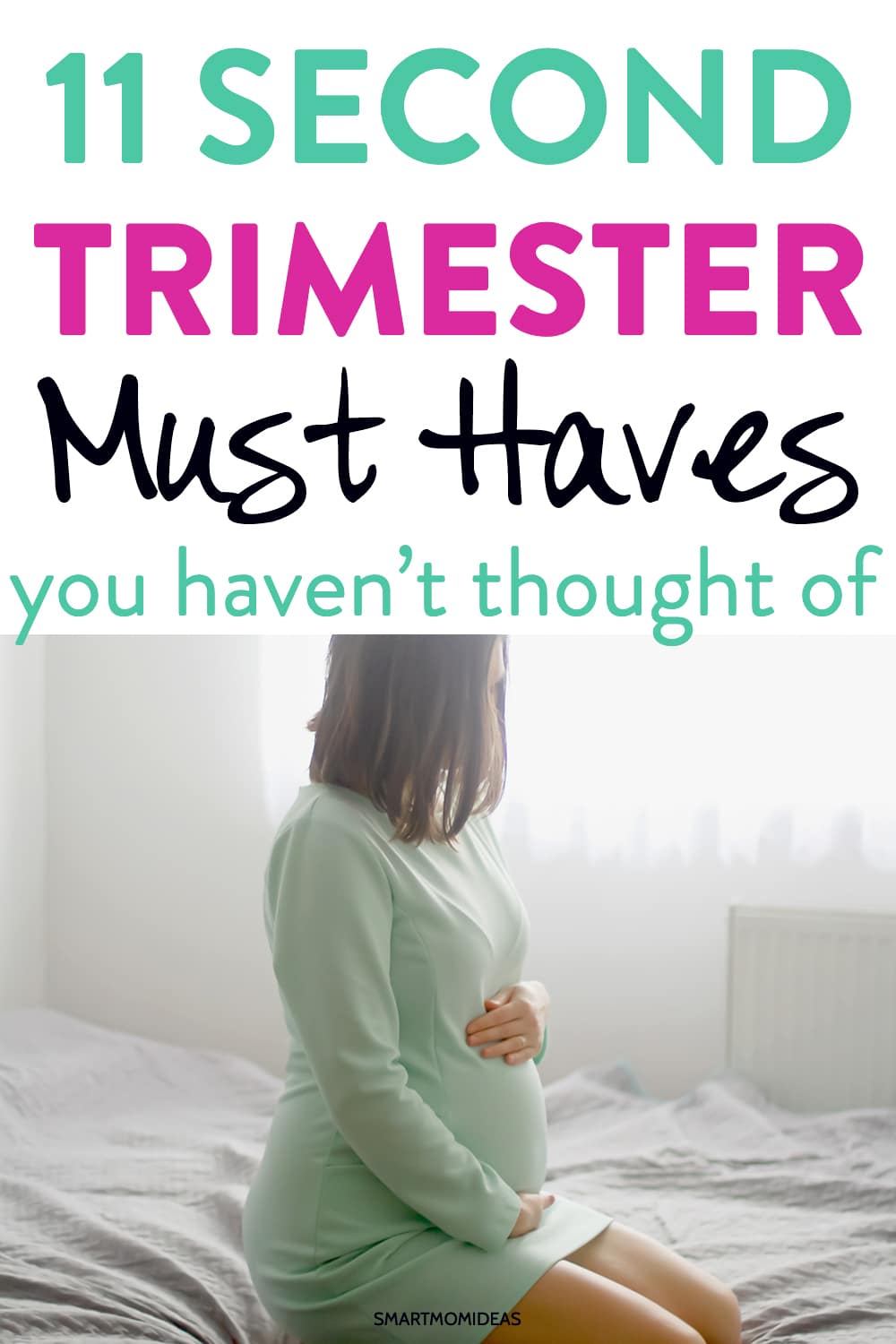 From the time of your first prenatal visit, your focus has been all about your baby.
While there's nothing wrong with that, these 10 must-haves have a lot more to do with you than baby. You deserve the special attention. The spotlight's on you, mama! 🙂
When's the last time you had a little TLC (tender loving care)?
The truth is… when you feel great, your baby feels great! You'll have a much better pregnancy experience if you're positive, in tune with yourself, and loving yourself well.
Here are 10 super amazing things you'll want to have in your second trimester.
1. EOS Lip Balm
This lip balm is seriously the best on the market. I kid you not. You'll fall in love with it just like I did. Chapped lips aren't cute or comfortable.
This lip balm is the best because it lasts long. It keeps my lips smooth for long periods. Plus, the flavors are incredible.
2. Journal
Journal your way through your pregnancy, mama. Even the tough moments that you want to hurry on by…write about them!
Think of it like high school. When you're a teenager, you can't wait until you graduate so you can take care of yourself, earn all of your own money, and explore everything life has to offer.
But eventually, every teenager realizes that adulthood isn't a bed of roses. It's tough! We look back from time to time at each stage of life's journey.
We look back at our yearbook photos, pictures from the school pep rallies, sporting events and all those memories from being in that stage of life.
Pregnancy is similar. You'll never go through this again (at least not in this pregnancy)! So write a little each day. It could be about how you feel, doctors visits and reports, or how you felt when your baby kicked for the first time.
But don't limit yourself to pen and paper. You might also want to mix in a 2-minute video of your journey from time to time. They tell the best stories!
3. Maternity In Soles
When aches and pains are coming from every angle, you'll be looking for someone to save you!
Back and foot support are going to be an essential factor if you want daily comfort. If you're on your feet for long periods due to a job, the last thing you want is to wear out your feet with cheap shoes.
Your shoe soles should support your weight gain and provide you extra relief.
4. Wireless Bra
Your breasts are getting bigger which means they need a little more breathing room. And there's nothing like a wireless bra to do the job.
The health perks aren't too shabby either. Choosing a wireless bra rather than a wired bra will positively impact your health in these ways:
Decreased risk of breast cancer
Reduced saggy boobs look
Provides more comfort
When I was pregnant, it was my comfy clothes and everything having to do directly with my body that made me feel at ease.
5. Dr. Teal's Therapeutic Soap
You can never go wrong when you fall back on your pre-made self-love kit to get you through those tough days.
Eucalyptus and spearmint Epsom Salt helps to relieve pain while relaxing your muscles. It's so soothing! One of the best tips I give to new mothers is to practice self care daily. Not weekly.
Once you have your baby, it actually becomes much harder to squeeze in the time for yourself.
Spending 30 minutes doing your hair and makeup seems like a dream.
So if you can master it now, it will be less overwhelming when you have to cut that time in half after your baby comes.
If you can focus on mastering this one objective, the months and years ahead will feel easier to get through.
6. Doula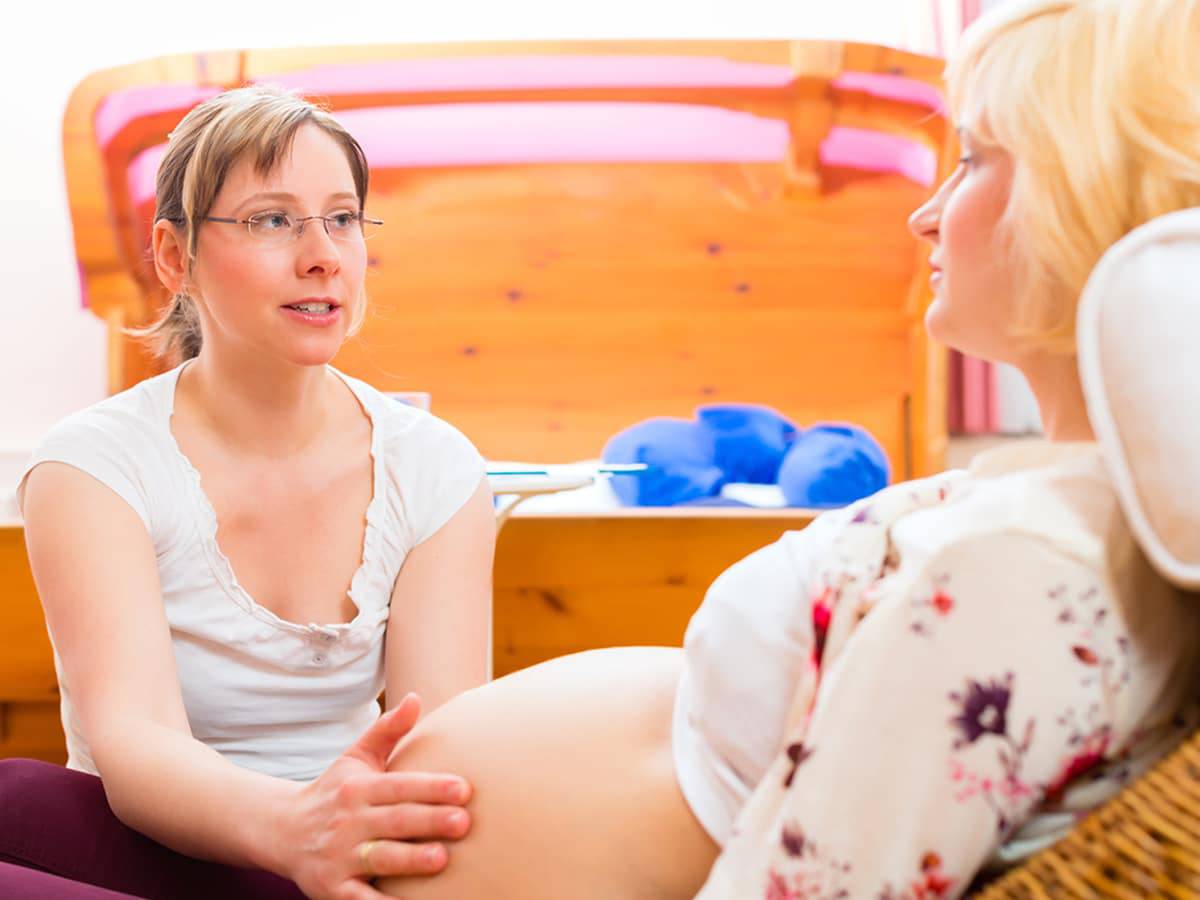 If you've decided to work with a doula during your pregnancy and delivery, now is the time to get all your ducks in a row.
You want to make sure you find her well before your third trimester as there are multiple steps you'll have to take before you hire her.
And that's aside from the onboarding process and paperwork she may need from you.
If you can get one, I would. Doulas really are amazing! They support pregnant mothers by providing valuable information they need to make choices relating to their labor and delivery.
These are just a few of the ways they can help you:
Create a birthing plan
Provide information about the labor and delivery process that you need to think about
Provide physical and verbal support and during the labor and delivery process
They are your advocate that will stand behind your personal convictions surrounding vaccines, cord clamping, and other important health decisions. Most doulas are well-informed about your rights and will step in when your doctors and nurses begin to pressure you.
Depending on where you live and your insurance plan, doula services can be pretty affordable. Don't be afraid to speak up and ask around in your personal network as well.
There are dozens of women looking to break in and get experience that may not charge you at all. Just make sure to do your research and be careful who you choose.
Doing a background check and conducting an interview is a smart idea. You need to choose someone you can trust because having them at your baby's birth is as personal as it gets!
This is yet another reason why you should begin looking for a doula before your third trimester, if possible.
7. Checklist for Your 2nd Trimester
There's a lot of preparation for birth you need to do now that you're in your second trimester (or soon to be!).
Your last three months of pregnancy are typically the toughest. You'll gain more weight than you did in the first six months.
If you're high risk, you need to consider obstacles that may arise which can cause a drastic change in your lifestyle up until the time the baby arrives.
So it's best to do most of what you can during trimester two.
Checkout my full checklist for trimester two!
8. Stretch Mark Cream
Pregnant moms always have the same burning question. Everyone of us wants to know why some pregnant mothers have tummies full of stretch marks while others don't get a single one.
I wish there was one clear answer I can give.
Generally, stretch marks appear when your skin is stretched too quickly.
Here are some things you can do to avoid getting stretch marks (or at least a lot of them):
Eat nutrient-rich meals
Drink lots of water
Maintain a large intake of vitamin C and D
If you do notice a couple of marks forming on your stomach, make sure to apply the cream right away. Be consistent in applying the cream even in the areas where you don't have them yet.
If your stomach starts to feel itchy (which is common in your first pregnancy), resist the urge to rub and scratch. Instead, use your cream to combat marks from settling in.
9. Loose Clothing
Pregnancy is already hard enough, mama. Looking and feeling your best will drastically shift you from those icky feelings we get from time to time.
We can't always put a finger on it, but we just feel annoyed or "off".
Make sure you have a beautiful selection of modest clothing ready for your second trimester.
Think about which types of clothes you'll be spending the most amount of time in.
Is it professional clothes for your job? Or will you be spending the majority of your time at home?
You might need:
Yoga pants
Work pants
Formal blouses
Dresses
Pajamas
Skirts
All maternity of course!
10. What to Expect When You're Expecting
If you haven't gotten your hands on this book yet, I highly recommend you do! Navigating through your pregnancy with expert guidance offers comfort and a valuable sense of security.
Learn all you need to know from one reliable source. Expert Heidi Murkoff shares information and tips on all things pertaining to pregnancy.
She answers all of your questions regarding health, nutrition, beauty, skin, working, exercising, your pregnancy sex life and much, much more!
What to Expect When You're Expecting reveals the answers to the questions you wouldn't think to ask but are totally relevant to a healthy, vibrant pregnancy!
11. Essential Oils
Do you find yourself just wanting to slip away? How about getting lost in a good book for hours or just needing to de-stress?
Is your mind racing as you rush from doing one thing to the next…everyday?! Sometimes we suffer mentally from living such a fast-paced life!
Create a relaxing environment whenever and wherever you want with essential oils! Smell definitely has an effect on how you feel.
Fragrances like peppermint are incredibly relaxing and can uplift your mood rather quickly.
Choose from any of these oils to help you get through any stress and anxiety lows you may be experiencing.
Second Trimester Must-Haves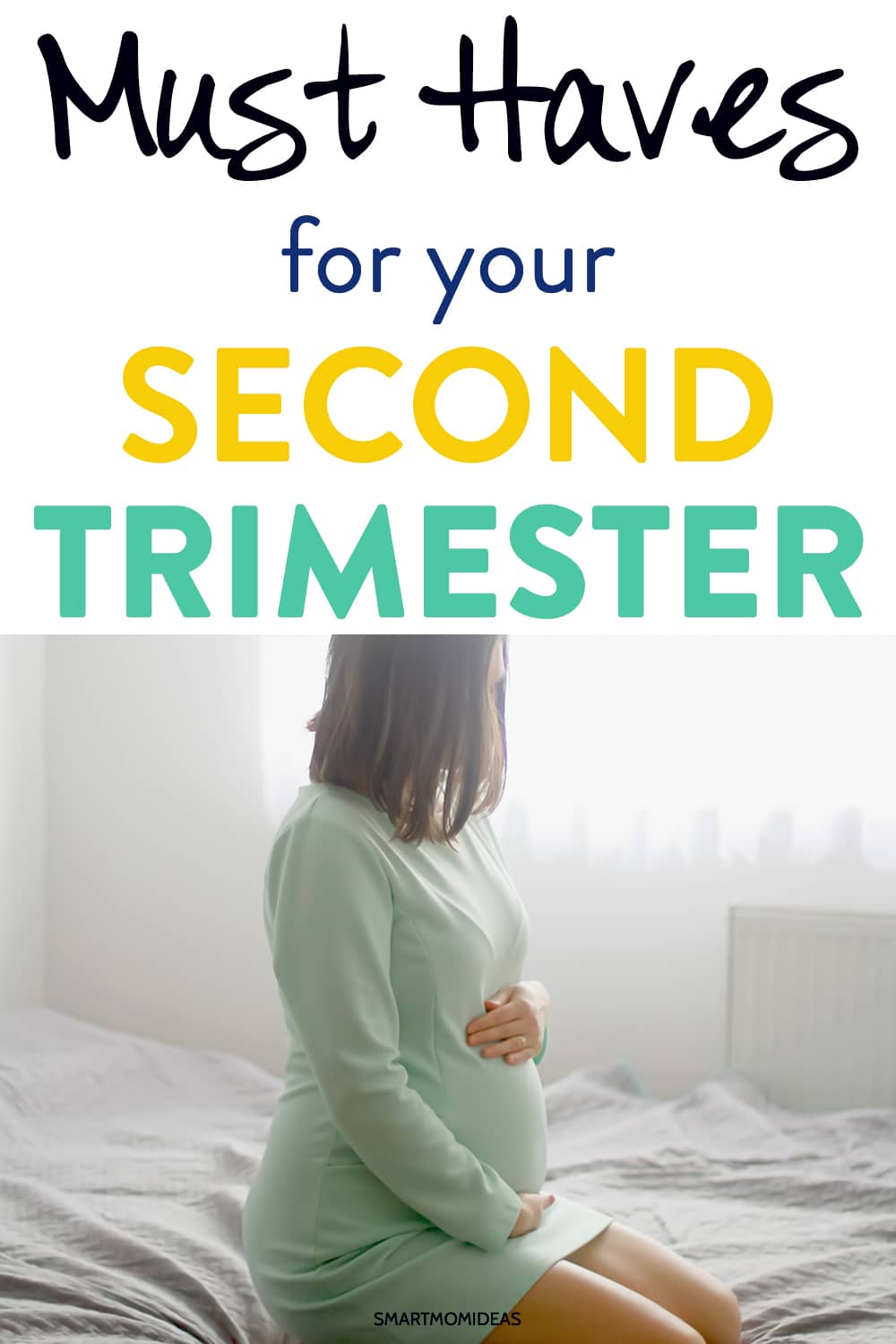 Hopefully by now, most of your pregnancy symptoms have subsided. But even if they haven't you're going to find your pregnancy a lot more bearable with these 10 items.
I hope you've found this helpful! Trust me, the more preparation you do before you reach your third trimester, the better off you'll be.
But remember not to allow yourself to feel anxious. Sit back and enjoy your pregnancy journey because pregnancy and childbirth are one of life's greatest miracles!
Over to you. Are there any pregnancy must-haves I've forgotten? Let me know in the comments. I'll add them to the list!
Remember to pin!