Learn the best cream to remove stretch marks and other natural stretch mark prevention during pregnancy
Congratulations, mama!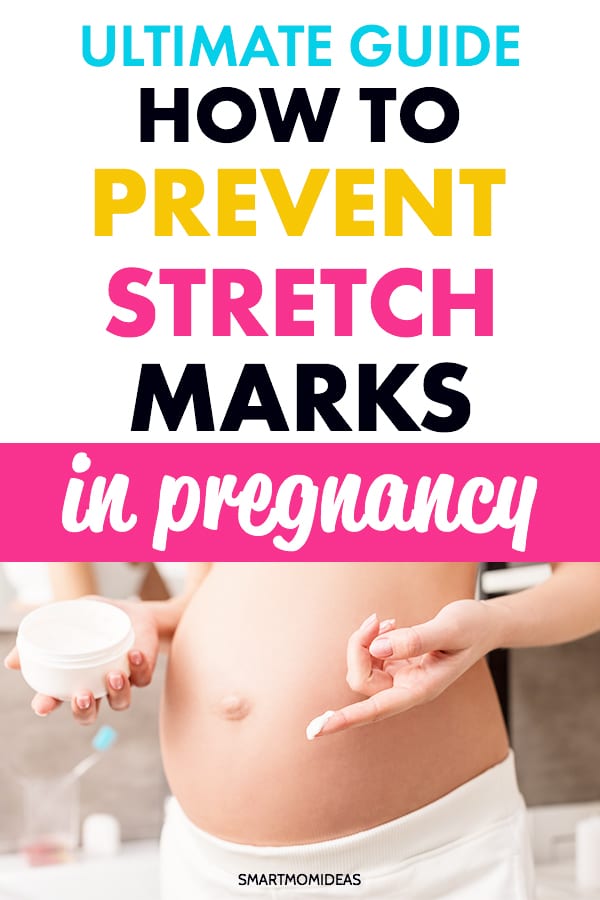 You're pregnant! This is such a busy and exciting time. But it's also a tough one – hello, morning sickness.
And one of the not so fun parts of pregnancy is stretch marks.
Stretch marks are common in pregnancy – between 50% and 90% of women get them. I got stretch marks on my tummy and breasts, but they can also appear on your bottom, thighs, and hips.
And – unfortunately – it seems that there's no magic potions that can prevent stretch marks.
But there are some natural, budget-friendly creams to remove stretch marks and other natural ways to prevent stretch marks. So here are my top 8 ways to prevent stretch marks in pregnancy.
Stretch Marks During Pregnancy
Stretch marks are thin lines or streaks that develop on your skin.
They begin as a red or purple color but they can fade to white-ish marks once baby is born.
In pregnancy, stretch marks are called striae gravidarum. And they're partly caused by your skin being stretched too fast as your bump grows. You might notice your skin feeling itchy and tight before the stretch marks appear.
Changes in your hormones during pregnancy are also thought to contribute to stretch marks.
Stretch marks differ from mama to mama – and while you won't definitely get them, stretch marks are common and it's good to think about prevention early.
How to Prevent Stretch Marks During Pregnancy
1. Stay Hydrated
Water helps keep your skin supple and soft – and so less likely to develop stretch marks.
We know that caffeine isn't good for pregnant women. But did you know that caffeinated drinks can actually increase your chances of getting stretch marks!! So try swapping your coffee for tea or fruit infused water.
As a general rule, pregnant women should drink around 8 and 10 8oz glasses of water a day.
And now is a good time to get into some healthy habits. Because once baby is born, staying hydrated is essential for breastfeeding mamas.
So get into the habit of keeping your water bottle filled up and close to hand. I've used the same type of water bottle for literally years.
2. Vitamin C
Vitamin C is an important part of collagen production – which is the main structural protein found in your skin.
So, vitamin C might help you prevent stretch marks by keeping your skin supply and strong.
You can find vitamin C in fruits like oranges, kiwi, pineapple and mango. So why not try whipping yourself up a vitamin C filled breakfast juice?
3. Vitamin D
Some evidence suggests that there is a link between low levels of Vitamin D and the appearance of stretch marks.
This sounds like a good excuse to get outside for a gentle walk – be sure to use sun protection though. More research is needed on the link between vitamin D and stretch marks.
But good nutrition is vital in pregnancy – not just to prevent stretch marks.
And why not check with your doctor about starting on a good prenatal multivitamin.
Taking a prenatal multivitmin is especially important if you've been struggling with morning sickness.
4. Zinc
Any nutrients that help keep your skin healthy and supple might help prevent stretch marks. So make sure you're getting enough zinc in your diet – because zinc promotes the formation of collagen.
Pregnant women need about 11mg of zinc a day source. Zinc-rich foods include seeds, nuts, dairy foods, lean meat and bananas.
5. Moisturize
Keeping your skin supple seems to be the best thing you can do to try to prevent stretch marks appearing. But remember that there's no miracle cure out there. So don't pay out for expensive creams if you baby budget is already tight.
Here are some mom-approved creams that may help you prevent those dreaded stretch marks.
Palmers Cocoa Butter Oil
Palmer's is a classic when it comes to hydrating your skin.
And this soothing oil contains Vitamin E which is awesome for your skin. Moms are raving about this one for preventing stretch marks and stopping that annoying belly itch.
Mambino Organics Oh Baby!
This organic belly butter has a yummy scent and is thick and creamy. And this belly butter looks awesome.
It contains moisturizing Shea butter and seems to last for ages!! Apply twice a day and relax!!
If you prefer an oil, try Burts Bees Mama Bee Nourishing Body Oil.
Mederma Stretch Marks Therapy
If you're already seeing some stretch marks, this cream could help you to reduce their appearance. It is pricer than the others, but you can save with Amazon's Subscribe & Save option.
6. Make Your Own Belly Butter
If you're feeling crafty, why not whip up a batch of your own belly butter?? Andrea from Handmade for Elle has an awesome looking recipe that includes shea butter, coconut oil and vitamin E oil.
This butter could be your new BFF – I'm not even pregnant, but I'm tempted to make some of this to protect my skin from the harsh winter months!!
7. Eat More Gelatin
Mama Natural recommends eating more gelatin to improve your skin's condition when fighting stretch marks. Because gelatin contains the building blocks of collagen.
So, where do we find gelatin?
Bone broth is a great source. But Mama Natural also has a recipe for gummy bears that contains gelatin.
8. Exercise
Exercise helps to improve circulation and helps to keep your skin supply so it makes sense that it might also help to prevent stretch marks.
But remember to talk to your doctor before undertaking any new exercise, especially in pregnancy. Don't push yourself and always rest when tired. Gentle and safe exercising – such as walking – during your pregnancy will also help you cope better with labor.
And walking is a great way to start losing that baby weight after baby is born. For more fail-safe ways to lose the baby weight, take a look at this helpful post.
How to Prevent Stretch Marks
There ya' go.
Unfortunately, there's no magic cream, but there are some easy and budget-friendly ways to help prevent pregnancy stretch marks.
Build these simple steps into your daily routine and then get on with the fun parts of pregnancy – I promise there are some!!
Over to you – do you have any stretch mark beating tips? Are you struggling with stretch marks? Drop a comment in the box and let me know. I can't wait to hear from you.
Don't forget to pin for later.