You won't believe this new and cool wearable breast pump Momcozy!
I'm always amazed at how far breast-pumping technology has come!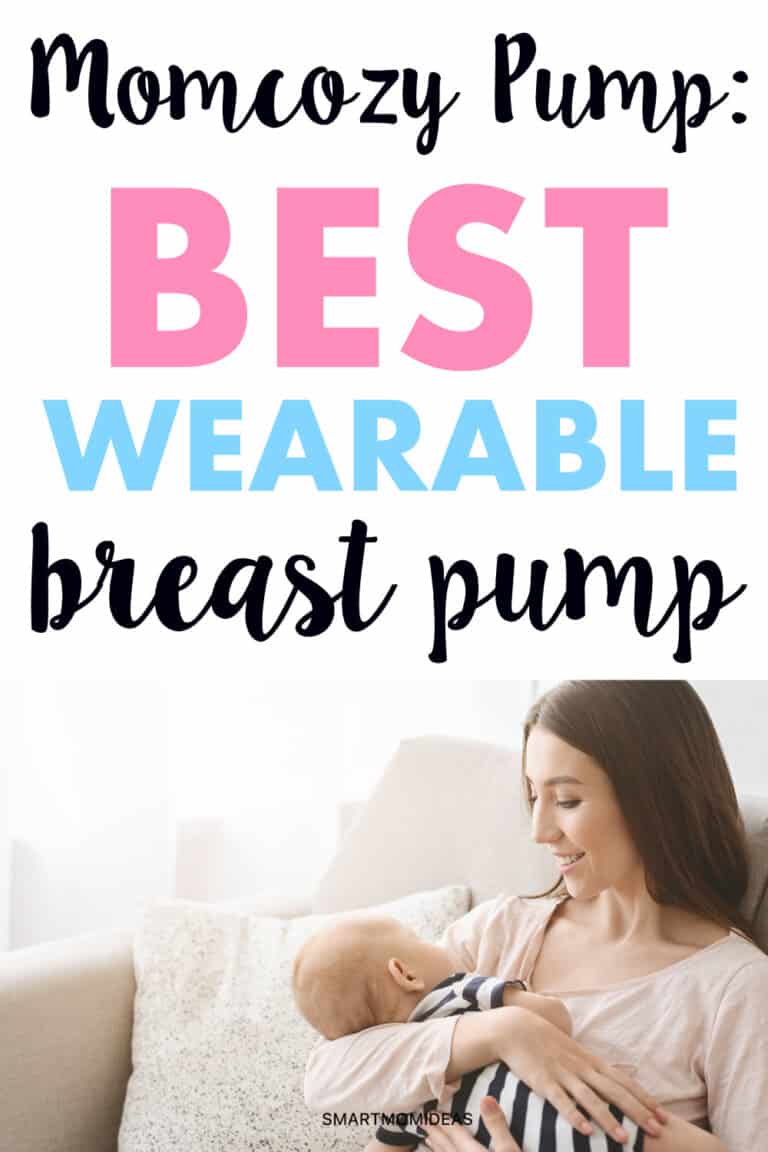 Back in the day, you had to use a manual breast pump or hook yourself up to a machine that required tubing and cords – which also meant that you were confined to one spot while you pumped.
Then came some really nifty breast pumps, like the Haakaa silicone hands-free pump that uses natural suction to collect milk.
Now, I'm super excited to talk about an electric breast pump that is wearable, mobile, and discreet.
The best of all worlds!
The Momcozy was launched in 2017 to give moms an option when it came to effective pumping while on the go.
Are you ready to learn more?
Here is your guide on the Momcozy pump and why it's awesome.
What is the Momcozy Pump?
Momcozy pumps are amazing breast pumps that are wearable! It fits inside your bra with the motor and battery hub attached at the top for maximum comfort.
On the hub are buttons to control the mode and suction strength, so you can easily make changes to the settings while looking down at your chest.
Below the hub is the collection cup that collects the breast milk and attaches to your breast using a suction cup.
How to Use the Momcozy Breast Pump
Before you use the Momcozy pump, heat your breasts with a warm towel for a couple of minutes to help milk flow and relieve pain.
You can also change the position of the pump on your breast to stimulate milk flow.
It may take some practice to find the right position for you. Start by placing the funnel on your areola and making sure it is tightly sealed.
You can then adjust the following settings on the pump's hub:
Time: The average time to use a breast pump is 8 minutes but no more than 20 minutes.
Frequency: This is the frequency at which the pump "sucks" milk from your nipple. When just starting out, you should set it to a lower frequency until you are comfortable.
Be sure that you stop pumping immediately if you feel any pain!
Once you are finished, place the collected milk in the fridge or freezer right away. Soak your washable pump parts in hot water to disinfect them, clean them by hand, or place them in the dishwasher.
Be sure to give your breast a wipe after you are done pumping to keep your nipple clean and dry.
The Momcozy Pump: When and Where You Can Use It!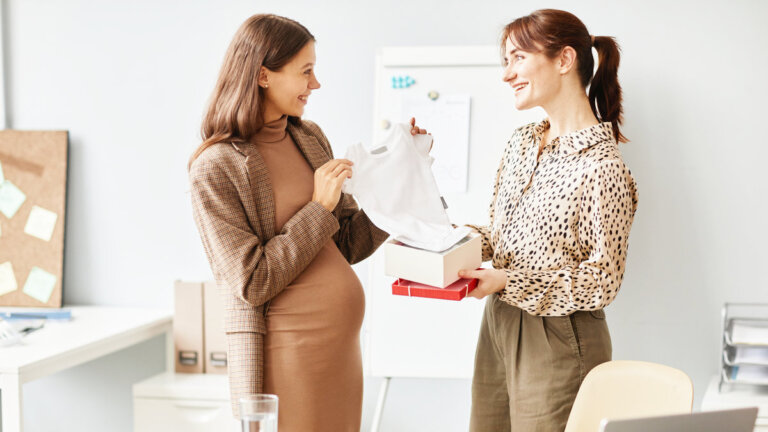 Imagine easily pumping your breast milk without having to limit yourself to a chair or bed!
With the Momcozy hands-free breast pump, you can pump anywhere at any time:
Exclusive Pumping
The Mom Cozy breast pump is perfect for moms who want to exclusively pump on the go!
However, many users recommend starting with a traditional double electric pump if you plan to exclusively pump.
You can then use the Momcozy pump whenever you need to pump outside of your home.
Pumping Occasionally
Alternatively, if you are primarily nursing your baby, the Momcozy breast pump is great for building up a freezer stash, providing your baby with breast milk while you're away, and keeping your supply flowing.
Pumping at Work
If you're going back to work while still breastfeeding your little one, you definitely need something that is discreet, easy to use, and mobile.
You can easily use the Momcozy hands-free pump while you are working or on a break. They are quiet and can be used under your shirt.
The Pros & Cons of the Momcozy Wearable Pump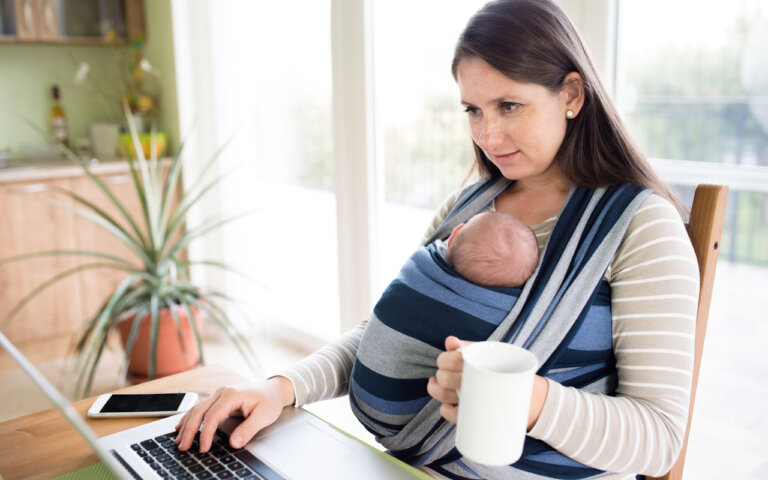 Moms everywhere are going nuts for this wearable pump! According to Momcozy breast pump reviews, here are some of the most notable benefits:
The Momcozy wearable breast pump is completely mobile! Instead of hooking up to a clunky pump using tubes, you can easily slip this pump into your bra and move around freely.
The Momcozy pump features silicone breast pads for added comfort.
Many moms who use the Momcozy pump find that the suction is better than other wearable breast pumps.
Also, the price is right when it comes to this wearable pump compared to other models.
Of course, there are some considerations when it comes to using the Momcozy pump. Here are a couple of downfalls to think about:
It's not 100% discreet since you can see the motor/battery hub above your bra. However, it's far more discreet than connecting to a pump with tubes!
The battery needs to be charged frequently.
It can be tricky to properly position your nipple since the hub makes it difficult to see your entire breast. You can always use a mirror until you get the positioning right.
Some users say that this pump is prone to leaking but only occasionally.
As you can see, the pros of the Momcozy breast pump far outweigh the cons!
Momcozy Pump Models – What's Available?
Of course, the Momcozy breast pump doesn't come in just one model!
Here are the three popular models available.
1. Momcozy S9
This wearable breast pump is seriously amazing!
The Momcozy S9 super lightweight and compact, so it's perfect for on-the-go pumping.
And it's wireless, so you can pump anywhere, anytime.
Plus, it has five intensity levels, so you can customize your pumping experience to your own needs.
And the battery is chargeable for 3-4 sessions, so you don't have to worry about running out of juice in the middle of a pump session.
Seriously, this pump is everything a new mama could ask for!
2. Momcozy S12
The Momcozy S12 is built the same as the Momcozy S9 but has 9 levels of intensity with smaller increments, so you can adjust the pump to suit each breast!
It also has an LCD display screen, making it super easy to use by showing you pumping duration time as well as the settings.
3. Momcozy All-In-One Wearable Breast Pump
This Momcozy pump has three enhanced modes and nine intensities to help encourage milk production while you are pumping!
It's also designed as a closed system, which means that your milk is kept completely separate from the pump pieces, making it less likely to leak.
The Momcozy Hands-Free Pump Comparisons
On the market, you can also find popular hands-free and wearable pumps such as The Elvie and The Willow.
But how do they compare to the Momcozy?
Let's take a look at some of the major differences:
1. Milk Containers
One of the major differences between these three wearable breast pumps is the size of the milk containers.
The Momcozy comes with a reusable collection cup that can hold up to 6 oz.
The Elvie pump has a reusable 5 oz bottle, while the Willow allows you to pump into a reusable container or bag (which both hold 4 oz, and the bags can't be reused).
If you're concerned about waste and want to pump as much breast milk as possible, the Momcozy is definitely the best choice!
2. Pump Maintenance
Of course, you're going to want to consider how easy it is to clean your wearable breast pump!
The Willow has only two parts to clean (the flange and the tube) and a third if you use the reusable container.
These can be washed by hand or put in the dishwasher on the top rack.
The Elvie has five parts that require cleaning (valve, seal, spout, bottle, and seal).
Again, these can be washed in the dishwasher or by hand.
The Momcozy also has five parts, which can be cleaned in the same way.
3. Mobility
The amazing thing about these breast pumps is that they can be worn outside of your home while you're out and about.
But how discreet are they?
The Willow and Elvie are not super obvious when worn, but you can definitely notice bulging when placed under your shirt.
The Momcozy isn't completely invisible, but it is a little more conspicuous because of the battery and motor hub being placed on top of the collection cup.
Momcozy Pump Frequently Asked Questions
Do you still have some questions about Momcozy pumps?
Here are some answers!
Can I Claim the Momcozy Pump Under My Insurance?
This is a tricky question since the answer depends on your living and insurance coverage.
Overall, most health insurance providers must cover the cost of a breast pump and provide breastfeeding support.
However, it's important that you check to see if they cover a purchase or rental and what models they include.
The type of breast pump covered under a policy can vary significantly.
Can I Nurse From One Breast and Pump On the Other?
You definitely can!
You can use the Momcozy pump to pump on one side while you feed from the other.
Because there are no external cords, tubes, and other rigamarole, you can easily do both at the same time.
How Often Should I Replace the Pump Parts and Accessories?
As long as you properly clean and maintain your Momcozy, the majority of the pump will never have to be replaced.
However, keep an eye on the pump components for signs of wear and tear. Some parts may need to be replaced:
Valve membranes and duck valves: Every 2 months
Backflow protector: 3-6 months
Breast shields: 6 months
Replacing parts for a breast pump is typical across all models.
Is the Momcozy Loud?
No wearable breast pump is completely silent, but the Momcozy is quiet compared to other models.
It is possible that your Momcozy breast pump may squeak from time to time.
If this happens, ensure the entire pump is dry before using it and check to see if all the parts are put together correctly.
In particular, make sure there is no gap between the pump and your breast.
The Momcozy Wearable Breast Pump for an Easier Mom Life!
The Momcozy pump is guaranteed to make your breastfeeding and pumping life so much easier!
Whether you are exclusively or occasionally pumping at home or work, this breast pump is worth grabbing or adding to your baby registry.
If you're interested in learning more about making your breastfeeding life stress-free, check out my other articles:
Have you ever used the Momcozy or another wearable breast pump?
Let me know about your experience in the comments!