Learn what manual breast pump you should have as a new mom breastfeeding!
Raise your hand if you haven't tried a manual breast pump?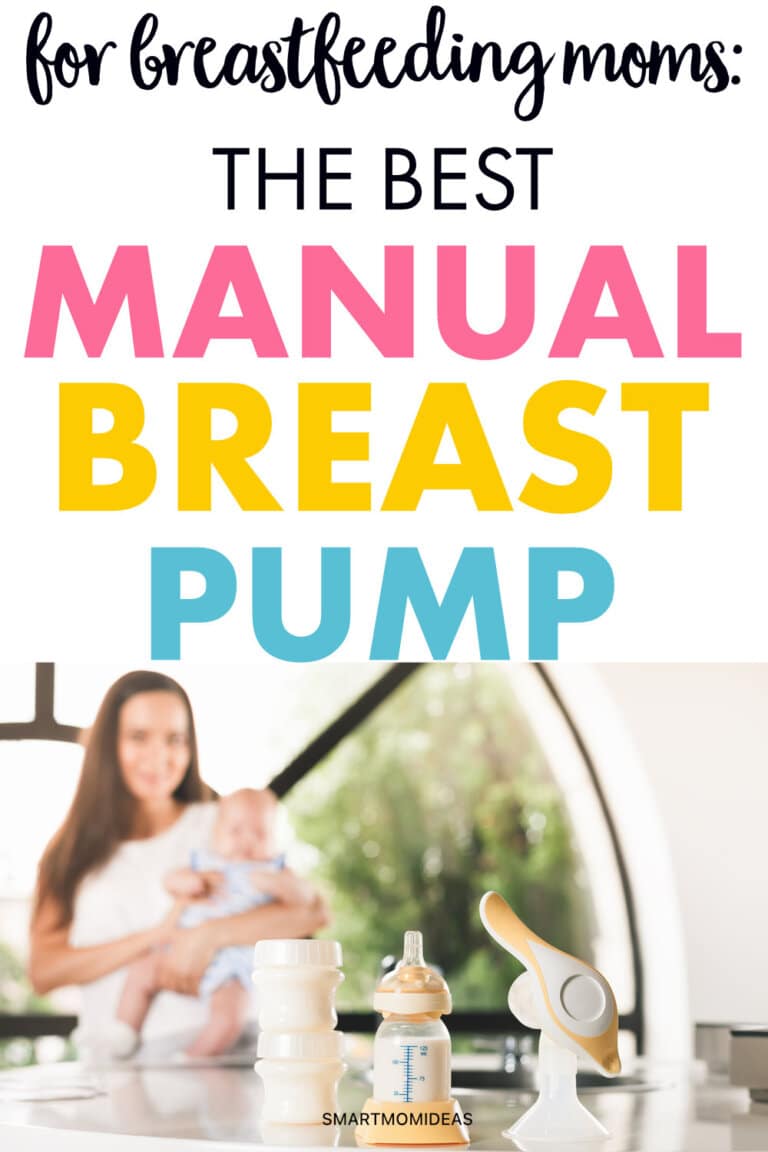 I kid you not, having a breast pump on hand is essential for breastfeeding mothers.
It allows you to keep up your milk supply when you are away from baby or feed them in a pinch.
It is also helpful for avoiding breast engorgement and pain when you aren't able to pump with your normal electric pump for long periods of time.
While there are many different models of breast pumps on the market, there are two main types; electric and manual.
While having an electric breastpump is great for everyday use, it's also handy to have a manual breast pump on hand for certain situations.
Having a manual breast pump is great for stashing in your purse or diaper bag for a quick and compact solution to pumping.
But with so many options out there, how do you know what the best manual breast pump for you is?
Whichever manual breast pump you choose will depend on your goals as a breastfeeding mother and what you are comfortable with.
Below we have reviewed several popular manual breast pumps and what you should look for when purchasing a manual breast pump.
Need Help When Going Back to Work?
If you nee help with expressing milk, getting your baby used to the bottle and so much more, check out Millology's Ultimate Back to Work Pumping Class! It's amazing mamas!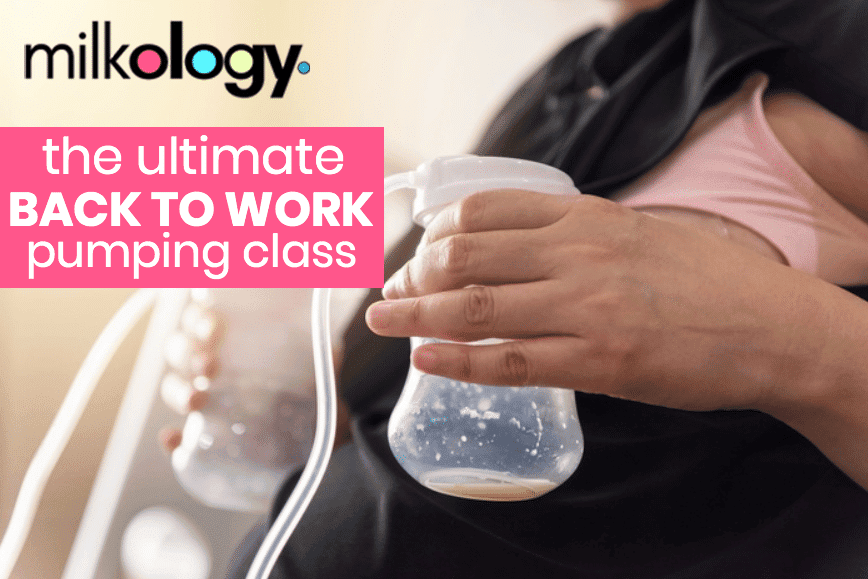 What to Look for When Purchasing a Manual Breast Pump?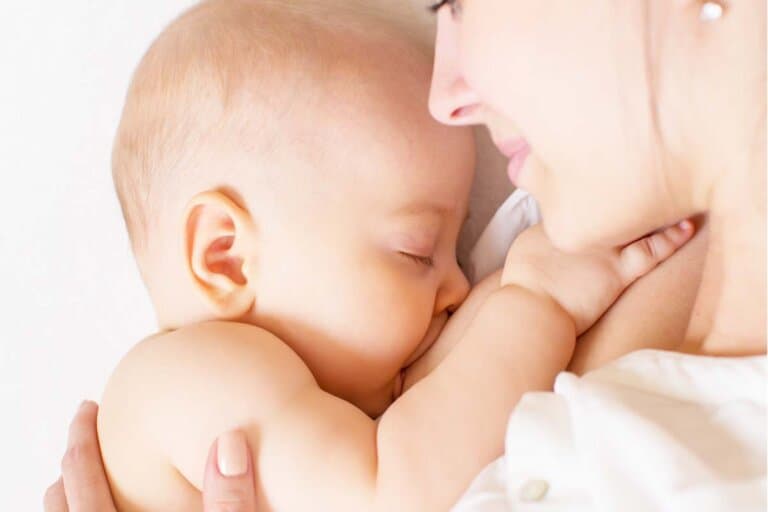 There are four main things to look at when purchasing a manual breast pump: the efficiency of the pump, hygiene, or how easily it can be cleaned, the overall size of the pump, and the available fit options.
So before we dive into the best manual breast pumps available, let's take a look at each of these considerations.
Efficiency
There is no point in having a breast pump that isn't efficient. The whole point is to get the milk expressed from your breast.
Whether it is a manual or electric breastpump you are looking at purchasing, you need to be sure you are comfortable with using it.
Some are very simple and you can use right out of the box while others have a bit more of an extensive manual. In order to reap the full benefits of the pump you are going to purchase, you need to be able to understand it and use it correctly.
How Easy Are Breast Pumps to Clean?
While some breastpumps might be highly efficient, they can also be a pain in the butt to clean.
Due to the nature of breastmilk, it very easily breeds bad bacteria which can get passed on to your baby.
In order to avoid this, be sure that you are able to thoroughly clean your breast pump pieces every time you are using them.
Generally speaking, manual pumps have fewer parts than electric pumps.
But with either you should make sure that you are effectively cleaning and sanitizing the parts as often and soon as possible.
Pump Size
One of the reasons that mothers choose to use manual breast pumps is so they don't have to lug around huge electric breast pumps everywhere they go.
While you don't have to worry about plugs and battery packs when you are using a manual pump, some of them can still be a little cumbersome.
Available Fit Options
Whether you are using an electric or manual pump, you need to ensure the proper fit to your breast.
Most manual breast pumps offer different sizing options for their flanges just like you would find with electric breast pumps. If the flange or pump is not the right size, it will not work as effectively.
How Do You Use a Manual Breast Pump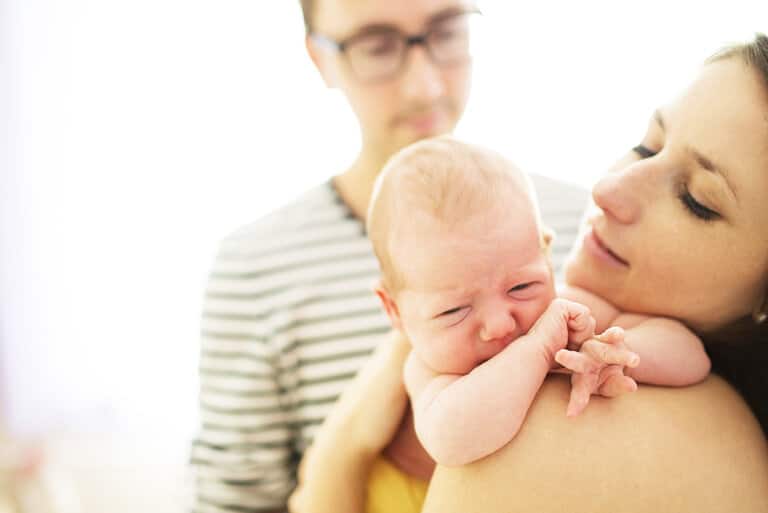 If you have never used a manual breast pump before, they might seem a bit intimidating.
In reality they are very simple to use and can be a great addition to your breastfeeding and pumping schedule.
With your breast properly placed in the flange or shield, squeeze and release the pump to mimic your baby sucking.
You can switch breasts every five minutes or so to avoid hand cramping and to get the most milk.
What is the Best Manual Breast Pump?
Below are our suggestions for the best manual breast pumps available on a budget.
1. Medela Harmony
Medela pumps are the gold standard when it comes to breastpumps. The Medela Harmony manual breastpump comes with a flex shield to increase comfort so you can get more milk each time you pump.
It offers a two phase technology to mimic the natural sucking behaviors of your baby and increase letdown.
The manual pump and its parts are compatible with all other medela products.
It even comes with a nice little stand to place the bottle in so you never have to worry about spilling that liquid gold. It has a strong enough suction that many women report getting the same amount of milk from this manual pump as they do with their electric pumps.
2. Haakaa Manual Breastpump and Shield Combo
The Haakaa manual breast pump and shield are an all in one silicone design which makes collecting more milk easy. It uses natural suction to pump milk.
You can either use the pump on its own or while you are feeding the baby.
The included breast shields are great for putting in your bra to collect extra milk from the opposite breast while you are pumping or feeding. One of the unique features of this pump is that you don't need different size flanges for different sized nipples and breasts. It truly is a one size fits all option. With the Haakaa manual breast pump and shield system you never have to worry about wasting a drop of milk again.
Depending on the model you get, they also offer suction bases and silicone covers so you can store and heat your breastmilk all in the same container.
Learn more about using a Haaka to increase your milk supply!
3. Lansinoh Manual Breast Pump
The Lansinoh has very similar features to the Medela manual pump. It includes a soft and flexible silicone breast shield.
There is also a two phase technology to promote letdown and increase supply when pumping.
With the Lansinoh manual breast pump you can also pump directly into the one time use Lansinoh breastmilk bags. A manual breast pump created by a breastfeeding mother for breastfeeding mothers.
4. Philips Avent Manual Breastpump
Straight from boob to baby.
The flange of the Phillips Avent Manual breastpump is made from a soft and textured massage cushion to help promote milk flow.
It's light and compact design makes it easy to use without your arm or hand getting tired.
This pump also comes with a bottle to pump into and included nipple. This is great if you have to feed baby quickly if you are unable to breastfeed right then and there. For example, if you are on a long road trip. You can pump directly into the bottle and your baby can have fresh milk on demand.
5. Elvie Curve Manual Wearable Breast Pump
This manual breast pump can be used either as a gentle expression manual breast pump or to collect milk while feeding or pumping.
Simply place the Elvie in your bra, over your nipple and collect milk.
You can either squeeze the silicone container to help express more milk or you can simply leave it on to collect letdown from your other breast while feeding or pumping. With just two pieces, it's easy to use and easy to clean.
6. Naturebond Silicone Manual Breastpump
The Naturebond silicone manual breast pump works similar to the Haakaa.
You place it on your breast and gently express the breastmilk while you are feeding or if you need to pump.
Instead of a full silicone cover, the Naturebond includes a silicone stopper, a spill proof pump capsule, stand, and a strap.
The capsule allows you to carry your pump wherever you need to without having to worry about it getting squished. While the stand provides a stable base to place the breastpump without having to worry about it spilling.
7. Dr. Brown's Manual Breast Pump
Dr. Brown's has been touted as one of the best bottles for colic babies.
Did you know that they make a manual breast pump that directly attaches to those bottles?
This pump comes with everything you need to pump, store, and feed.
With an easy switch for the two different expression modes, you can easily do everything one handed. The breast shield is a soft and flexible silicone and will easily conform to any breast shape. Either place the cap on to store the expressed milk or add the anti-colic nipple to feed baby right away.
Other Manual Breast Pump Tips and Tricks
If you are using both an electric and a manual pump, be sure to get something with interchangeable parts.
You don't want to have to worry about buying different types of flanges or other parts for different brands of pumps (unless you are opting for a manual breastpump with one or two pieces).
Be sure that you have somewhere to store your breastmilk once it has been expressed when you are using a manual breast pump. If you aren't giving it to baby right away, then be sure to keep some ice packs and a cooler handy until you can properly store your expressed breastmilk.
Switch off hands or breasts so that you can avoid getting a hand cramp or getting more out or one breast than the other.
Even if one of your breasts tends to produce more, you should still give each breast equal pumping time and stimulation.
Please check out these other helpful resources if you are going to do some pumping as a new mom.
Over to you–
Which is your favoriate manual breastpump to use? Share your experience with one of these manual breast pumps!
Please pin me!