Check out these cute and lovely Valentine's Day pregnancy announcement ideas!
It's the time of the year when love is in the air and couples share their love for one another all month long.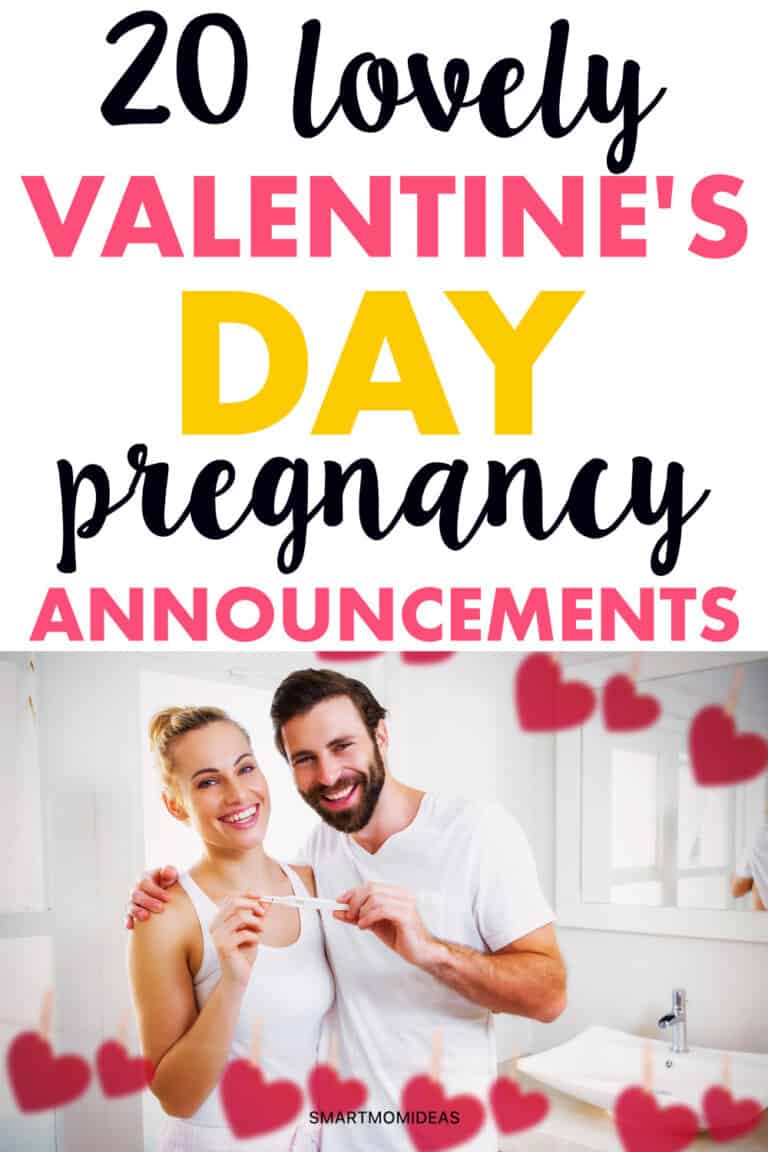 While the world already knows how much you love one another, it's time to let them know about your newest love, your baby!
While holidays are always a good time to share the big news, Valentine's Day is often overlooked.
Christmas often overtakes the pregnancy announcement ideas by far, then followed by Thanksgiving and the rest of the holidays.
Why are these other holidays overlooked in favor of the day of thanks and the birth of Christ?
Well, for starters, they are family holidays.
Not too many people are inviting their entire family over for heart-shaped cookies and cocktails on Valentine's day to celebrate.
However, these other holidays are just as good of a time as any to share the big news with friends and family.
While there are no doubt thousands of different ways to announce your pregnancy during "the holidays," there are just as many more ways to make that announcement on the coattails of another holiday.
It's all about love this holiday season!
1. Simple and Elegant
Of course, everyone wants to see the mother-to-be and her beautiful, glowing face!
This pregnancy announcement is simple to do at the last minute, works great on all social media platforms, and is a great way to let the world know that you are expecting a new bundle to share the love with.
Grab a few festive balloons and give your best pregnancy pose.
Hold that belly to showcase your newest arrival.
Of course, you can always take a few shots with your partner too.
2. Siblings and Poetry
We all know the classic poem…"Roses are red, violets are blue…"
Well, you also know that you can make that poem relevant to just about any occasion.
Get a big brother and or big sister involved in this one and use this poem or make one up on your own.
Write it out on a sign for them to hold or "Roses are red, violets are blue, our secret is out…another [last name] is due!"
Be sure to dress the older kids in Valentine's Day-appropriate outfits, red bow ties, skirts, and plaid items all work well.
3. A Sweet T-Shirt

Whether you are planning to spend the day with family or spend a romantic night in with your sweetheart, this shirt is a great way to make a statement without having to say a word.
This comfy shirt will tell the world about your bundle of joy while you sit back and enjoy the free foot rubs and box of chocolates.
4. A Simple Flat Lay
A flat lay is a type of photo where you lay out coordinating items – like a letter board – around a main, central item and the shot is taken from directly above.
You can either make your own flat lay photo and purchase a few Valentine's Day-themed items (be sure to check out the Target dollar deals section, they always got cute and cheap holiday decorations that work great for these kinds of things.)
Simply grab one of these letter boards or chalkboards to write your announcement on.
If you aren't that creative, then check out this cute digital download of a Valentine's Day-themed pregnancy announcement.
All you have to do is edit the file to add your information and then you can start sharing it all over social media!
And no one will even be able to tell that you just edited a picture!
5. Scratch Off Cards
Valentine's day is the perfect time to give a card to your partner, parents, kids, and even close friends.
While Valentine's Day is normally reserved for couples, it's also a great time to let all those other important people in your life know how much you love them!
If you want to make an announcement in a way they will never forget, then this is the card that you need to get them!
Wake up your partner with this card as a lovely surprise.
Go and visit your parents to say hello with a card and some chocolates. The options are endless!
6. A Heart-Shaped Box Full of Surprises
If you are planning on making your pregnancy announcement up close and personal with a gift, then this is the ideal way to do it.
Grab a large, heart-shaped box and fill it with little surprises.
One of the items you should certainly include is an ultrasound picture of your little bundle of joy.
There are so many options to choose from to make this one sweet gift box.
Include a cute sign about love, Valentine's candy, and maybe even some jewelry (depending on who the box is going to).
7. Conversation Hearts
We couldn't have a Valentine's day related post without an idea with conversation heart candies involved!
Go grab yourself a bag of those weird-tasting candies and get set up for this adorable pregnancy announcement.
Simply grab a heart-shaped dish, and add the candies, and ultrasound photo.
Then on the back of the heart candies, write out the month and year of the due date.
One letter or number for each heart candy. Place on top of the other candies and there's your announcement.
8. Due Date Cookies
Any holiday is the perfect excuse to bake!
Cookies, cakes, candies, do it all!
These adorable pregnancy announcement due date cookies will do all the talking for you.
Whether or not you want to share the gender of the baby when you make the announcement, there are plenty of design options to choose from.
Design a square-shaped cookie to look like a calendar, that way you don't have to keep repeating the due date to everyone.
9. A Sweet Announcement
Grab your boo, some balloons, and your ultrasound pictures for a sweet and easy photo shoot.
It's the perfect picture to add to your social media and share with family and friends.
Take a couple cute shots, share a kiss, your partner holding your belly, and of course, your hands making a heart over your newest addition.
10. Baby Booties
It's always a fun idea to include something of baby's in your pregnancy announcements.
Once you find those perfect little booties, strike a pose with them and some holiday accents; a red shirt, balloons, or heart-shaped confetti will do the trick.
An adorable way to share your big news with the world!
11. Made with Love
If you're any good at baking, then this is a fun Valentine's pregnancy announcement to try out.
We already covered decorating cookies to represent various baby items, but what about a cookie inside of another cookie?
Bake a cookie to represent each member of your family but make sure that the mommy cookie has a special little surprise inside of it!
12. Baby on Board
Need to put together a quick Valentine's Day pregnancy announcement?
Simply grab a chalkboard or letter board for a simple yet romantic announcement photo.
Of course you can write your own announcement on a letter or chalkboard, or you can purchase one of these custom chalkboard pregnancy announcement boards.
13. Heart Wreath Announcement
There are always fun ways to include holiday decorations into pregnancy announcements.
If you don't already have a heart shaped wreath laying around, you'll likely be able to find one at the dollar store during the holiday.
Grab one of these wreaths, paint it red (or pink, or gold, your choice!) and snap a photo of it in front of your belly.
14. Lolliheart Lollipop
If you are already showing, then show that beautiful belly off to the world!
Simply hold up one of these holiday-themed lollipops up to your belly and snap a picture.
A simple and adorable way to share your joy with family and friends.
15. I Heart You!
Time to get crafty!
This is another super simple and fun Valentine's pregnancy announcement.
Either cut out some hearts out of construction paper or grab some heart-shaped stickers.
Stick them all over your belly, either over your shirt or just right on there! Have some siblings you want to include?
Have them join in the fun and take a few pictures with them putting stickers on your belly.
16. Our Little Valentine
Isn't this just such a cute way to say you're pregnant on Valentine's Day?
This is an easy way to quickly make a pregnancy announcement to your family and friends on social media!
17. Kids Holding a Heart
If this isn't your first pregnancy then you can have fun with your family!
Get your kids to hold a heart in front of your tummy to express to everyone that you are pregnant during this time!
18. Make Your Kid a Prop
I love this!
How cute is this set up? Have your child be part of the props for your pregnancy announcement set up!
Put a letter board, an a heart plaque with your child and there you go! You have a great Valentine scene.
19. Growing By One Heart
How precious!
This cute chalk saying is perfect for your little child to hold up! Take a picture and there ya go!
20. Say it with Love
Of course you want to tell the world about your newest addition this Valentine's Day.
But what is the best way to say it? Whether you are sharing all over social media, sending out a mass text message, or sending out physical cards, you'll want to include a holiday themed caption.
Here are a few ideas to get you started:
"Love is in the air and we have big news to share!"
"Our Valentine's present is on layaway until [due date]"
"A tiny new Valentine is coming soon!"
"Roses are red, candy is sweet, our family is growing by two little feet."
"We're adding s'more love to our family, baby is due [due date]."
There Ya Go!
I hope you enjoyed these Valentine pregnancy reveals for friends, family and for everyone to see on social media!
Let me know which one is your favorite announcement idea!
For more ideas check out these posts: