Create a toddler schedule that'll make your days flow so much easier!
Planning and executing tasks and toddler activities in your own life takes constant discipline, mama.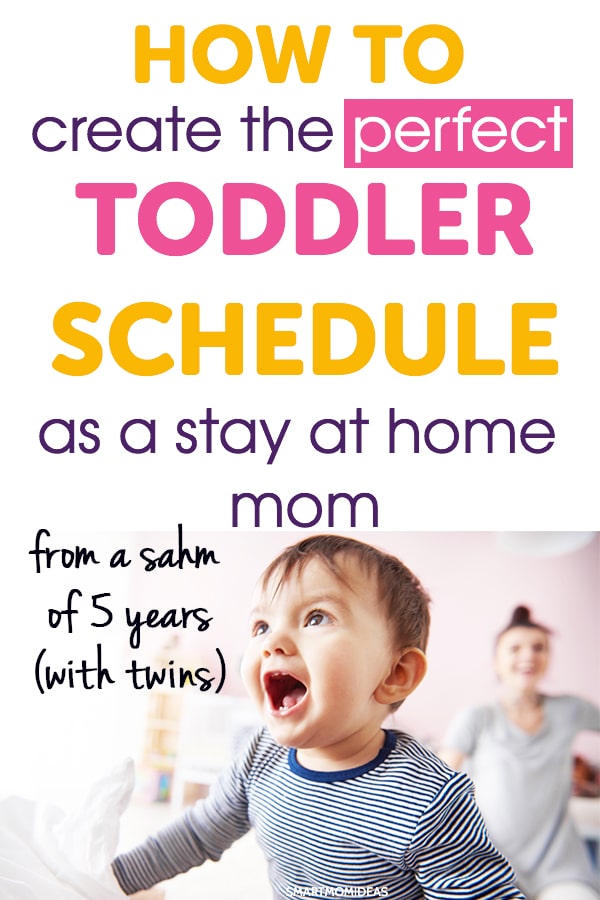 When you add your kiddo to the mix, it becomes even more challenging.
Being a stay at home mom is such a wonderful experience.
But living it out each day can be so exhausting. When you lay down at night, do you ever feel like you could've done better because you basically got nothing done?
What you need is a toddler schedule to help keep you focused, mama.
Here's why you need a toddler schedule:
You and your toddler will know what to expect each day
It helps to balance your priorities each day
Your child will begin to learn and practice time management skills which are critical for life.
It minimizes the amount of whining, begging for food, and the desire for you to entertain them because they are bored.
It builds your child's confidence by mastering small tasks like making their own bed, brushing their teeth, helping with the laundry, and cleaning up after themselves.
If you and your toddler aren't used to following a plan, it may take a week or two to adjust.
But it's okay! Just start simple and you can always make changes over time.
Fail-Proof Tips to Create Your Toddler Schedule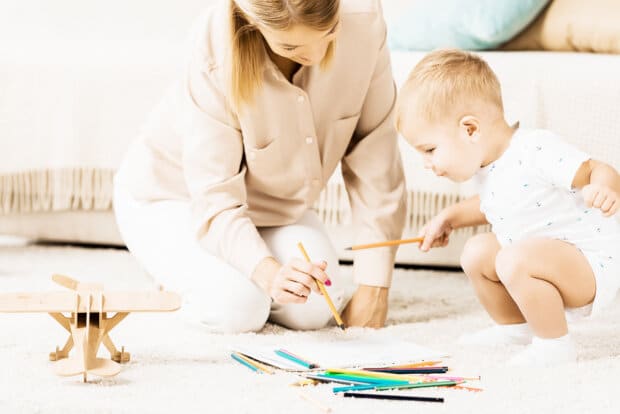 1. Be Open to Flexibility
Sometimes as mothers, we think in black and white. But you have to resist the "all or nothing" mentality if you want to be successful at sticking to your schedule.
Be ready to try again if you find yourself having to deviate a bit.
For example, your child might wake up early some days, or it may take longer to get them down for a nap. How will you adjust?
Buffer times should be factored in between activities so you don't feel pressured to do activities back to back.
It'll come in handy when your child is whiny, sick, or any of the other thousand things you may have to tend to on short notice come up.
The goal is to eliminate the feeling of having to rush from one thing to the next.
Some days you may not have the energy to keep up as normal so you'll have to pick a couple things that should be done that day and leave the rest for the following day.
2. Write Out Your Schedule
It may help your toddler to have a picture chore list to help them remember their routine if they can't read.
This is a great way to redirect and remind your little one of what they should be doing throughout the day and at what time.
Express how pleased you are when your toddler does a good job. Let them know you notice their efforts and make sure to portray that emotion clearly as often as you can.
3. Block In the Non-Negotiables
You guessed it…nap time is a must. Everyday!
Some children are super clingy and don't want to take naps on their own without mom or dad laying next to them until they've fallen asleep.
A little cough or trying to sneak out of the room too early means you have to start all over again!
Try these tips to get your toddler to sleep on their own.
You and your tot have to eat too!
Establish a set time for breakfast, lunch, and dinner. After you've locked in your meal times, you can begin to think about how long it will take to prepare those meals so you can have them ready on time.
4. Choose One Day Per Week for Planning
Use at least one day a week to analyze what is working well in your schedule as well as to plan for the upcoming week.
I like to think of this as an "off day" because it's simply a day for planning, rest, and taking care of yourself.
Being on go-mode every day of the week can produce stress you really don't need. And in some cases, postpartum depression or anxiety.
This "off day" is an excellent time to lay out your schedule to see all the things you need to accomplish throughout the week.
Working from home often means there's yet another long list of things you need to do to move your business ahead.
Now's the time to review those things so nothing catches you off guard during the week and you're meeting your goals.
5. Plan Time for Yourself
If you don't plan it, chances are it won't happen (this is a non-negotiable by the way). Be okay with not getting everything done on your to-do list.
You are important. Don't do chores while your child naps. Take that time for you.
If dad or grandma watches your child, have some things in mind that you will (not can) do for yourself.
It could be reading that book you love, taking a walk, meeting up with a friend, finally taking that class, or treating yourself to your favorite meal or drink.
There's always going to be more you can do. But if you're falling apart in the process, it's just not worth it, mama!
6. Make Gradual Adjustments
Don't switch everything at once. Change one or two things at a time.
I suggest you start with something as simple as eating your meals at specific times.
Then work on that for a couple of weeks. When you both have become comfortable with it, add another activity to your schedule and follow the same pattern.
The last thing you want is to place stress on your little one to the point where they don't cooperate and they start to hate following the schedule.
When my twins were tots, my primary rule of thumb was to keep it light and fun for all of us.
Create Your Toddler Schedule
Establish a Wake Up and Bedtime
The times your toddler wakes up and goes to sleep set the tone for the rest of the day. It's easy to let them sleep and think you'll jump in and follow the "meat" of your schedule after they've woken up on their own.
But here's the thing –
Staying firm on their wake up and bedtime will actually help train their body to sleep during certain times.
They will get used to it, and it's a good thing! You only make it harder on them and yourself by allowing them flexibility as to when they want to go to bed and wake up.
It's recommended that the average toddler gets between 12 and 14 hours of sleep a day. This typically includes naps that last between 1 to 3 ½ hours.
Staying consistent is what matters most. Ideally, anywhere from 7:30-8:30pm is a good time to put your toddler to bed for the night.
Determine Set Meal Times
You and your toddler need to make sure you're eating well each day.
I suggest you make your meal times special for just you and your child.
Don't let anything else interfere. Put your phone away and take the time to enjoy your food and time with the most precious person in your life, mama!
Plan 5-10 minutes before each meal to help your child clean their messes before they eat. It will reduce your stress in the long run and set them up with good habits for life.
No need to wait until your child is school age to teach him or her to clean up before sitting down to eat their food. Help them form that habit now.
By the way, if your toddler refuses to eat anything other than string cheese, dry cereal, and tater tots…it's time to expand your horizon and enter into their world.
Check out my post on 85 Healthy Meal and Snack Ideas for Growing Toddlers!
Plan Activities
Let's not pretend staying in doors and playing with the same toys everyday is either fun or engaging. It can be, but not for long.
Set aside some time for fun activities that your toddler can do after breakfast.
Here are a few examples of things your toddler can do alone:
Color with crayons, markers, and stickers on a sheet of paper
Build with colorful wooden building blocks
Creative play with Play-dough and some plastic dishware and cutting utensils
All these activities can be done near you so you can easily supervise.
Check out this list of 52 super fun things you can do with your toddler!
You don't have to set aside massive amounts of time each day for these activities. Thirty minutes to one hour is enough for one sitting.
Just try to offer some variety. Toddlers have short attention spans and their interests change as they grow.
Include Nap Times
Have your toddler lay down for calm and quiet time after they've been given breakfast and done their afternoon activity. Ideally, between the hours of 12pm and 2pm is best.
They may say they're not sleepy, but you need to be firm on having them lay down.
It helps to do something calming before nap time (like reading a story, massaging their scalp, or playing some relaxing music.
Before Bed Routine
This is absolutely essential, mama! Even if things fall apart a bit throughout the day, give your best effort to finishing the day strong and consistent each and every night.
You'll lessen your stress and make transitioning into bed so much easier for your little one.
Trust me, the bedtime routine is like the pillar of a successful schedule.
If you only do story time 3 nights out of the week, your little one may begin to think going to bed at the appointed time is also optional.
Here are a few things your toddler should get in the habit of doing before bed each night:
Brushing his or her teeth
Having a bath (for cleanliness and relaxation!)
Arranging their room and cleaning. Picking out clothes for the next day is not a bad idea. Remember, they will carry these habits with them as they grow!
Spending a few minutes with mom or dad for one-on-one time
And of course story time is always a good idea 🙂
Example Toddler Schedules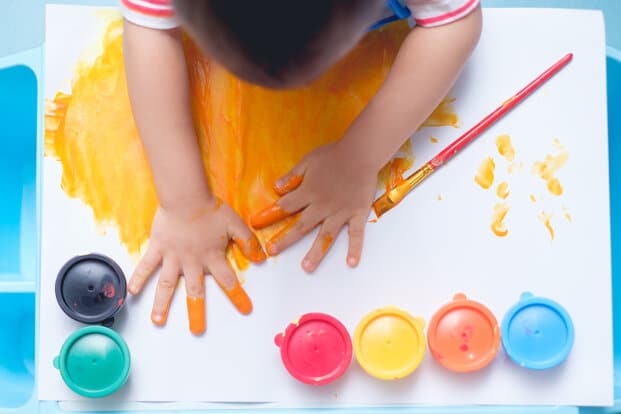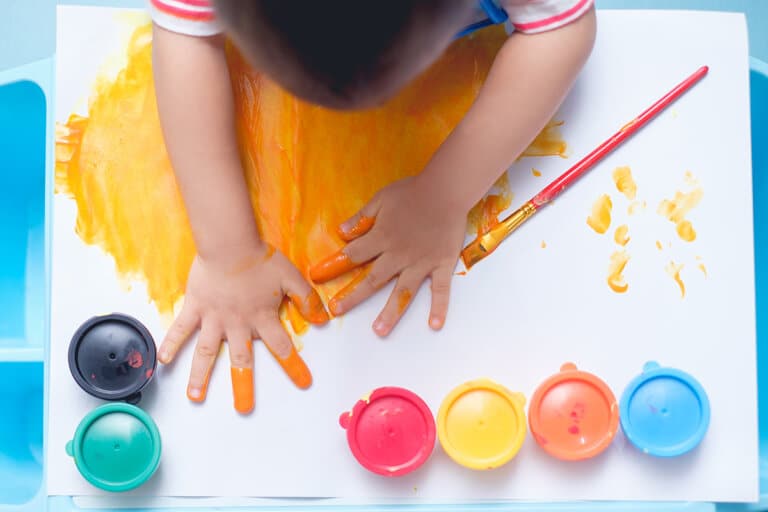 So with all that said, what might a typical day look like for you and your little one?
Here's more of a general example which should help you get started.
Wake Up 7:30 am
Breakfast 8:00-8:45 am
Cleanup and a few chores 8:50-9:50 am
Activities for your toddler (either with you or alone) 10:00-11:00 am
Snack 11:00-11:15 am
Independent Play (perhaps while you make lunch) 11:15-11:45 am
Lunch 11:50-12:25 pm
Nap for toddler (mom's personal time) 12:30- 2:00 pm
Interactive play (educational learning) 2:15-3:15 pm
Prep for dinner and chores 3:30-5:30pm
Dinner 5:30-6:15 pm
Ready for bed around 6:30-7:30
Bedtime 7:30 pm
Keep in mind, this is just a bare outline and is in no way inclusive to everything you have to do during your day.
But my hope is that this gives you a good idea of how to create a schedule that works well for you.
Whether you're new to following a schedule or you've revised your schedule a dozen different times, go easy on yourself. There really is no right or wrong way.
Packing too much into your schedule could be a recipe for a mental breakdown. We definitely don't want that!
Create the Toddler Schedule that Works for You!
There ya have it!
All the steps you need to create a schedule for you and your little one. You're already a remarkable mother and I know you CAN-DO-THIS.
When you have to deviate a bit, don't worry. It's normal! I mean, we're planning around children here.
You're the captain of this ship and you'll do fine! Just remember to make it fun for you and your child, mama!
Being a stay at home mother is a hard but rewarding job.
I'll be the first to tell you that your schedule won't look like someone else's. You really have to find what works for you and your family.
Over to you now –
How do you structure your toddler's schedule? What have you found works best for you? Share in the comments below.
Don't forget to pin me!