Get the best maternity shoot ideas here!
Hey there, soon-to-be mama!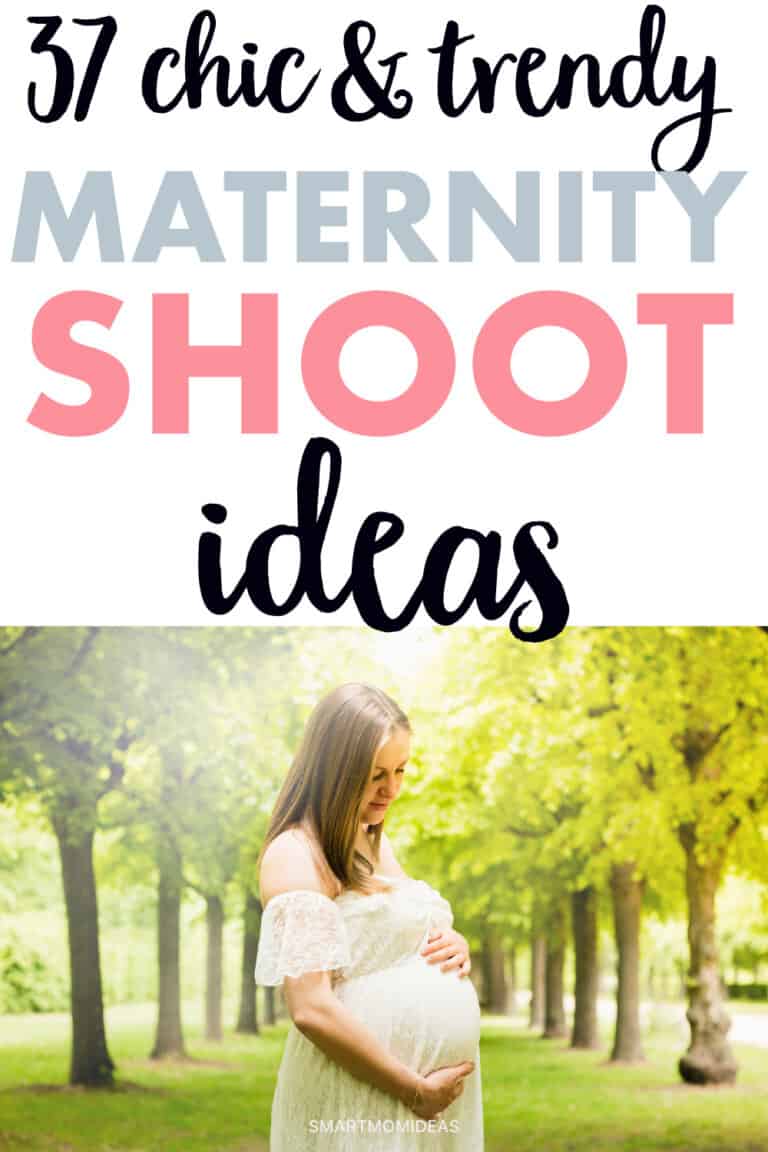 Congratulations on embarking on this incredible journey to parenthood—a time filled with wonder, anticipation, and boundless love.
As you eagerly await the arrival of your little bundle of joy, each passing day brings you closer to a magical moment when your family will grow in the most beautiful way possible.
Pregnancy is a remarkable chapter in your life, and you deserve to celebrate it in all its glory.
What better way to do that than with a heartfelt maternity photo shoot?
These precious snapshots freeze the enchantment of pregnancy in time, allowing you to cherish and relive these unforgettable memories for years to come.
From selecting the perfect outfits that accentuate your beautiful baby bump to finding heartwarming poses that portray the love and excitement you both feel, I've got you covered!
Let's check out some beautiful and memorable maternity photo shoot ideas:
Maternity Shoot Outfit Ideas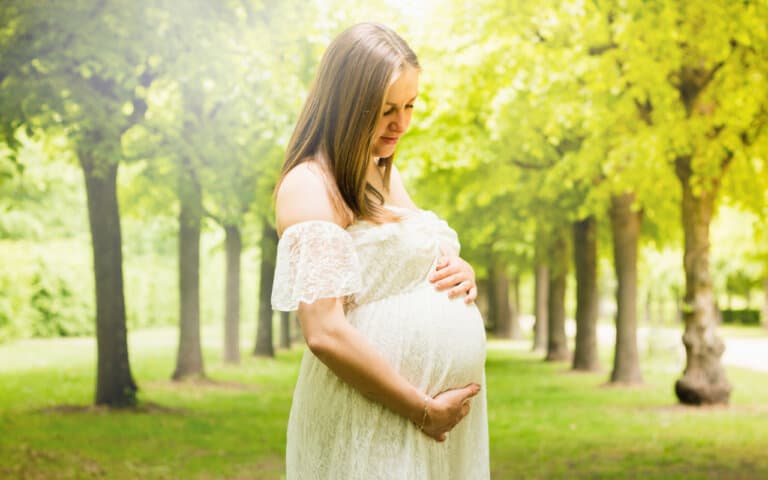 Let's start with what to wear for your maternity photo shoot. Embrace your beautiful baby bump with flowy dresses that accentuate your curves and make you feel like a goddess.
Maxi dresses, floral patterns, or even boho-chic ensembles can add a touch of elegance and natural beauty to your shoot.
If you're feeling more casual, pairing a fitted top with maternity jeans can create a chic yet comfortable look.
Here are some outfits that are perfect for simple maternity shoot ideas:
1. Flowing Maxi Dress
Embrace your glowing beauty with a flowing maxi dress that beautifully accentuates your baby bump. Choose soft, pastel colors for a dreamy look.
2. Boho Chic
Rock a bohemian-inspired outfit, complete with a cool boho hat and loose-fitting, bishop sleeves, for a whimsical and ethereal vibe.
3. Classic Denim
Timeless and effortlessly chic, a pair of well-fitted maternity jeans with a cute top will give you that casual yet stylish look.
4. Elegant Gown
Feel like a true goddess in an elegant gown that shows off your silhouette. Opt for a long, flowing dress in a bold color for a touch of drama.
5. Off-Shoulder Delight
Showcase your shoulders and collarbone with an off-shoulder dress or top, exuding grace and femininity.
6. Bodycon Beauty
Embrace your curves with a fitted bodycon dress that flatters your growing bump and accentuates your figure.
Couple Maternity Shoot Ideas
Your partner has been there with you throughout this incredible journey, so why not include them in the shoot?
Capture the love and anticipation between the two of you with affectionate poses that showcase your bond.
You can opt for a romantic stroll through a picturesque park, a playful embrace on the beach, or simply sharing a tender moment at home.
These photos will undoubtedly become cherished memories for both of you!
7. Hand on Belly
Capture the love and connection between you and your partner by placing their hand gently on your baby bump.
8. Nature's Embrace
Stand amidst a scenic outdoor location, holding each other in a warm embrace, symbolizing the love you share for your little one.
9. Writing in the Sand
Head to the beach and write your baby's name or initials in the sand, signifying the beginning of your journey as a family.
10. Kissing the Bump
A tender and heartwarming pose where your partner leans in to kiss your belly, expressing their affection for your baby.
11. Silhouette Sunset
Take advantage of a breathtaking sunset and pose as a silhouette against the vibrant sky, symbolizing the start of a new chapter together.
Family Maternity Shoot Ideas
Including your older children in the maternity shoot can make it even more special.
Create heartwarming memories as a growing family by engaging in activities that highlight the excitement of becoming siblings.
Let the little ones express their love for the new baby by capturing candid moments of them touching your belly or whispering sweet messages to their future sibling.
These photos will undoubtedly warm your heart for years to come.
12. Circle of Love
Gather your family in a circle, with hands connected around your baby bump, representing the love and support your child will receive.
13. Big Sibling Love
If you have older children, capture their excitement by letting them interact with the baby bump, sharing in the joy of the upcoming arrival.
14. Generations Unite
Invite grandparents to the photo shoot, celebrating the bond that spans across generations and the joy of a growing family.
15. Parental Hug
Stand as a family with both parents gently hugging the bump, symbolizing the protection and love your child will be surrounded by.
16. Childhood Memories
Choose a location that holds significance for your family and take candid shots while reminiscing about the wonderful memories you've created together.
Fall Maternity Shoot Ideas
If you're expecting during the colorful autumn season, take advantage of the breathtaking natural backdrop it provides.
I did my maternity shoot when I was 21 weeks pregnant with twins. This happened to be in the fall and my husband took some pictures.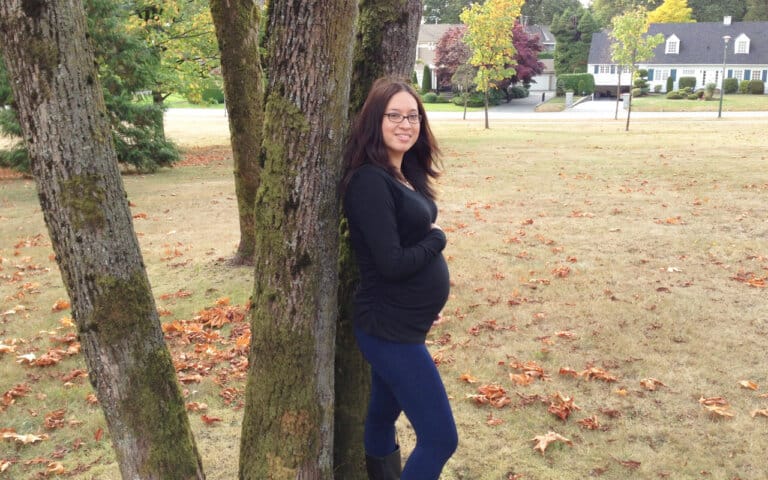 Plan an outdoor shoot amidst golden leaves with warm and cozy outfits to match the fall vibes. Scarves, boots, and cozy sweaters can add a touch of charm to your photos, making them as vibrant as the season itself.
Here are some amazing October maternity shoot ideas:
17. Autumn Leaves
Embrace the beauty of the season by posing amidst a bed of colorful fallen leaves, symbolizing the changing seasons of life.
18. Pumpkin Patch Perfection
Head to a pumpkin patch and use various-sized pumpkins to highlight the growth of your baby bump.
19. Cozy Sweater Weather
Bundle up in soft, oversized sweaters and scarves, enjoying the warmth and coziness of the fall season.
20. Rustic Farm Charm
Take advantage of the rustic charm of a barn or farm setting, surrounded by bales of hay and tall grass, for a down-to-earth look.
21. Cuddle by the Fire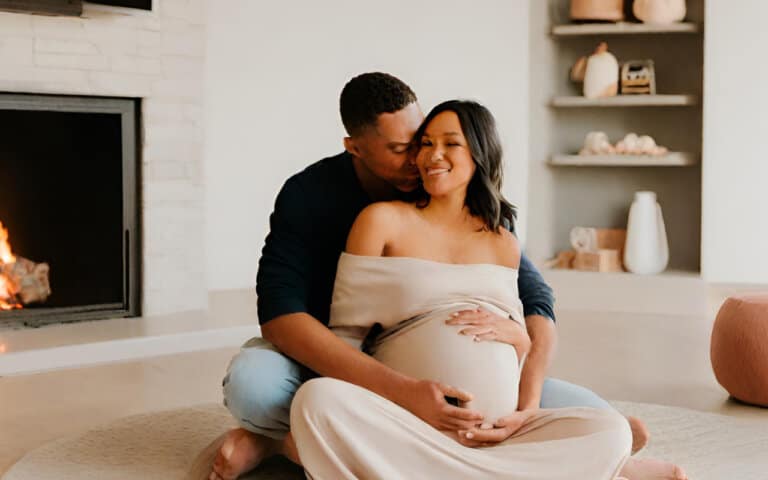 If the weather allows, have a cozy photo shoot indoors, cuddling up next to a fireplace with warm mugs of apple cider.
Winter Maternity Shoot Ideas
Embrace the winter wonderland with a maternity shoot in the snow! Imagine the outdoor maternity shoot ideas you can pull off in the wintertime!
Bundle up in stylish coats and scarves, and let the magic of the season shine through.
Capture intimate moments by a crackling fireplace or venture outside for snow-filled adventures. The serene and peaceful atmosphere will make your photos truly enchanting!
22. Snowy Wonderland
Embrace the magic of winter by posing in a snowy landscape, with the white backdrop highlighting your beautiful baby bump.
23. Knitwear Glam
Dress up in stylish knitwear, such as oversized cardigans, creating a snug and fashionable winter look.
24. Winter Accessories
Incorporate winter accessories like earmuffs, scarves, and mittens to add a touch of charm to your photos.
25. Sparkling Lights
Utilize twinkling fairy lights to create a dreamy and enchanting atmosphere, perfect for capturing the excitement of the holiday season.
26. Indoor Elegance
Choose a luxurious indoor location, such as a stunning hotel lobby or a cozy cabin, for a touch of elegance in your winter maternity shoot.
At-Home Maternity Shoot Ideas
Sometimes, the most intimate and personal moments are best captured within the comfort of your own home.
Here are some amazing at-home and unique maternity shoot ideas:
27. Nursery Love
Set up your baby's nursery and capture the anticipation and love you feel as you await their arrival.
28. Casual and Comfy
Embrace the beauty of everyday life by having a relaxed and comfortable photoshoot in your favorite spots around the house.
29. Kitchen Delights
If you enjoy cooking or baking, have a fun and lighthearted shoot in the kitchen, with the focus on preparing for the new addition to the family.
30. Dreamy Milk Bath
Embrace the beauty of milk bath maternity shoot ideas, where you can luxuriate in a tub filled with milk and flowers, creating a serene and ethereal ambiance around your baby bump.
31. Bookworm's Haven
Pose with your favorite books and create a cozy reading corner to capture the joy of sharing stories with your little one in the future.
32. Garden Serenity
If you have a garden or a backyard, use the natural surroundings to create a tranquil and serene atmosphere for your at-home maternity shoot.
Dog Maternity Shoot Ideas
For all the fur parents out there, why not include your beloved dog in the maternity shoot? They are an important part of your family too!
Dress your pooch up in a cute bandana or bowtie, and let them shower you with love and kisses during the shoot.
Check out these cute maternity photo shoot ideas you can do with your pup:
33. Paw-fect Family
Include your furry friend in the photoshoot, capturing the bond between your dog and the growing family.
34. Matching Accessories
Coordinate your outfits and accessories with your dog, like matching flower crowns or bowties, for a heartwarming touch.
35. Tender Moments
Capture candid moments of interaction between you, your partner, and your dog, showcasing the love and excitement they share for the upcoming arrival.
36. Playful Paws
If your dog enjoys toys, incorporate them into the photo shoot to add a playful and joyful element.
37. Pup's Perspective
Take a few shots from your dog's perspective, with the baby bump in the background, to celebrate the unique and special role they'll play as a companion to your child.
How to DIY Your Maternity Photo Shoot Ideas
Planning a DIY maternity photo shoot can be a delightful and rewarding experience. It allows you to add a personal touch to the pictures while also saving some money.
Here's a step-by-step guide to help you create your own magical maternity photoshoot:
Enlist a Friend: Ask a talented friend or family member with photography skills to be your photographer. With a little guidance, they can help you capture the perfect shots.
Natural Lighting: Opt for outdoor locations during the golden hour (just before sunset or after sunrise) for soft, flattering lighting that adds a magical touch to your photos.
Props and Decor: Get creative with DIY props and decorations. Use items like baby onesies, sonogram images, or cute baby shoes to add a personal touch.
DIY Photo Backdrops: Create your own photo backdrops using fabrics, blankets, or even fairy lights to add a whimsical and dreamy atmosphere to your pictures.
Smartphone Photography: If you don't have access to a professional camera, modern smartphones can still produce stunning photos. Use photo editing apps to enhance your images.
Posing Ideas: Look up maternity posing ideas online for inspiration. Practice different poses in front of a mirror to find the ones that make you feel most comfortable and confident.
Editing at Home: Basic photo editing can be done at home using free or affordable editing software. Adjust brightness, contrast, and colors to enhance the overall look of your images.
Celebrate the Journey to Motherhood with Unforgettable Maternity Shoots!
So there you have it, different maternity shoot ideas to make this special day unforgettable!
Just remember that the key to a successful maternity shoot lies in being true to yourselves and embracing the love you share.
Let the outfits, poses, and locations reflect your unique personalities and the bond you have as a couple or a family.
For more ideas check out these baptism dress ideas!
Now it's your turn!
If you've had a maternity shoot or have more creative ideas to share, drop a comment below. I'd love to hear them1