Check out these baptism dresses for moms!
While all the attention is going to be on your baby on the day of their Christening, that doesn't mean that you, the mother of the child, aren't allowed to look great too!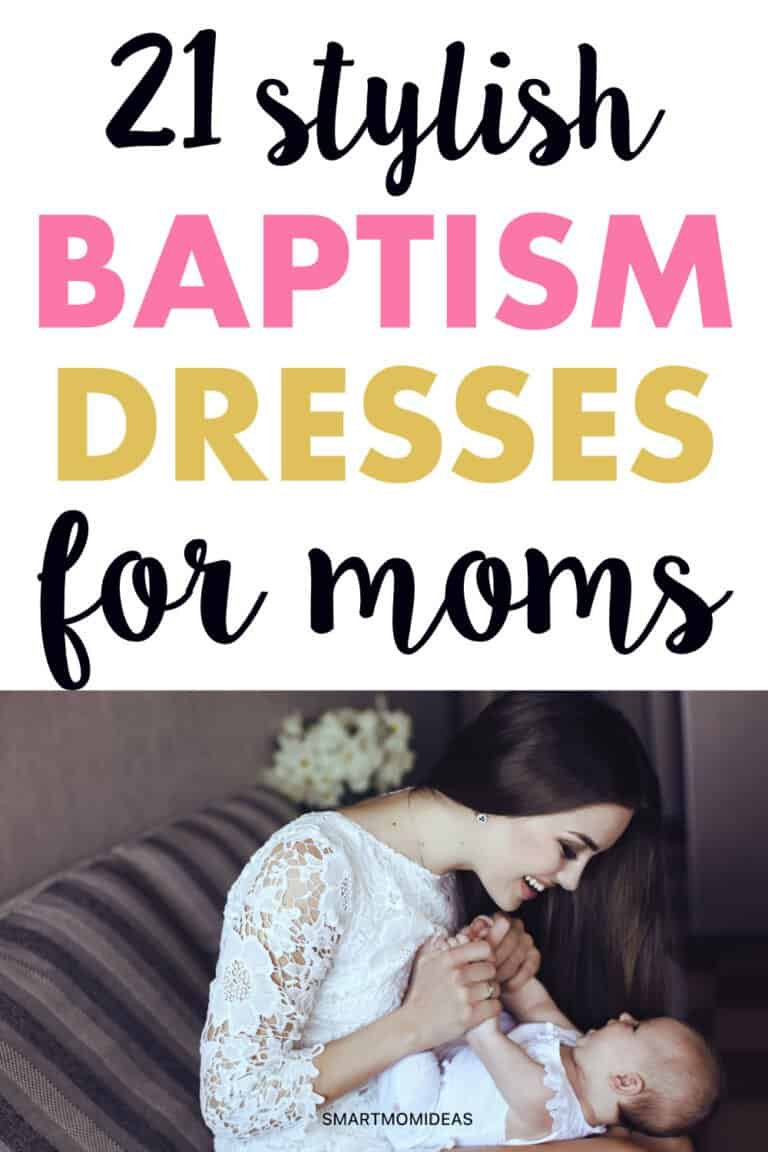 There will be so many photo-ops for this special occasion that you want to look your best next to your baby!
In this post, I'll go over a wide variety of baptism dresses for moms.
Many of these will versatile so don't feel that you can't wear them outside of a christening.
Whether you're looking to go more traditional when picking out your baptism outfits or just trying to find the perfect pair of dressy leggings, we've got you covered.
While the focus of this post is on picking a stunning outfit out for mom, these stylish ideas are also great for step moms, aunts, grandmothers, and Godmothers.
What to Wear to a Baptism
As women, we always struggle to find the perfect outfit for every occasion.
These once-in-a-lifetime occasions, such as weddings and baptisms carry even more weight.
The pictures from these type of events will live on forever, so choose your outfit with care.
The perfect outfit is appropriate for the occasion as well as complements your personality.
Like similar events, the occasion of a baptism can either be more formal or less formal depending on the Church or location it is being held in.
Here are a few tips to help you decide what to wear to a baptism.
Light-colored, not too short, cotton dresses are always a good idea
Choose a floral print that isn't overly bold or busy
A simple black outfit, such as a romper or dress.
Add a pop of color to a plain outfit with a scarf, belt, or jewelry.
All white, also great for outdoor summer events, just be careful when having those hors d'oeurves
All of the baptism dress and baptism outfit ideas are perfect for the mother of the child or the Godmother, the ladies that will be in most of the pictures with the child.
What are some of the dresses and outfits that you should steer clear of? That's just as important as what you should wear.
Stay away from low-cut or sheer clothing, modesty is key.
Particularly if the event is being held in a church there is an untold rule that your shoulders should be covered.
If you are unsure of whether the event will be more casual or formal, it is always better to err on the side of caution when choosing your outfit.
It's better to be a bit overdressed and polished rather than too casual or seemingly not put together.
Very bold colors and designs can also distract from the star of the show
While form-fitting can be flattering, you don't want anything too tight
While a modest-length skirt is fine, avoid shorts
Don't forget about the shoes, no heels walking on the grass (learned that the hard way…), and avoid flip-flops.
Remember, modesty and picture-worthy is what you want to go for during your child's christening.
Baptism Dress to Try On
If you search "baptism dress for mom" on popular online shopping sites, then you are sure to see some common themes: flowey, pastel, and lacey knee-length dresses as well as more formal dresses that could also be used for Mother of the Bride outfits as well.
This means those looks are popular dress styles for moms going to their first baptism. Let's look at 21+ cute and stylish baptism dresses.
1. Floral Knee-Length (Belly Hiding) Dress – Best Overall
This floral knee-length dress with pockets works great for a summer or spring baptism.
A comfortable and breathable material that is flattering and modest. While this works well for a baptism occasion, you can wear it out to brunch or even to the office.
A versatile piece that will complement your current wardrobe well. Plus…it has pockets!
This baptism dress is the best overall for moms!
2. Floral Lace Baptism Dress for Moms – More Formal
If you are looking for something a little more formal that you can wear to other occasions as well, then you're going to love this sleeveless, floral lace dress.
Available in a wide variety of colors, you're sure to find one that complements your skin tone well.
And, it's a highly versatile spring/summer dress too!
3. Floral V-Wrap Dress – For All Special Occasions
Light, flowy, and fun is the name of the game with this dress.
This floral summer v-wrap dress will have everyone asking where you got such a beautiful dress.
Its lightweight fabric is sure to keep you cool and will look stunning in every photo opportunity.
4. Two-Piece Baptism Dress – Formal Wearing
If your church is much more traditional, you might want to opt for a more formal baptism dress.
While this
comes with a higher price tag, it will be worth it!
You can repurpose it for other formal occasions, such as another family member's Christening, wedding, and even funerals.
5. Summer Floral Formal Maxi Dress – Boho Inspired
Isn't this the most beautiful baptism dress!
Made from the softest polyester and elastane blend, this A-Line maxi dress is perfect for your baby's delicate skin.
This dress is also not see-through, you don't have to worry when you're in front of a lot of family members.
It comes in a cream color that looks great in any lighting. It is also cinched at the waist to flatter any figure, and the length falls just above the ankle. Pair it with heels or wedges for a truly stunning look.
I would get a few of these dresses just to have!
Christening Dress for the Special Day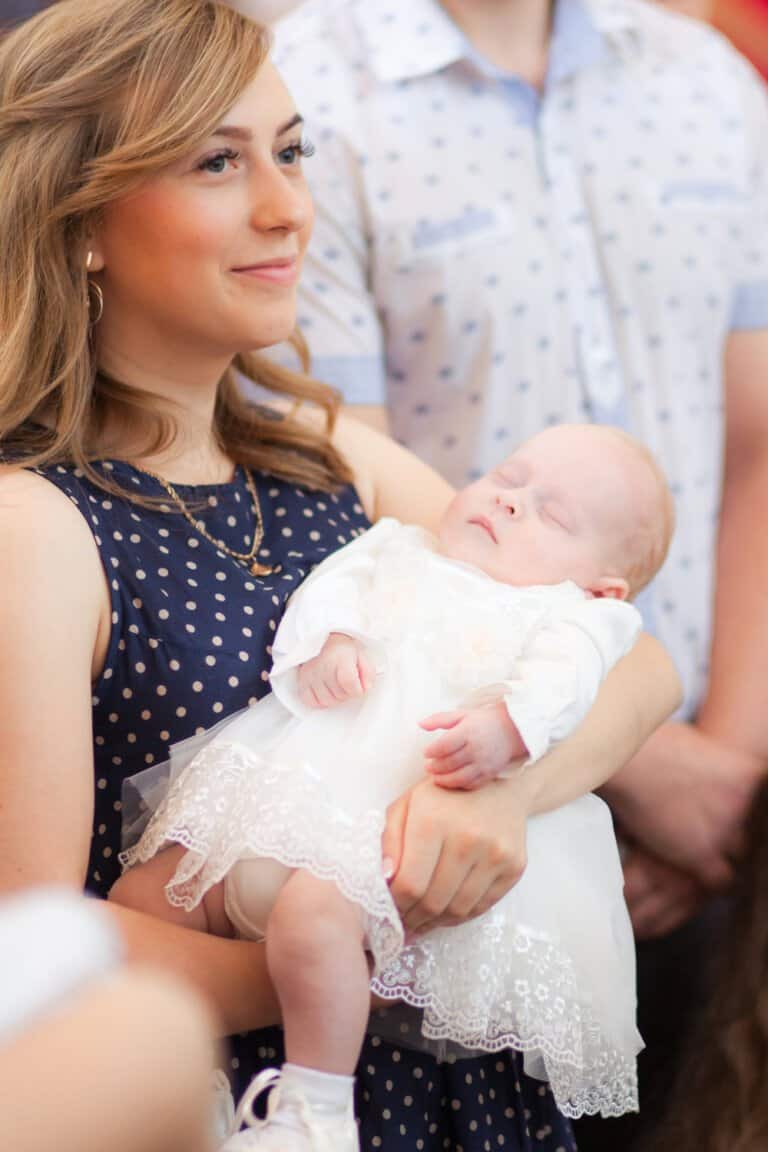 While technically a Christening dress and a baptism dress for moms aren't any different.
However, christening dresses are often thought of as white or lighter colored dresses, similar to that the baby or child wears.
So, let's check out some christening dress for your child's baptism.
6. Mini Dress – Modern and Trendy
If you want to stick with the white theme, this white mini dress is beautiful.
A great option for a mother on the shorter side and it give you a nice shape too!
7. White Lace Baptism Dress – A Classic
A simple, white lace dress is always a classic when picking out a Christening dress for the mother of the child.
With its stretchy fabric, you'll not only look amazing, you'll be comfortable as well.
8. Vintage Midi Dress – Classy
Another great formal and classic option is this vintage midi dress with ¾ sleeves.
If the Christening is going to be held in the cooler months, this is a stylish and functional option.
9. Half Sleeve Baptism Dress for Women – Simple and Elegant
I love the A-Line silhouette and knee-length skirt – it's so versatile and easy to wear.
This baptism dress is lightweight and perfect for warmer days. Plus, it doesn't require a slip underneath – score!
You can pair this with a thin belt and some cute flats and you're ready to go!
10. Pleated Short Sleeve Dress – Cute!
This gorgeous baptism dress is the perfect choice for your little child's big day!
The short and pleated design is both sweet and stylish, while the thick, stretchy fabric ensures a comfortable and figure-flattering fit.
Plus, the arms run a bit smaller, so it's perfect for those with more slender arms.
But, it is slightly see-through, so make sure to wear a slip!
Dress with Ankle Boots and Tights
If the baptism is going to be held in the fall or winter, then you are going to want to dress a bit warmer.
This doesn't mean bulky sweaters.
You can still pull off a cute dress with ankle boots and tights. Let's check out how to style these dresses with ankle boots and tights!
11. Opaque Tights
Any simple thigh to calf-length dress is fine. You can go with a solid colored pair of opaque tights to complete the look.
Pair these tights with vintage ruffle dress.
12. Patterned Tights
If you are wearing a simple baptism dress or if you are wearing a plain dress, a pair of patterned tights will work nicely.
13. Low Heel
Include a pair of ankle boots to your look for a great way to either dress an outfit up or down.
Go with a low heel for a more casual feel in the fall or winter months.
Pair with this stylish floral dress.
14. Ankle Bootie
You can go with a higher heel to dress up your outfit if the ankle boot doesn't work out.
I love these Ann Klein's ankle booties paired with a long sleeve dress!
Church Sandals
Sandals are a great option for spring and summer baptism occasions.
While you can use sandals you already have, if you want to have a complete baptismal look, consider getting some new Church sandals.
15. White Strappy Sandals
These white, strappy sandles go well with all-length dresses and are comfortable enough to wear for the entire day inside or out.
Pair them with this Boho V-neck with ruffles dress!
16. Crown Flat Sandals
Add a little bit of bling to your casual outfit with these crown flat sandals.
Aren't these gorgeous! They'll go with any white baptism dress – like this elegant long maxi Christening dress – or floral dress!
17. Espadrilles
If you would like something with a bit of a heel, then check out these espadrille wedge sandals.
You can't go wrong with these sandals!
Pair these espadrilles with this V-neck floral dress.
Baptism Outfits
Don't want to wear a dress to your child's baptism, check out these other stylish baptism outfits.
18. White Pants Suit – Classy and Professional Looking
A classic, white pants suit is always in style and will look great with your child's baptism outfit as well. Not a fan of all white?
Then choose from one of the many other colors or mix and match for something unique.
19. Romper for a Baptism – Stylish and Comfortable
For a spring or summer baptism, a romper can make a beautiful outfit as well.
While many rompers are rather short, opting for calf or ankle length would be more appropriate for a baptism celebration.
A solid-colored, pant romper with sleeves is a versatile piece that you can easily incorporate into your wardrobe after the party.
Dressy Leggings
When the attention is on you, we mean your baby, you want to not only look great but feel comfortable in what you are wearing.
It's perfectly appropriate to wear a blouse and dressy leggings to a baptism celebration.
20. Leggings with Pockets – Practical and Cute
You won't have to worry about losing your phone or any other necessities with these super comfortable leggings with pockets!
Available in a range of neutral colors, you're sure to find the perfect pair for your big day.
When you are picking out your leggings for a baptism occasion, you should stay away from athletic leggings with bold patterns or sheer spots.
A simple, flowy blouse pairs well with dressy leggings.
Knee-Length Casual Summer Dresses
Knee-length casual summer dresses are also a great option for baptism dresses for moms.
Having a knee-length dress is a lovely option for moms during their child's baptism.
21. Tee-Shirt Dresses – Ultra Casual
These plain-colored, tee-shirt dresses are great for dressing up during the ceremony and going casual for a picnic afterward.
Pair with a stylish belt, ankle booties, and accessories for the baptism ceremony.
These comfortable A-line dresses also come in a variety of patterns and colors and work well as a christening or casual summer dress.
Christening Outfits
In terms of style, Christening outfits tend to be much more formal than your casual summer or spring dress. Unlike other celebratory occasions, such as a wedding, there isn't always a clear-cut dress code.
One of the biggest caveats is modesty.
Many mothers choose to go with light neutral or shades of white to represent the purity of their child's Christening celebration.
For very formal events, you might even consider a beautiful hat to complement your Christening outfit. These types of hats go well with a dress, pantsuit, or romper.
One type of much more classic outfit to consider is a dress coat, think Kate Middleton vibes.
Another beautiful option for a Christening outfit is a maxi dress.
They work well for those who don't like shorter dresses and are available in so many styles and colors, you'll be able to find the perfect outfit for your occasion.
While this floral maxi dress is casual, you can easily add an elegant necklace to make it a little more glam.
Find the Best Baptism Dress for the Occasion!
Celebrate your child's christening with a gorgeous baptism dress, specifically for moms!
I hope you found the right dress for your child's special day!
Please pin me!