Rock your pregnancy body now and look your best with these popular pregnancy outfits!
Been thinking you'll get around to looking hot after you have your baby?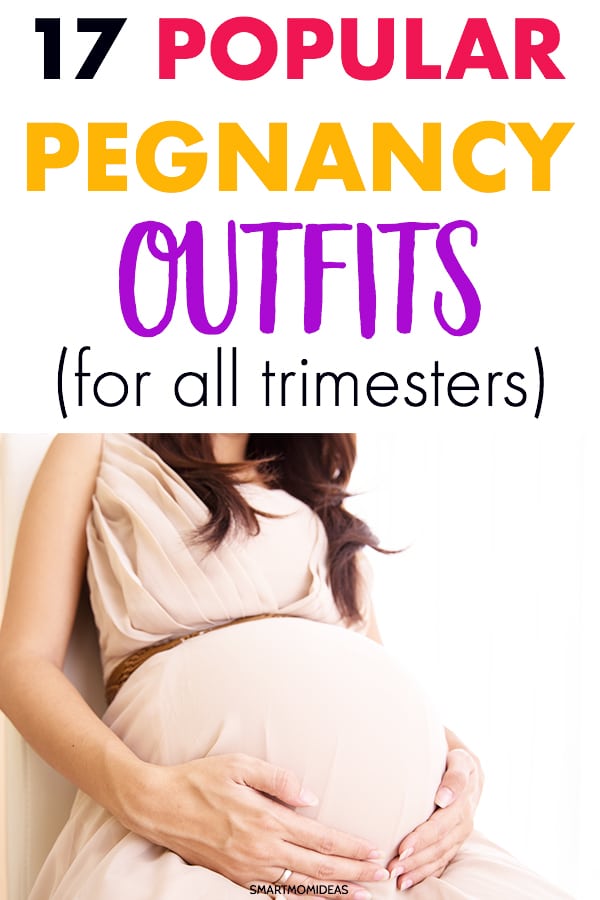 Don't enjoy shopping much anymore as your body changes each day and week?
All mommies-to-be have that same tendency to let themselves go for one reason or the other.
It seems like the only light at the end of the tunnel is to transform yourself only after you've gained your pre-pregnancy body back.
But mama, that's not true! You can look beautiful right now (today!). Big belly bump n' all. 🙂
It's a double win when you find cute maternity dresses and outfits and you can wear them throughout all your trimesters!
Check out these 17 popular pregnancy outfits that'll make you look and feel great during your pregnancy.
1. Striped Maternity Tunic Top With Jeans
For some reason, striped shirts and dresses always seems to look so good on pregnant mothers.
This shirt is a simple look that pairs easy with maternity jeans. If you opt for comfy over formal, this look is a great fit!
2. Black and White Maternity Blouse
Wear this blouse throughout any of your trimesters and after pregnancy. It's also a nursing blouse so this can live in your postpartum wardrobe.
Mix and match with a skirt or pants. Either way, you've got options!
3. Long Summer Dress
This long maternity dress is cute and perfect for lounging around the house. Its solid color means it's easy to match with a simply sweater or cardigan that you may already have in your closet.
4. Baseball Maternity T-Shirt with Jeans
Love your baseball Ts? Love floral patterns? There's a huge variety of maternity tops for you to choose from, mama.
A simple look like this is comfy and can be matched with different bottom options such as pants, shorts, or a skirt.
5. Long Sleeve Maternity Nursing Dress
I'm a huge fan of things that serve a double purpose! It can be hard to see the point in buying maternity clothes that won't fit after you have baby or even look as cute on you.
You won't have to tuck this dress away in your closet so quickly if you plan on breastfeeding your baby. It's loose fitting, and both the left and the right breast area lift up to make breastfeeding your baby much easier.
This dress even has pockets!
6. Undershirt, Cardigan, and Maxi Skirt
https://www.instagram.com/p/-DObf_zMuP/
I love the cardigan look! There's a ton of ways mix and match them. Plus, it never really seems to go out of style. The belt pulls this whole look together.
It's best to keep at least a few black and white sleeveless tops in your closet because they go with just about anything. They're great for layering to provide extra warmth as well as to give you extra coverage so your tummy doesn't show.
7. Leopard Print Dress
You can still be pregnant and sexy, mama! Being pregnant can make you feel less than gorgeous, but just remember- you are!
Lay around your house in sweats if you want, but don't let that be all you ever wear. Show off your baby bump when you put on this formal sexy leopard print maternity dress.
8. Long Sleeve Bell Tunic Sweater With Jeans
Stay cozy in this long sleeve bell sweater. Bell bottom jeans have come in and out of style throughout the years. If you love bell bottom jeans, why not try the bell top?!
It may look a bit odd to wear them together though. 🙂
This type of sweater is best matched with pants as opposed to a shirt or shorts.
9. Women's Open Shoulder Tunic with Hood
If you don't want to put much time or thought into fashion during your pregnancy, this light hoodie will give you a casual edgy style.
It's one step up from throwing on a jogging sweater. Wear your favorite jeans and your ready to go!
10. Short Sleeve V-Neck Mama Bear Shirt
Let everyone know that mama bear is in the house! Wear this shirt around your home or outside.
Although challenging, pregnancy is one of the most incredible things a woman can ever experience! Let everyone know you're the new mama bear, because you are!
11. Maternity Dress with Tie Waist Belt
Here's a nursing-friendly dress that is something you can wear around the house or when you go out. This dress is perfect for the days you feel like dressing up but have nowhere to go.
You can also wear this dress after pregnancy and still look amazing!
12. The Baby Made Me Eat It
This shirt is so darling! Pregnancy is the most extreme thing our bodies will ever experience, mama. Every mommy-to-be should have at least one fun shirt like this.
It amazes me what women crave when they're pregnant. If you're craving things you would never eat in a million years then wear the shirt that says it all! I mean, it's not your fault right?! 🙂
Wear this with a simple pair of jeans, skirt, or shorts.
13. Wrapped Maxi Dress
Who said hot and pregnant don't go together?! This dress comes in many different colors and patterns and is designed to fit comfortably during any stage of your pregnancy. It has a ¾ sleeve and reminds me of a princess dress.
If you're looking for something soft and stretchy but still want to look stunning, look no further.
14. Hello MIZ V-Neck Maternity Top
Don't wait until you're done being pregnant to put effort into looking good.
This shirt captures professional, casual, formal, and fun all in one! Find the right color for you and accentuate your cute belly bump!
Wear this with a pair of blue or white maternity jeans and you'll be good to go.
15. Floral Lace Maternity Blouse Top
Every woman needs at least one outfit she feels absolutely beautiful in. I love lace in an outfit because it's super feminine.
Match this with a white skinny pant for a soft, clean look.
16. Floral Lace Breastfeeding Nursing Top
Here's a stunning round neck lace nursing top. Here's yet another top you can keep in your wardrobe after you've given birth.
I love how the layer in the breast area gives this top more edge. The layer also lifts up for easy breastfeeding access. So you can skip having to lift your entire shirt up. 🙂
The cool thing is that it doesn't look like a breastfeeding maternity top! Put on a pair of your comfy white or denim maternity jeans to match.
17. Knee Length Wrap Dress With Belt
This is a fun summer maternity dress for any occasion. Whether you're going to the beach, on vacation, on a picnic or just meeting up with friends, this is a great fit! This v-neck dress is comfy and perfect for easy nursing!
Spice Up Your Pregnancy Wardrobe!
You're gorgeous mama, and the clothes you put on should reflect that. I hope at least some of these 17 pregnancy outfits will make you feel like the amazing and beautiful woman you truly are!
Expand beyond your sweats and casual T-shirts into wearing something more beautiful (at least some of the time).
When you wake up feeling large, crampy, and maybe even unattractive, go into your closet and pick out one of these outfits! How you dress affects your mood and how you feel about yourself.
Find the best pregnancy outfit for you and enjoy!
Over to you, mama! What are your favorite pregnancy outfits for all trimesters? Let me know in the comments below.
Remember to pin me!