Check out the best belly band for pregnancy!
Carrying around a baby bump is a lot of work!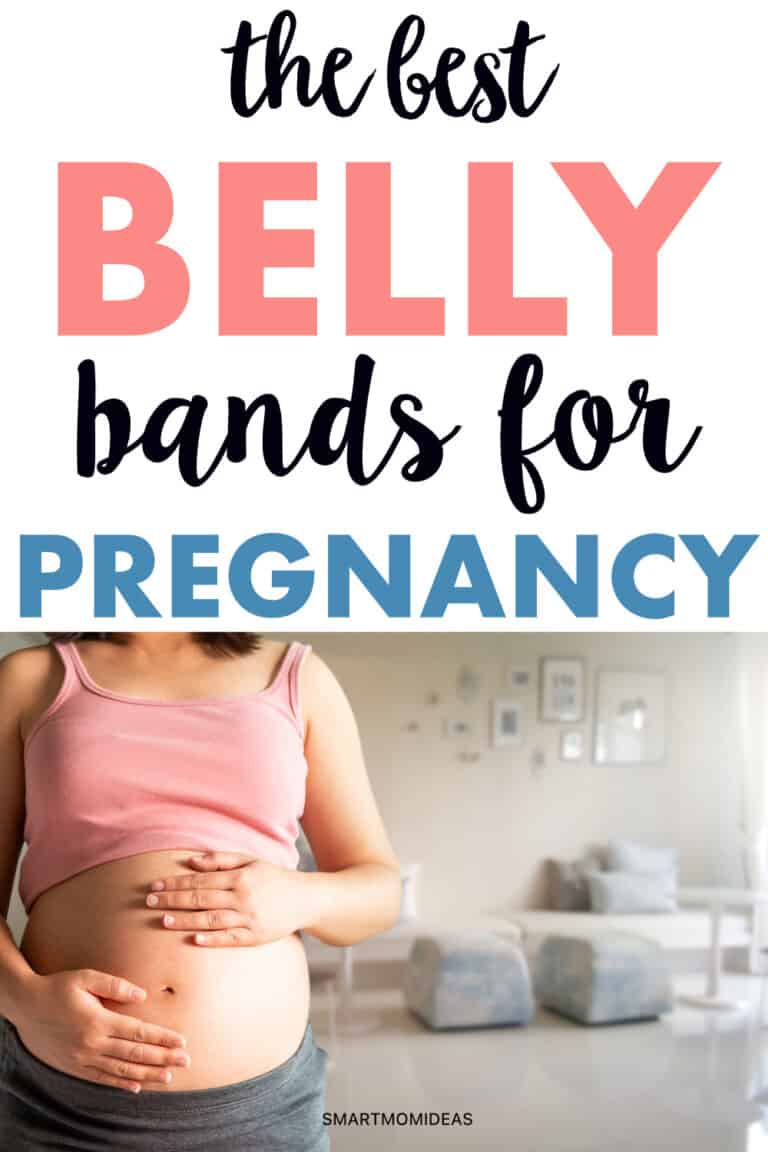 And finding the best belly band for pregnancy can be confusing and overwhelming.
But this doesn't mean you should shy away from trying a belly band.
They provide amazing support not only for your bump but for your entire body, including your back, hips, and pelvis.
They can help with pain, swelling, bladder pressure, and other wonderful discomforts during your pregnancy journey.
Pregnancy support belts come in many styles and forms.
Some of them are perfect for twin bellies, while others are designed specifically for exercise.
Of course, I wouldn't want you to waste your time trying to find the perfect belly band for your unique needs – so here's a list of the best belly bands for pregnancy.
What is a Belly Band?
A belly band is a flexible garment that wraps around your stomach to provide support to your hips and lower back.
It also helps to provide mild compression.
You can wear a belly band around your bellies outside your unzipped pants or under some comfy leggings.
Belly bands come in a variety of shapes, colors, sizes, and designs to help support your belly during your pregnancy!
The Benefits of Wearing a Belly Band During Pregnancy
Apart from providing support to your body, belly bands provide other benefits:
Decreased leg swelling
Improved posture
Lower risk of falls
Decreased aches and pain
Reduced bladder pressure
Makes exercise easier
By more evenly distributing your weight during pregnancy, belly bands can prevent swelling, stabilize your core and pelvis, and alleviate pressure on your muscles and joints.
Can Everyone Wear a Belly Band?
While belly bands are designed to be worn by pregnant women of all shapes and sizes, they should only be used in moderation (i.e., during times when you are uncomfortable).
Belly bands provide compression, but even though this can benefit your body, you want to ensure you're not wearing them all the time to encourage proper blood flow.
Experts recommend that you only wear a belly band or pregnancy belt for 3-4 hours per day.
Overall, belly bands are a great non-invasive way to support your body and increase your comfort during pregnancy!
Now that you know what a belly band is and how they work, let's look at some of the best belly bands for pregnancy.
Best Belly Band for Pregnancy
The best belly band for pregnancy, according to pregnant women everywhere, is the NeoTech Care pregnancy support maternity belt.
This maternity band features a customizable abdominal pad that attaches to a lower back support band.
The design helps to ease the strain on your lower back and can fit bellies up to 60.5 inches (which is more than most other belly bands can accommodate).
The NeoTech belly band also has breathable fabric and provides super gentle compression to your body.
The velcro straps make it super easy to put on and take off – and you can loosen it while you are sitting and tighten it while you are standing and walking.
When you order this belly band, make sure to check the sizing guide and go a size up instead of going by the size of your maternity pants. This way, you'll get the perfect fit!
Best Belly Band for Plus Size Pregnancy

Again, pregnant women come in all shapes and sizes, and you may be looking for a way to support a huge bump during your pregnancy.
The best belly band for plus-size pregnancy is actually more like shapewear so that your entire belly and body are properly supported.
Check out the Belevation Maternity Band that comes in sizes up to XXL. It's made of a seamless, breathable, and moisture-wicking fabric to provide maximum comfort!
It doesn't have the same structure as other maternity bands that use velcro closures. Instead, the stretchy materials allow you to easily slip this belly band on and off.
Perfect for big and beautiful baby bumps!
Best Belly Band for Twin Pregnancy
Take it from me when I say that a twin pregnancy requires some heavy-duty equipment!
That's why the Cradle Belly Band is the best belly band for a twin pregnancy.
Made by It's You Babe, this award-winning belly band is designed to provide ample support during your entire pregnancy.
It features adjustable shoulder straps, and if you're pregnant with twins, you're going to need them!
The entire brace lifts and holds up your bump and pelvic region to help improve your posture and relieve pain.
So, this belly band for twin pregnancy may look like an ordeal, but it's easy to put on and can be discreetly worn under your clothes.
Best Belly Band for Exercise
Exercising during your pregnancy is a great way to keep you and your baby healthy, but it can be hard when you're lugging around a huge belly!
The Gabrialla Elastic Maternity Belt is perfect for mamas-to-be who want to continue working out during their pregnancy.
This pregnancy belt is specifically designed for active pregnant women.
It sits securely around the hips and lower back to cradle your belly while you are lifting weights or working on your cardio.
Oh, and it also has a back pocket where you can slip in a hot or cold therapy pack to help with achy muscles and joints.
Bonus!
(If you do decide to continue exercising throughout your pregnancy, speak to your doctor about an appropriate workout routine, and don't overdo it!)
Best Belly Band for After Pregnancy
Yes, you can even continue to wear a maternity band after pregnancy!
The Belly Bandit is the best postpartum belly wrap to wear after your little one is born. This 2-in-1 belly band includes postpartum bands to support your body after giving birth.
While you are pregnant, you can use the long band under your stomach for light support or double-up the short band for extra compression.
After your baby is born, fasten the bands around your hips and lower back to ease tension on your hips and pelvis and help guide your joints back to their pre-pregnancy positions.
Postpartum belly bands are great for recovery from both natural and c-section birth!
The Belly Bandit is machine washable and has velcro closures, so it's super easy to use!
Best Belly Bands for Pregnancy – Honorable Mentions
As I mentioned earlier, belly bands come in all kinds of shapes and styles!
Here are what I call the Honorable Mentions when it comes to the best belly band for pregnancy:
Cabea Baby Belly Band – Best for Pelvic Pain
If you are experiencing significant pelvic pain during your pregnancy (also known as "lightening crotch"), check out the Cabea Baby Belly Band.
This belly band is designed to lift your bump off your pelvic floor and relieve issues such as pelvic joint stiffness, hip instability, and pelvic pressure.
You can easily adjust this belt during your pregnancy and use the pelvic-groin straps for additional pelvic support.
Bellaband – Best for Casual Wear
Yes, it's the original belly band! Well, it's at least the first one I remember hearing about.
The Bellaband isn't going to give you oodles of support later in your pregnancy (not like the other bands in this list), but it will help you continue wearing your favorite clothes as your bump grows.
You can slip on the Bellaband at its full length to cover your entire belly or fold it to create a strap that will help keep your pants in place.
Babymoov Maternity Sleep Belt – Best for Sleeping
Okay, so I know you're not supposed to wear a pregnancy belt for more than 4 hours per day, but sleep belts are actually designed not to compress.
Instead, sleep belts have memory foam along the sides and the light elastic material in the belly area to provide support and comfort while you are sleeping.
If you're not crazy about wearing a sleep band throughout the night, you can always use a pregnancy sleep pillow!
Check out styles that wrap around your entire body or pregnancy wedge pillows.
Azmed Maternity Belt – Best for Low Bellies
If you're carrying your baby low or are having issues with lower back pain, the Azmed Maternity Belt is your best choice!
With your baby hanging low, this pregnancy support belt will reduce strain on your back and help improve your posture.
It's a simple belt that can be easily adjusted and worn throughout your pregnancy.
FAQs – Questions about Using a Belly Band When Pregnant
1. When Should You Start Wearing a Belly Band When Pregnant?
You can start wearing a belly band during pregnancy as soon as you feel uncomfortable.
This might happen at different times in your pregnancy – some might start wearing them in their first trimester, while others might wait until the second or third.
For some women, this is around 12 weeks, but for others, it might be later on in the pregnancy.
2. Can I Use a Belly Belt while Sleeping?
If you're pregnant and uncomfortable, you may be wondering if it's okay to sleep with a belly band.
Yes, it's okay to use a sleep band while sleeping!
There are definitely sleep bands for pregnant women on the market (I mentioned the Babymoov Sleep Dream Belt), so you'll want to make sure you choose one that is comfortable and supportive.
When it comes to using a belly belt while sleeping, there are a few things to keep in mind.
First, make sure the belt is not too tight.
You should be able to breathe easily and not feel constricted in any way.
Second, the band should be made of a breathable material so you don't get too hot during the night.
And finally, make sure the band is positioned correctly so it offers support in all the right places.
With these things in mind, there's no reason why you can't use a belly band while sleeping and enjoy a more restful night's sleep.
3. Can Wearing a Belly Band Hurt the Baby?
No, wearing a belly band will not hurt the baby.
However, you should always listen to your body and only wear the belly band for 3-4 hours per day.
If you start to feel discomfort, take the belly band off.
4. How Tight Should a Belly Band for Pregnancy Be?
Your belly band should be tight enough to provide support, but not so tight that it's uncomfortable.
When waring a belly band, you should be able to breathe easily and not feel any pain when wearing the belly band. If you start to feel discomfort, take the band off.
Best Belly Support Bands for Pregnancy
There you go!
These are the best belly bands for pregnancy and will make a huge difference when it comes to comfort and alleviating pain.
If you're looking for other ways to be comfortable during your pregnancy, check out my post about pregnancy footwear for swollen feet.
And, don't forget to check out the best online birthing classes you can take!
Now it's your turn – Have you ever used a belly band during pregnancy?
Which was your favorite?
Let me know in the comments!
And don't forget to pin!