Wonderful candy-free Advent calendar ideas!
Do you always feel like the month of December creeps up on you so suddenly?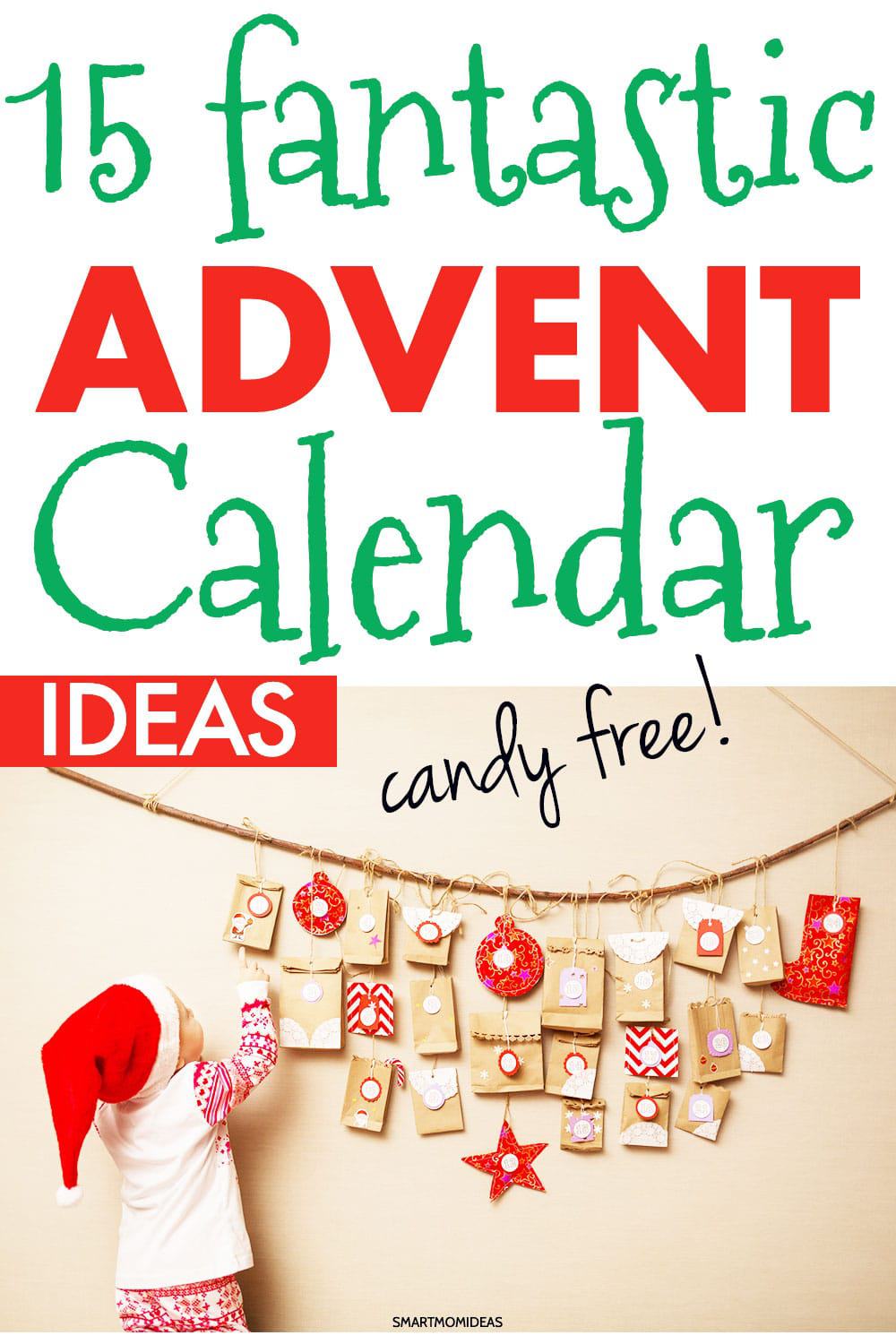 The last thing I remember, I was gearing up for summer fun with my kiddos. Then, out of nowhere, I'm sending them back to school.
Before I knew it, I was thinking about Christmas.
While the lead-up to Christmas can be a hectic and stressful time for parents, it's a time of excitement for children. Our anticipation is typically laced with dread but theirs is bursting with wonderment.
One popular tradition in most households is to start an advent calendar on the first day of December.
Children are allowed to open and access one small treat every day until Christmas day.
It's a great way to ride that momentum of excitement, but so many advent calendars are full of candy, chocolate and other sugary treats.
While the holidays tend to be a time to indulge, I'm more interested in giving my kids an advent calendar that is not candy-based.
Not only does it steer them away from the extra sugar, it gives them something more tangible to enjoy throughout the month instead of just scarfing down the day's chocolate or treat.
Here are some fantastic advent calendar ideas your child will delight in (without the chocolate and sugar):
1. Burlap Hanging Advent Calendar

Countdown to Christmas with this decorative garland and burlap advent calendar. Each bag features a Christmas tree, star and heart shape and the numbers 1-24.
This set comes with a long rope for hanging and red ribbons to tie up the burlap gift bags.
Fill each bag with a small toy or trinket and reuse it every year!
2. Bracelet and Necklace Set Advent Calendar
This unique advent set counts down from December 1st until Christmas day, featuring a different charm every day – except for the 1st of December, which hides the bracelet and the 16th hides the necklace.
All of the jewelry is made from environmental alloy and is plated with white gold. It's nickel, lead and cadmium free, so the bracelet and necklace (as well as the charms) are all hypoallergenic.
Not only does each day reveal something novel for your child, but you can have a lot of fun using the charms to design personalized jewelry pieces!
3. Felt Santa Advent Calendar
For little ones, these felt advent calendars are a perfect reusable calendar that you can hide little treats and toys in.
If you want to make the Christmas season even more memorable, you can write little notes or jot down special Christmas activities for each day.
The material is durable and easy to clean – it can be hung anywhere in your home!
4. Felt Christmas Tree Advent Calendar
Another spin on the felt advent calendar are these adorable felt Christmas trees! Each pocket holds a felt "ornament" that can then be used to decorate the tree.
Again, felt products are perfect for younger children – they are soft, safe and easy to grasp and hold.
And apart from simply letting them place one ornament per day, they can have fun rearranging the decorations to make their own personal Christmas tree!
5. Nickelodeon Storybook Collection Advent Calendar
I've heard of parents giving their children a book a day throughout the month of December – now you can get an entire set ready to go!
This set includes popular Nickolodean characters (think SpongeBob, Blue's Clues, Dora, PAW Patrol, etc.) and includes 24 winter and Christmas-themed books!
This would be a great way to start a book-a-night tradition leading up to Christmas day!
6. Disney's Frozen Storybook Collection Advent Calendar
Don't worry, Disney got in on this idea too!
The Frozen Storybook Collection features 24 books starring the popular cast of the Frozen movies. Each book is also winter or Christmas-themed and a perfect choice for the Frozen fans in your home.
By the way, these storybook collection advent calendars feature individual pockets for each book – making each day a surprise for your child!
7. Marvel Storybook Collection Advent Calendar
And, yes, Marvel did it as well!
Again, same concept but this storybook collection set features well known Marvel Superheroes. From Captain America to Spiderman and the Hulk, they are all featured in 24 mini-stories your little superhero is going to enjoy.
Unlike the previously mentioned sets, these stories are not winter-centric, but still exciting and enjoyable for your little ones!
8. Q-KI York Beauty Advent Calendar
Do you have a child or teenager who loves to play with and wear makeup? You can always celebrate the holiday season with this makeup advent calendar!
Each door can be opened to reveal a little beauty treat, including nail polish, lipstick, eyeshadow and even makeup brushes.
One day of the month even provides a little purse compact for on the go!
9. Crayola Christmas Countdown Activity Advent Calendar
Encourage your child's creative spirit by getting them a Crayola activity advent calendar which includes 24 artistic gifts.
This set includes doodle scent markers, glitter crayons, paint pots and washable window markers as well as glue sticks, ribbons and googly eyes!
Your little ones will love each surprise! You can use these materials to have your children create crafts and cards to give away as Christmas gifts.
10. Playmobil Santa's Workshop Advent Calendar
Your little ones can help the elves get ready for Christmas by building this Santa's Workshop advent calendar day by day!
This advent calendar includes a backdrop, four figures, Santa's sleigh and reindeer as well as the elves' workbench, toys and many other accessories.
This is a great advent activity for children, since they not only get to build the scene but can sit down and enjoy playing with it everyday.
11. Soft Mini Toy Advent Calendar
Little hands are better suited for softer items, so this mini-toy advent calendar is perfect for younger children!
Each day features a new adorable mini animal toy, including a unicorn, dinosaur and Christmas-themed toys such as a snowman and Santa Claus.
The toys are made of 100% non-toxic thermoplastic rubber, are free of BPAs and hypoallergenic – so they are safe for small children.
Just be careful your little one doesn't try to pop one of the toys in his or her mouth. Although they are easy to wash, they are not meant to be chewed.
12. Miniature Ornaments Advent Calendar

Let your children celebrate the joy of Christmas everyday by revealing a super cute ornament that they can add to the Christmas tree with this advent calendar.
Or have a small, personal tree in their bedroom that they can add these ornaments to!
The great thing about this advent calendar is that they can keep the ornaments for next year and, if you buy them another calendar, add even more!
13. Friends Official Advent Calendar
I don't think it would be fair if I didn't add a calendar for the "big kids" of the house! Why shouldn't the adults get in on the fun too?
Whether you are a fan of the show, or simply appreciate its existence, this official Friends advent calendar features over 40 surprises spread out across 25 days.
These include trinkets, ornaments, recipes and keepsakes.
Bonus: They refer to this advent calendar as "The One With the Surprises". Classic.
14. Cardboard Advent Calendar with Gift Drawers
Do-it-yourself advent calendars are a great choice if you want to reuse the calendar every year! With this cardboard drawer set, you can choose which goodies you want to hide throughout the days leading to Christmas.
Just like the felt Santa I mentioned above, you can tuck in little toys or special notes and activities.
Each drawer measures 2" by 4" by 2", so there's plenty of room to tuck in a special treat.
15. Make Your Own Calendar!
You actually don't need any special equipment to make your own advent calendar. In fact, you don't really even need a calendar at all!
Same goes for toys and trinkets. You can easily print out 24 unique Christmas activities and complete them with your children each day.
Some activities could include watching a holiday movie, baking Christmas cookies or even performing one act of kindness for someone in your community.
The Meaning of the Season
While we want to make Christmas Time as special and exciting for our children as we possibly can, we need to remember that the wonderment of Christmas has little to do with what they receive and more to do with the experience.
That's why I love advent calendars, since they are a simple way of building that excitement but can be done without going totally overboard.
And by choosing advent calendars without treats, chocolate or candies, you can make the entire experience personal and memorable for your child.
For more Christmas ideas check out these posts:
How about you? What kind of advent calendar do you use in your home? Drop a comment and let me know!