Get DIY Christmas decorations you can make using Dollar Store items!
While we all love to surround ourselves with festive décor during the holiday season, decorating for Christmas does not have to break the bank.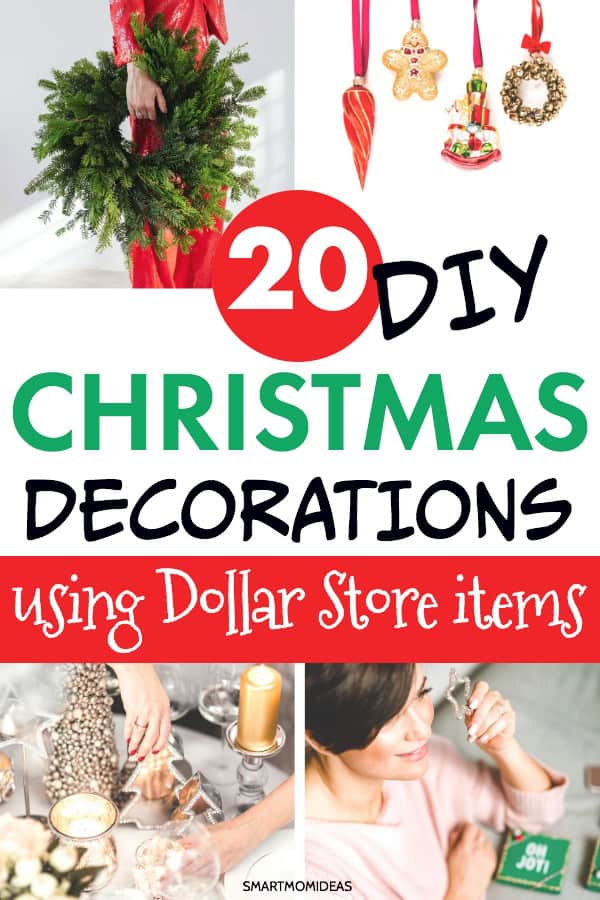 There are many decorations you can make yourself – and for cheap too!
And what's great about DIY Christmas decorations is that you can get the whole family into it! My twins love making Christmas decorations every year.
This can be a nice memory or even a Christmas traditions like Elf on the Shelf for your family!
To help you out, I've rounded up some awesome DIY inspirations.
Scour your local dollar stores for inspiration or try these 20 DIY Christmas decorations that won't destroy your budget:
DIY Christmas Ornaments
1. Dollar Store Christmas Trees
These adorable Christmas trees can be made out of a plunger! How cool is that! With a drill, some wired garland and little ribbons and tinsel, you have an adorable Christmas tree table top.
2. 3D Paper Stars
Grab some festive scrapbooking paper and create a range of designs and colors. You can easily use the same stars and swap out the paper for different holidays and occasions.
3. Glass Jar Centerpiece
A large glass hurricane is a great investment for dressing up your home – no matter what the holiday or occasion! Using only one jar, you can change out the decorations on the inside to suit your theme or the season.
4. Dollar Store Dioramas
These snowy dioramas are so cute – and so easy to make! You just need to grab some wine glasses, holiday figurines and fake snow.
Create your little scene and place the wine glass upside down over the figurines.
5. Days Until Christmas Chalkboard
While chocolate-filled advent calendars are great, this rustic countdown chalkboard is sure to have your whole family anxiously awaiting the big day! This decoration involves only a plate, ribbon and some chalkboard paint.
6. Wire Star Ornament
Using colored wire, these super simple ornaments will add a rustic look to your Christmas tree – and they are easy enough for the whole family to make!
7. DIY Snow Village
With just a few ornaments, glue and glitter, you can create this beautiful snow village. Everything you need can be found at the local dollar store!
8. Berry Wreath
There is nothing more traditional for Christmas decorating than a beautiful wreath! This beautiful berry wreath can be brought out during the Autumn season and enjoyed right through until Spring.
9. Paper Plate Wreath
This is a wreath that your little ones can help create – it's easy, cute and would make amazing Christmas gifts for grandparents or teachers!
10. Bulb Wreath
This wreath makes great use of unwanted Christmas bulbs! Using just a coat hanger, you can arrange beautiful bulbs into a whimsical holiday wreath.
11. Kiddo Snow Globes
Make this DIY decoration a yearly tradition by using updated pictures each year! These ornaments are a great way to let friends and family enjoy your little ones as they grow up.
12. DIY Christmas Ornaments for Kids
Let your little ones have a blast making these super easy Christmas ornaments that will last for years to come! Using a Styrofoam cup, you can make a beautiful bell or cover a Styrofoam ball in glitter for a cute Christmas bulb. Or fashion some adorable reindeer using Christmas bulbs or old-school clothespins.
13. Glass Bulb Ornaments
Many crafts sell empty Christmas bulbs (and if you can grab some post-season sales, bonus!) that you can fill and decorate to your heart's desire!
14. Bottle Cap Snowmen
These super cute and easy snowman involve 3 bottle caps (they can be plastic instead of metal), paint and ribbon. If you are planning a children's Christmas gathering, this would be the perfect take-home craft!
15. Gingerbread Cookie Ornament
They're traditional, they're cute and they smell amazing! These are non-edible cookies, so make sure little ones don't try to take a bite. You can find a super simple recipe by Fountain Avenue Kitchen here.
16. Winter Vases
These vases are perfect for the entire season! You can switch out the content to coordinate with Autumn, Spring and Summer as well.
17. Framed Reindeer Silhouettes
Remember the scrapbook paper candles? Why not use the same scrapbooking paper to make coordinating reindeer silhouettes! These super cute framed pictures can be hung on the wall or placed around your fireplace mantle.
18. Candy Cane Wreath
The hardest part about making edible decorations is not eating the goods as you make them! These cute candy cane wreath is simple to make and involves only candy canes and some hot glue.
19. Peppermint Candy Bowl
Another yummy Christmas decoration! These peppermint candy bowl is beautiful scented and festive way to decorate your home. Once cooled, the peppermints will not melt and the surface turns smooth and glossy, not sticky.
20. Snowman Soap Dispenser
Made of felt, this is an easy DIY decoration that your little ones can help out with. Use buttons, beads or whatever embellishments you can find to make a cute soap dispenser koozie for the holiday season!