Check out these funny and quick Elf on the Shelf ideas!
Elf on the Shelf has been a fun Christmas tradition for many families for a very long time.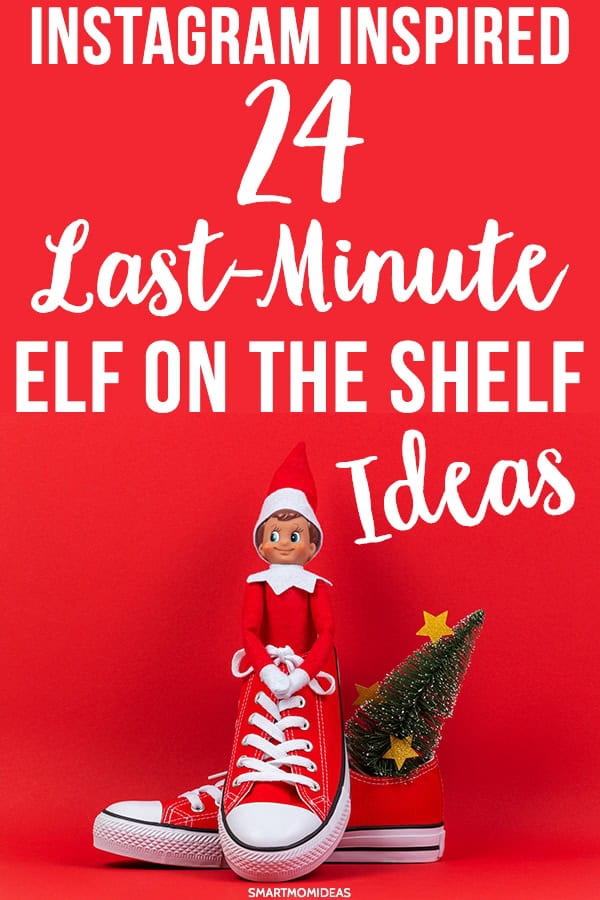 From fun and hysterical themes to elaborate recreations of movie scenes, there are hundreds of different elf on the shelf ideas.
Many of these ideas can be adapted for things you already have in your home or easily ordered on Amazon Prime for some quick Elf ideas last minute.
The great thing about many of these ideas is that you can give little gifts along with the fun elf on the shelf themes, such as small toys and candy.
Here are 24 easy and last minute elf on the shelf ideas.
Quick Elf on the Shelf Ideas
To get started you need yourself your own Elf on the Shelf (or two). You can grab one here.
1. Playing Cards
Do your elves stay up late drinking cider and playing cards?
I guess the kids will have to find out in the morning. While you can use any kind of card or board game, why not use the actual elf on the shelf card game. Both your elf and your kids will have fun matching colors and symbols on the cards.
2. I'm Back…
Of course, the very first appearance of your elf on the shelf should be special and let your family know that he is back to his (or her) old hijinx for the holiday season.
The perfect little gift to stick under the Christmas tree on December 1st.
3. Let Me Out Of Here!
This is another fun elf on the shelf idea for their initial appearance.
Make your kids work to set their elf free by trapping him in a large clear balloon with a sign on the top asking to be let out. You better hurry…balloons don't have air holes!
4. Work Out Buddies
If there are a lot of super heroes that hang out around your house, then invite them to the party.
Elf on the shelf ideas can include more friends than just the elf. Take all of your child's favorite superheroes and build a tiny gym out of popsicle sticks and felt, complete with marshmallow bench press.
5. Taco Tuesday
Because who doesn't love tacos on Tuesdays?
Don't you love this Elf last minute idea?
I seems while you are getting dinner ready the elves go into some mischief trying to make a taco.
They might need some help from their favorite kiddos to figure out how to use that tortilla correctly.
To make an elf taco suit, simply lay your elf on the tortilla and cut holes where their arms and face go, then wrap.
6. Rice Krispie Elves
Do you have a few mischievous elves in your home? Surprise your kids in the morning when they get up to get their favorite cereal with an elf popping out of the cereal box.
Make sure your little guy (or girl) has their cooking apron on whenever they are in the kitchen so they don't get dirty preparing breakfast!
7. Gummy Bear Waterfall
Looks like the elf messed with the plumbing again!
Trick your kids into thinking that gummy bears are coming out of the faucet.
They will be fighting over who is going to brush their teeth first.
Grab a pound of some holiday colored gummy bears and some industrial tape (or maybe a hot glue gun.) You might want to think about shutting the water off to the faucet though, you wouldn't want to end up with a goopy gummy mess.
8. Elf Camping
Does your elf like to camp out under the stars?
Make this adorable little teepee tent to keep him safe from the elements or falling tinsel.
Even better if there is a spot that you can place him under the Christmas tree. He'll really be roughing it then!
9. Spy Elf
Make sure your kids know that their Elf is watching them with spy elf!
Make a fun and festive paper chain out of colored Christmas paper and hang your elf from a nearby fixture.
Add some colorful pom poms or tiny wrapped toys under where your elf is hanging. Don't forget about some extra shiny holiday wrapping paper to wrap those tiny (and big) gifts in!
10. Movie Night
Have your elf on the shelf invite his friends over for a holiday movie.
Might I suggest his favorite movie, Elf. Make sure that your elf is a great host and provides his guests with these cute mini ice cold drinks and popcorn.
11. The Floor is Lava!
Ok, technically the floor is a bathtub and the lava is glitter slime, but you get the idea.
Your elf needs to escape up the Christmas bow climbing wall before he gets gobbled up by the slime.
If your kids are slime fanatics, then this is a perfect elf on the shelf idea where they can have a ton of fun playing with the slime afterwards.
So grab your glue and glitter and make a big batch of glittering green slime!
12. Flour Snow Angel
That darn elf is in the kitchen again making a mess!
Plus, it's a quick Elf on the Shelf idea to set up!
Looks like he might have been trying to make holiday cupcakes and got the flour confused with snow.
Your kids can help clean up the mess by finishing up baking cupcakes and adding some festive holiday sprinkles!
13. DJ Jingle
Encourage your kids to move around and get some indoor exercise with DJ Jingle and his friends.
Don't forget to dress up your elves with a bunch of glow sticks!
You can easily make most of this set by printing out images of DJ equipment and gluing it on some cardboard.
14. Reddi Whip Roulette
Take the pie in the face game to a whole new level with Pie In The Face Cannon. Have the game all set up and ready to go with the elves waiting to pie you or your kids. Take turns having the elfs push the button for the cannon.
15. Mary Poppins the Elf
It's always fun to emulate movies with your elves.
Relive an old classic with Mary Poppins floating down to care for the children. She can even bring some candy umbrellas to give to the kids!
16. The Show Must Go On!
The Greatest Showman is such a great movie and there are so many interesting things you can do not only with elf on the shelf ideas but party ideas as well.
Have your elf be part of the act and fly high on the trapeze (or many ride an elephant).
Simply print out a scene or two from the movie and set up a display with some circus themed items.
17. Make a Rainbow
This is a fun one, it involves candy and a science experiment.
Grab a bag of Skittles and place them on a plate in a circle according to the rainbow.
Once everyone is ready, add a little bit of water to the plate and it will seep the colors from the skittles and create a beautiful rainbow.
18. Shrinking Cookies
Your little ones are such to get a kick out of the elves shrinking down their regular sized cookies into elf sized cookies.
For this you will need to build your own little cookie shrinking conveyor belt and will need both regular sizes and miniature sizes of your favorite cookies.
This works well with Oreos and Mini Oreos and Chips Ahoy and Chips Ahoy Minis.
19. Showered with Balloons
Those silly elves can certainly make every day tasks, like taking a shower, a little cumbersome.
If you have a shower with a door (or a closet would work as well), take some festive holiday balloons and fill up the area leaving your elves at the scene of the crime.
20. Elf Sledding
If your kids have recently enjoyed some sledding, have your elves share in the fun!
Build a snow hill out of some glittering white felt and cardboard.
You can also build a hill out of stacked white towels. You could even add a few glitter pom poms and have a tiny elf snowball fight!
21. Jurassic Park
Break out the toy dinosaurs and some moss or dirt.
This is a great one for families with kids that love dinosaurs and museums.
Don't have dinos on hand but want to add this to your list of elf on the shelf ideas?
Grab some plastic dinos and set up your own holiday themed Jurassic Park (minus the dinosaurs eating people).
22. Snowball Fight!
The elves have declared a snowball fight!
Keep the fight indoors (and warm) with these mock snowballs, soft enough they won't hurt when you get hit with one or break anything.
Just watch out, those elves have excellent aim.
23. Rock Painting
Have your kids fallen into the painted rock craze?
These are fun and simple art projects that not only promote creativity but are also fun to leave around town for others to find.
Don't have a load of rocks on hand to paint? Try this fun rock painting kit that kids (and elves) can easily do.
24. Elf Refuelling Station
Make sure your elves are all fueled up on hot coco and ready for their mischief ahead.
Make sure to stock up on some hot cocoa for the elves and coffee for Mom and Dad.
If you need even more elf on the shelf ideas, head over to the official elf on the shelf website for loads of last minute ideas that you can whip up in no time!
Cute Elf on the Shelf Ideas I have Done
Here are a few of Elf on the Shelf ideas I have done with my twins:
And this Elf idea last minute idea:
Over to you –
Which elf on the shelf idea will you be using to surprise your kids this holiday season? Share with me in the comments!