Get your mom life organized with these best bullet journals + 55 bullet journal ideas to get you started!
Moms.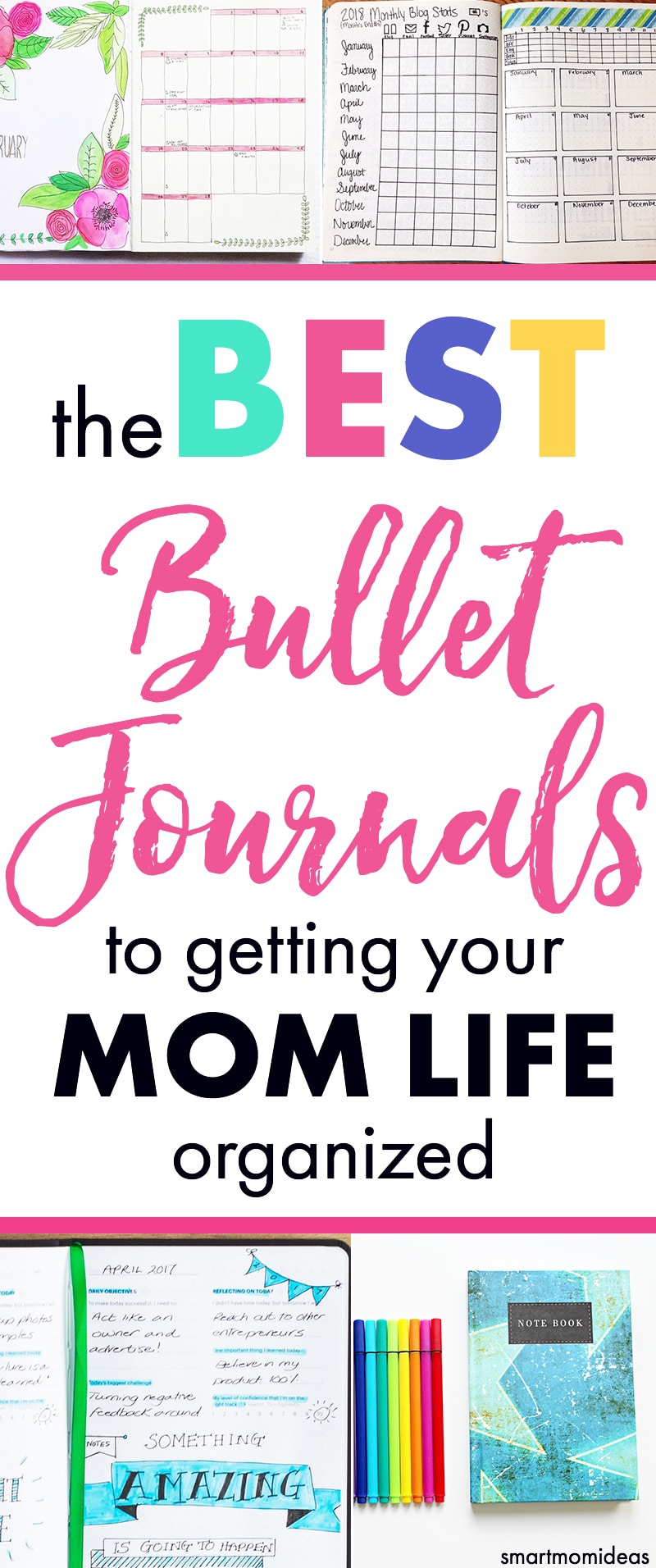 I have a confession to make.
Ever since I started blogging, my work area has slowly become disorganized. Multiple notebooks, post-it notes from my twins littering my desk and don't get me started on pretty pens and highlighters!
I've been hearing A LOT about bullet journals and they look AMAZING. I LOVE to doodle and create, and bullet journals mesh your creativity personality with your logical side.
I finally received my bullet journal in the mail and while I use mine, I thought I'd share with you what bullet journals are (and who created the trend), how to get started bullet journaling, the top bullet journals for moms and give you 55 bullet journal ideas!
Phew!
I would love it if you pinned this post for later or bookmark it for when you have a chance to decide which bullet journal you want.
What is a Bullet Journal?
The Bullet Journal idea was created by Ryder Carroll in 2015 as "an analog system designed to track the past, organize the present, and plan for the future."
I bet when he started the movement, he didn't know it would evolve into this social media trend where people show their elaborate journal designs.
What's great about bullet journals is that you can totally customize it to your way of thinking and organizing – from very complex systems to a creative box and line checklist!
Not sure if a bullet journal is for you? Take this quick quiz:
Do you want to be more organized in certain areas of your life?
Have you been unsuccessful with digital organizers or just want to move away from organization apps?
Do you feel like a traditional planner or to-do list is just not enough for you?
Do you struggle with keeping track of all your to-do lists?
Do you want a place where you know where everything is, from your doctor's phone number to meal ideas to blog post ideas?
Do you want to unleash your creative side and pretty up your to-do list? (I do!!!)
If you answered yes to any of these questions, then a bullet journal is for you and can help in any area of your life that needs more organization – because, I mean, who doesn't NEED more organizing as a mom?
When used to its full potential, a bullet journal has the ability to help you create good habits, save money, and accomplish your personal and business goals.
It's not a magic book – I wish! – it is just a better way of tracking your life.
How to Start a Bullet Journal
Doesn't the video make it looks fun and super easy to set up your bullet journal?
To help you get started, the creator of the Bullet Journal suggests setting up your journal like this:
Your first blank spread is your index and should be labeled on each page. Once you set up your other spreads, you will come back to the index and write the page numbers of each spread.
Your next blank spread should be labeled your future log. Next, separate your spread into six sections to represent six months.
Your next blank spread will be your monthly log. You will add the month's name on the top. The left side will be your monthly calendar, so number it with the dates of the month. The right is your monthly task list.
Your next blank spread will be your daily log. Each day gets short task sentences.
Use keys to keep track. Tasks are marked with a dot bullet, events with a circle bullet, and notes get a dash bullet. The most important daily tasks get a star next to it. Anything left undone either gets crossed out or marked with a left or right arrow to indicate which new month they should be put under.
Use collections to group similar items. Wondering where your "book list" or "favorite meals" should go? These belong on a separate spread called a collection. They can go on blank spreads between your monthly logs. Keep track of them by writing down their page number in your index spread.
The point of this system is to jot down things quickly and to organize ideas in a more productive manner. The way the Bullet Journal creator teaches journaling is logical and beneficial, but if it doesn't work for you, don't be afraid to change it up a bit.
Make the system work for you, and remember to have fun!
55 Bullet Journal Ideas to Get Started
You can use your bullet journal for just about anything!
I love using a planner to keep my mom life, blogs, and freelance writing clients organized, but so many times I find that the premade planners do not have everything I need to stay on track.
That's where my soon-to-be bullet journal comes in. You can customize it to fit your life and your needs. You can have one journal to keep track of everything or have separate journals for your mom to-do list and your business to-do list.
Here is a huge list of 55 bullet journal ideas to get you started:
Mom Organization:
Daily chore list for you
Daily routine
Project list
Daily to-dos
Areas to organize
Chore list for kids
Medication/vitamin chart
Bucket list for spring/summer break
Books to read aloud to your kids
Crafts/activities to do with your kids
Toys your kids ask for
Important contacts
Important future appointments to remember
Children's school projects and field trips
Wardrobe inventory
Kid needs to keep in mind for when there are sales
Memories to remember
Birthday tracker
Money Lists:
Financial goals
Budget tracker
Utilities tracker
Items you want to sell
Debt repayment tracker
Vacation/down payment tracker
Daily spending
Credit score tracker
Bill tracker
When to cancel subscriptions/ free trials
No spend tracker/ challenge
Returns
Food:
Weekly menu planning
Pantry inventory
Freezer inventory
List of quick, family favorite meals
Meal ideas
Restaurants to try
Health:
Daily water tracker
Exercise log
Meal/calorie tracker
Sleep log
Spiritual/Mental Health:
Prayer list
Gratitude list
Bucket list for family health
Devotion tracker
Daily affirmations
Business:
Business goals
Business to-do list
Editorial calendar
Social media goals
Affiliate sales tracker
Daily action steps
Fun Stuff:
Vacations you want to take
Books you want to read
Movies you want to see
Your bucket list
Top 8 Bullet Journals and Accessories to Get Started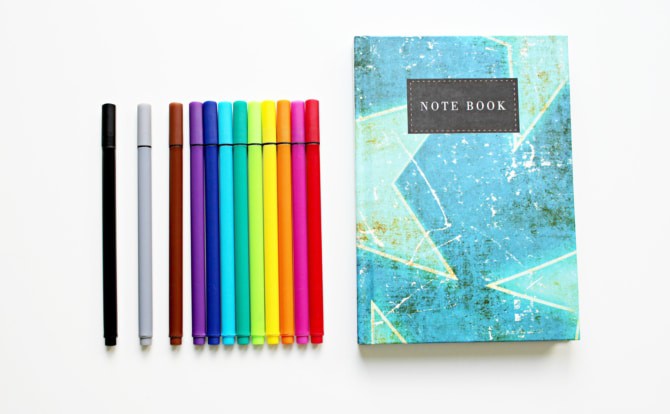 The truth is that you can use any notebook to get started in bullet journaling. It is whatever works for you. However, using one of these bullet journals and accessories can make it easier to organize and keep track of your lists.
These journals are designed with dots instead of lines for total customization. That's why people are free to draw their organization tasks instead of just list. Amazing right?
The Best Bullet Journals
1. Leuchtturm1917 Medium Size Hardcover A5 Notebook
The Leuchtturm bullet journal is one of the most popular journals out there. It comes in a million different colors for your taste, is hardcover (so those little hands don't destroy your precious book) and it can serve as a diary.
Comes with 125 dotted pages and perforated pages.
If you end up using a fine point pen, don't worry, it WILL NOT bleed through the pages.
To get you started the Leuchtturm notebook does come with stickers for organizing your pages.
Here is what my Leuchtturm1917 bullet journal looks like!
2. Moleskine Large Ruled Hard Cover Notebook
Another popular bullet journal option is the Moleskine books. It also comes in red.
The pages have a warm look to them making this book a relaxing way to organize your hectic mom life!
You can tell right off the bat that this book is well made and will quickly become the go-to for your note-taking.
This is a great bullet journal for your husband too!
People LOVE their Moleskine – it can be addicting!!

3. Dot Grid Notebook
Now isn't this just so cute!!!!
The Dot Grid Notebook is made for moms! It's cute and simple to set up. Try using different weights of pens to see if it bleeds through the pages – it shouldn't.
Check out these cute designs too! – Dots, Animals, and Purple.
It's a floral design with 110 pages to fill your tasks for the year!
4. Bullet Journal – Lemome Dotted Numbered Pages Hardcover A5 Notebook with Pen Holder
This Lemome Dotted Numbered bullet journal is high-rated set comes with extra bonuses, like stickers and a pen.
This is awesome since you don't have to buy the extra accessories for your bullet journal. With the emoji stickers, you can have fun raiting your tasks at the end of the day and even get your child to help you!
The pages are thick so you don't have to worry about creating colorful graphs or pictures on each page!
5. Field Notes Kraft Ruled 3-Pack
If you would rather have a lined journal, this set of small journals – Field Notes – works wonders! It has a simple design but don't let that fool you.
It's easy to tuck in your purse or diaper bag and it's neutral for the entire family to use (well, your husband at least!). Use this notebook with love!
Over the holidays we tracked our todo list using a physical notepad on the fridge. I noticed it actually worked better than an app, so I decided to try out #bulletjournal for a bit. Got my Field Notes all set up. 📝 📓 pic.twitter.com/hkYftrJfQG

— Gerrit Niezen (@gendor) January 12, 2018
6. BookFactory Ghost Grid Dot Journal
I love that this Ghost Grid notebook is spiral-bound so I can have it opened to my daily to-do list when I'm running around in the kitchen meal prepping!
The notebook comes in black, gray, wood look or a worn-out look.
It's the perfect size to throw in your diaper bag, purse or backpack.
But, I would mostly station this spiral notebook open on my kitchen counter as I run through the day accomplishing my tasks!
7. Essentials Grid-lined Notebook
For people who prefer a grid-lined notebook, this Grid A5 notebook comes with thicker paper than many of the other journals and a grid pattern.
This company has been around for a while is this notebook is considered one of the best for sketching and bullet journaling!
8. Bullet Keeper
This Bullet Keeper journal comes with undated monthly calendars and weekly bullet journal spreads.
It does some of the work for you so you can spend more time planning and less time setting up your journal.
The Best Bullet Journal Accessories
You can't have a bullet journal without the right bullet journal accessories! From pens to tape to stencils, you need these to create your amazing bullet journal! Check out my absolute favorite accessories (I can look at these all day!).
Bullet Journal Stencil Plastic Planner Stencils Journal – 12 Pack – You don't have to be an artist to have a good-looking bullet journal. Stencils will make your bullet journal look artsy and save you time.
Huhuhero Fineliner Color Pen Set – This set of 10 colorful markers have minimal bleed and a fine print for writing.
Washi Tape Set of 30 Rolls – Washi tape is an inexpensive way to make your journal more colorful and fun. You can also use leftover washi tape to make gifts look pretty and for crafts with your kids.
Bullet Journal Your Way
Whether you use the Bullet Journal system as from the original creator or you pick one from the list of eight bullet journals, find a method that helps you get more done and achieve more goals each day.
How do you bullet journal? Let me know as I'm still all new to bullet journaling!
And please remember to pin me!
And thanks to Candice of The Brown Eyed Mom and Megan from Papaya-Me for your beautiful bullet journal photos!