Check out these flattering, tummy-hiding mom swimsuits for your postpartum body!
Are you ready for summer, mama?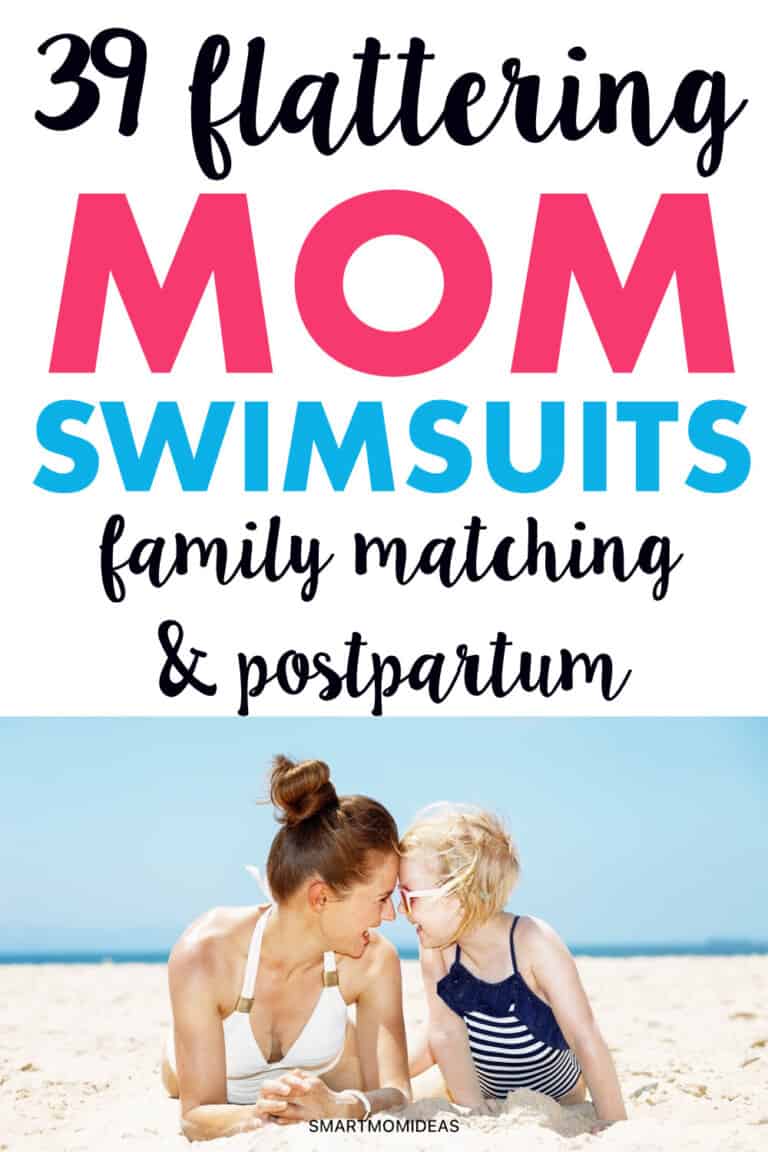 I know many moms can get self-conscious when it comes to their post-baby body and there's nothing wrong with looking for swimsuits that hide the belly pooch or getting a postpartum swimsuit!
It's not so much that you are embarrassed by your body but it's understandable that you want to hit the beach or go on vacation with a good self-confidence boost.
I've put together this list of mom swimsuits that will hide your mommy tummy and flatter your body.
Whether you are looking for a one-piece, two-piece, or a more modest style, there's definitely a bathing suit here for you.
I also included some super adorable mom and me swimsuit sets so you can match your little ones!
Let's check them out!
One-Piece Swimsuits That Hide the Belly Pooch
1. CUPSHE V-Neck Swimsuit
Is there anything more frustrating than feeling like you can't find a swimsuit that flatters your figure?
If you're like me, you've probably grown to dread swimsuit season.
But this year, I've found my new favorite swimming essential in the Cupshe V-Neck Swimsuit.
This suit is so easy to wear and flattering on any figure.
The ruching helps to camouflage any problem areas, while the V-neck cut is both sexy and demure.
I feel confident and comfortable in this suit, and I know you will too!
Don't be surprised if you see CUPSHE a few times on this list –they make amazing mom swimsuits that hide the belly pooch!
This one has a cute frilly v-neck and comes in so many colors.
2. Vintage-Inspired Swimsuit
Vintage bathing suits are back and better than ever!
This unique, stylish swimsuit is perfect for any woman who wants to look her best by the sea or pool.
This bathing suit has a cool vintage feel to it but the ruching and gathering across the front are perfect for hiding your tummy
Be sure to check out the different patterns and colors!
3. CUPSHE Criss Cross Swimsuit

CUPSHE makes super cute bathing suits! I can't resist adding them to this list, especially this one has a criss cross back and ruching to hide belly pooch.
This suit is super flattering and cute, with just the right amount of coverage.
It's perfect for moms who want to feel stylish and confident at the beach or pool.
The quality is excellent, and it doesn't ride up or bunch.
I absolutely love this suit and will definitely be buying more in the future!
4. Sovoyontee Women's Ruched Twist-Front Sweetheart
This bathing suit is made from a looser fitting material so it won't cling to your mom pooch!
With its stunning twist-front sweetheart neckline and thick straps that are adjustable to accommodate different torso lengths, you'll be able to flaunt your curves with confidence, mama!
The bust also has removable cups, so you can customize your look however you please.
And the leg opening is of moderate cut, giving you a bit of cheekiness at the bum.
Plus, the suit fits well and doesn't ride up or give you pesky tan lines. And, that's a plus in my books!
5. Summer Mae Maternity Swimsuit
Maybe you're not worried about your postpartum body just yet, but you want a swimsuit to flatter your pregnant bod!
This one from Summer Mae is designed just for pregnant women but it's okay for your postpartum body too!
6. Aqua Eve Tummy Control One Piece
This swimsuit is designed with ruched tummy control to flatter your shape and hide the belly pooch.
What's great about this suit is it's designed to flatter your figure, accentuating your best assets while hiding any problem areas.
The slimming design is not only incredibly flattering, but also extremely comfortable. And with adjustable straps, you can be sure to get the perfect fit every time.
Whether you're lounging by the pool or playing in the waves, the Aqua Eve Tummy Control One Piece is sure to become your new favorite swimsuit.
7. Anne Cole Bandeau One Piece
I absolutely love this flattering mom swim suit because it shows how you can be stylish while working with your postpartum body!
The shirring on the sides gives it a flattering look and it also comes with removable straps.
It's perfect for any age and is so flattering. It fits perfectly and offers great support.
I love the sweetheart neckline and the twisty bandeau silhouette.
8. Daci Falbala Ruffled Tummy Swimsuit
This swimsuit will hide the belly pooch without sacrificing style!
Made of soft and stretchy material, this ruffled tummy swimsuit for moms is comfy, flattering, and provides great support.
The ruffle neckline adds a touch of elegance, while the tummy-smoothing design makes it ideal for any body type.
Plus, the high-quality construction means that this suit will last for seasons to come.
9. Arena Bodylift Swimsuit
Looking for mom swimsuits that are more sporty?
This one is not only made of high-performance fabric but are have a shapewear design for tummy control.
This suit is perfect for large busted women, as it provides great support and helps to create a flattering silhouette.
Additionally, the Arena Bodylift Swimsuit is great for those who want to minimize their tummy area.
It fits true to size and is made from high quality materials, making it perfect for swim team practice or a day at the pool.
10. One-Piece Swimsuit With Skirt

Most mom swimsuits with skirts are two-piece but this one has the skirt attached overtop boy shorts.
The slimming ruched flounce and v-neck design are perfect for making your mom bod look slimmer!
And you can dub this as an outfit when you run errands with a shirt on top!
11. Caribbean Sand Tummy Control Swimsuit
Ruching for tummy control and a variety of beautiful patterns to choose from.
There are also some amazing bold colors available as well.
Modest Swimsuits
12. MiYang Shaping One Piece

How about one of these cute bathing suits with the skirting along the bottom?
That, along with the thick and stretchy material, makes this the perfect bathing suit to flatter your body after having a baby!
13.
Yonique One Piece Swimsuits
This modest swimsuit provides adequate coverage, keeping you feeling secure.
I love how comfortable it is to wear – I feel like I could even run on the beach with this bathing suit! It's like a ballet dress.
Whether you're relaxing by the pool or enjoying a day at the beach, our one piece swimsuit is sure to keep you feeling comfortable and stylish all day long.
14. One Piece Sport Swimsuit
If you are looking for a super-modest swimsuit for the summer, check out this complete one-piece that covers everything!
I love how the patterns run along the side of the bathing suit for a more slimming look.
15. American Trends One Piece Swimsuit
Here is another one of those super cute bathing suits with a longer top to cover and flatter your body.
The wire-free padded bra also helps to accentuate your curves.
16. Maxine of Hollywood Romper One Piece
Not everyone is comfortable showing off their body when they go swimming – and that's perfectly okay!
This bathing suit can be used as a cover-up or worn right in the water.
17. Side-Tie One-Piece Swimsuit
Who says modest swimsuits have to be boring?
This one by Summer Mae gives you full coverage and style with the side ties and ribbed texture.
18. Tummy Control Swimsuit
Finally, a swimsuit that hides your mommy tummy and makes you feel confident again!
The Tummy Control Swimsuit has a ruched design that smooths out your curves and makes you look thinner.
Made with strong, durable fabric, this suit will last through many summers of swimming and sunbathing.
It also has a push-up top that holds your girls up without exposing any cleavage. A win-win for my postpartum body!
19. High-Neck Two-Piece Swimsuit
Yes, you can get a swimsuit that is both modest and two-piece!
This tankini has a solid black bottom with a selection of patterned halter-style tops.
The high neck two-piece swimsuit is designed to flatter your figure while providing coverage and support where you need it most.
It's a flattering tankini yet modest and elegant!
20. Panegy High-Waisted Tankini
Here's another tankini that features high-waisted boy short bottoms and a layered top that does provide a little peek of skin on the sides.
The ruched sides will definitely help cover your mom belly!
Mom and Me Swimsuits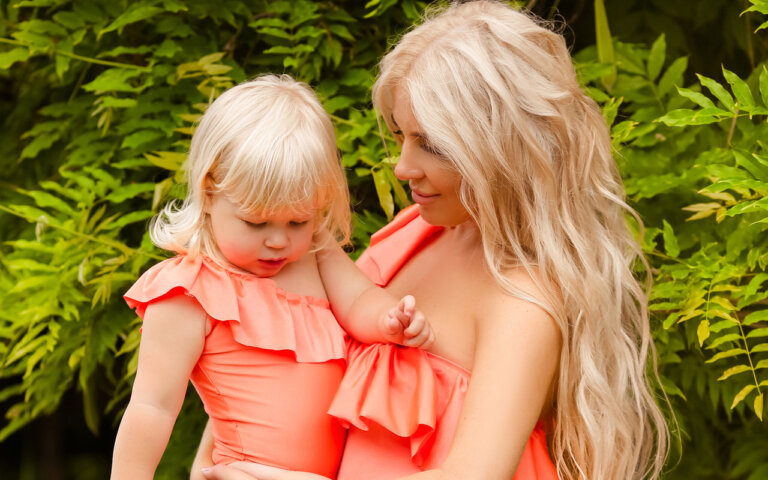 21. Marendyee Matching Swimwear
Looking for a special way to bond with your little one this summer? How cute is this mom and me swimsuit?
I love the flattering pattern design across the tummy and the tied-up straps!
Plus, the vibrant colors are sure to make a splash at the pool or beach!
And, by matching with your little one in our swimwear, you'll create lasting memories and forge an even stronger connection! Win-win!
22. Mom and Me Bikini Set

I'm so excited to have found the perfect matching swimwear for my daughter and me!
The fit is amazing – I usually have a hard time finding bathing suits that I like, but this one was perfect.
I love the detail and the color is just gorgeous. We can't wait to hit the beach in style!
This leaf-print set is so flattering and will easily hide the belly pooch.
Be sure to check out the other available styles too, there are some really cute bathing suits available.
23. Matching Swimsuits for the Whole Family!
Mom and me swimsuits aren't just limited to girls' styles!
This set comes with boys' swim trunks as well so the whole family can match.
24. Baby Girl and Mom Bathing Suits
I love these mom and me swimsuits that hide the belly pooch with a beautiful ruffled top.
Make sure to check out the other available styles!
25. Another Matching Swimsuit Set For The Whole Family!
This matching swimsuit set offers a one-piece bathing suit for mom, little girl, and baby girl as well as trunks for dad and son.
The floral design is flattering for post-baby bodies!
26. Matching Mom and Me Swimsuit Set by PBTTO
Just because you are trying to cover your belly pooch doesn't mean you can't show a little skin.
This adorable mom and me matching set has gathered material in the front but little peekaboo sides for added style.
27. Leaf-Print One-Piece Matching Swimwear
Bold patterns are a great way to hide the belly pooch when it comes to mom swimsuits.
Check out this beautiful leaf pattern and adorable matching bathing suit for your little one.
28. Yanmucy Family Matching Swimsuits
One thing I love about family matching swimsuits is that you can easily buy one of the mom swimsuits and one for your little boy.
Mom and me swimsuits aren't just for daughters!
29. Matching Summer Hawaiian-Themed Swimwear
Let's round out the mom and me swimsuits with this family set.
Take a look at the mom swimsuit's style – solid black on the bottom to hide mommy tummy and a beautiful bold pattern on top to draw the eye away. Perfect!
Two-Piece Swimsuits
Moms can wear a two-piece swimsuits! These are perfect for your postpartum body.
Whether you want to lose the baby weight or just want that extra boost of confidence check out these two piece swimsuites!
30. Yonique Halter Bikini
Who says you can't wear a two-piece swimsuit after having a baby?
No one! And if they do, they are wrong.
This halter bikini covers all the right places while flattering your beautiful shape.
31. Avidlove High Waisted Bikini
Is it just me, or does this remind you of Ariel from The Little Mermaid?
This high-waisted two-piece covers the tummy and the ruffles on the top are super cute.
32. Ruffle Sleeve Bikini
This soft and comfortable bikini has a high-waisted bottom and ruffled sleeves that are perfect for your post-baby body while you enjoy the beach, the pool, or your vacation.
33. Romwe Crop Top Bikini
If you are looking for two-piece swimsuits that hide the belly pooch, consider this crop-top bikini!
It almost looks like an adorable summer outfit but it is 100% a bathing suit for swimming.
34. Bikini With Beach Skirt
If you feel like two-piecing it with your post-baby body but want to cover up as well, here's a stylish bikini that comes with a beach skirt you can use when you're not frolicking in the waves.
35. 3-Piece Bikini Set
Here's another bikini that comes with a skirt!
This skirt is super cute because it's see-through and ruched to hide your mommy tummy while not taking away from the look of the bikini.
36. Off-the-Shoulder Two-Piece Swimsuit
High, ruffled waist? Check. Off-the-shoulder top?
Yes, please! This two-piece swimsuit will hide the belly pooch while showing off your beautiful post-baby curves.
37. Tie-Dye Mesh 2-Piece Swimsuit
If you're looking for a pop of color and a two-piece to hide your belly, check out this bikini that has both.
The mesh overlay gives this mom swimsuit the appearance of being a one-piece but it's actually two.
38. Layered Ruffle Flounce Bikini
Instead of relying on one layer of ruffle or ruching, this swimsuit uses three layers to help hide your postpartum bod while looking super cute and stylish! I love the boy-short bottoms and the bold prints available.
39. Shekini Ruched Halter Bikini
I know a lot of these bikinis are listed as "plus-size" but post-baby bodies come in all shapes and sizes!
The key is to find mom swimsuits with tummy control, like this one with a ruched bottom and flattering tie-front top.
FAQs on Mom Swimsuits
1. What is the best type of swimsuit to hide a belly?
If you want to hide your belly, one-piece swimsuits with ruching or gathering across the stomach area are great for camouflaging a pooch.
So the Aqua Eve Tummy Control mom bathing suit is perfect for this!
Another option is a two-piece tankini, which offers more coverage than a standard bikini.
Finally, a sarong or swim skirt can also be worn to provide extra coverage around the stomach area.
2. How can I make my swimsuit more flattering?
There are a few things you can do to make your swimsuit more flattering.
First, make sure you choose a style that flatters your body type.
If you have a larger bust, for example, look for a swimsuit with built-in support or straps that cross in the back.
The CUPSHE Criss Cross Swimsuit is perfect for this!
If you want to camouflage your stomach, look for a one-piece swimsuit with ruching or gathering across the front.
You can also add a sarong or swim skirt for extra coverage. Finally, make sure the fit is good – swimsuits that are too tight will only accentuate any flaws you're trying to hide.
3. Is a maternity bathing suit necessary?
No, you don't necessarily need a maternity bathing suit.
However, if you're pregnant and looking for extra support and comfort, a maternity swimsuit can be a great option.
My favorite maternity bathing suites are:
Look for a style with built-in support such as an empire waist or ruching across the stomach.
Mom Swimsuits for All Bodies!
Every post-baby bod is different but I know you can find the perfect swimsuit to make you feel confident as you hit the beach!
Which one is your favorite? Let me know in the comments!