Check out these heartwarming daughter quotes that will make you smile
If you have a daughter, you know there is nothing like the unique and unbreakable bond between a mother and a daughter!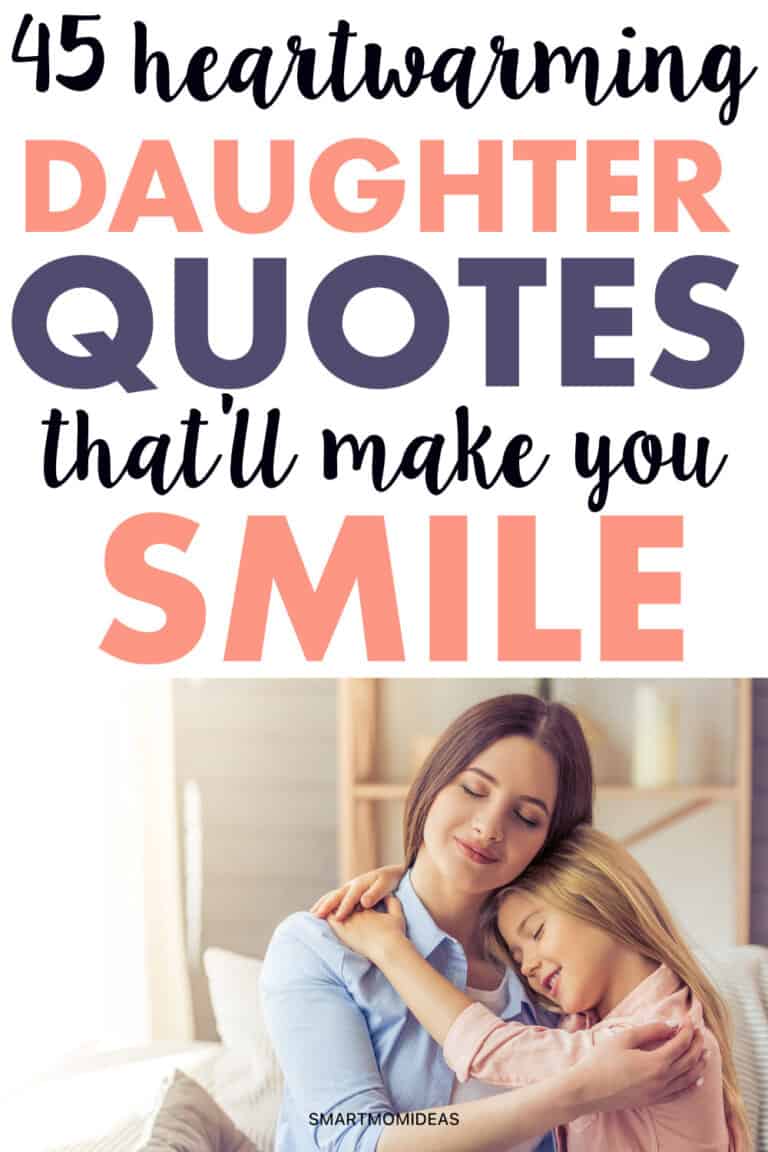 There's also nothing like the relationship a mother has with her son, and I should know – I had both at the same time!
But to celebrate the unconditional love between daughters and mothers and how that relationship can change over time, I wanted to share these heartwarming daughter quotes in case you are looking for a way to express your special relationship but can't find the words.
There are also some thoughtful quotes from daughters to mothers on Mother's Day!
Keep reading to find some amazing quotes you can use to lighten and brighten your daughter's day.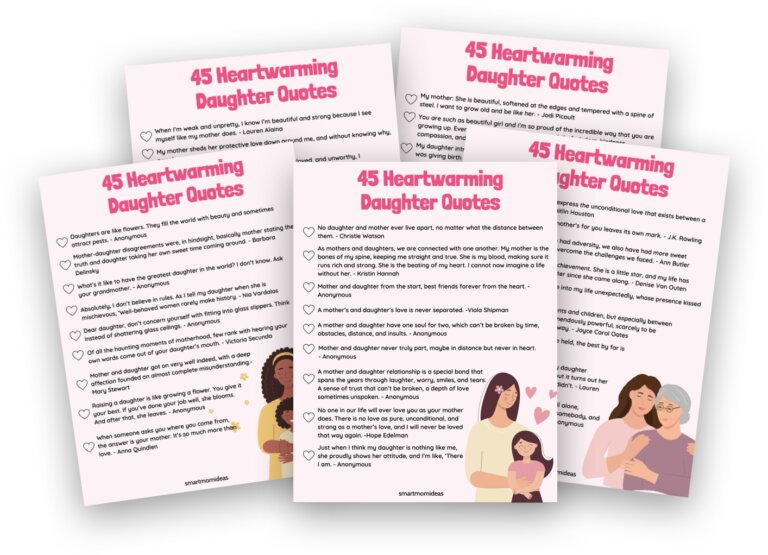 Bonding Mother Daughter Quotes
1. "No daughter and mother ever live apart, no matter what the distance between them." – Christie Watson
I dread the day my daughter grows up and moves out, but this quote reminds me that we will always have our special connection!
2. "As mothers and daughters, we are connected with one another. My mother is the bones of my spine, keeping me straight and true. She is my blood, making sure it runs rich and strong. She is the beating of my heart. I cannot now imagine a life without her." – Kristin Hannah
While we want our kids to grow up and be independent, this daughter quote reminds us that we, as mothers, will always be there to support our daughters and give them strength even as they grow and mature.
3. "Mother and daughter from the start, best friends forever from the heart." – Anonymous
Yes! Giving birth makes you a mother but being there for your daughter creates an amazing bond!
4. "A mother's and daughter's love is never separated." – Viola Shipman
Very, very true. As your daughter gets older, you may feel like your lives are separating, but the love will always be there no matter what.
5. "A mother and daughter have one soul for two, which can't be broken by time, obstacles, distance, and insults." – Anonymous
Again, this lovely daughter quote reminds us of the unbreakable bond between mother and daughter. I know nothing in this world could come between me and my daughter!
6. "Mother and daughter never truly part, maybe in distance but never in heart." – Anonymous
Yes, I'm noticing some repetition here, but I love how these daughter quotes are all worded beautifully but convey the same message.
7. "A mother and daughter relationship is a special bond that spans the years through laughter, worry, smiles, and tears. A sense of trust that can't be broken, a depth of love sometimes unspoken." – Anonymous
This daughter quote mentions love and trust, which I think are very important foundations for building a mother-daughter relationship and creating an everlasting bond.
8. "No one in our life will ever love you as your mother does. There is no love as pure, unconditional, and strong as a mother's love, and I will never be loved that way again." – Hope Edelman
There are many different types of love in this world, but nothing compares to how a mother loves her children, especially when she's pregnant for the first time. This quote is a great way to show your daughter just how much you love her.
Witty and Cute Quotes for Daughters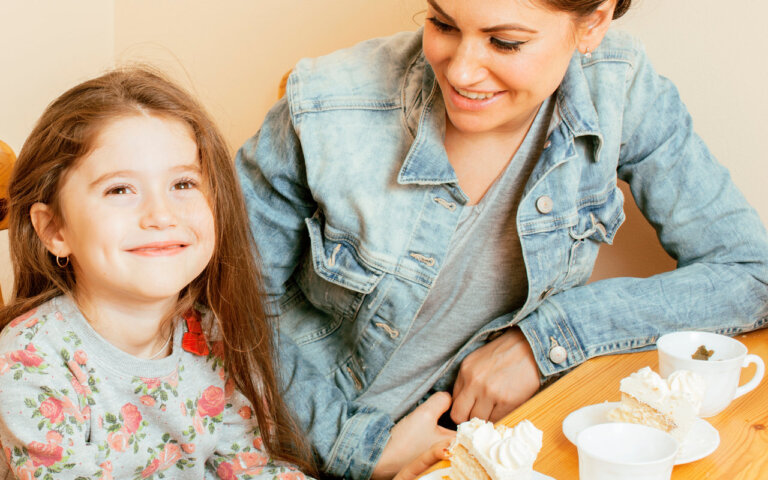 9. "Just when I think my daughter is nothing like me, she proudly shows her attitude, and I'm like, 'There I am.'" – Anonymous
There's nothing more endearing (and more frustrating) than having your daughter act exactly like you!
10. "Daughters are like flowers. They fill the world with beauty and sometimes attract pests." – Anonymous
Motherhood is not all rainbows and cupcakes, especially when you have a daughter. This quote is perfect for daughters who are sweet and a little bit spicy!
11. "Mother-daughter disagreements were, in hindsight, basically mother stating the truth and daughter taking her own sweet time coming around." – Barbara Delinsky
Oh, how I can't wait for this to be true! But it's completely normal for kids to scoff at the advice you give them.
We tell them what to do all the time ("Brush your teeth," "Come eat supper," etc.) to the point that when we do give advice, they don't want to hear it.
12. "What's it like to have the greatest daughter in the world? I don't know. Ask your grandmother." – Anonymous
I love this daughter quote because it's so cheeky. But, hey, we moms deserve some credit too!
13. "Absolutely, I don't believe in rules. As I tell my daughter when she is mischievous, 'Well-behaved women rarely make history.'" – Nia Vardalos
Okay, raising a daughter does involve some discipline, but it's important that your child does not become complicit in the world. Teach her how to stand up for herself!
14. "Dear daughter, don't concern yourself with fitting into glass slippers. Think instead of shattering glass ceilings." – Anonymous
This daughter quote kind of ties into the one above. Daughters shouldn't be expected to follow others. Instead, they should be leaders in our world!
15. "Of all the haunting moments of motherhood, few rank with hearing your own words come out of your daughter's mouth." – Victoria Secunda
It's one thing when your daughter pulls your attitude and facial expressions, but another when they use your words against you! Again, hilarious but sometimes frustrating.
16. "Mother and daughter got on very well indeed, with a deep affection founded on almost complete misunderstanding." – Mary Stewart
The unconditional love between a mother and daughter is undeniable, but that doesn't mean you will get along with your daughter 100% of the time. Just remember that every disagreement is an opportunity for her to become her own person.
17. "Raising a daughter is like growing a flower. You give it your best. If you've done your job well, she blooms. And after that, she leaves." – Anonymous
I didn't catch the pun in this daughter quote when I first read it! Flowers, blooms, leaves? Still, it is true – the best you can do for your daughter is to support and guide her as she enters the adult world.
Unconditional Love Mother Daughter Quotes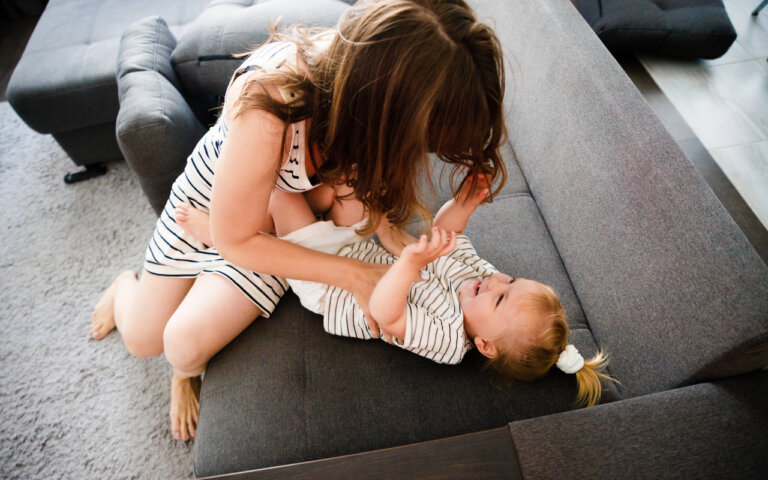 18. "When someone asks you where you come from, the answer is your mother. It's so much more than love." – Anna Quindlen
As I mentioned before, you don't just give birth to your daughter. You also shape who she will become through your unconditional love!
19. "Words are not enough to express the unconditional love that exists between a mother and daughter." – Caitlin Houston
This daughter quote is straightforward but absolutely true.
20. "Love as powerful as your mother's for you leaves its own mark."– J.K. Rowling
I know that many aspects of life will shape who my daughter becomes, but I hope I make a significant contribution to that!
21. "My daughter, while we have had adversity, we also have had more sweet memories that allow us to overcome the challenges we faced." – Ann Butler
Not every mother-daughter relationship will be perfect, but all good memories will far outweigh the spats and disagreements.
22. "My daughter is my biggest achievement. She is a little star, and my life has changed so much for the better since she came along." – Denise Van Outen
One of my mom blog friends says that having her daughter was "the coolest thing" she had ever done. I totally agree!
While going through pregnancy with both my son and daughter (at the same time) was amazing, bringing them into the world and taking care of them is such an achievement.
23. "You are the woman who came into my life unexpectedly, whose presence kissed my soul." – Marisa Donnelly
I love how this daughter quote really hits the nail on the head when it comes to how much mothers love their daughters!
24. "The relationship between parents and children, but especially between mothers and daughters, is tremendously powerful, scarcely to be comprehended in any rational way." – Joyce Carol Oates
Sometimes I look at my kiddos, and I can't wrap my head around how much I love them! I'm sure this is true for you too.
25. "For all the things my hands have held, the best by far is you." – Anonymous
Slap this quote on a coffee mug and give it to your daughter! Seriously, this is one of those short and sweet daughter quotes that will hit you right in the feels.
26. "I thought my job was to teach my daughter everything she needed to know, but it turns out her job was to teach me everything I didn't." – Lauren Tingley
My kids are still, well, kids but I can't imagine how much more my daughter will teach me throughout my life.
27. "When life gets hard and you feel all alone, remember you mean the world to somebody, and that somebody calls you mom." – Anonymous
This is so powerful! What an amazing way to tell your daughter that you will always be there for her no matter what.
Mother's Day Quotes From Daughter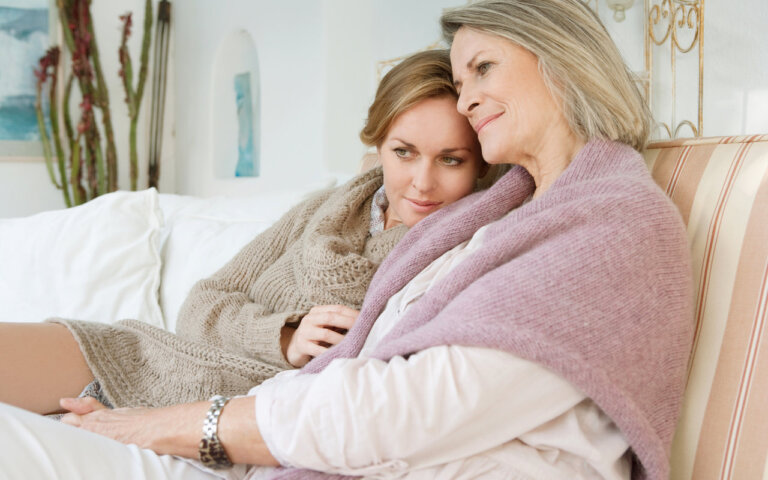 28. "When I'm weak and unpretty, I know I'm beautiful and strong because I see myself like my mother does." – Lauren Alaina
Are you looking for a quote to send to your mother? I have you covered!
This amazing quote will let your mom know that you look up to her and love her.
29. "My mother sheds her protective love down around me, and without knowing why, people sensed I had value." – Maya Angelou
When in doubt, quote Maya Angelou!
30. "On the darkest days, when I feel inadequate, unloved, and unworthy, I remember whose daughter I am, and I straighten my crown." – Anonymous
Yes! Mothers can be an incredible source of strength for daughters, even in during the roughest times.
31. "To describe my mother would be to write about a hurricane in its perfect power, or the climbing, falling colors of a rainbow." – Maya Angelou
When in doubt, quote her again! Seriously, this woman has such an amazing way of taking simple thoughts and presenting them with beautiful words – especially when it comes to daughter quotes.
32. "I am a princess not because I have a prince, but because my mother is a queen." – Anonymous
This quote will really show your mom that you are strong and independent because of her and you don't need to rely on others to find success.
33. "In times of need, and in times of tears, in times of joy and in times of fears, there is mom. The one person who is always there." – Heather Stillufsen
Friends and partners can come and go, but your mom will be there forever!
34. "Your arms were always open when I needed a hug. Your heart understood when I needed a friend. Your gentle eyes were stern when I needed a lesson. Your strength and love have guided me and given me wings to fly." – Sarah Malin
Moms have to be many things for their daughters, from a shoulder to cry on to a deliverer of harsh truths. This quote shows that you appreciate your mother for taking on so many different roles.
35. "My mom is a never-ending song in my heart of comfort, happiness, and being. I may sometimes forget the words, but I always remember the tune." – Graycie Harmon
What a beautiful way to tell your mom that she is a constant positive presence in your life!
36. "All that I am, or hope to be, I owe to my angel mother." – Abraham Lincoln
You said it, Abe! Although we are all unique individuals, our moms help shape who we are and who we will become.
37. "My mother: She is beautiful, softened at the edges and tempered with a spine of steel. I want to grow old and be like her." – Jodi Picoult
As a mom, I get the image this author is creating. I know there are times when I have to be tough but I also strive to be loving and caring. Motherhood is a balance between the two!
A Mother's Love Quotes
38. "You are such as beautiful girl and I'm so proud of the incredible way that you are growing up. Even at such a young age, you are full of wisdom, kindness, compassion, and courage." – Anonymous
If you're looking for a way to praise your daughter and help her feel amazing about herself, this is the quote for you!
39. "My daughter introduced me to myself. The connection I had with her when I was giving birth was something that I've never felt before." – Beyonce Knowles
Beyonce gets it! Although moms sometimes feel like they lose themselves in motherhood, they actually gain so much through their connection with their child.
40. "My daughter is a beautiful gift that brings warmth to my heart and brightness to each day." – Anonymous
If you practice gratitude every day, here's one for your journal! And why not share it with your daughter to show her how much she is appreciated?
41. "Thank you for being the answer to the prayer I hadn't realized I asked for." – Marisa Donnelly
Whether you planned your pregnancy or not, children really are a gift. Let your daughter know how much she means to you with this quote.
42. "A daughter is a miracle that never ceases to be miraculous, full of beauty and forever beautiful, love and caring and truly amazing." – Deanna Beisser
Here are some daughter quotes that you can use to beautifully describe your daughter. They really are miracles, aren't they?
43. "A daughter is a rainbow, a curve of light through scattered mist that lifts the spirit with her prismatic presence. Is a shadow, a reminder of something brilliant ducking out of sight, too easily drawn away." – Ellen Hopkins
These words paint such a beautiful picture of a daughter who is both perfect and flawed.
44. "A daughter is a bundle of firsts that excite and delight, giggles that come from deep inside and are always contagious, everything wonderful and precious and your love for her knows no bounds." – Barbara Cage
This daughter quote really has me hoping that the giggles my daughter and I share continue far into her adulthood!
45. "A mom is a daughter's first friend and, through life, becomes her best friend." – Vicki Reece
While it's important to maintain a parent-child relationship, there is nothing wrong with becoming your daughter's best friend!
Beautiful Daughter Quotes
Aren't these quotes beautiful?
While I tell my daughter every day how much I love her, sometimes it takes the words of others to really nail that point home.
What about you? Which one is your favorite quote? Or do you have one to add?
Let me know in the comments!