Get your kids the hottest and best Christmas toys for girls and boys and check out my non-toy list for girls and boys too!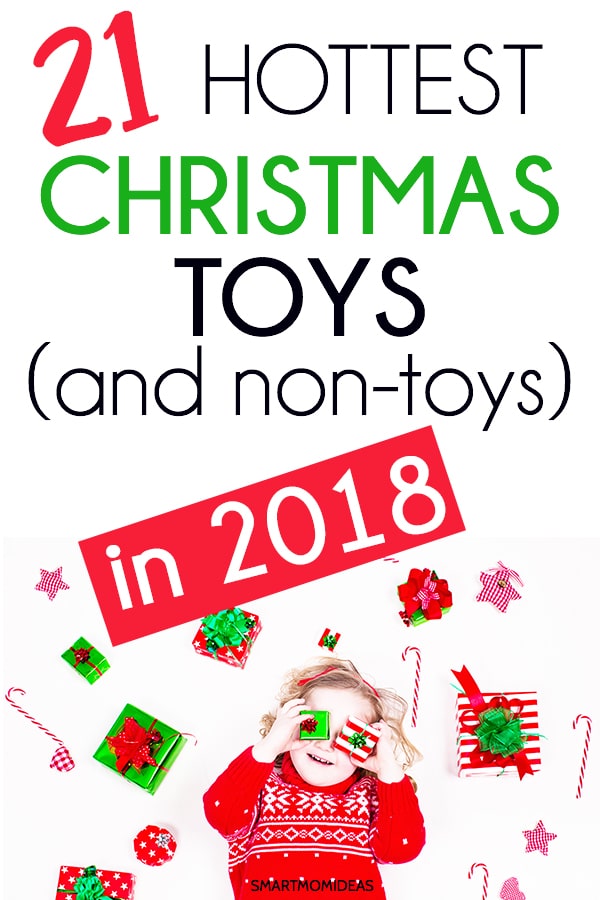 With Christmas right around the corner, you're probably searching for the perfect gift ideas to sneakily add to your Christmas list. You want to find something fun, memorable, but yet useful…all wrapped into one gift.
Are you set on spending a little more time and thought in choosing Christmas gifts this year?
Our kids are always growing and their interests change about every two seconds. 🙂
I want to share some of the hottest Christmas toys for 2018 on the market right now. Maybe you'll find the perfect gift that will bring a smile to their face and warm their hearts.
But I will also share with you my recommendation of the best toys for your boy or girl and the best non-toys for your kids as well! Enjoy!
Hottest Christmas Toy List
FurReal Muchin' Rex
This furry friend makes his dino sounds as kids feed and wave at him and feed him! This toy comes with his broccoli, bottle, and caveman cookie. He loves his snacks so much that he hops and begs for them!He also has his moments where he doesn't like snacks and will try to spit them out. Ages 4 years and up would enjoy this toy.
Fisher-Price Dance and Groove Rockit
The Dance and Groove Rockit is a toy that interacts with your baby as it sings songs and encourages your baby to dance along to the music. It also teaches numbers, shapes, and colors.
But it doesn't stop there. There are over a 100 songs and phrases. Give it a high five and say a phrase to hear it repeat the phrase back in a silly voice!
Fingerlings
Has your child been begging for this hot toy from you?
Fingerlings are the new craze for my twins. And you know what? They now have dinosaur fingerlings too! These funny friends latch onto your finger and by moving your finger around you can make them giggle, sleep or talk!
It's a cute interactive toy and small enough toy that you can take on car trips or to restaurants!
Melissa and Doug Examine and Treat Pet Vet Playset
Seriously, who doesn't like role playing?! If you're in search of the perfect toy for an animal lover with a big heart, this Pet Vet Playset might just be the one. This is a portable 24-piece set that includes the following:
Stuffed animal dog and cat (animal patients)
Stethoscope
Thermometer
Syringe
Ear scope
Tweezers
Clamp
Cast
Bandages
Treatments and ointments
Checklist for office visits
And of course a handy medical tote bag for professional child vets!
Even though my daughter is into unicorns lately, I KNOW she would absolutely love this vet set!
Melissa and Doug Freestanding Wooden Fresh Mart Grocery Store
Kids love to imitate things they see and experience everyday-taking care of a baby, driving a car, and of course shopping! Something as a simple as grocery shopping is a fun and exciting way to stimulate creativity in a child. Give them the ultimate shopping experience with this cash register and grocery shelves section pieces.
This toy includes a manual conveyor belt, scanner, card machine and cash drawer. This set does not include food or grocery shopping bags but is the perfect gift for ages 3 and up.
VTech Kidi Star Karaoke Machine
Got a little singer on your hands? Why not give her something that lets her know you support her exploring her talent? Love and support from others you think highly of, even as a child, really go a long way.
This karaoke machine connects with MP3 players and mobile devices so she can sing along to her favorite songs. It also has six built-in games, six different voice effects, as well as sound effects that make singing all the more fun! It also includes a disco light and a voice recorder that records in 5 minutes increments.
Best Christmas Toys for Girls
Hatchimals
Like Shopkins, Hatchimals are just too hard for girls to resist! So if you're buying for a girl age 5 or older who already loves Shopkins and has a collections going on, I'll bet she'll be thrilled to adopt these little Hatchimals as well.
This pack includes 12 glow-in-the-dark Hatchimals. Kids can take their Hatchimals with them and keep them snug in their built-in nests inside of the egg carton wherever they go. Kids rub the purple heart on the egg for the eggs to hatch. Once the color changes, gently crack the shell to find out who's in there!
Twisty Petz
Bracelets, trinkets, and cute little toy animals all wrapped into one make the perfect gift.
Twisty Petz are baby pandas and kitties that transform into bracelets, necklaces, and other accessories. How cool?!
The fancy, glittery travel case makes being-on-the-go even easier! You can even collect all 24 of them.
L.O.L Surprise! Biggie Pet MC Hammy
LoL dolls are getting bigger, but you sure get more surprises! My daughter is obsessed with L.O.L dolls and I bet your little one is too! This "biggie" L.O.L Pet surprise comes with 15 surprises!
With charms, pet baby food, more pet babies and more, this gift keeps on giving and surprising your little one!
Best Christmas Toys for Boys
PAW Patrol-Ultimate Rescue Fire Truck
Every boy wants to be a hero. And now he can with Marshal's ultimate fire truck, equipped with with water launchers in both the front and back. No fire is too tough now!
Features include:
2 foot tall ladder
Mini fire cart
As well as a lookout cab
This toy is ideal for ages 3 and up and requires 2 AAA batteries. The adventures with Marshall at Paw Patrol are endless! Go save the day, one fire at a time!
Klutz Lego Packets
After hundreds of years, Legos are still a huge hit!
Are you determined not to buy video another video game for him this year? Do you want something more mentally stimulating? Perhaps STEM creative? Stem stands for Science, Technology, Engineering, and Mathematics. Building with legos is actually said to help in these areas of study and can help provoke innovation in children!
If the little guy likes to build things from start to finish, he won't get bored too quickly.
Knex Bionic Blast Roller Coaster Building Set
Most kids can't pass up the thrill of roller coasters! This roller coaster toy is built for boys ages 9 and up. If he loves roller coasters, he'll love it. If he's a gamer, he'll love it even more. It comes with 809 pieces, a motor, a coaster track, a coaster car, and of coarse the virtual reality viewer.
Best Christmas Non Toys for Girls
Woodland Friends Sewing Kit
This arts and crafts sewing kit is for girls and boys 7 and up and is a great alternative to all the hot tech toys out there. This is great for a solo or collaborative activity and you can even host a craft party for your children!
B. Toys – Official Pop Arty!
For as young as four year olds, you can grab this jewelry kit for your child to make necklaces, bracelets and awesome DIY crafts. There are over 300 colorful beads to choose from and hours of fun for your girl!
Towny Girl Disney Princess Peel-Off Nail Polish
This nail polish is perfect for your 2 year old daughter or 6 year old daughter! This nail polish is safe to use and it peels off easily. My daughter loves to get her toe nails painted with each toe a different color.
With this nail polish set you get 18 different colors that also smell fruity!
Christmas Books
It's a tradition in our house to receive a Christmas book for Christmas! My kids love reading books about snowmen or Christmas in general. Make sure to grab these books to start your own Christmas tradition:
Best Christmas Non Toys for Boys
Robot Face Race
This educational game has a dozen robot bodies that you need to help find and match. This is a great game for ages 4 and up where the entire family can play. What's great about this game is that there is no waiting for your turn! Players play all the time!
How to Draw Comic Book Super Heros
Is your son into super heros? Why not inspire him to draw super heros. This book teaches your son how to draw super heros in five easy shapes – the line, rectangle, triangle, circle and arc.
Boys and girls can easily draw their favorite superhero!
Kid Pajama Onesies
Another Christmas tradition is giving our children pajamas. But, WE don't give them – Mrs. Claus does! These onesies also double up as costumes for your kids!
Headphones
Do you have more than one kid? Sometimes they will need headphones if they are watching their own show or playing a game on their device. Alternatively, your child's school may require headphones for iPad learning.
Since my twins enjoy different shows, I'll probably pick up these for them this Christmas. It fits children as young as 2 years old too!
36-Pack of Play Dough
Play Dough has been around for ages, but it surely isn't outdated. By nature, kids are both curious and creative. So if you're looking for a gift that won't get boring after a few days, try this! It's something they can really sink their nails into. 🙂
The 36 pack offers a wide variety of rainbow colors that allow you to make anything you want. And more of it!
It can be a bit on the messy side, so if you're not gifting this to your own child, it may be a good idea to ask their child's parents first. This gift is suitable for ages 2 and up. However, you'll want to make sure that you supervise the tots on this one.
Christmas Only Comes Once a Year
There you go! The hottest Christmas toys for 2018. Even though most people look at Christmas as gift-giving, remember it's a time to share memories, love and experiences.
And for many out there, budgeting during Christmas is a reality. So splurging may be on a smaller scale and that's okay!
Let me know in the comments what you plan to give your children this Christmas and I'll add it to my list as we all prepare for Christmas!
Please pin me!