Get the best & proven natural teething remedies for your baby.
Is your baby teething?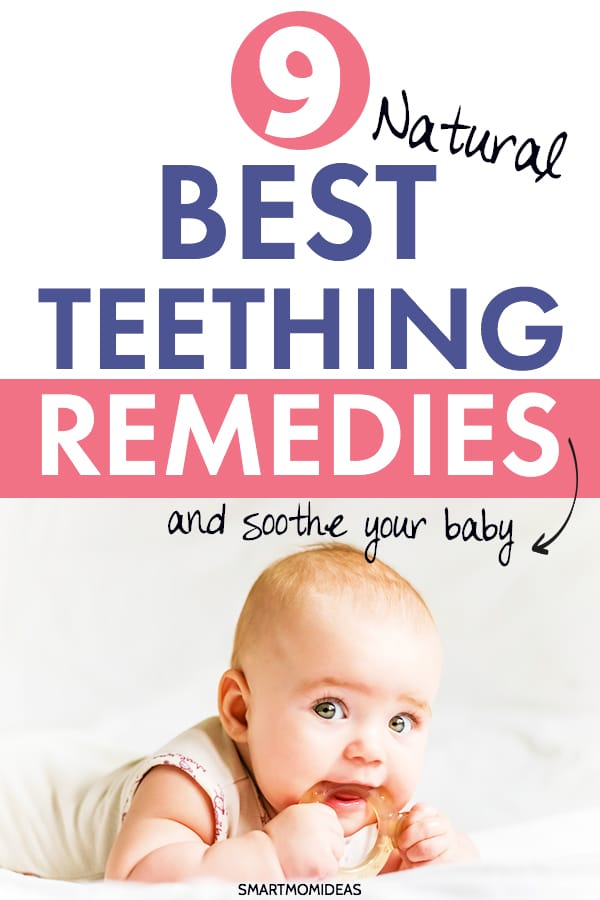 For many babies, teething hurts, disrupts sleep and makes cranky a common word in the house.
So, how do you calm and soothe a teething baby?
Depending on your baby, you may have to try several different methods to calm your cranky baby. For my twins, I didn't get fussy babies (thankfully). But, I could tell their teeth were bothering them a lot.
Some signs that your newborn is teething are sleeplessness, fever, diaper rash, drooling, pulling ears or increase in fussiness. If your child has a fever, make sure to check with your doctor to make sure it IS or IS NOT teething related.
Check out this list of some natural remedies for teething and make sure to try different ones to see what works for your child!
9 Best Teething Remedies for Babies
1. Healthy Homemade Teething Biscuits
For new moms, babies usually start teething around the 6-month mark. This is also the time many babies start trying solids for the first time. But, you don't want to give your babies high-fructose corn syrup, other refined sugars and unnecessary additives.
And most store-bought teething biscuits contains those things and more. Instead, why not make your own teething biscuits? You know exactly what's in them and you can monitor how your baby tries new foods as they navigate eating with teeth.
Stacey from My Kids Lick the Bowl has a simple teething biscuit recipe with only four ingredients! You can't beat that.
2. Amber Teething Necklace
I'm not a mother that likes to dish out Tylenol when my twins are in pain. Instead, I will try natural pain relief and that's where amber necklaces fit in. The thought behind them is that when a baby wears an amber necklace, their skin heats up the amber which causes it to release pain relief properties.
The special pain relief is an anti-inflammatory that helps boost your baby's immune system and soothes them.
3. Use a Teething Blanket Or Toy
One thing my twins loved was chewing on their baby blanket. This was cute, but the blanket was too long and it would get stuck in places while my twins roamed, making it a safety issue.
Instead, I had my twins use teething toys and blankets. They simply loved it! They would carry it in their mouths all day while smiling too!
4. Silicone Teethers
Silicone teethers are soft on the gums and easy to clean. As babies love to use their mouths to figure out their environment, giving them a variety of teethers like silicone ones will give them joy and fun to explore.
These are also a safer choice for moms as they don't have latex or plastic in them.
5. Fresh Food and Mesh Feeders

My twins were 6 months old in the summer. This was the perfect time to puree fresh berries or mangos and freeze them for fresh food feeders.
Using mesh feeders are a tad messy so make sure you have your baby in a high chair when using their mesh feeders (or even outside!).
6. Natural Solid Wood Teethers
If you're concerned about the safety of using teethers, you can try natural solid wood teethers as they are non-toxic and BPA-free. I love the look of wooden teethers and they are firm enough for your baby to explore when they mouth them.
If you do pick up these teethers, make sure to oil your wooden toys prior to having your baby use them. You can use a natural oil like coconut that is okay for your baby to "eat."
7. Sophie the Giraffe
Don't forget the lovable and cute Sophie the Giraffe teething toy. My twins received some Sophie's as a gift and loved them! My daughter particularly enjoyed Sophie more than my son, but I could never leave the house without Sophie!
8. Cucumber or Celery
Cucumber might just be the right texture for your baby to use to soothe their gums. Plus, it makes for a fun snack item (just make sure you remove the seeds)! You can also use celery if you want.
That vegetable is more crunchier than cucumber and stringier. Again it's a great way to soothe teething pain and gives your baby a way to explore their environment.
And, you can also freeze these veggies for a chilly snack.
9. Teething Tablets for Nighttime Relief
Why is that as the evening comes, sickness, pain, irritability and crankiness gets worse?
In my house, I say, "sick after six" as usually during the day my twins can run around, have fun but when six o'clock rolls around, fevers shoot up and fussiness starts.
For babies going through nighttime teething, you might notice more wake ups at night and more crying or fussiness. No bottle or soother will calm your little one.
You can try using natural teething tablets that almost instantly dissolves in your baby's mouth. It's been proven that it soothes baby's gums and helps them fall asleep better.
Natural Teething Remedies
Teething relief is here mama! These nine natural remedies work to reduce inflammation in your baby, which will soothe and reduce pain when they cut their teeth. While there are old wives tales out there like using whiskey to soothe teething babies, do your research and try safer natural ways. 🙂
Of course, if all else fails, Tylenol or Ibuprofen can be used to help calm your baby.
In the comments tell me your go-to pain relief remedy for your teething baby.
Please remember to pin me!