Get your stocking stuffer ideas for boys and get ready for Christmas!
With the holidays fast approaching, it's time to start thinking about Christmas ideas for babies and boys.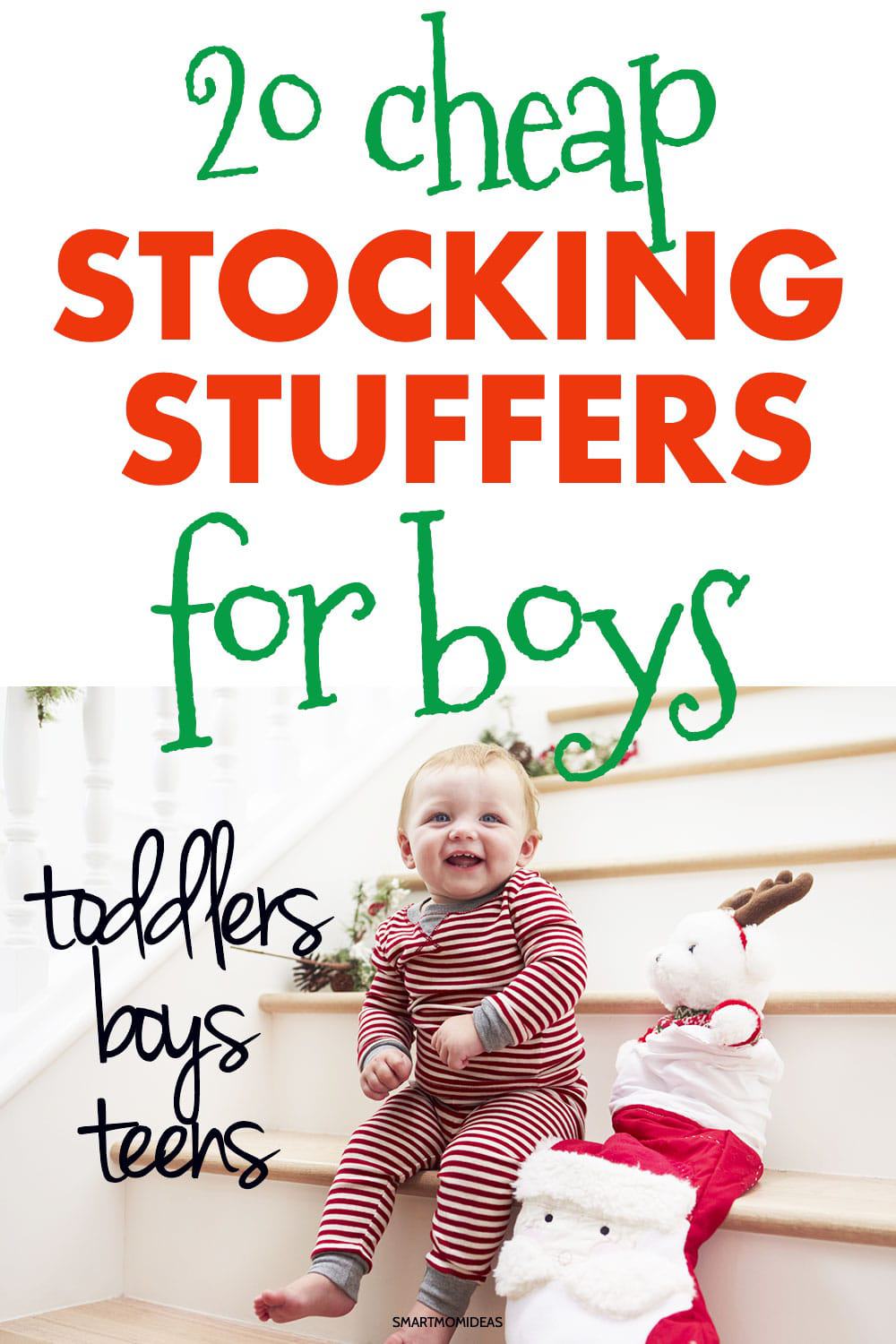 One of the favorite things my twins love opening up are their stocking stuffers.
I stuff those stocking up to the top and most of the things overflow.
And I just love the expressions on their face when they see a full stocking next to the Christmas tree.
The little things really do make the biggest impact, don't they?
In my list of 20 stocking stuffer ideas for boys, I'll cover gift suggestions for young boys, ages infants to teens.
You are sure to find something on this list that he will love that won't break your holiday budget!
Stocking Stuffers for Infant Boys
That little guy will be overjoyed when he finds these adorable stocking stuffers in this Christmas stocking!
1. Dino Teether
For the baby boy that is starting to cut teeth. This adorable dino teether will perfectly soothe this sore gums while also doubling as a fun toy.
The dino easily clips to clothing or a car seat so you don't have to worry about it getting lost. One side of the dino is smooth while the other has soft, silicone bumps to get those teeth through.
The string of the clip even includes teething beads, so he will always have something to chew on.
2. Non-Skid Socks
Kids can NEVER have enough socks. It seems that they are always getting lost or left around the house. These non-skid socks are perfect for little guys just learning how to walk.
They easily grip to slippery surfaces and come in a variety of fun patterns.
3. Cloth Crinkle Books
Every infant should have a set of these fun crinkle books.
Made of soft fabric and printed with bright images, the little guy on your list will love playing with these all the time. You can read them to him as he has fun crunching up the pages and making sounds.
And when they get dirty (which they will), you can even wash the books without worrying about losing their color or crinkle sound.
4. Baby Babble and Rattle Microphone
What is Christmas without some noise making toys? This babble and rattle microphone makes a great stocking stuffer for little guys who are just starting to learn to use their voice.
Musical toys are great for promoting fun and learning in little ones.
With lots of buttons and ways to make noise, this will surely become a favorite toy. Don't forget to include the batteries so he can play with it as soon as he opens it!
Stocking Stuffers for Toddler Boys
Stocking stuffers for toddler boys should be durable and promote learning and fine motor skills.
No matter what you choose, the toddler on your list will love these stocking stuffer ideas.
5. Baby Shark Mess Free Coloring Pages
Of course there is going to be some type of baby shark stocking stuffers on here, what toddler doesn't already know the song by heart?
These baby shark mess free coloring pages are great to take along to any outing there toddlers need something to keep them occupied. They also promote fine motor skills by holding a writing utensil and coloring.
6. Construction Vehicle Set
Durable is the name of the game when it comes to toys of toddler boys. These trucks are great for playing out in a sandbox or zooming around the house.
These vehicles have a fun pullback action and movable parts. With a total of 9 vehicles in the set, he'll be zooming and dumping sand for hours.
7. Paw Patrol Bath Finger Puppets
Most toddlers love to spend time in the bathtub, especially when they have awesome toys! Encourage play and imagination during bathtime with his favorite Paw Patrol characters.
They will be going on rescue missions in no time!
8. Wooden Egg Shakers
Toddlers love things that make noise. Promote music learning with these adorable wooden egg shakers.
The beads inside the shaker help children to develop a sense of rhythm when they move and shake them. Painted with fun, bright colors, they will never tire of shaking these all around the house.
Stocking Stuffers for Elementary Boys
When it comes to elementary aged boys, it's all about superheroes and video games. Make sure you are getting them some awesome stocking stuffers that they will brag about to all their friends with these stocking stuffer ideas for elementary boys.
9. Brain Puzzle Challenge
Christmas is a great time to give the gift of learning. They won't even realize they are building essential logic skills when they are playing this fun game.
The perfect travel sized game that they can take with them anywhere. Check out these other brain games, there are a ton for all ages!
10. Create and Customize Paper Airplanes
No more boring old paper airplanes that never fly right! These customized paper airplanes are so much fun and I know my son will LOVE these for Christmas!
With 20 different planes and stickers they will be taking off in no time. The kit includes instructions on how to make a variety of airplane styles. A great for budding aviators.
11. Knock Knock Joke Book
Whether they are just learning to read or have been reading for awhile, any young boy would get a kick out of this knock knock joke book.
A perfect gift to encourage reading aloud to his friends and family. He'll have everyone in stitches with these hilarious punchlines!
12. Light Up LED Gloves
These light up LED gloves are such a cool toy.
They can be used at sleepovers, parties, or just running around the house. These gloves are super comfortable and can be used year-round. They even come with extra batteries! These make a great stocking stuffer for young boys who love things that light up.
Stocking Stuffers for Pre-Teen Boys
Boys at this age get a kick out of gross stuff and love hanging out with their friends. Grab them some stocking stuffers that they will love with these ideas for pre-teen boys.
13. Would You Rather Book (Gross Edition)
Worms coming out of your nose, a foot for a face? This fun and disgusting book is not only funny, but also a game of try not to laugh. Before you know it, he will be asking everyone he knows "would you rather" questions.
14. Brain Teaser Puzzles
Young boys get a kick out of trying to solve mind puzzles. With this set of 20 brain teaser puzzles, he'll always have something new and exciting to try out. A fun stocking stuffer to test his problem solving abilities and keep him occupied.
15. Do Not Disturb Gaming Socks
For the pre-teen boy who can't get enough gaming time, these socks make a fun and functional stocking stuffer. A perfect and affordable gift for young boys with growing feet. He'll grow out of the most popular game before he grows out of these socks.
16. Lego Kit
Kids of all ages love to build lego sets. Gift him this unique lego set of a 1974 Porsche, perfect for the young boy who loves legos and cars.
This fun little set even comes complete with racing cones for a (mostly) realistic racing experience. A great gift to play with or proudly display.
Stocking Stuffers for Teen Boys
Ahh, the mysterious teen boy…
While their younger counterparts might be easier to purchase gifts for, once they hit those teenage years, things become a little more complicated. Games, girls, cars, what to possibly get a teen boy for a stocking stuffer that he won't be embarrassed by?
Let's see…
17. Miniature Drone
Just like how he will probably beat up his first car, he will most likely beat up his first drone. So give him some practice before opting for a more expansive alternative. This mini drone has a lot of really cool features that he will have a lot of fun discovering.
With it's durable and safe design, it's even ok to operate around younger children.
18. The Driving Book
If your teen boy is getting close to driving age, he will definitely appreciate this book.
Even if he has completed driver's ed, there are still so many questions kids have about driving but might be too afraid to ask. Small enough to fit in their glove compartment and packed with useful information from taking care of a vehicle to sensitive topics like driving under the influence.
Filled with funny images and blunt truths, this certainly is a book he will WANT to read.
19. Joggers
If he doesn't already have a pair of these popular joggers, you can bet he wants one. These certainly have become some of the most popular active and lounge wear for just about every teenager.
A comfy and versatile wardrobe addition he'll wear all the time.
20. Bluetooth Speaker
Whether hanging out with his friends or doing yard work, it's always nice to have some music. This bluetooth speaker is an affordable and durable option to many of the much more expensive name brands, without sacrificing sound quality.
With a 100 foot range and 14 hour battery life, he will always have his favorite music on hand.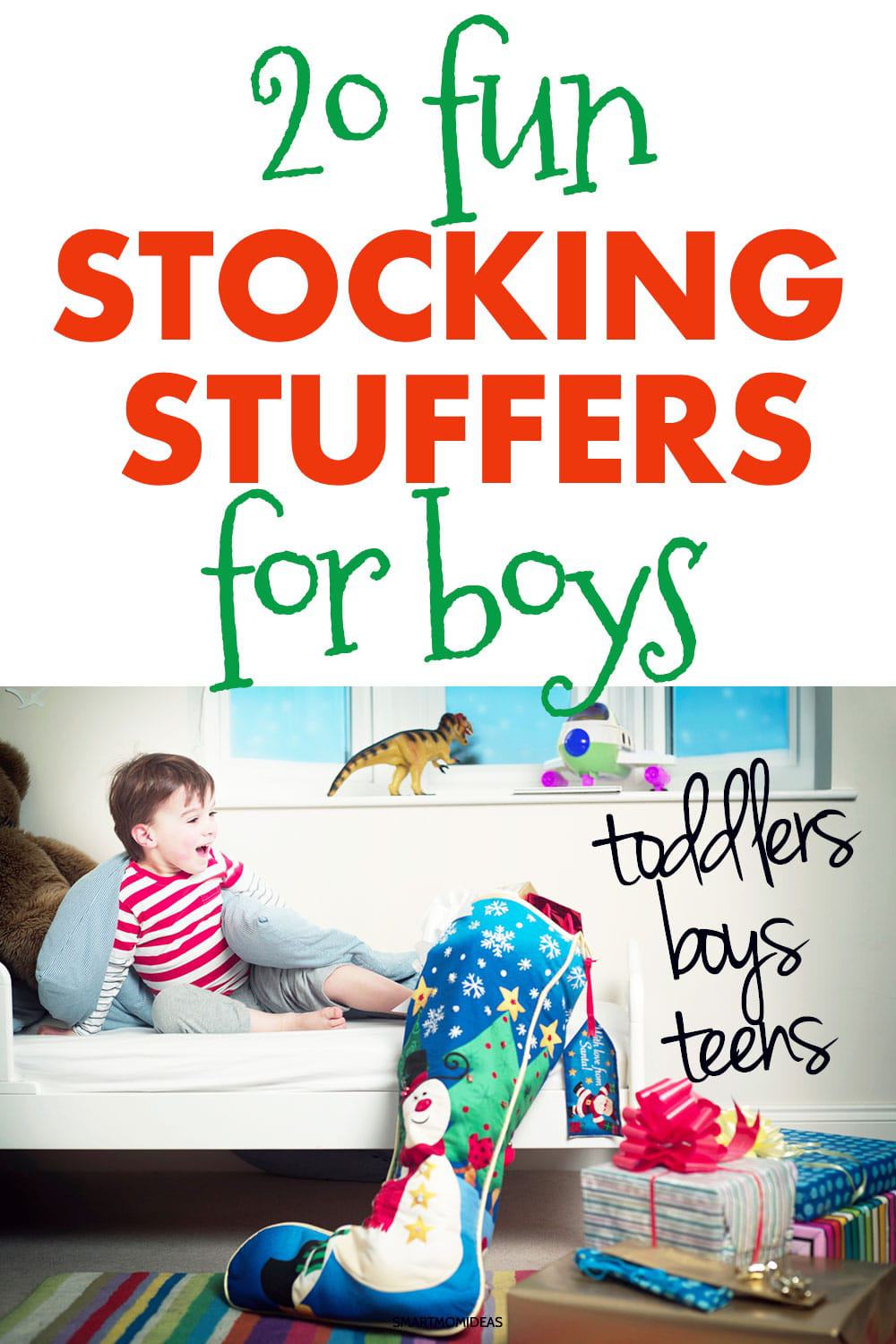 Grab These Stocking Stuffer Ideas for Boys
Stocking stuffer ideas for boys don't have to be lame.
There are plenty of really cool and affordable options for boys ages newborn to 18.
With this list of 20 stocking stuffer ideas for boys of all ages, you are sure to find something awesome for that young man in your life.
Over to you – what stuffers will you get this Christmas?
Please pin me!