Check out the best pregnancy movies to help you relieve any anxiety about pregnancy you may have!
Are you pregnant?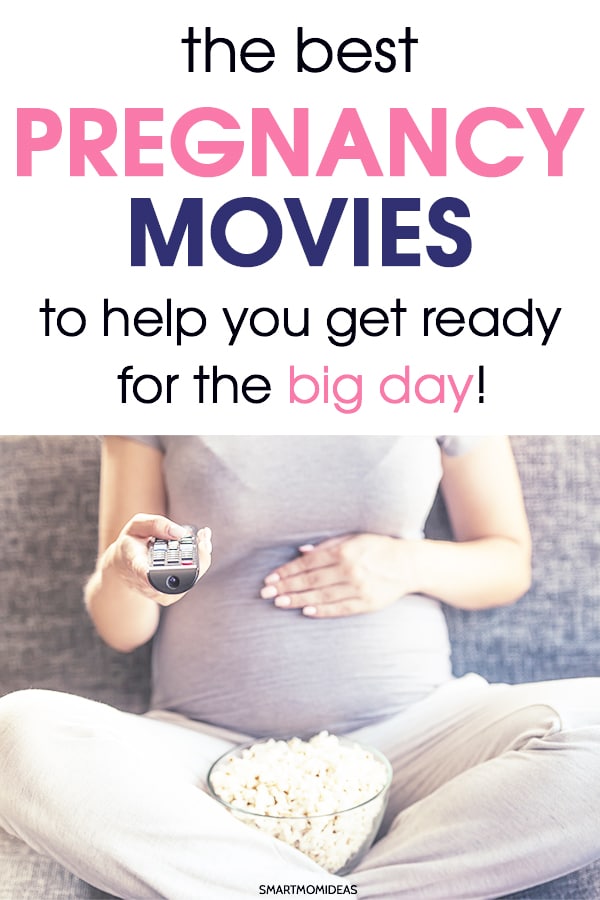 As your tummy grows, you're going to want to relax more. With vaginal pain or anxiety looming, being relaxed can help you get through those tougher times of pregnancy.
And pregnancy movies are a perfect choice.
I've got you covered with a list of 15 awesome films to watch when you're pregnant.
And, mama, please don't feel guilty about an evening on the couch!
Being pregnant is tough!
And one of the most important things I recommend when you're pregnant is plenty of rest.
I was placed on bed rest at 23 weeks so I filled up on all the pregnancy movies I could find. And here are my top picks!!
So grab a relaxing drink, make plenty of popcorn and cosy up in front of one of these movies!
Pregnancy Movies To Watch When You're Pregnant
1. ComediesBad Moms
This hilarious movie shows mom, Mila Kunis, trying to do it all to have the perfect home, marriage, kids and career. She's overworked, under appreciated and pushed beyond her limit – can you relate?
She teams up with two other stressed out moms and they rebel. Mom stye!
Why You Should Watch It – It's genuinely funny with some very touching moments between the moms and their children.
But it's also a cautionary tale.
I wrote recently about how as moms we should be careful what we give up and this movie shows how trying to do it all can burn you out and drain the fun out of family life.
Please note – this movie does include quite a few f-bombs and some crude humour.
2. Bridget Jones' Baby
If you love the Bridget Jones character, this movie is a safe bet.
This movie focuses on Bridget at 40 something finding out she's pregnant. And wondering who the father is: Darcey (Colin Firth) or her new boyfriend (Patrick Dempsey).
Bridget is her usual clumsy self but she's matured. And of course Darcey is still charming.
Don't worry if you haven't seen the other two Bridget movies, you'll be able to follow along just fine.
Why You Should Watch It – This is a fun movie, with a fabulous cast and lots of feel good moments. And if you're an 'older mom', you might relate to Bridget's 'geriatric mom' status.
Please note – this movie does include some adult language.
3. Knocked Up

No complicated plot here: slacker stoner Rob (Seth Rogan), and hardworking professional Alison (Katherine Heigl) have a one night stand that results in pregnancy.
The movie focuses on Alison finding out she's pregnant and trying to make a relationship with Rob work.
Why You Should Watch It – Yes, it's the usual opposites attract story. But this movie is sweet, funny and shows the hard work needed to make a relationship work. And seeing Seth Rogan's character play 'fetch' with the kids is priceless!
Please note – this movie includes bad language, nudity and drug references.
4. Baby Mama
Another hilarious pregnancy movie is about opposites. This time with two funny women: Tina Fey and Amy Poehler.
Hard working, successful Kate (Fey) is 37 and desperate for a baby.
And after tons of research, she decides the best way to get her hoped for baby, is with a surrogate. She picks a broke, partying, go-with-the-flow-kinda-woman as surrogate, Angie (Poehler) who moves in with her.
The laughs come as the two women try live with each other under the same roof.
Why You Should Watch It – It's a fun movie with lots of laughs – moms will relate to the 'chocolate or poop?' conundrum!!
But it's also great to see the compassion that grows between the characters Kate and Angie. And whether you can relate to neurotic Kate or free wheelin' Angie, this film shows you how the other side live.
5. What to Expect When You're Expecting
Inspired by the book, 'What to Expect When You're Expecting', this movie shows five couples going through pregnancy, childbirth and preparing for parenthood.
This movie has a stellar cast: Cameron Diaz, Chris Rock, Jennifer Lopez, and Elizabeth Banks who deliver some solid belly laugh moments.
There's not a huge amount of character development, but if you're looking for something light hearted this movie is for you!
Why You Should Watch It – The dad 'dudes' club is hilarious and makes this a great one to watch with your husband.
Classic Movies To Watch When You're Pregnant
6. Riding In Cars With Boys
This heart wrenching movie follows the life of Beverly Donofrio from the age of 15 to 35.
Falling pregnant at 15, Beverly's life turns out – completely – differently to how she hoped.
Instead of pursuing her goals, she struggles with a drug addicted husband, single motherhood and very disappointed parents.
The movie focuses on her relationship with her son and will give you all the feels – grab the tissues!!
Why You Need to See It – Drew Barrymore's acting in this movie is phenomenal!
7. Three Men and A Baby
What happens when three normally intelligent men suddenly find themselves with a baby?
In this hilarious – and touching – movie, three confirmed bachelors find a baby left on their doorstep. One of them is the father, but they don't know who.
Baby turns their world upside down and it's the life changing experience of being a dad that makes them grow up.
Why You Should Watch It – Yes, it's funny. But it's also incredibly sweet to see the three guys bond with baby and grow into fatherhood.
Definitely one to watch with your husband.
Psst – Wondering how to support your husband as he becomes a father? Check out my easy guide right here.
8. Baby Boom
This movie shows high powered executive CJ (Diane Keaton) inheriting a baby from a distant cousin.
And her life turns upside down!
Determined to keep this child, CJ ends up losing her husband, her 48 hour-a-day job and most of her sanity.
But she's a fighter and all comes good at the end – with a new man, a new home and a new thriving business – go, CJ!!
So it's a classic feel good movie, perfect for curling up on the couch with.
Why You Should Watch It – This one is genuinely heartwarming and funny. And, of course, I love how CJ sets up her own home business.
If CJ's story inspires you, why not check out these businesses moms can set up from home:
9. Look Who's Talking
Look Who's Talking is essentially a rom-com with a cute preggo twist.
And yes, the plot is a little dated: unmarried accountant has an affair with a married man, gets pregnant, gets dumped and looks for a new daddy for her baby.
But it's silly but fun and light hearted – perfect for when you're on the pregnancy emotional roller coaster yourself!!
Why You Should Watch It: This movie is totally worth a watch for the commentary from baby Mikey, voiced by Bruce Willis.
Documentary Movies to Watch When You're Pregnant
10. Birth Story: Ina May Gaskin and The Farm Midwives
The thought of giving birth can be terrifying.
But what if it wasn't?
In the 1970s, Ina May Gaskin started delivering babies on 'The Farm,' a hippie commune. As a midwife, she advocated strongly for women to feel empowered, strong and supported through their childbirth.
And, remember, this was a time when dads waited outside in the waiting room while their wives gave birth.
This feature length documentary tells the story of 'The Farm' and how it changed our approach to childbirth.
Why You Should Watch It – Whenever we see childbirth on tv or in movies, it's usually shown as a traumatic and clinical process. This movie will show you that there is a different way.
If you love this documentary, I can HIGHLY recommend Ina May's Guide to Childbirth.
There are some easy, natural ways to relieve pain in childbirth.
11. The Business of Being Born
Having a baby is not a medical emergency!
This feature length documentary explores hospital based maternity care in the USA and how childbirth has been medicalised with intervention by doctors.
Moms, doctors and midwives are interviewed about their experiences and there are some pretty shocking moments.
Why You Should Watch It – Whether you're leaning towards a home birth or not, this documentary will give you plenty to think about.
And it'll make you question the 'normal' way childbirth is handled in hospitals.
12. Babies
This documentary follows four babies, born in different parts of the world, for their first year.
The babies come from Namibia, Mongolia, Japan and the USA.
This documentary gives us an awesome reminder of the things babies REALLY need. And it's so interesting to see the different ways different cultures raise their babies.
Why You Should Watch It – When you're a new parent, it's easy to compare yourself to others and worry about whether you're 'doing it right'.
This documentary reminds us that there is no 'right way' to raise your child – only the way that's best for your child and your family.
13. 40 Weeks
This documentary follows a group of pregnant women through their own 40 weeks of pregnancy and all their ups and downs.
This is the real deal.
Real women, unscripted, going through pregnancy week by week.
Why You Should Watch It – Every woman is different, but we're all living through the same struggles.
Remind yourself that you're not alone.
And, no. you're not going crazy, 'that's just pregnancy!'
14. The Milky Way

Did you know that America has one of the lowest breastfeeding rates in the world?
This documentary movie looks at how breastfeeding is being undermined and women are being disempowered.
And yes, it reminds me of The Business of Being Born.
Viewers – including men – are saying that this is a must watch for everyone!
Why You Should Watch It – Watch this eye opening documentary and find out why and how your choices about breastfeeding are being influenced – and by who!!If you're thinking about breastfeeding, get started with breastfeeding with these helpful posts.
Best Movie to Watch While Pregnant
This is my top pick for best movie to watch while you're pregnant.
15. Juno
Small town girl, Juno, (Ellen Page) finds herself pregnant by her 'friend'.
Quickly deciding to keep the baby, she looks for the 'perfect' couple to give the baby to.
So she finds the Lorings.
But things aren't quite perfect as the prospect of a baby pushes the Lorings towards a divorce.
The cast is flawless – from smart, cynical Juno and her cynical, ever loving parents, to her best friend and the uptight Vanessa Loring – played brilliantly by Jennifer Garner.
Why You Need to See It – Yes, it's funny. But this one is also full of poignant moments that keep this movie real and honest.
15 Best Movies to Watch While You're Pregnant
Wow – that's a lot of movies to add to your watch list!
I hope you love this roundup of movies to watch while you're pregnant, mama.
Being pregnant is tough so take every chance you can to relax before baby arrives.
Over to you – tell me in the comments if you've enjoyed one of these, or if you can recommend another awesome pregnancy movie.
Don't forget to pin for later.