Check out these cute and funny father's day gifts for first time dads!
With Father's Day right around the corner, it's time to start looking for those great first-time dad gifts that he will actually use.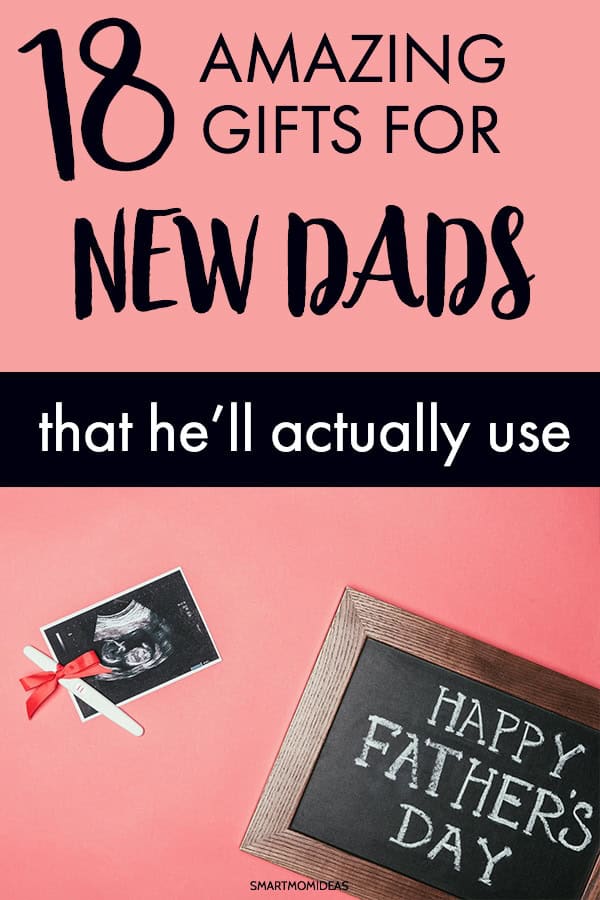 While he would surely appreciate a "world's greatest dad" coffee mug, those can be a bit overdone.
While sentimental gifts are wonderful, you are sure to want to get that new dad in your life something he is going to use and cherish for many years to come and will bring a smile to his face every time he looks at it.
So make this day special as a new mom and new parents.

Best Gifts for New Dads
Books
There are so many books for new dads out there, from fun and funny books to read to his little on to milestone and scrapbook type books that he is sure to love working on with this little guy or girl.
And of course, let's not forget the dad manuals, what would fatherhood be without some dad to dad advice on how to change diapers and be the best dad and husband he can be?
Check out the perfect Father's Day gift in these book options.
The New Dad's Survival Guide: Man-to-Man Advice for First-Time Fathers
Have you ever heard a guy say, "these kids don't come with a manual you know!" Well, good news, now they do! A hilarious, military-style guide to help new dads demystify fatherhood. Covering everything from C-sections to starting to save for college, this guide is sure to help any novice dad get a grip on what is to come when the baby arrives and what is to come after.
When We Became Three: A Memory Book for the Modern Family
Give dad this adorable memory book to help fill out with mom about the chronicles of before baby arrived and all the joy (and chaos) that ensued afterward. With fun and informational sections for both mommy and daddy to fill out, he is sure to not feel left out of the memory book process.
The New Dad's Playbook: Gearing Up for the Biggest Game of Your Life
Perhaps the dad in your life is more of a football fan. Help him to get prepared for baby using a language he is sure to understand. Not only does this book over all the ins and outs of being a new dad, like how to hold his precious little bundle of joy and change diapers, but also how to be the best husband and partner before, during, and after baby's arrival.
My Daddy Loves Me!
Reading to your little one is such a fundamental part of learning and it is never too early to start!
This fun little book not only promotes reading but also lets dad be silly with actions like tickles and kisses. Help dad make reading before bed a tradition with this fun and easy to follow board book.
Dad Jokes: Terribly Good Dad Jokes
It takes years to build up a good repertoire of bad dad jokes, so you might as well give him a head start. While baby is sure not to understand these silly jokes, they will surely come in handy when they are teens for fun and embarrassing moments.
Personalized Gifts
What dad doesn't love a personalized gift just for them or one that showcases their little one?
Bring some happy tears to dad's eyes with these thoughtful and personalized gifts for new dads that he is sure to love and cherish for many years to come!
I'm sure you'll find the one Fathers Day gift for your husband right here!
Handprint and Footprint Photo Frame
It's easy to forget how little and precious your baby is. Make sure dad can hold onto those little hand and footprints forever with this personalized photo frame big enough to hold two pictures.
So make sure you add the special picture of dad and baby to it also!
Daddy and Me 1st Father's Day Frame
Show that special dad in your life how amazing he really is with a Daddy and Me personalized 1st Father's Day photo frame. A beautifully made frame that he can proudly display at home or at work.
Custom Personalized Socks
What better way for dad to keep their little one with them all the time than with these funny and adorable custom personalized socks. Just send in a picture of baby and have their squishy face printed all over these awesome socks!
Personalized Wallet
Make sure dad always has his little one with him with this sturdy personalized wallet. This new dad gift has printing on both sides, you can put baby's face on one side and a sweet personalized message on the other, like "my dad, my hero."
Engraved Wooden Watch
This handcrafted beautiful wood watch is perfect for the dad who likes to look good and be on time. Have your personal message to dad custom engraved so he will always have it with him while he is on the go.
Clothing
Whether dad is a geek or outdoorsman, there are sure to be some funny t-shirts that he will proudly wear to show off what a great dad he is (and his witty sense of humor of course)!
Copy and Paste Matching T-Shirt and Onesie Set
Perfect for the computer nerd dad, this matching set proudly displays that baby is just like daddy!
While this might need some explanation to the non-computer geeks out there, it will certainly bring a smile to the face of any nerdy daddy!
Promoted to Daddy T-Shirt
The perfect t-shirt to give dad on his very first Fathers Day or at the hospital after his baby has arrived. He is sure to wear this proudly when out and about while showing off his newest addition.
You Can Do This Onesie
The perfect little onesie to put in part of a first-time dad gift basket (this would go great with one of those dad manuals!)
For the baby of the first time dad who might feel like they are clueless when it comes to taking care of and dressing baby.
This funny onesie gives directions on which of baby's extremities goes in which hole, you know, in case daddy is too sleep deprived to figure it out on his own.
Diaper Duty Apron
Every daddy has to do it once in a while, the dreaded poopy diaper change.
This apron really does its duty (pun intended)! This soil-resistant apron is also equipped with a pair of man-sized latex gloves, clear safety goggles, a medical grade facemask, and a diaper.
Now he has no more excuses for not helping out mom and changing that stinky bottom.
Awesome Dads Have Tattoos and Beards
The perfect shirt for the first time hipster dad or any bearded and tattooed daddy! While he might look a little rough around the edges, this new dad is really just a soft, squishy teddy bear when it comes to his little one.
For His Man Cave/Garage
Every dad should have a place to go to get away from his kids (and wife) for a bit and just be a man. While he is sure to love spending time with his kids, having time for himself helps to make him a better father and husband.
Let him know that it's ok to escape to his man cave or garage once and awhile with these man cave/garage gifts for new dads that he is sure to appreciate.
Fishing Hook
Just because there is a little one in the family now doesn't mean dad can't enjoy some fishing still. This fishing hook is a wonderful gift for a first-time dad of a little girl, who is sure to always be the first man to have her heart!
Great Job Dad, I Turned Out Awesome Insulated Tumbler
Having a baby is scary, let dad know that he did a great job and his little one turned out great, with this insulated tumbler.
Sure to keep any drink cold even after letting it sit forever while changing diapers, making dinner, and putting the little one to bed.
The tumbler is also shatter-proof, so he won't have to worry about it breaking when his feisty little one knocks it out of his hand.
And don't you love the saying in this new dad gift tumbler?
The Dad Multitool
As a new dad, he is sure to run into many situations where he will need to fix something. Make sure he is prepared to fix just about anything mama or baby would need with this "World's Best Dad" multitool.
Finding the best gift for a first-time dad can be difficult, but it doesn't have to be. Any of these gifts are sure to equip dad with a little extra knowledge and fun to handle his first year (and far beyond) as a new daddy.
More Fun Gifts for Dad
Baby Carrier for Dads to Use

Looking for a baby carrier that will stand up to everything your little one can throw at it? This tough, military-inspired baby carrier is designed to handle anything your baby can dish out – and then some.
And, it makes the perfect Fathers day gift and for new parents!
With easy-to-adjust UTX buckles, this carrier can be quickly adjusted to fit babies and toddlers 8 to 33 pounds.
And your little one can face in or out, depending on their developmental stage.
Plus, it's far easier to put on than any other carrier/wrap/or handkerchief on the market.
So you'll be able to get out and about with your baby in no time flat.
Dad Hoodie
If you're looking for a Father's day gift that will make the new Dad smile, look no further than this amazing dad hoodie!
It's perfect for Father's Day or his birthday, and it's sure to be a hit with any truck-driving Dad.
The print is of great quality, and the material is both comfortable and sturdy. He's sure to love it!
Bump Box
As a new mom, I know that becoming a father is both an exciting and uncertain time.
That's why the Bump Box is the perfect gift for dad-to-be!
It's filled with essential items to get him excited and prepared for his baby's arrival.
The handbook is a great read that will get him ready for the big day and help him gain confidence to be the best new dad he can be.
And the baby onesie and children's book are both adorable and a must.
He'll love showing off his daddy pride in the onesie, and the book will become a cherished bedtime story. Give the gift of confidence and love with the Bump Box!
Diaper Bag
Guess what?
Give dad a break on diaper duty for the special day but it's only for day!
For the rest of the time he'll need a stylish and masculine diaper bag for his outings!
Instant Pot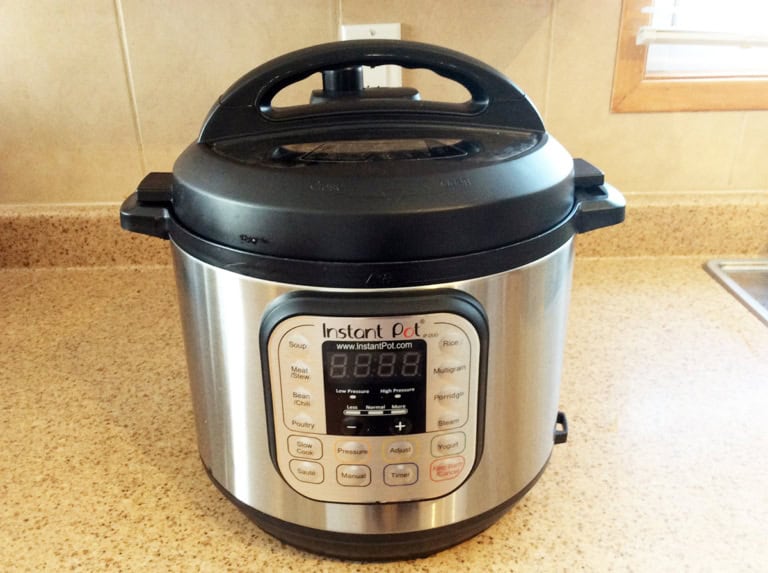 Before I had my twins I had no idea what an Instant Pot was!
And I'm sure the expectant dad doesn't know either!
Surprise him with an Instant Pot!
Gift Card
Sometimes the best perfect gift for new dads is a gift card.
Get one for his favorite:
Restaurant
Coffee shop
Hardware store
Online shopping
Electronic store
Sporting good store
Shoe store
The options are endless!
With a new baby, the new dad will surely enjoy any one of these dad gifts!
Gifts for New Dads
There ya go!
Share in the comments your favorite gift to give to your hubby when he become a new dad!
Which Father's Day gift ideas did you enjoy the most?
Remember to pin me!