Organize your mom life on a budget with these ten clever and cheap storage hacks.
Are you struggling to get – and stay – organized, mama?
I am!
But I know how much smoother life runs when my home is organized.
I can get my twins out of the door in the morning without wasting time hunting for keys, shoes and backpacks.
And I can work on my blogs more easily when my desk is clear and tidy.
And does anyone else get soooo stressed when piles of paper clutter up the kitchen table?
But getting organized can be expensive.
So I've rounded up 10 easy – and affordable – storage ideas that cost less than $10.
Best of all these storage solutions can all be used in lots of different ways. That means they can be repurposed when our lives – and homes – change. Genius!
Storage Hack 1 – Binders
Paperwork – eugh!
Do you feel like you're drowning in paper?
Organizing paperwork can be so hard. But we all know the consequences of losing important papers: late payments, wasted time, and extra STRESS.
Put a stop to all that by organizing your papers with binders.
Binders are awesome because they're more accessible than a huge filing cabinet. And you can customize them easily to meet your families' needs.
These binders are top of my shopping list. They're made from tough material – so it won't matter if your toddler throws them around a bit before you get to use them! And they come in lots of sizes and fun colors – that's important, right?
If you get confused about what types of binders might be useful, Katie from Organizing Moms has a great series on organizing your life with binders.
And Sarah from the Early Bird Mom has curated a list of 50+ printables to organize your life – perfect to slot into your newly organized binders.
You'll feel so much better once those annoying papers are stored away properly.
Storage Hack 2 – Magazine Holders
I love browsing for organizing ideas on Pinterest. And magazine holders seem to have so many different uses!
In the kitchen:
Keep fresh produce under control with this genius idea.
This one is especially great for people short on space because it makes use of vertical space.
I always make sure I have a bottle of water with me. But I hate how water bottles take up so much space and get knocked over easily on my shelves. If you can relates, have a look at this awesome idea of using magazine holders to hold your water bottles.
Keep your pantry shelves organized with this awesome idea from PBJ Stories. This is great for types of food you know you always have on standby – canned tomatoes, chicken stock or fruit.
Make more use of available space with this clever storage hack. I'd use of these hooks to stick them to any cupboard you want to make more use of. Or you could mount a magazine holder to a wall or the side of a table or cabinet for even more storage.
Carrie from the Making Lemonade blog has tons of clever ideas to help you store kids' toys. But I especially love how she's used magazine holders for Lego booklets. They'd be great for coloring books, small reading books and even small toys!
If you fancy using magazine holders to make life easier, here are a few great budget options.
I think you could easily paint or decoupage these magazine holders.
And all the chic desks on Instagram seem to feature acrylic accessories.
Storage Hack 3 – Hanging Shoe Holders
I could use these everywhere in my home!
They're a great way to use vertical storage and otherwise unused space on the back of your doors.
OK, I don't actually have enough makeup to fill a hanging shoe holder, but I still love this idea.
And you could store any beauty products in these shoe holders and hang them on the back of your bedroom or bathroom door.
I love this idea for a laundry room or closet – but, I'd really love to grab my trusty label maker and label up those pockets!
If your little one loves little plastic figure dolls – like Barbie or Action Man – this is a great way to keep them off the floor.
Need another way to organize those annoying water bottles? Don't miss this idea.
You could even use one in the garden!
Hanging shoe holders might just be the Holy Grail of home organizing. If you're convinced check out this great budget option.
Storage Hack 4 – Command Hooks
Another versatile star of home organizing!
Of course you could use them to hang your keys or bathrobe. But there are so many other ways to use them. I love how command hooks can help get your kitchen organized.
Keep annoying cords off your kitchen counter with this genius idea from Dreaming in DIY.
Make use of vertical and unused space on kitchen cupboard doors with this smart storage hack from Laura.
Free up some space in your kitchen drawers by using command hooks on the back of the high chair – this is one I'd wish I'd seen a couple of years ago!!
And I can't resist this one last trick to organize your kitchen on a budget.
If you don't love the usual choice of white, grey or transparent command hooks, why not get a bit creative. I love this fun idea from Eat Play Dress for storing necklaces and I especially love how she's customized the hooks.
Convinced? Check out this great budget buy.
Storage Hack 5 – Mason Jars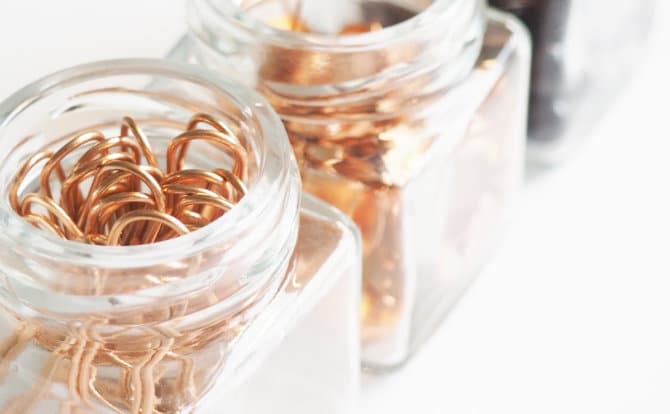 Mason jars are everywhere at the moment, right?
You'll see them all over Pinterest and Instagram used for salads, overnight oats, juices, and make ahead meals.
But don't forget that mason jars are great for organizing too.
I love this pantry organizing idea. Don't forget to use some of those command hooks to hang up some useful oven mitts!
The 16oz would be a great size to start with.
Replace your spice rack with 4oz mason jars with this idea from Dwellings by Devore.
If your craft supplies are getting out of control, you'll love this tip from Amy at Craftaholics Anonymous.
You've probably seen this mason jar craft from the DIY Playbook all over Pinterest.
But did you see their matchbox mason jar craft? Just be sure to keep it out of little hands.
And if you're feeling a bit crafty, this mason jar soap dispenser will get your kids begging to wash their hands before dinner!
The great thing is Mason Jars are budget friendly, hardwearing and of course, plastic free. And they come in so many sizes:
Storage Hack 6 – Plastic Shoe Boxes
These are awesome for visual people – you can see exactly what's in them.
And if you struggle to get your family to stay organized, try taking the lids off. So your husband and kids can just toss items back without fiddling with lids. Easy, right?
Shoes boxes are great for storing any small items. Check out this awesome craft room organization.
And Real Simples decluttering tips!
Or you could use them in the bathroom.
And they're even useful when organizing all those toys, including Lego.
Sick of hunting through your freezer?
Why not use plastic shoe boxes to get organized. This makes use of vertical space. And I love how Asha has used painters' tape and a Sharpie to label the boxes. Just make sure the boxes you choose are safe for the freezer.
Find your own plastic shoe boxes and get organizing.
Don't worry about making the labels too pretty. I love to use my trusty label maker.
Storage Hack 7 – Over the Door Baskets
Wow!
Over the door baskets are awesome if you want to get organized on a budget. Best of all, they make use of previously unused space without damaging any surfaces – so, they're great for renters.
I love how this one has been used as a garbage bag to make the most of a small space.
And you could use an over the door basket to store your hairdryer.
And this is a great DIY budget option.
So, over door basket hangers can be used EVERYWHERE! Snag one for under $10.
Storage Hack 8 – Magnetic Strips
Did you think these were just for hanging up knives in the kitchen? Me, too!
But I found some creative ways to use magnetic strips to make the most of vertical space and get organized!
Still in the kitchen you could use a magnetic strip to organize your spices.
Just be real sure that's where you want them, before you bust out the super glue!
If you're struggling to organize your craft room, check out these two ideas:
For hanging bobbins and for hanging scissors (Just be careful they're kept away from little fingers).
Martha Stewart shows us how to organize paint brushes with a magnetic strip – our paint brushes definitely aren't this clean, though!
Does anyone else have a little boy who loves hot wheels? If you're wondering how to organize them, this could be a life-saver for you.
This magnetic strip is a great starter for this storage hack in your house.
Storage Hack 9 – Baskets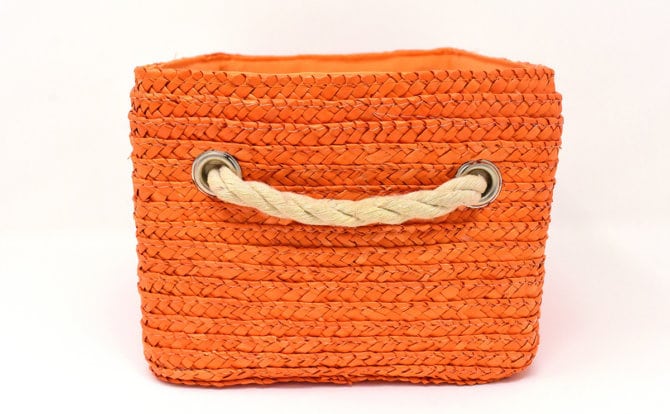 Baskets are my organizing BFF!
I can never resist picking up a few pretty storage baskets when I see them marked down at Michaels or even at my local dollar store.
You can use baskets in any space in your home. And better yet you can easily repurpose them when your life and home changes.
Here are some of my favorite ways to organize with baskets.
Stair Baskets
I pretty sure I could spend all day running up and down stairs to put away small things like hair pins, toy cars, hair brushes and who know what else! Save time – and effort – with this clever idea from Sew Many Ways. Everyone has their own basket that they can pop things in until they're ready to go upstairs.
In the Pantry
I recently organized my entire pantry – I just got so sick of dinner time stress! And you can organize your pantry quickly with just some cute baskets.
Emily at Eleven Gables has the most amazing pantry I've ever seen. And look how pretty – and functional – those baskets are! Baskets are great because you can label them easily and your family can just throw stuff in without fiddling with lids.
Tame the Junk Drawer
Do you have a junk drawer that is getting out of control, mama?
I know I do.
But look how Diane from In My Own Style uses these simple baskets like a jigsaw puzzle to tame her junk drawer.
In the Bathroom
Organizing the bathroom can be tough. But look how Amy at Maison Decor has created a bathroom sanctuary with these pretty baskets. And I love how easily she was able to customize them to match her decor – another reason I LOVE baskets.
Of you're struggling to get organized, why not try decluttering first? I recently wrote this helpful post on 9 mom-approved decluttering tips.
In the Linen Cupboard
Since our twins arrived, I have to admit that our linen closet does get a bit out of control.
And since I don't want to spend ages folding fitted sheets really neatly, I love the idea of using baskets to hide the crazy. So I can't stop looking at this beautiful linen closet from Megan from Honey We're Home.
Baskets are easy to find and here are a couple that I've got my eye on:
Woven basket with handles – wouldn't this look awesome in the bathroom?
Get your pantry in order with a woven strap tote – I think I'm going to use this one to keep our remote controls together – how have we got so many?
Storage Hack 10 – Drawer Dividers
Drawers can be very tough to keep organized – especially if they're extra deep or wide.
So make things easy by using a few drawer dividers.
In the Kitchen
Anyone else struggle with those deep pan drawers? If you can relate, here's an idea that might save your sanity. And it's a DIY!
Sick of tupperware chaos? Martha Stewart has the answer.
In the Home Office
I have a confession, mamas.
Ever since I started bullet journaling, I've not been able to resist buying lots of cute washi tapes, colorful pens and stamps. But I' struggling to keep them all organized so I can actually find what I need quickly.
But look how Jen at iheart Organizing tames her stationery supplies.
Here's a round-up of some chaos-taming drawer dividers.
Once you start using drawer dividers, you'll wonder what took you so long.
Get Organized on a Budget with These Super Simple Storage Ideas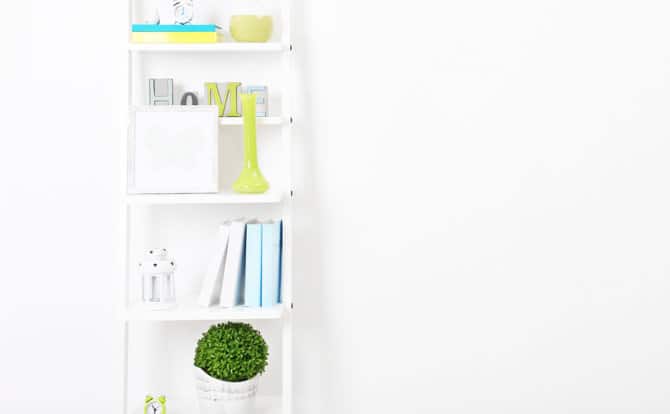 You can get organized without blowing your budget!
Remember, all of these storage hacks are completely versatile so you can repurpose them as your kids grow and your family's needs change.
Don't forget to pin me for later.
Now tell me – what have you been meaning to organize for ages? Have you got any tips to get organized on a budget?