Get some roar-tastic Dinosaur cake ideas and fun boy's birthday cake ideas that everyone will talk about!
When my son was about 4 years old, all he ever played with were his big tub of dinosaurs.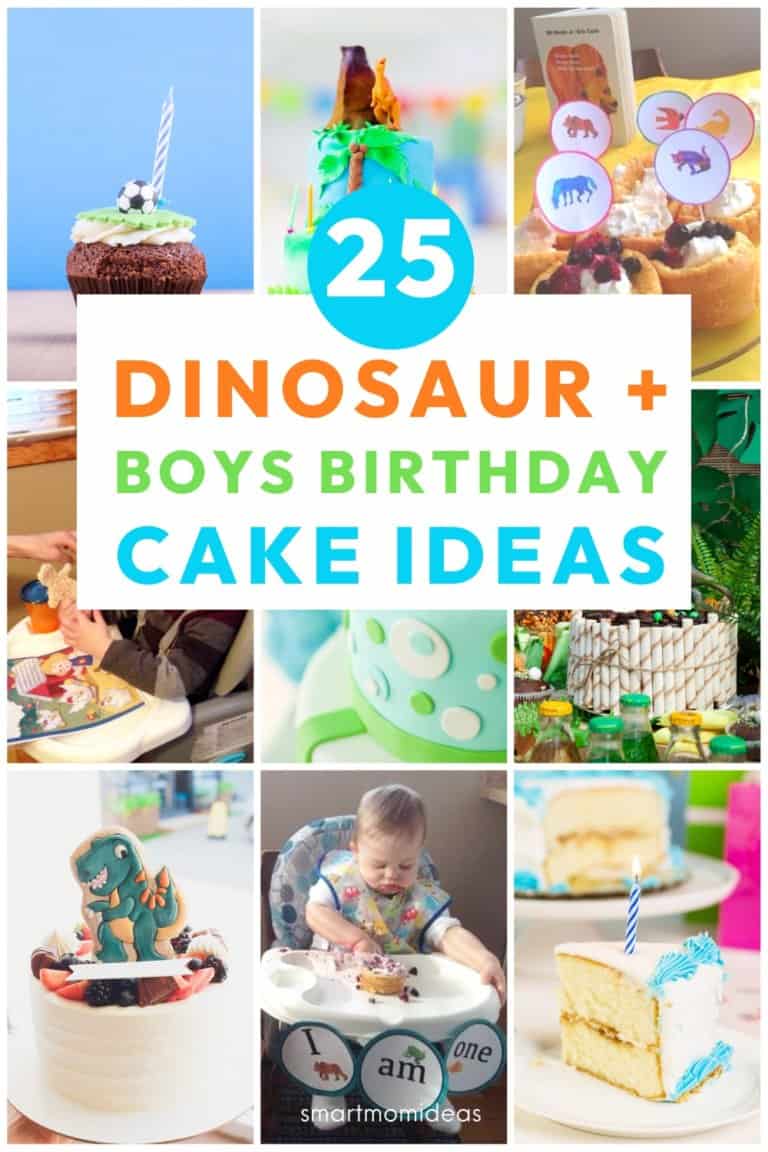 He loved playing with them and for his birthday he wanted a dinosaur cake.
I was at a loss about boy's birthday cake ideas since I have twins and had to come up with a joint birthday cake that a girl and boy wanted.
And, I did a good job at that (you'll see some photos later in the post).
So, to help me out, I went to Pinterest!
Check out these amazing dinosaur cake ideas and then check out other boy's birthday cakes to help you plan your next child's birthday!
Dinosaur Cake Ideas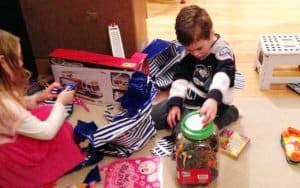 My son was a fan of Transformers, Paw Patrol, big trucks and dinosaurs.
His ideal birthday would be a dinosaur dig and a great big dinosaur birthday cake to eat!
And there are some pretty amazing and roar-tastic cakes that you can make and decorate for your child's birthday.
Let's check out some simple dinosaur cake ideas!
1. Dinosaur Cake Pops
Aren't these cake pops of triceratops and stegosaurus just the cutest thing you've ever seen?
2. Epic Fondant Dinosaur Cake
Wow! Look at this dino cake!
It's fantastic, isn't it?
You can definitely give this to a baker to help them design your dinosaur cake if you can't DIY this yourself.
Make sure to get a cool-looking dinosaur topper for your cake!
3. Dinosaur Cupcake Cake
So cute!
Love it!
If you're good with icing you can make these fun dinosaur cupcakes for your little prince!
Makes sure to pick up some silicone cupcake molds for an easy slide-out cupcake that isn't messy!
4. Cute Dinosaur Birthday Cake
I mean, c'mon!
Isn't this just the best birthday cake idea for a dinosaur birthday?
Super simple to make too!
5. DIY Dinosaur Cake
You can totally make this fun DIY dinosaur cake for your little boy.
This birthday cake idea comes from none other than Betty Crocker!
6. Use a Dinosaur Cake Pan!
OMG!
Isn't this just the easiest and simplest way to make a dinosaur cake for your kid's birthday?
This dinosaur cake pan will make a whimsical and fun dino for a Three-rex birthday party!
All you need after you grab this pan is the birthday cake mix and some fun din color frosting!
7. Dinosaur Bone Cake
This dino cake idea is easy: just order a half sheet cake with NO decorating from the grocery store and then all you have to worry about is the decorating!
But, make sure to make the white chocolate dinosaur bones a few days before the birthday party! Use these dinosaur bone molds to help you out!
8. A Dinosaur Park
This idea looks fun to do!
Get a year birthday cake mold, some green, blue, red and brown frosting and a whole bunch of plastic dinosaurs and go to town!
9. Watermelon Dinosaur Cake
If your child is allergic to certain dyes or food, then why not go ultra-healthy and fun with this watermelon cake for a dinosaur birthday!
10. Volcano Birthday Cake for Your Little Dinosaur
Change it up with this simple dinosaur birthday cake idea!
11. Jurassic Park Cupcakes
With these Jurassic Park toppers for your cupcakes you can't go wrong!
Baby Boy's First Birthday Cake (Your Prince)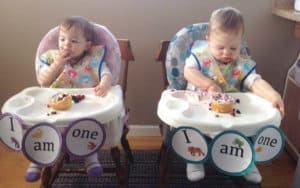 Okay!
So all these dinosaur cake ideas are for any age for your little boy.
But what about their first birthday smash cake?
What is a good baby boy's first 1st birthday cake and the theme?
Dinosaur smash cake!
For my twins, they had a variation of a smash cake. I created some spongecake bowls and filled it with whipped cream and berries.
My twins had fun dissecting it and gobbling it all up!
We did a Brown Bear first birthday theme since my twins loved that book!
So, to help you out, here are some fun first birthday dinosaur smash cake ideas.
12. Photogenic Smash Cake
How darling!
Make this a special moment with your child last forever!
Create a photo op and watch your little prince smash that dinosaur cake up!
13. Dinosaur Egg Smash Cake
This reminds me of Dr. Suess!
Doesn't it?
Get a fun egg mold and you can make this dinosaur cake in a few steps!
14. Cute Big Eyed Dinosaur Smash Cake
Aww! How cute!
I love how big-eyed this blue dinosaur birthday cake has!
15. Cookie Crumble Dino Smash Cake
How delicate and cute does this dinosaur themed cake look like?
Love it!
16. Gooey Swampy Dinosaur Smash Cake
This dinosaur gooey cake will make the perfect messy smash cake for your one-year-old!
Other Cool Boy's Birthday Cakes To Try
Okay!
So after seeing all those wonderful dinosaur birthday cake ideas, it's time to look at some boy's birthday cakes for almost every year.
17. Boy's Birthday Doughnut Cake
If your son is into soccer (I mean who isn't these days!) then this doghnut cake with soccer decorations is the best birthday cake for a soccer fan!
18. Little People Birthday Cake Idea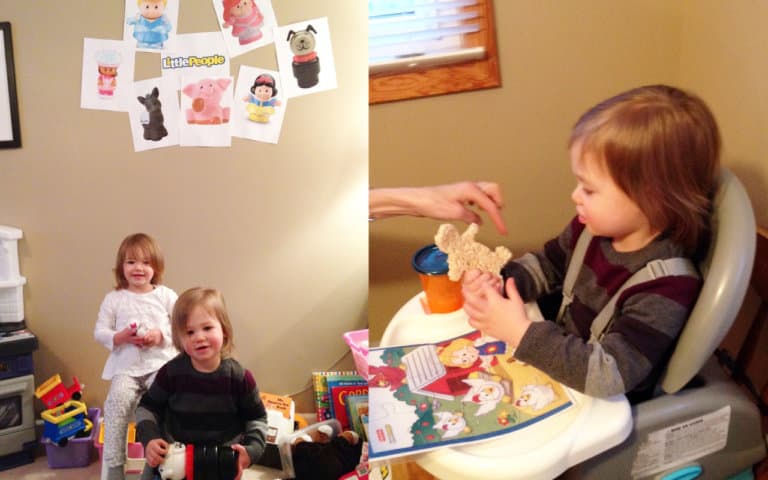 When my twins were 2-years old they had a fun Little People themed birthday party.
But, instead of a Little People birthday cake idea, I decided to make Rice Krispy people instead!
19. Boy's Birthday Cake – Transformers
What a cool 7 year old boy's birthday cake idea!
My son loved Transformers growing up and this cake would have been amazing to have!
You can make an Optimius Prime birthday cake or Bumblebee one depending on what your son likes the best!
20. 14 Year Old Birthday Cake (Teen Edition)
Isn't this just the neatest birthday cake for your 14-year-old boy?
It looks like a real hamburger but it's cake.
You can also use these ideas for a fun themed teen birthday party:
21. 10 Year Old Boy's Birthday Cake Idea
If your son enjoys Star Wars, why not surprise him with this mega birthday cake idea?
22. Lego Birthday Cake Idea
Isn't this just a best birthday cake idea you ever seen?
Most boys love building and Lego's are the best building blocks out there.
Spread that joy with this Lego cake!
23. Construction Birthday Cake Idea
For your little guy, why not wow him with this fantastical idea?
I love how the #4 is dangling above the cake!
24. Simple Bluey Cake
If you want a no-fuss boy's birthday cake then try this Bluey cake!
Get some blue icing and some sprinkles and viola! You have a cute cake.
25. Cute Pokemon Boy's Birthday Cake
So cute!
Create a Pokemon birthday cake for your little boy.
You can have your whole birthday filled with this theme for sure!
Easy Way to Decorate a Rectangular Boy's Birthday Cake
It's your little man's big day, and you don't want to skimp on the cake.
I mean you've seen all these boy's birthday cakes people are making!
But you don't have a lot of time or energy to put into something overly complicated.
Don't worry, here is your easy no-frills guide for decorating a rectangular boy's birthday cake.
This simple guide will show you how to make your cake look as cool as your son!
Start With an Easy Cake Recipe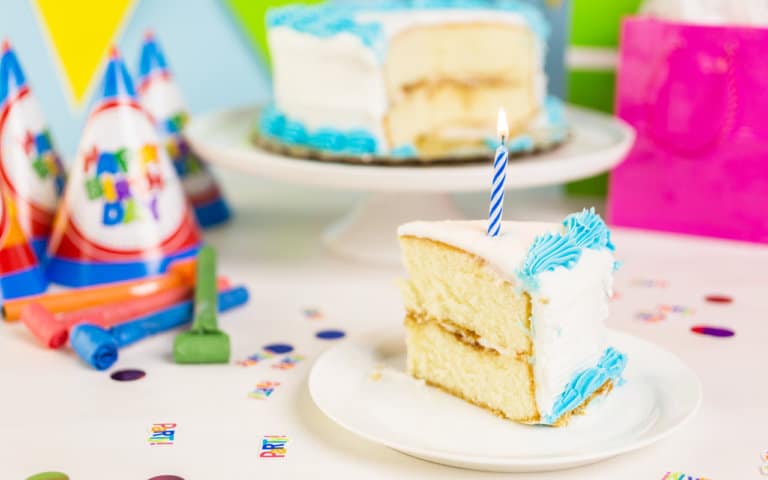 Let's start with the basics – choose an easy-to-make rectangular cake recipe.
Keep it simple – no fancy flavors or shapes required!
Should you do homemade or buy a cake mix?
There's no shame in using a cake mix and dressing it up.
Choose Your Color Scheme & Decorate
Setting the tone with a color scheme that shows your son's personality and interests.
If he's into sports, choose team colors or go with classic blue and white if he loves superheroes or cartoons.
You can also get creative and use unusual hues like yellow and green to make the cake stand out from the crowd.
Hulk green anyone?
Once your cake is baked and cooled off, it's time to get decorating.
The first step is to cover the cake in buttercream frosting.
This will serve as the base for the rest of your decorations.
If you have any leftovers from coloring or flavoring the buttercream, now is the time to use them up!
Add Some Textures
A plain frosted cake can look pretty boring, so why not add some texture?
Using a spatula, create an interesting surface pattern on top of the cake by running it in different directions.
If you feel extra adventurous, you can even try creating designs like stars or stripes on top of the cake.
The possibilities are endless!
Add Your Toppings
Now comes the fun part – what do you put on top of that delicious buttercream?
Some ideas are sprinkles, candy pieces, shortbread cookies, fondant stars, vanilla wafers, or even chocolate chips!
Have some extra colored icing?
Get creative by drawing Batman logos or writing messages on top of the cake – anything goes when it comes to personalizing this masterpiece!
If you don't have enough time to make a lot of decorations from scratch, store-bought items like mini cupcakes or ice cream cones can give just as much wow factor (just be sure to check labels for allergens!).
Finally, don't forget about candles – you can never go wrong with classic birthday candles or colorful sparklers placed around the edges of your rectangular boy's birthday cake!
Just make sure whatever topping you choose won't melt away in the heat of your kitchen before serving time arrives!
And if all else fails, just stick with classic candles for a timeless look.
Boy's Birthday Galore
I hope these birthday cake ideas for your boy are what you want!
Enjoy your boy's party for sure!