Check out cheap Christmas gift ideas that are thoughtful for the family!
It's almost Christmas time! Oh yea!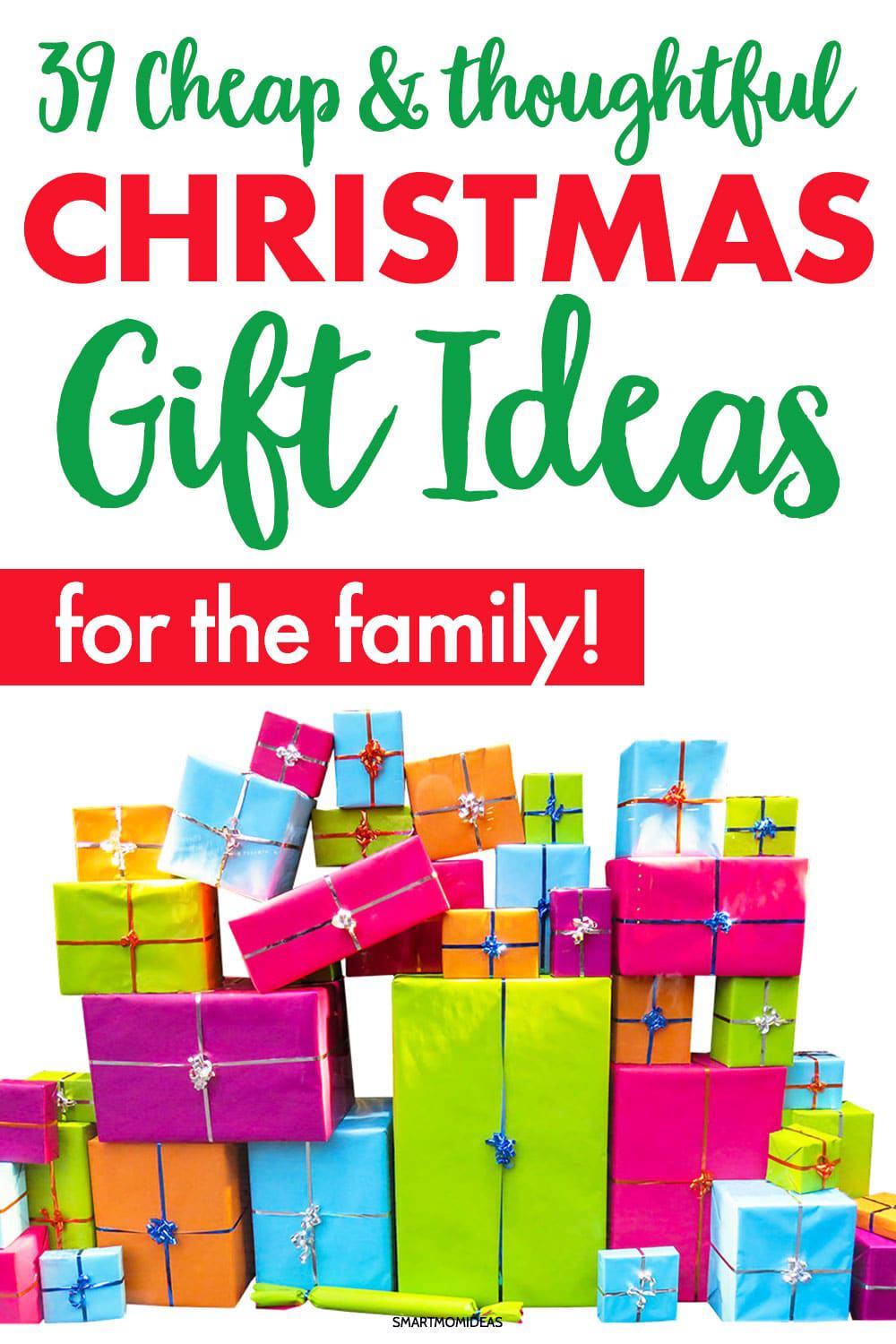 This is probably my most favorite holiday of the year – and it is for my twins too!
Trying to find some of the best and cheap Christmas gift ideas for your family?
I'm here for ya!
While you might want to go all out for your loved one, you need to think frugally.
All of the gift ideas list here are cheap and thoughtful.
They are sure to guarantee to please that special mom, dad, and child in your life.
Cheap Christmas Gifts for Mom
1. Fuzzy slippers
Every mom can use a great pair of slippers. Whether she is a regular homebody or enjoys relaxing at the end of a long day, she will certainly appreciate a quality pair of slippers.
I love these! They look so fuzzy and I'm putting them on my wish list!
2. Ankle Weights
These ankle weights are perfect for the mom looking to shed a few pounds. They are simple to use and can even be worn under long pants to squeeze in some workout moves under her desk or while out running her errands.
3. Stress Relief Candle
These eucalyptus and spearmint stress relief candles smell so good! They will instantly put her into that mood of relaxation.
4. Scalp Massager
Help her to create that spa like experience every time she's in the shower with this vibrating scalp massager. Not only will this give her a relaxing scalp massage, it will also help to give her that bouncy hair all her friends will be jealous of.
5. Bert's Bees Hand Repair Gift Set
For the mama who needs that extra bit of moisture in her life. This hand repair gift set is perfect for moms who work with their hands all day that need that extra bit of tender care.
6. Heated Neck Wrap
Make sure mom is able to rest and relax with a hot cup of tea and a heated neck wrap. The perfect cheap and thoughtful gift that any mom would love to sit down with.
7. Ice Roller
This facial ice roller is more than just the latest skincare must-have. In addition to helping her achieve that flawless look, it is also great for relieving headaches, promoting blood circulation, and relieving fatigue.
8. Shower Wine Glass Holder
When it has just been one of those days, help mom to relax with the shower wine glass holder. Perfect for sticking to the wall in the bathroom while she gets ready, relaxing in the tub, and taking a hot shower while enjoying her favorite vino.
9. Tea Infuser Mug
For the mom who loves to try out different tea, this tea infuser mug is a cheap and thoughtful addition to her tea collection.
10. Bath Bombs Set
Of course our list for moms wouldn't be complete without a bath bomb set. Just one more way to make sure that mom in your life is properly pampered.
Cheap Christmas Gifts for Dad
11. Hot Sauce Variety Pack
For the dad who loves to kick up his meals with a bit of spice, this hot sauce pack is sure to keep his taste buds guessing. With five different flavors, he is sure to feel the heat.
12. Funny Socks
What dad wouldn't love a funny pair of socks. Whether it's socks that look like flip flops or a box full of pizza socks, he is sure to get a kick out of this footwear.
13. Automatic Pan Stirrer
For the dad who can be a bit forgetful in the kitchen, this automatic pan stirrer will help to save dinner! Great for making sauces and soups without ever having to worry about burning the bottom of the pan.
14. Pun intended Game
For the dad who is always at the ready with a dad joke or the perfect pun, this makes for the perfect party or family night game. With over 1300 puns, he will be able to keep them cracking for years to come.
15. Bacon Curing Kit
Most dad's can't get enough bacon! Challenge him to try something new by curing his own bacon with this fun and easy to use kit.
16. Grillight Spatula
Sun, rain, dark, or light, nothing holds back a true grill master. Make sure he is equipped with the best spatula possible with the Grillight!
Alcohol Infusion Kit
If the dad you are buying for loves to experiment in the kitchen like a mad scientist, then he is going to love this alcohol infusion kit. With recipes for vodka, gin, rum, and tequila, he will never get bored of making new creations.
17. Bluetooth Wireless Headphone Beanie
For the dad who is always on the go, this bluetooth wireless beanie with built in headphones makes a perfect cheap and thoughtful gift.
18. Telescopic Light Tool
For the dad who seems to have everything, this telescopic light is an all in one tool that every dad should have in his toolbox. Use the magnetic part to pick up those tiny nails, shine light on even the most difficult places, and clip right onto his pocket for easy carrying.
19. Tool Wristband
Make sure that handyman in your life has everything he needs right at his fingertip with this magnetic tool wristband. Perfect for holding all of those small objects he needs while tackling his latest projects.
Cheap Christmas Gifts for Boys
Toddlers
20. Fuzzy Socks with Grippers
Make sure his tiny feet stay warm and he isn't slipping all over the place with these adorable fuzzy socks. With characters like sharks and dinosaurs, he won't ever want to take them off.
21. Spiderman Chutes and Ladders
Get that little guy excited about playing board games with this Spiderman edition of chutes and ladders. A cheap gift idea for any toddler who can't get enough of his favorite Marvel character.
22. Wiki Sticks
Wiki sticks are a great way to encourage fine motor skills, pattern recognition, and encourage quiet play. These are of course non-toxic, so no worries when they "accidently" eat them.
23. Wooden Sorting and Stacking Toy
Encourage fine motor development, pattern, shape, and color recognition with this wooden sorting and stacking toy. A durable toy even the roughest toddler boy can't break.
24. Friction Powered Trucks
Wind them up and let them go! Another cheap and durable toy for little guys who love to crawl around and run into things.
Kids
25. Gemstone Excavation Kit
Have a budding archaeologist on your hands? Send your little one on a treasure hunt with this gemstone excavation kit that will reveal some dazzling finds.
26. Indoor S'mores Maker
This indoor s'mores maker is perfect for young boys who love to go camping. While it's not always ideal to start up a fire, this s'mores maker is great for use year-round. Just make sure mom or dad are there to supervise!
27. Mini Quadcopter
A safe and easy to fly alternative to the more expensive drones. This is a beginner friendly drone that any young boy can take flight with.
28. Paper Airplane Craft Kit
Paper airplanes are a timeless gift that any young boy will love to try their hand at. This kit includes 10 unique designs and 40 pieces of printed paper for making the coolest paper airplanes around.
29. LED Light Gloves
Whether out riding his bike in the evening or just running around the house, these LED light gloves are a fun and cheap gift for young boys. These also make a great gift that can be used year-round for things like walking in a parade, Halloween costumes, and school dances.
Cheap Christmas Gifts for Girls
Toddlers
30. Bath Toys
Make sure that the little girl in your life enjoys her time in the tub with these bath toys. From the classic rubber ducky to sets of pipes for dumping water through.
31. Princess Castle
Encourage imaginary play with this foldable princess castle tent. An affordable gift for toddler girls that they can spend hours playing in.
32. If I Were A Magical Unicorn
Every little girl loves a fluffy unicorn. This set includes a unicorn plush, headband, and accompanying book. The perfect gift for spending some quality time reading together.
33. Carrot Harvest
Carrot harvest is a fun and easy matching and sorting game even the littlest ones can tackle. A great developmental toy for encouraging fine motor development.
34. Wooden Lacing Beads
These wooden sorting beads make a perfect developmental toy and encourage quiet play (which parents always appreciate!) Have her make a fun game out of it by putting different patterns together with shapes and colors.
Kids
35. Nail Stamper Nail Studio
Trendy nails are all the rage right now! Make sure your girl is styled and ready to go with this fun nail stamper studio.
36. Lighted Vanity Makeup Mirror
This cheap and thoughtful gift is perfect for the young girl who is just starting experimenting with makeup. Make sure she will look her best in any light with this vanity mirror.
37. Emoji Pancake Pan
For the little budding chef in your life, you won't be able to get her out of the kitchen with this emoji pancake pan. Perfect for whipping up Sunday morning breakfast for the whole family.
38. Mermaid Tail Blanket
What young girl wouldn't love to play mermaid any time of the year? These tails are so cozy and available in so many different colors and sizes.
39. Scratch Paper Art
120 pieces of scratch paper notes and art supplies! A fun and unique way to add a little color to her holiday.
No matter your holiday budget, you are sure to find a cheap and thoughtful holiday gift for the mom, dad, and kids in your life.