Valentine's Gifts for him – show your man how much you love him
Ever feel like your other half is impossible to shop for, especially on a budget?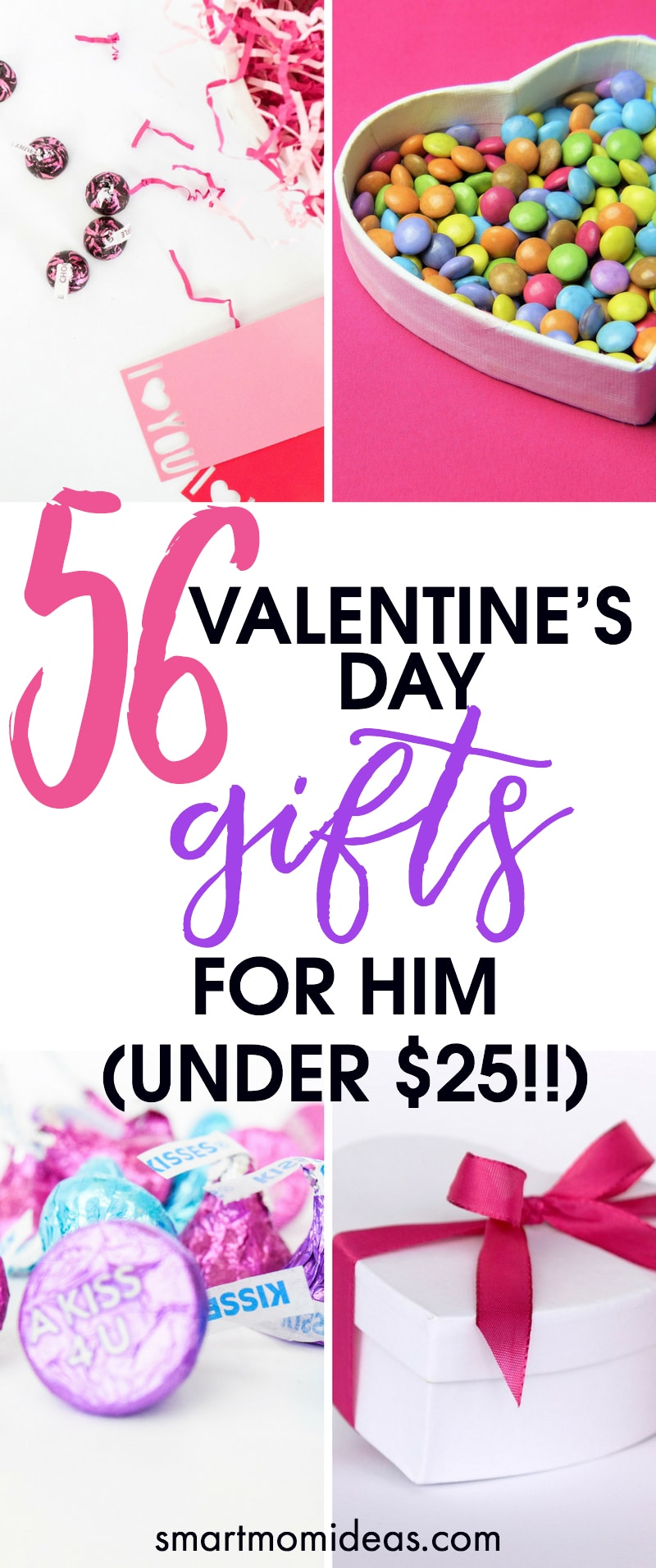 My husband only likes three things – gadgets, food and his kids – and me of course. 🙂
But, I find having to shop for him very challenging. Many times, my husband actually has the gift idea in mind!
Grr!
So, every time a holiday or my husband's birthday rolls around, I want to get him something special, but it can be hard to tell what he wants or needs – especially since he may already have the things he wants!
And Valentine's Day is no different.
Now that our twins are 8 years old, our Valentine's day will be filled with crafts, candy and gifts!
If you're stuck for ideas, I came up with 56 pretty awesome Valentine's Day gifts for men for under $25.
Now…I have to make sure my husband doesn't read this post!
Yikes!
7 Valentine's Gifts to Make Him Feel Pampered
While many husbands might not admit to loving a day at the spa or bathing with your lavender body wash, we all like to be pampered from time to time, right?
These gifts will help your husband indulge while still feeling like the man he is.
1. Burt's Bees Men's Gift Set
I love that this set is all natural and doesn't have a strong scent. If your hubby doesn't like strong scents or is sensitive, try this Burt's Bee sampler.
You get:
Shave Cream

Aftershave

Body Wash

Hand Salve

Original Beeswax Lip Balm
2. InnoGear Aromatherapy Essential Oil Diffuser Ultrasonic Cool Mist Diffusers
An aromatherapy diffuser is a bit girly, right?
But, it's a great tool for those who suffer from middle of the day migraines or for those who have a hard time drifting off to sleep. Do your research to find out which essential oils are best for your loved one.
3. Southpole Men's Basic Fleece Marled Jogger Pant
You know how much you love to lounge in your yoga pants despite the fact you haven't touched a yoga mat since before your kids came along?
I'm guilty of this. Since I'm working on losing my baby weight, I only wear yoga pants!
But, I bet guys are secretly the same way. Check out these joggers – they are extra comfy for weekend relaxing.
4. The Body Shop 2-Piece Shave Away Kit
This set promises a close shave and comes with a nifty shaving brush. And the best thing about this shave cream?
It's pain-free, paraben-free and the razor glides effortlessly. Men swear by this set!
Check out The Body Shop's Maca Root face protector and Amber aftershave as additions to this Valentine gift.
5. Scentsational Tobacco Vanilla Scented Natural Soy Candle
You would think combining Tobacco and Vanilla wouldn't smell good, but it DOES.
What's great about this candle is it's for the whole house.
After a long day working and cleaning up and taking care of your little one, light this candle and relax – without any frufru smells!
6. RockDove Two-Tone Memory Foam Warm House Slippers
Giving a pair of slippers may not be romantic, but your significant other will definitely enjoy them when they need to slip on something quick and warm before taking the trash out or working at home.
And with its indoor/outdoor sole, these slippers will keep hubby safe.
My husband works from home – in the basement – and in the middle of winter, it gets bone-chilling cold down there. Slippers are perfect!
7. Double Edge Single Blade Safety Razor Kit
Here's another shaving kit that might get your husband excited about shaving.
With a vintage-style razor, this shave kit gives you a close shave like a barber would.
The kit includes extra blades, making it the perfect gift for your bearded husband.
5 Romantic Gifts for the Your Husband
I wouldn't say that my husband is a die-hard romantic, but I try to be intentional about showing him love and appreciation often.
It takes a pretty impressive man to juggle me and all of my projects, twins, and his own workload!
Even if your guy isn't the type that likes to snuggle up to a rom-com, I'm sure he would appreciate the thought that went into these.
8. Knock Knock Letters to the Love of My Life
Not sure how to express your love? Maybe you're an introvert or just not sure what to do or say.
These letter forms make it easy to share your sweet thoughts and sentiments.
9. Neato Blank Beer Bottle Labels
Make your own beer (or soda) bottle labels, either with your picture or by writing what you love about your partner.
These labels (which come in a 40-pack) are better than sticker labels because they are water resistant, perfect for your hubby's home brewery.
They are easy to customize – just need a computer and printer!
10. Conversation Starters for Husbands & Wives
It is so easy to put your relationship on autopilot when you have to juggle work and kids.
These conversation starters can be a fun way to reconnect on your next dinner or dessert date.
Or, you can have a romantic game night with wine and strawberries and have fun getting to know each other on a more deeper level!
11. Knock Knock Why You're So Hot Fill in The Love Journal
Here is another fun fill-in-the-blank activity that will help you make your spouse feel special.
You can fill up the pages with jokes or sweet sentiments or be sexy and give your husband a sizzling Valentine's Day gift.
And the best part about this is you two can cherish this book as you get older!
12. 100 Pcs Capsule Message in a Glass Bottle
You're not giving your husband medication here! There are messages inside these pills.
Writing 100 short sentiments on these pill capsules will be time-consuming, but a sweet way to show your love.
Your husband or loved one can grab a pill any time he is having a rough day for a quick pick me up.
5 Gifts for the Practical Guy
The next five Valentine's gifts for him aren't very romantic, but they will be appreciated by men who love practical and useful gifts.
Save these gift ideas for the next time you need a present for a dad or uncle too.
13. RAK Magnetic Wristband
Is your husband a handyman? Does he need something with super duper strong magnets for holding all his screws, nails and drill bits?
He can keep all of the tools close at hand with this magnetic wristband. This is especially useful for when you need to hang a picture or replace an air filter.
And what husband doesn't like tools and unique gadgets?
14. Zojirushi Stainless Steel Mug
My husband is always on the hunt to find the perfect thermos or mug and this one (SM-KHE36AG) does not disappoint. And with the uber-popular Zojirushi brand, you can't go wrong with any model.
It will keep your cold water or drinks cold all day long and your warm drinks or soups warm all day.
Whether your hubby uses it for work, travel or for a road trip, this steel mug will be his trusted companion.
15. Armor All 12V Car Vac
Most guys like clean cars, which is an impossible feat with children around, right?
This small vacuum makes cleanup quick and easy for those Cheerio spills.
Try pairing this gift with Armor All cleaning wipes for a complete gift.
16. Kikkerland Bedside Caddy
This nifty caddy will keep your spouse's electronics, books, and all other loose ends organized and easy to grab.
Psst..it's also a way to "train" your husband to clean up after themselves. I'm just sayin'!
17. Pocket Screwdriver Set
This is a screwdriver pen! How cool is that?
Children's toys always have the smallest bolts and screws.
That's why this small, 8-in-1 pen-style multi-functional tool is nice to have around the house for quick fixes or to make a toy work….right now!
And the kids will think dad is using a pen to fix their toys!
8 Valentine Gifts for the Inspired Chef or Foodie
If your husband ever expresses an interest in cooking, take it and run, mama.
Last year, my friend's husband told my her that he wanted to play around with sous viding.
My friend was tempted to roll her eyes, especially since he had his eyes on this "toy", but she agreed. Now her husband regularly cooks dinner two times a week, allowing her to get more work done.
You never know!
18. Bodum Coffee Maker
If you haven't tried making coffee with the pour over method, then you are missing out.
This is the only way my husband makes coffee and I LOVE it!
This coffee maker with its permanent filter is easy to use and is a frugal living choice than some of the other pour over coffee maker systems on the market.
19. Fred TWO FOR TEA Infuser and Mug Gift Set
How cute is this Mr. Tea Infuser?
For me it's the "no pants, no problem" quote on the mug! Perfect!!
If your husband is more of a tea guy, then he will get a kick out of this tea infuser and cup.
My husband goes in sprints with this tea drinking, but I bet if he got this one he would try it again!
20. Ozeri Elite Chef 15-Piece Stainless Steel Knife & Cutting Mat Set
There is nothing more annoying than trying to cook with a dull knife.
It's also dangerous too! If your knives have seen better days, why not update them with this set?
Plus it's all colorful and makes it easy to find in the kitchen and organize which foods you can cut. For example, onions are cut on the red board while fruit is cut on the green board.
21. Fred CHEESE LOG Board and Knife Set
OMG! Isn't this cheese log board perfect for your husband?
Let your husband entertain in his style with this awesome cheese board and miniature ax that acts as a cheese knife.
It's manly and that's enough!
22. .308 Real Bullet hand-blown Whiskey Glass
This is a slick glass for any gun lover.
The glass features a real bullet shot into the glass, and it will totally blow his mind.
And your guests if you host a party too!
If he's not a whiskey fan, why not try a pint glass and wine glass for a gift?
Or get all three!
23. Star Wars Darth Vader Silicone Oven Mitt
Your man doesn't like cooking with your floral oven mitts. So, why not surprise him with these Star Wars inspired mitts?
This is perfect for the true Star Wars fan in your life.
This also shows him how much you LOVE his cooking!! 🙂
24. Science Flask Oil and Vinegar Dispensers
Make him geek out with this awesome oil and vinegar dispenser.
They still do the job but have a science twist. They are in the shape of science lab flasks with a periodic style label.
Add on to the set with the matching science salt and pepper shaker.
25. Star Wars Lightsaber Spatula
Star War fans will get a kick out of this spatula.
It is in the shape of a lightsaber, but performs as what a spatula should of course! But for those die-hard fans, you can show your appreciation with these cool gadgets.
Some other fun Star Wars kitchen gadgets include this lightsaber pizza cutter and Millenium Falcon bottle opener.
7 Gifts for the Travel Enthusiast
Now that the twins are getting older, we want to travel more as a family (if we can get our act together!).
These next seven gifts get me excited about all the fun trips that could be happening soon!
26. Brouk & Co. Travel Cord Roll
It is amazing how many cords you need to bring when you travel.
You have your iPhone charger, your iPad charger, your laptop charger, your headphones, your electric toothbrush for heaven's sake and more!
This handy roll keeps everything organized in your luggage.
27. Plambag Unisex's Canvas Duffel Bag
This amazing oversized tote is slightly over the $25 budget, but I just couldn't keep this bag a secret.
It's perfect for traveling!
When it comes to luggage, you want it to be functional and useful. And what's great is that you can use it too in a pinch!
28. MSG Vintage Leather Canvas Travel Toiletry Bag Shaving Dopp Kit
If your hubby travels for work, then he'll need something to put all his bathroom items in.
Use this awesome toiletry bag and fill it with cool shaving products like this caffeinated shaving cream or this luxurious Lather & Wood's Face Scrub.
Treat your husband good!
29. ELEGIANT Portable LED Lighting Speaker
Don't underestimate how important a speaker is while traveling. The long travel and the monotony of it all, having some entertainment will keep your hubby sane and safe!
This small mini-cube wireless speaker won't even take up much space in a suitcase and it'll keep you entertained on those road trips.
30. Nomader Collapsible Water Bottle
My husband is on a quest to find the perfect water bottle
This water bottle is a good for those who want to travel outside or hike, but it can also be a great gift for anyone who stays in a hotel too.
Many hotels charge ridiculous prices for bottled water. Instead, you can fill up this collapsible water bottle at a local fast food joint and keep it in your hotel room.
31. Lightweight Travel Hiking Backpack Daypack
For the hiking or camping lover, this backpack (available in 20l and 30l) will make a great addition to their trip.
It's foldable, durable, packable, and can fit in most inner pockets! How cool is that? I'm sure your husband will try his hand at seeing how small he can fold this backpack!
It comes in lots of different colors to suit your husband's tastes!
Plus, who doesn't want another backpack?
32. Travel Listography: Exploring the World in Lists
If you can't afford to get away just yet, this fun book will help you and your loved one dream about all of the places you want to visit in the future.
This little book has topics to help you figure out where you want to travel and places to write where you visited and where you want to visit.
Create memories for Valentine's day for the traveler at heart!
8 Valentine Gifts for the Hubby Entrepreneur
My husband is a website developer and works from home alongside of me.
He is an entrepreneur at heart and enjoys setting goals for himself and dreaming big. These next eight gifts are perfect for the entrepreneur in your life (and in mine!)
33. I-Rocks Washable Keyboard
Working from home sometimes means eating last night's leftovers in front of the computer and the unexpected – little hands (and in my case, times two) griming up the keyboard.
Who can be productive when you can't find the "t" key or when your spacebar sticks?
This washable keyboard can take it all!
34. Inateck MacBook & iPad Pro Sleeve Case
Are you Mac users? We are here. We each have multiple Mac laptops, iPads, iPhones, iMacs, Mac Minis. If Apple makes it, chances are we have it!
One thing we rely on is protective case covers for our devices. You never know with twins!
This is a sophisticated laptop bag for when your husband needs to work away from home and travel or just to store your laptop away from little hands!
35. Lemome A5 Hardcover Dot Grid Notebook with Pen Loop
Have you heard? Dot journaling is the latest fad!
Women typically use them for bullet journaling, but men can use them too!
This simplistic notebook is perfect for jotting down ideas and to-do lists.
And your husband will love the pen loop on the notebook – always have a pen near you when the moment strikes.
36. Bluetooth Headphones Over Ear Wireless Headset
When you can't give your loved one peace and quiet, this is the next best thing.
These noise-canceling headphones produce awesome sound and feel good when you put them on.
If your hubby is into video games, music or just likes to listen to audiobooks, these headphones will do the trick.
And they make a nice Valentine's gift too!
37. Productivity Planner – Daily Planner
I might snag this planner for myself!
I get distracted all the time and writing it down is what helps me get things done. And it can help your husband too!
It's the perfect planner for keeping track with your goals and tasks. I especially like the 25-minute bubble tracker on some of the pages, which is meant to increase your productivity.
38. Moleskine Evernote Smart Notebook
You can write in this notebook and then scan your notes to the Evernote app.
The specialized paper allows your writings to become searchable inside the digital app.
39. Tribe of Mentors: Short Life Advice from the Best in the World
An inspiring book is always a good idea for the man in your life.
Tim Ferris is one of the top business gurus, and his newest book, Tribe of Mentors, looks like a winner since it compiles the habits, tools, and tactics of over 130 experts.
Treat your entrepreneur husband with some good skills to up his hustle game.
40.Wifey / Hubby Couple Mug
Don't you just LOVE these cute mugs?
Why not treat not only your hubby but yourself with this adorable coffee mug duo.
For us, since we both work from home, we can drink coffee together and hustle together!
7 Valentine's Day Gifts for the Techie
It is hard to find amazing tech-savvy gifts for under $25, but these ones deliver – especially the drone and Google cardboard.
41. Patented Pocket Power Card Power Bank
This is perfect for when you need a charge in an emergency – like after you let your kids watch too many Youtube videos while waiting at a busy restaurant.
Or, if your husband is forgetful and didn't bring his cell phone charger!
I love that it is so thin and can easily slip into your partner's wallet or work bag (which is good so he won't lose it!).
This is an ultra small charger for all your devices.
42. Bamboo Wood Charging Station Dock
This stand is perfect on a dresser or nightstand and will keep his phone and Apple watch nicely organized while they charge.
And I don't know about you, but don't you think this bamboo wood charging station just looks nice?
It's modern looking, portable and sleek!
43. Mini UFO Quadcopter Drone
Boys and their toys – amiright?
Professional drones cost a lot of money, but this small quadcopter will give your hubby hours and hours of entertainment.
Your valentine will enjoy tapping into his inner child, and your kids will be thoroughly entertained as they watch daddy fly.
Win-win for mom!
44. Tile Mate – Key Finder. Phone Finder. Anything Finder
Does your husband always lose his car keys? What about his smartphone?
Wouldn't it be awesome if he had something that made him never lose things again?
Some might see this key finder as a small keychain, but this gift is actually a year with no lost keys (or whatever you use this Tile Mate for).
The batteries in these Tile Mates only last a year, but they are easy to replace.
45. 1byone 50 Miles Amplified HDTV Antenna
This antenna can help you cut the cable for good since it will help you receive many free HD channels.
And this is for life – you don't need anything else except this antenna that will get absolutely free local news, shows and kid shows!
Let your husband watch all the hockey or football he wants! He deserves it!
46. Case-Mate – Stick On Credit Card Wallet
A lot of men don't like having to carry around a wallet. It's clunky and weighs down their jeans.
Instead, why not use this pocket for all their cards!
Plus, when you give him this gift you can add a gift card to your loved one's favorite restaurant (dinner date – score!), and they will love being able to ditch their wallet on the go.
47. Google Cardboard,Topmaxions 3D VR Virtual Reality DIY VR Headset
Now your hubby can experience virtual reality on a budget. Because who doesn't want to have some VR fun around the home?
This VR headset works with your phone and allows you to see 3D movies and experience other VR tech.
Your children can take in on the action too so maybe pick up two!
Sweet!
9 Other Winning Valentine's Day Gift for Him
48. Spectrum Diversified Wire Storage Basket
Prepackaged gift baskets can cost over $50 and come with an ugly basket and filler items your partner might not even like.
You end up re-gifting or tossing the rest.
Why not make your own with this stylish basket, and then use the basket to organize an area of his office or closet.
49. HSELL Crazy Patterned Fun Crew Cotton Socks
For guys who are into cool socks, there are plenty to choose from.
I thought this set of presidents was extremely classy, but if he's into superheroes instead, there are socks for him too!
Buy socks that speak to your loved one's personality.
50. Ideashop® New Vosicar Retro Leather Fashion Bamboo Wooden Watch
This watch is perfect for the man that tinkers around and loses things.
This watch isn't an Apple watch, so your hubby doesn't have to get upset when he loses this watch!
And don't you just like that retro look with the natural Bamboo look? I do!
51.FASCIINO® Set of He Cooks She Eats His and Hers Chef Couples Apron
Valentine's Day doesn't have to be super romantic or serious!
Have fun with this his and her apron set! They're cute, fun and they spice up any meal prepping you two do!
52. Pac-Man Heat Change Mug
You can't go wrong with a fun coffee mug. No matter what your husband is into, there's a coffee cup to fit his personality.
Fill it with chocolate or pair it with some tasty coffee, like this delicious Smart Horse Smart Ass coffee.
53. The Martian book
A good book always makes a good gift, don't you think?
The Martian is a highly praised book, if you aren't sure what to get.
An Audible subscription or audiobook also makes a thoughtful gift, especially if your spouse does a lot of commuting.
54. Ghirardelli Squeeze Bottles – Caramel, Chocolate & White Chocolate
With these bottles, your partner can make Starbucks worthy lattes in his own kitchen.
You can pair this with coffee and the Torani® Vanilla Syrup for a fun coffee lover's gift basket!
55. Philadelphia Candies Milk Chocolate Covered OREO® Cookies
You can't go wrong with cookies. You can also find other themes, like Star Wars, Spiderman, and sports with 12 cookies!
56. Barnetts Gourmet Chocolate Valentines Biscotti Gift Basket
Another yummy treat for Valentine's Day!
This 12-pack is perfect for enjoying with your morning cup of coffee.
Treat yourself too and have a mini coffee date with your hubby!
Bookmark This For the Future
You've reached the end! I really hope these 56 Valentine's Day gifts inspired you to get your man something thoughtful this year.
Bookmark this post and when it's time to buy a gift for your hubby (or any man in your life) check out this post!
Oh, by the way, there is nothing wrong with buying yourself a gift too while you're at it!
Now, it's your turn – what do you plan to do for Valentine's Day?