Get some awesome playroom ideas on a budget!
You've been wanting to make that amazing, dream playroom for your kids for awhile now but every idea you have seems so expensive!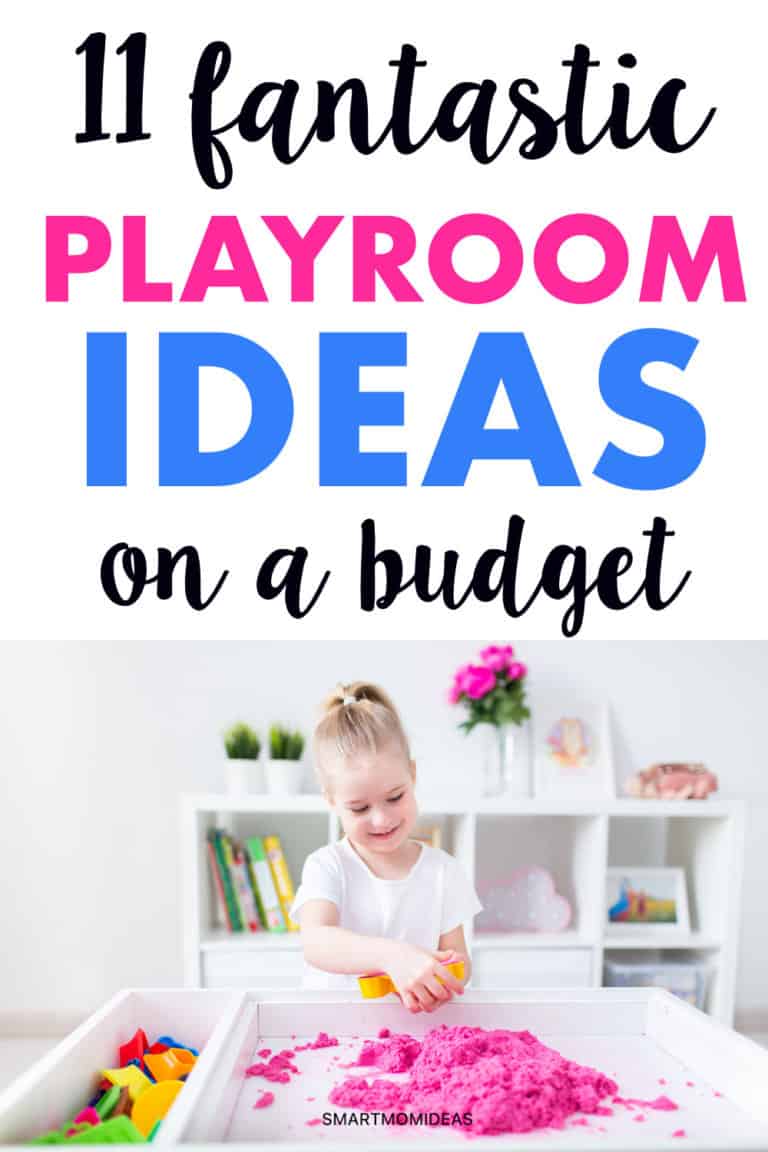 Whether you are looking to add some adorable decor, include some more storage space, or make the floor a little funner, we're here for all of the fantastic playroom ideas on a budget.
Creating a playroom for your kids gives them a place to explore without having to worry about them getting hurt or ruining any of your nicer decor.
You also don't want to have to redo the playroom every couple of years, that's not very budget friendly…so you want to be sure to choose items that are going to grow with them, at least through a couple birthdays.
But how can you put together an amazing playroom without breaking the bank?
Simple! Let's face it, kids don't know how much things cost.
Whether you buy them something brand new or get it from the local thrift store, they don't care.
Having an over the top playroom that costs thousands and thousands of dollars isn't necessary.
I mean if you can afford it, go for it, but I'm going to guess that you don't have or don't want to spend thousands on a playroom, which is why you are reading this post.
So here are fantastic playroom ideas on a budget:
1. Paint
You can transform any space or item with a little bit of paint.
Paint the walls, ceiling, floors fun and bright colors.
Paint a mural on the wall (with the help of a projector if you aren't the best at drawing). Have your children help pick out the colors and what should be painted on the walls.
Start with a theme and go from there.
It could be wilderness, Dr. Suess, rainbows, you name it!
Here are a few inspirational images for playroom murals.
If you don't want to or can't paint the walls, then consider peel and stick wallpaper.
There are plenty of peel and stick wallpaper designs and decals to add to your playroom.
2. Colors
Along the same lines of using paint and wallpaper, make sure that your playroom is bursting with color. While you might want it to look nice and cohesive, don't be afraid of color.
Kids love looking at brightly colored toys and objects.
While the rest of your house might be all white and beige, go wild in the playroom.
Colors equal brain stimulation.
When you look for decor, storage, and furniture, go bright or paint it bright colors.
Consider adding a brightly colored rug, fun wall decal stickers, or fun and colorful wall hangings.
3. Simple Storage
The simpler the storage solutions, the easier it will be for little ones to clean up.
Whether you color code your storage or just throw everything into one big giant toybox, the simpler your organizational solutions, the less stress it will be when it comes to clean up time.
Having a storage solution in your playroom is a must.
Let's face it, we all know that kids are messy and more often than not mom and dad are cleaning up after them.
Having a storage system that is easy will save you both time and sanity.
Like getting them to eat more veggies by involving them in gardening, having them help decorate their playroom might make cleanup time easier.
If you have items in their playroom that you want out or reach, like certain books or toys, then consider getting these simple shelves.
You can also check out things like Facebook marketplace, Goodwill, and St. Vinny's for second hand furniture that you can upcycle and repurpose for your playroom.
4. Display Art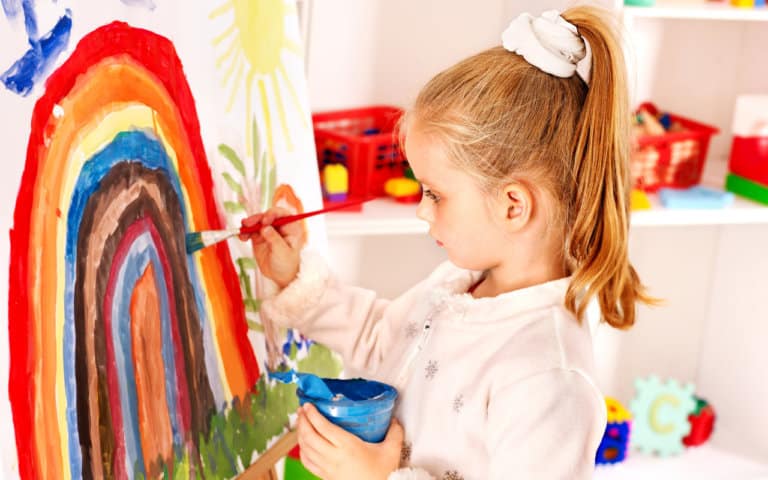 Whether your kids are making art projects in their playroom or you want to add a few fun drawings that you have done, set up a DIY art gallery in the playroom.
Simply hang a string on the wall with some clothes pins and you've got yourself a DIY art gallery.
You can also pick up some affordable picture hangers that serve the same purpose for smaller projects.
Kids love to see their art hung up around the house.
Having it in their playroom gives them a special spot to display all of those projects they bring home from school without completely filling up the front of the fridge.
5. Magnets and Chalk
Whether you make an entire wall a chalkboard wall or just a small area, your kids are sure to love it! Pick up some chalkboard paint and some chalk markers for a fun, ongoing art project.
They even have peel and stick chalkboard wallpaper so if you don't want to paint the walls or if you are renting, this is a great idea.
I mean, they are most likely going to draw on the walls at some point anyways, so you might as well give them a dedicated space to do it.
Another great way to keep them busy for a while is to add some magnets to play with on their walls.
You can also get magnetic wallpaper or paint and use it in the same way you would with chalk paint. Then of course you need to get some fun magnets to add to the wall to play with.
There are tons of magnets with colors, shapes, letters, numbers, and animals to keep kids entertained.
For older kids, or if you want to play with magnets too, consider getting some magnetic sight words.
This is also a fun way to encourage early literacy.
And while not traditionally used for a wall, you can also get these fun magnetic tiles and build 3D right off of your wall.
6. Toys, Toys, Toys!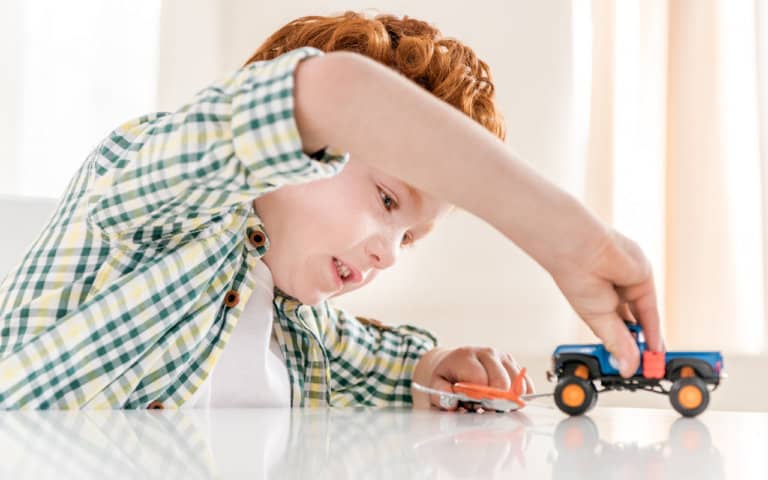 As previously mentioned, kids don't really care about how much you are spending on their playroom or their toys.
I used to hate buying my kids used toys.
However, I quickly realized that first of all, buying new toys is often a waste of money when they only play with them for a bit then lose interest and wind up in the Goodwill bin.
While second hand toys might not be bright and shiny and new, kids love them all the same.
So save yourself a lot of money and take them to the thrift store to stock their playroom.
They will get a kick out of going to thrift stores and digging through the toy bins.
Make a day of it!
It's truly like a treasure hunt when you never quite know what you are going to find.
Check out yard sales, let friends and family know that you are looking for toys that their kids might not want anymore, estate sales, and Facebook marketplace are all great places to find well loved, second hand toys.
Plus you can also feel good about keeping a few more toys out of quickly overflowing landfills.
While you might still be kicking around the idea of having a TV in the playroom, there are fun and educational things they can do with a TV or even a projector in their playroom.
Turn on a yoga for kids video, have a character themed dance party, you name it!
Remember that art projector I talked about earlier?
You can easily hook up your phone to it on a dreary day and have a dance party to brighten things up!
7. Furniture
While this isn't a bedroom, you are still going to want some type of furniture in their playroom.
Whether it's a small table and chairs for coloring and art projects, or a comfy bean bag for reading, it doesn't have to be expensive.
While we would all love to have a LoveSac in our kids playroom (or ours), they are pretty expensive.
Again, check out Facebook marketplace and thrift stores for second hand furniture that you can repaint, glue back together, and otherwise decorate in a fun and playful way.
Make your own bean bag out of upcycled fabric and stuffing from thrifted pillows.
8. Run, Jump, Climb
One of the things that I love about playrooms is that it's an area for just the kids.
It's where they can run, and jump, and climb without being told to get down or not touch that. Make sure they are able to do that in their playroom with some safe things to play on.
Depending on the amount of room you have, you can fill it with all sorts of fun things.
Look for small trampolines, climbing tunnels, or even build them a small rock wall out of scrap wood and some rock climbing holds.
They'll be training for American Ninja Warrior in no time with those.
9. Book Corner

Teach your toddler to love books by having a book corner in your playroom!
This is where you can have circle time with your child or children and use finger puppets to tell a story.
Similarly, having felts and a felt board will make the story come alive and help your child enjoy story time from mom!
10. Imaginative Play
While blocks, cars, and legos are great toys to build imagination, why not make the focus a fairy tale or a deserted island or wild jungle?
Using wall art or getting a professional to paint a scene can set up your playroom right!
Hang artificial ivy with stuffed monkeys and have a pod swing for your child to pretend he's a flying monkey!
11. Music, Music, Music!

What child doesn't like to make big noise?
Give them permission in their playroom by having kid-friendly musical instruments they can play and bang on.
And, to liven it up, have a floor piano everyone can play!
Organizational Help for Your Playroom
With toys and props comes mess and you definitely don't want that happening!
So, to make sure your toddler doesn't forget to clean up, make it easy for them by having these to help organize your playroom.
Use Cube Shelving with Baskets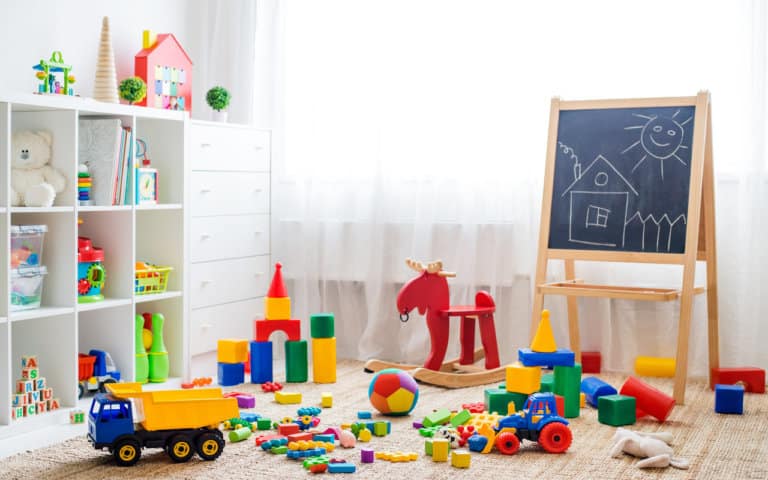 By far, the easies for toddlers and small children to grasp when they clean is to have one place to dump all their toys.
Baskets make a good dumping ground for sure!
With a cube storage unit or two, you can make that happen.
Under the Table Storage
The best thing to have to help you organize your playroom is to have a table with storage.
It can be a train table or a table with bings underneath!
Whatever you use, store small toys like lego or trains or art supplies!
Puzzle Storage Bins
Once your child gets into jigsaw puzzles you'll want to have some plastic storage bins to organize them and make sure you don't lose any pieces too.
Hanging Organizers
If your playroom has a closet, remove the doors to make more room for storing toys and games.
And having hanging organizer to store your games will save room by using vertical height.
Stuffed Animal Hammock
Organize all those stuffies with a storage net hammock.
It's fun to clean up your stuffies with a hammock – just find a stuffy and chuck it up high and see if it lands in the net!
You and your child can take turns throwing the stuffies like you're playing a game of basketball!
Playroom Ideas on a Budget!
I hope you enjoyed these playroom ideas and organizational ideas!
Ultimately, make the process fun, let the kids help and it will be the best playroom they could ask for!
Ultimately, make the process fun, let the kids help and it will be the best playroom they could ask for!