Here are some fun and catchy songs for kids to beat the heat and occupy your child when they're bored!
Time for a dance party with these fun songs for kids!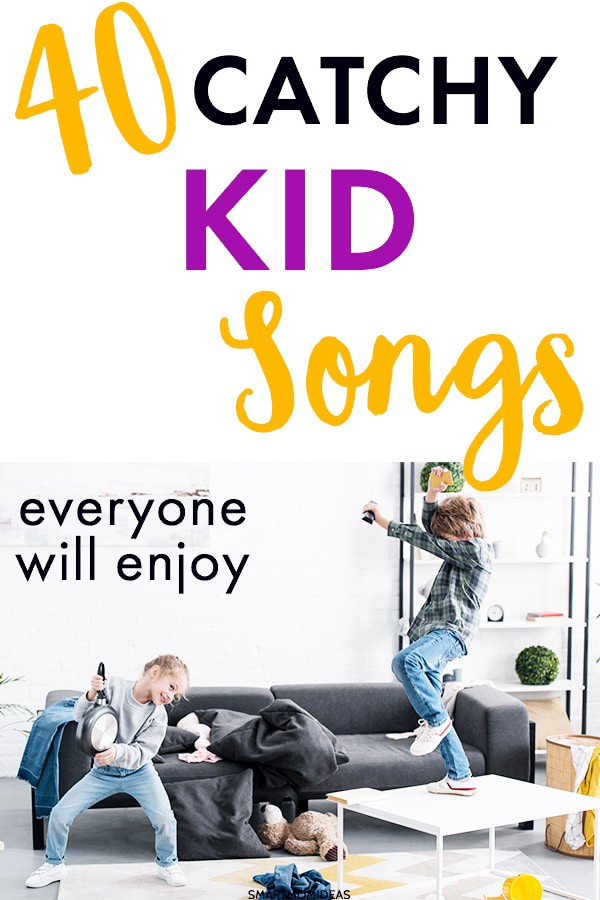 Dance parties are a great way to get your kids up and moving without actually telling them you are trying to get them to exercise.
There are millions of kids dance songs out there, most of them tend to get pretty old pretty quick.
Don't even get me started on Baby Shark…
One of the things that I don't love is when you tend to turn on "dance" music from Alexa or other devices, some of the songs that come on aren't exactly kid friendly.
So I went on a mission to put together a list of kid friendly dance songs that you can use to play in the car, for a dance party, or to add a little fun while cleaning up.
While many of these songs your little ones will recognize from popular movies, I also wanted to add some classics that parents can get down to also!
Catchy Songs To Dance To
Here are forty kid songs you can dance to! Here is the entire playlist of songs if you want!
1. The Hamster Dance
Reminiscent of a fun square dance, this song will have everyone up and jumping around to the upbeat little hamster.
2. When Can I See You Again?
From the Wreck It Ralph soundtrack, this song is a feel good song to get you up and moving!
3. Can't Stop the Feeling
From the fun loving Trolls movie, this song by Justin Timberlake will have you and your little ones up dancing and grooving to the beat.
4. Kernkraft 400 (Zombie Nation)
This song for kids is a crazy upbeat techno type song that will get your little zombies up and dancing.
5. Hey Mama by Mat Kearney
A great catchy song that will have everyone clapping their hands.
6. The Cha Cha Slide
While you might know exactly how to do the cha cha slide, you might have to teach your little ones this fun dance that they are sure to love. It also helps to teach them their right and left, learning while getting down and funky!
7. Happy from Despicable Me 2
There is no denying it, this song from Despicable Me 2 by Pharrell Williams makes everyone happy!
8. Be OK by Ingrid Michaelson
Your little ones will quickly be singing "I just wanna be ok…" while swaying to the beat.
9. Cupid Shuffle
Another classic and fun dancing song. Similar to the Cha Cha slide you go the right…to the left.
10. Bubble Up by Gummibar
This is a perfect song to play right before bathtime to get them excited about getting bubbled up or to add to your catchy kids song playlist.
11. Dynamite by Taio Cruz
Throw your hands up in the air and dance dance!
12. What Does the Fox Say
Help your little one learn animal sounds with this hilarious and over the top song about what sound the fox makes (hint no one really knows!)
13. Gangnam Style
You can't help but jump up and dance when Gangnam style comes on, even though you can't actually understand what the song is saying.
14. The Gummy Bear Song
What is it about weird little animals singing songs that kids love? I'm not sure but your little ones are sure to love this upbeat singing gummy bear.
And my twins LOVE dancing to this song. Their teacher plays it in their class they watch it home for a dance party extravaganza!
15. Everything is Awesome
The infamous song from the Lego movie, everything really is awesome when you are jamming out to this song!
16. The Zing Song
A funny and catchy kid song from Transylvania 3.
17. Harlem Shake
See if you can do the Harlem Shake with this crazy fast and upbeat song.
18. This Song's Gonna Get Stuck Inside Your Head
Probably one the most catchy songs on this list. From the Lego movie 2, don't try and fight it, just sing along!
19. One Step at a Time by Jordin Sparks
No need to rush, take your dance party one step at a time.
20. Sleepy Tigers by Her Space Holiday
Grab a tambourine and jam along with this fun song.
21. I Like to Move it Move it
From the Madagascar soundtrack, this song will have you moving it all over just like King Julian.
22. You're Welcome
These favorite songs for kids don't compare from the Moana soundtrack. Sing along with Maui saying "you're welcome!"
23. Let it Go
Slow down your dance party a bit with the well known Let it Go from Frozen. I also like to sing this to my children when they get upset about something and they need to "let it go…"
24. Hey Ya by Outcast
Heeeeey yaaaa, heeeey yaaaaa…. Pick up the beat with this song that is sure to get everyone up and jumping around.
25. Soul Sister by Train
Grab your soul sisters and jam out to this funky and light hearted song.
26. Hooked on a Feeling
I love the start of this song, "ooga chaka ooga chaka!" If your kids are Marvel fans they will recognize this song from Guardians of the Galaxy.
27. I Gotta Feeling by The Black Eyed Peas
I gotta feeling that tonight's gonna be…a good dance party!
28. Hair Up
My twins love this song and always try to make their hair go UP!
29. Jackson 5 ABC
Another great classic to add to your dance party. Here's a fun trick, trying to teach your kids to moonwalk…
30. Fight Song by Rachel Platten
This is one of those songs to get everyone pumped up! Be strong and play your fight song.
31. We Are the Champions
One of the most famous songs by Queen played at just about every sports game…ever. Make your kids feel like champions with this song as they are jamming out!
32. Roar by Katy Perry
Get your kids to roar like a tiger with Katy Perry's ROAR!
33. Be Nice Black Eyed Peas
A fun catch kid song with a great message!
34. Fireflies by Owl City
The fireflies are lighting up the night with this song!
35. Twist and Shout by The Beatles
Bring it way back with Twist and Shout from the Beatles. Show off some old school dance moves and get down.
36. Call Me Maybe by Carly Rae Jeppson
This is a really fun song to dance to and act out. Take out your hand phone and call me, maybe?
37. U Can't Touch This
It's hammer time! Grab your hammer pants and get your 90's rap on!
38. Watch Me
It's time to whip, nea nea, and bop! Your kids will probably know the dance better than you, so let them teach you a dance this time!
39. Try Everything by Shakira
From the movie Zootopia, encourage your kids to dance and try everything with this song.
40. Uptown Funk
Everyone knows this song! Bruno Mars is awesome! Kiss yourself your so pretty, it's time to break it down!
Make a playlist of your favorites and jam out whenever you feel the need arise or when you need to get your kids off the couch and active.
41. Old Town Road
Who can't get this catchy tune from Lil Nax X and Billy Ray Cyrus outta their head? I sure can't and my twins recently found out about this song!
They're getting Alexa to play this song all day!
42. All About the Base
Megan Trainer's pop song sure one of the catchiest songs I've heard!
43. Sorry by Justin Beiber
This music video is hilarious and is actually a happy song with a catchy melody!
44. Billie Jean by Michael Jackson
A sure classic tune, Billie Jean by Michael Jackson is one of the 10 catchiest songs out there!
45. Shake It Off
One of the first catchy song my daughter likes of Taylor Swift was Shake it Off. It grew on me too!
46. Earworm
This funny and catchy song will be stuck in your head all day! Trust me it will!
47. Wannabe by Spice Girls
Remember this fun pop song? It's Spice Girl's catchiest song to date!
48. Call Me Maybe
Carly Rae Jepsen's most famous and fun song is Call Me Maybe!
49. Can't Get No Satisfaction
The Rolling Stones had a major hit with Can't Get No Satisfaction!
50. Livin On a Prayer
Here's Jon Bon Jovi's most catchiest song, Livin on a Prayer! Rockers unite!
10 More Catchy Songs for Kids
Check out even more songs for kids that will get them to dance all day!
There Ya Go!
Here is the link the playlist for all the songs if want it!