Find out what the best stretch mark cream for pregnancy is! You might be surprised!
It's no secret that with your new pregnancy comes a host of changes that happen within your body.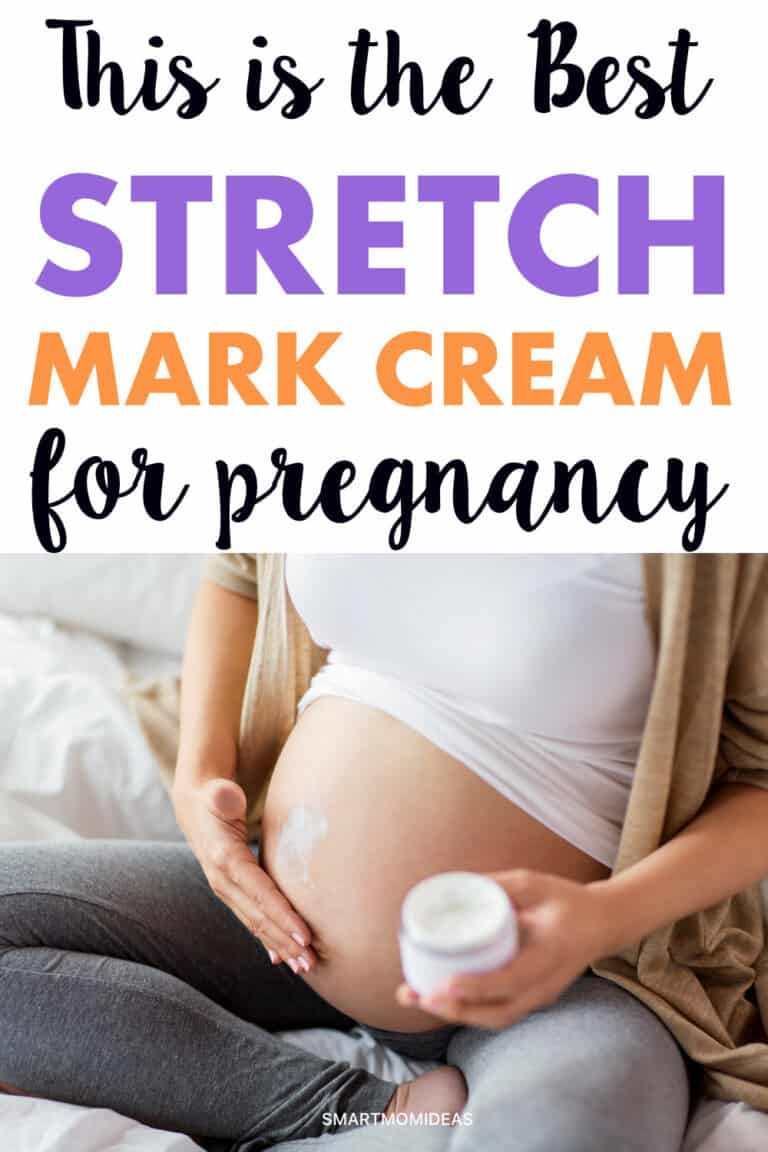 A big part of that is dealing with the physical changes in your body and potential for stretch marks.
I was pregnant with twins and when I realized I was getting stretch marks I actually was happy!
Carrying twins to full term is a gigantic feat so while I delivered at 38 weeks the fact that stretch marks were appearing was a happy moment for me!
But I know for many, stretch marks can leave unsightly markings along the stomach, breasts, buttocks, and legs, they can also be very itcy, painful, and uncomfortable.
When you keep your skin moisturized with any of these best stretch mark creams for pregnancy, it should help to minimize the appearance of any type of stretch marks.
But before we dive into what the best pregnancy stretch mark creams are, I'd like to focus on proper hydration and skin care ingredients first.
It is easier to prevent stretch marks than trying to fix already established ones.
Why Do We Get Stretch Marks?
Stretch marks appear on the skin when the body grows too fast for our skin to keep up with proper cellular turnover causing the fibers under the surface of our skin to break.
When they break new skin and collagen is formed which can look and feel different, resulting in stretch marks or scarring.
A Note on Hydration
It is so very important both during your pregnancy and while breastfeeding to stay properly hydrated.
Drinking adequate amounts of water can help to negate false contractions and complications during pregnancy as well as keeping your skin moisturized.
It is recommended to drink 64 to 96 oz of water every day during your pregnancy.
In addition to all the numerous benefits that you receive from drinking adequate amounts of water, your growing baby also receives benefits as well.
Drinking enough water during your pregnancy helps to aid in digestion and helps to contribute to the formation of amniotic fluid around the fetus, which is very important in keeping them protected. Drinking enough water also helps to properly move nutrients to your body and dispose of waste.
If you struggle to drink enough water during the day there are a few things that can help.
First of all, make sure that you get a good water bottle that you can carry with you that will keep your water cold.
Many people simply don't like to drink water unless it is ice cold.
Also making sure your water bottle is big enough that you do not have to keep refilling it multiple times throughout the day. This can make it a lot easier to track how much you are drinking. A good option is a 1/2 gallon insulated water bottle.
Furthermore, if you struggle to drink enough water due to the lack of flavor, try out some water flavor packets.
Just be careful of how much sugar or the kinds of attitudes in these.
Key Ingredients for Best Stretch Mark Cream for Pregnancy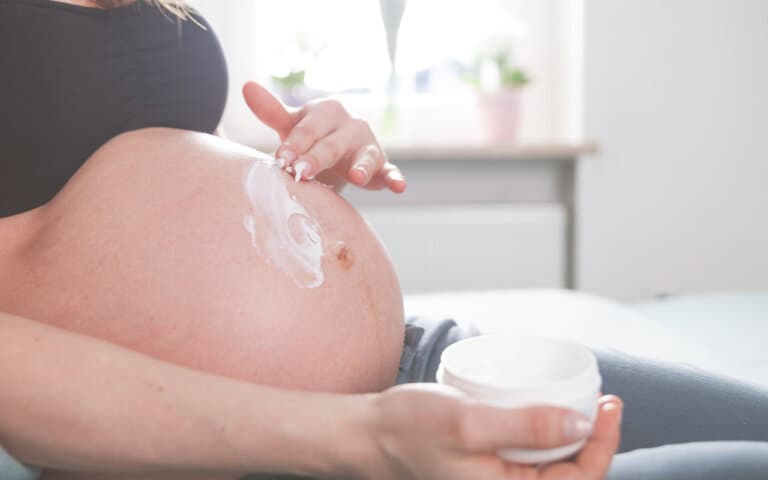 There are a ton of different types of best anti stretch mark creams for prgnancy and moisturizing creams on the market.
Considering you will be using the stretch mark cream multiple times per day you want to be sure that you are getting something that is both safe for you and your baby.
You want to choose ingredients that are both hydrating and hypoallergenic.
Products that contain lots of fragrances, dyes and essential oil can be highly irritating to sensitive skin. You have to remember, that your skin is your biggest organ in whatever you are putting on it gets absorbed into your bloodstream.
When looking at hydrating ingredients, you want to look for things that will keep moisture in the skin. Ingredients like hyaluronic acid and ceramides are fantastic for keeping skin moisturized and maintaining skin elasticity, thus hopefully, preventing stretch marks.
You also want to look for ingredients that combat skin irritation and are very soothing.
Ingredients like shea butter, cocoa butter, and coconut oil all have calming properties to the skin.
Of course, with all the good things you want to put on your skin there are also some major ones you should avoid.
You should not be using anything with retinol or retinoids during your pregnancy.
Products that contain lots of acne fighting ingredients and anti aging ingredients are not considered safe during pregnancy. If you have further questions regarding this you should contact your physician on specific products to avoid.
Best Pregnancy Stretch Mark Cream
Below you will find tried and true pregnancy stretch mark creams that thousands of mom's have used and love.
Well not necessary, some women choose different products to use during the day and during the evening based on their situation.
You might opt for a lighter, easier to use lotion during the day and in oil or thicker, heavier cream at night when you go to bed.
Your skin care routine will depend on your skin type and your current daily schedule.
But of course, it's always good to make sure your stomach is moisturized 24/7 in order to prevent stretch marks.
In addition, you can layer your products on your belly to increase moisture attention just as you would skin care products for your face.
1. Aquaphor – This is What Used and It
Aquaphor is a wonderful option for an intense moisture treatment in the evenings and is the BEST stretch mark cream on the market (well I think so!).
It's clinically proven to heal dry and craft skin and creates a great moisture barrier for your belly.
Even though it doesn't come in a fancy bottle, this stuff actually works. I used it during my pregnancy and I still use it to this day, nine years later!
I love Aquaphor so much that I used it on my son. It was the ONLY diaper cream that worked for him!
But, what comes in close second….third…fourth and so on?
Let's look at equally good stretch mark creams for you!
2. Burt's Bees Mama Bee Belly Butter
When it comes to quality and natural ingredients, Burt's Bees sets the standard.
Made with 99% natural ingredients and enriched with moisturizing and nurturing ingredients such as shea butter and vitamin E.
This fragrance free lotion is great for those mamas who have sensitivities to smell. This belly butter is easy to apply and helps to retain skin's moisture all day long. Slather this on your belly every day-and-night to keep skin supple and soft.
3. Bio Oil Skincare Oil
The Bio-Oil skin care oil not only helps to prevent the appearance of new stretch marks but also reduces the appearance of old stretch marks or scars.
This oil is great for all skin types and perfectly safe to use on sensitive skin.
However, this is an oil and can stain clothes. When you are putting this on during the day make sure it is completely dry before getting dressed. This will ensure that you don't wind up with a big belly oil stain on your shirt.
4. Palmer's Cocoa Butter Massage Cream for Stretch Marks
Palmer's Cocoa butter is great for use during the day without having to worry about any greasy residue.
Not to mention, it smells amazing. Many women are fans of Palmer's Cocoa butter both during and after pregnancy.
If you are looking to use a lighter lighter motion during the day and a heavier cream or oil at night try the complete stretch mark and pregnancy skin care kit.
5. Body Merry Stretch Marks and Scars Defense Oil and Cream
Oftentimes, using products from the same line hopes the ingredients to work synergistically together.
In the case of this stretch marks and scars defense oil defense oil and cream, they are best used together.
The oil is a blend of coconut, Jojoba, and Rosehip and more to help nurture the skin.
Once the oil has mostly dried, apply the cream to the same areas.
This will help to seal in all the moisture and the nutrients from applying the oil.
This process might take a little bit longer than most, but it will certainly be worth it when you have a stretch mark free belly after giving birth. Just be sure that all of the oil and lotion is fully absorbed before putting on your clothes for the day.
6. Glow Organic Belly Butter
Are you ready to say goodbye to itchy, stretched skin?
Then Glow Organic Belly Butter is just what you need!
Made with 100% organic ingredients that are vegan, gluten-free, and cruelty-free, this body lotion is perfect for keeping your pregnancy belly healthy and comfortable.
It's also free from parabens, synthetics, dyes, phthalates, sulfates, and artificial fragrances. Plus, the formula is fragrance-free, making it safe and easy to use if you're sensitive to smells. So why wait?
7. TriLastin Maternity Stretch Mark Cream Kit

As a mom-to-be, you want to do everything you can to prevent stretch marks, right?
But let's face it, with all the other changes your body is going through, who has the time or energy to keep up with a complicated skincare routine?
Well, the TriLastin Maternity Stretch Mark Cream Kit makes it easy to use every day as part of your skincare routine.
This complete skincare system can help protect your skin from stretch marks, without adding any extra stress to your already busy life.
The kit includes a month's supply of Maternity Stretch Mark Prevention Cream, Nourishing Body Oil, and Hydro-Thermal Accelerator. Just a few minutes of application each day is all it takes to keep your skin hydrated and looking its best.
And you'll start seeing results in as little as three weeks!
Other Moisturizing Options
Some other options to keep your skin moisturized is to use straight, skin nourishing oils.
Coconut oil, which has antibacterial and moisturizing properties.
Jojoba oil which is similar to the oil our body naturally produces. Or even Olive oil which also contains Anti-inflammatory properties.
When Should You Use Stretch Mark Creams?
Ideally, you should be using stretch mark creams as soon as you find out 2 or more times per day.
You might not feel the need to start applying stretch mark cream until you actually start seeing your belly grow, but it might be too late.
The more moisturized you keep your skin earlier in your pregnancy the better.
Not only will this help to prevent stretch marks, it can also and also help to fade old ones when you are consistently applying stretch mark cream.
This can also help to get you into a good self care routine before the baby comes.
If you have already started to develop stretch marks, make sure that you are also treating those areas with your stretch mark cream. Don't be afraid to use your creams and oils liberally over your stomach, chest, legs, buttocks, or anywhere else on your body that you might tend to gain weight.
Even when we try to do everything in our power to prevent stretch marks, it does not always work out that way. Just remember, not to be so hard on yourself and remember your amazing journey to becoming a mother.