Learn when to test for pregnancy with the best early detection tests!
Are you trying to get pregnant and wondering when is the best time to test?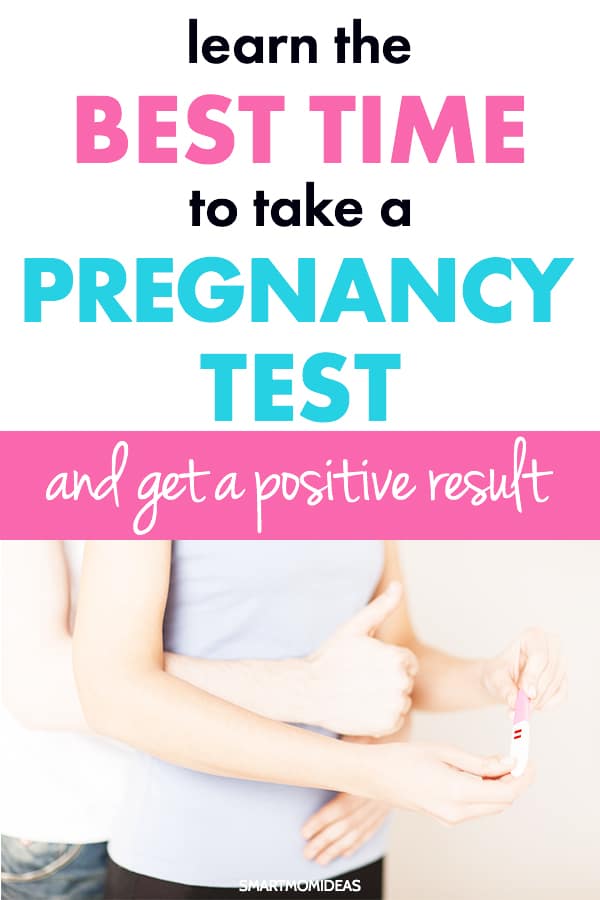 Congratulations! That's super exciting!
Pregnancy can be such a joyful time. But usually the early stages of uncertainty are filled with endless questions.
Preparing to care for a little human for the rest of your life is no casual thing!
"C'mon, I'm eager to know so I can officially start planning." I hear ya. I can relate entirely!
While my pregnancy didn't occur naturally, I was still very eager to find out when I was pregnant. Getting a positive result was the only thing on my mind at that time!
If you think you could be pregnant but it's too early to tell, it can be hard to wait it out.
Here are some tips on when to take a pregnancy test to get a positive result. While there is a specific window of time to test, waiting until your missed period is not necessarily your only option.
In the Morning
Although you may be tempted to test as soon as you first get your hands on a home pregnancy test, wait mama.
If you are pregnant, your body will contain the highest levels of human chorionic gonadotropin (HCG), also known as the "pregnancy hormone" in the morning. HCG is the hormone your body makes when you're pregnant.
And it is this hormone that is detected when you take your home pregnancy test.
So it's recommended that you test with your very first urine flow in the morning after you wake up.
After Your Missed Period
Waiting until after your missed period is a good option when you're looking to get a positive result. We'll look at how to test before then in a bit. 🙂
There are a couple of benefits to waiting until after your missed period.
One benefit is that it gives you time to see if your period actually comes. The other benefit is because if you are in fact pregnant, your body has time to produce and increase levels of HCG (which increases from the day of conception).
You can also test the day of your missed period. You'll still get a result that is 99% accurate.
You should become familiar (if you haven't already) with your menstrual cycle length so that you know when to expect your next period. If you're trying to conceive it can make all the difference!
And it gets even easier, mama. Once you know your cycle length and when to expect it, just use an ovulation calendar to know which days are best to try to conceive.
9-10 Days After Ovulation
When taking a blood test, you can usually get a positive result within 9-10 days after ovulation. This equates to about 5 or 6 days before your missed period.
What Causes Inaccurate Results?
It only makes sense to wonder when you test for pregnancy, what your chances will be of getting an accurate result. I mean, testing is one thing. But more than the timing, you just want the results to be positive.
There are a few things about your pregnancy test results that affect the accuracy of your pregnancy test.
False Positives
If you are in the perimenopausal phase, there's a chance you may experience a false positive. This is because a woman's body produces HCG (and at high levels) before she goes through menopause. But of course, this does not mean every perimenopausal woman is pregnant!
Fertility drugs can often produce false positives as well. b-HCG (beta Human Gonadotropin), the same pregnancy hormone, is used in a number of different fertility treatments to help encourage ovulation. Treatments such as Pregnyl, Humegon, and Preganol contain b-HCG and will thus increase your chances of a false positive. However, other fertility treatments such as Chlomaphene Citrate does not contain b-HCG at all which will not lead to a false positive.
Sadly, miscarriage occurs in about 10-15% of women in pregnancy. It is far more common to miscarry during the first trimester than later on in the pregnancy. In this case, technically the pregnancy was viable until the miscarriage took place.
False Negatives
When you take your home pregnancy test too early, you haven't given your body enough time to develop or steadily increase its levels of HCG. Therefore the test cannot detect that hormone. Meaning the test may read negative when in fact you truly are expecting!
Truth be told, all home pregnancy tests are not created equal. When you test earlier than your missed period, it helps to use a more sensitive test. See my recommendations for the best most sensitive tests in the next section.
As I mentioned earlier, the best urine to use for your pregnancy test is your early morning urine. But more importantly, you want to use fresh urine to test. If you wait too long after you've urinated, it may result on a false negative.
Best Early Detection Tests
All of these home pregnancy tests are simple and easy to read. Although there are over a dozen different pregnancy tests out there, I've listed 3 of most sensitive tests you can take if you're testing early.
Clearblue Pregnancy test – This digital test is the easiest pregnancy test you can take. It is the only pregnancy test with a Smart Countdown. This alleviates the worry if the pregnancy test is actually working. It's over 99% accurate from taking it on the day of your expected period.
First Response digital test –First Response encourages women to test up to 6 days before their expected period. Laboratory testing has shown that 60% of women has some detectable levels of HCG 5 days before their expected period. As pregnancy progresses, the HCG hormone increases as well.
Equate – Test up to 5 days before your missed period.
Walgreens Early Pregnancy Test – This pregnancy test allows you to test up to five days sooner than your expected period.
If you do decide to test early, it may be a good idea to purchase a double or triple test pack so that you can test again on the same day of your expected period.
When to Take a Pregnancy Test
There you have it mama!
The best time to test for pregnancy and get a positive result. Pregnancy is no small thing, it's life-changing!
Early prenatal care is a vital in making sure your baby is healthy and has a good chance to thrive. So if you are pregnant, it's best to see a doctor as soon as you can. I hope this reduces some of those pregnancy jitters you had!
And big congratulations if you are pregnant! Learn the early pregnancy symptoms you might be having!
Let me know if you found this helpful. I'd love to hear from you.
Leave a comment down below and don't forget to Pin me!