If you're pregnant, here are 20 must haves you need to know right now!
You know one of the best parts about being pregnant…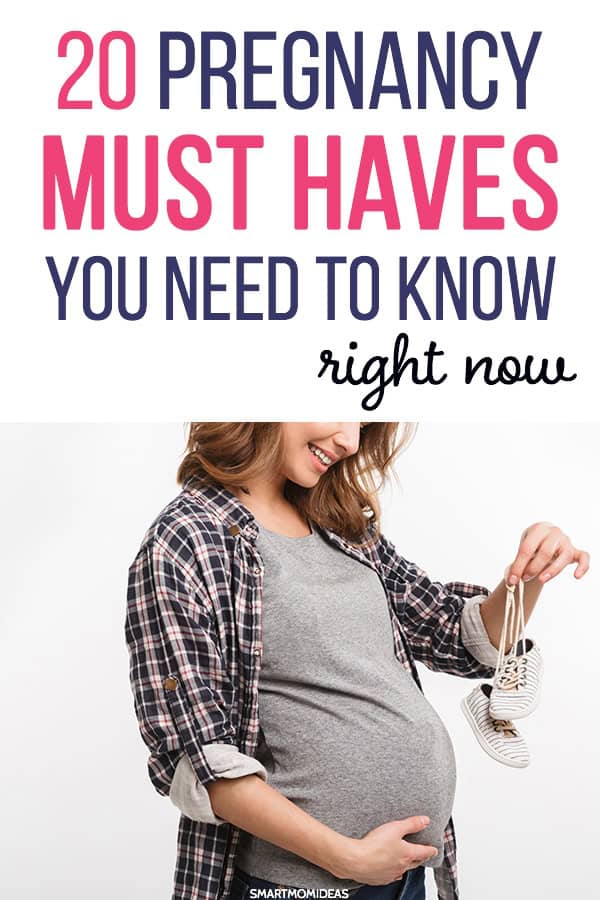 All the great new things you NEED, you know, because you are growing a human, and you should be as comfortable and happy as possible, right?
I mean what better time in your life to soak up all the pampering you can get!
From comfy and adorable maternity clothes to luxurious lotions, your top priorities during pregnancy should include being comfortable, healthy, and happy.
So be sure to keep you and baby happy and healthy with these pregnancy must-haves you need now!
Clothing and Comfort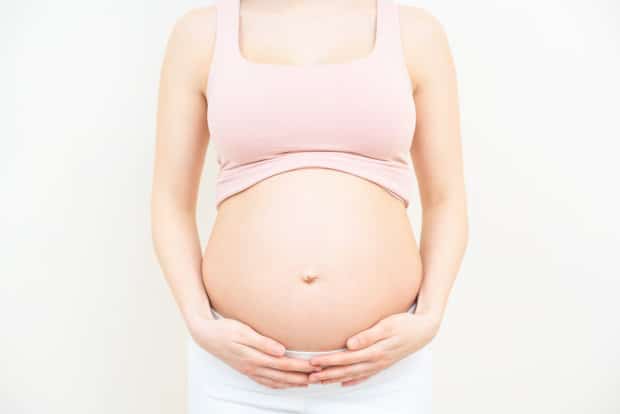 Buying a whole new wardrobe is going to be essential as your body grows. Those high-rise mom jeans aren't going to fit like they used to!
Don't forget about your comfort around the house and sleeping, which gets to be more challenging as your pregnancy progresses.
So make sure you are as comfortable (and fashionable) as possible for the next nine months with these maternity clothing and comfort must-haves.
1. Leachco Snoogle Total Body Pillow
With your pregnancy, back pain, heartburn and vaginal pain may be something you might end up happening to you as your bellow grows.
I know for me, with my twin pregnancy, pain was something I had to control as my babies grew!
And this Leachco Snoogle body pillow saved me from having a terrible night!
2. A Belly Band
Now there are several different types of belly bands.
This particular belly band is great if you can still (sort of) fit into your favorite shirts but they seem to have only shrunk in length.
It provides light, breathable support while still making that shirt look cute with a layered effect. They also work great to hide the fact that you can't button your jeans any longer.
3. Maternity Leggings
If you plan on working out during your pregnancy (as well you should be) or leggings are just an everyday part of your style, then maternity leggings should be at the top of your list for maternity clothing.
Regular leggings are not equipped to handle your growing belly and will shift around to all the wrong places (trust me on this one!).
Maternity leggings are great because they give your belly enough room to grow, are comfortable enough to wear every day (cuz comfort it key), and are also great post-partum, until you can fit back into those high-waisted mom jeans.
4. Maternity Undies
Oh, the joys of your growing body.
Your butt gets bigger, your belly gets bigger, nothing fits anymore!
Nice, stretchy maternity undies are great when you just need a comfortable pair of underwear. These maternity undies have a criss-cross front section so you don't have to worry about outgrowing them or pinching in places it shouldn't be.
5. Waist Band Extender
It's such a bummer when you can't fit into your favorite jeans anymore!
With a waist band extender, you can wear your favorite pre-prego jeans for a little bit longer. Available in sizes ranging from 6-11 inches, there will be plenty of room to grow.
Also, you can use the belly band to hide the extender and still look cute.
6. Maternity and Nursing Robe
Remain stylish and comfortable in this maternity and nursing robe.
Perfect to wear to the hospital while walking through your contractions and for after delivery while nursing your baby.
Made of breathable cotton and specially designed for use during delivery as well as feeding your baby discretely feeding baby while your loved ones visit you in the hospital.
6. Support Belly Band
All pregnant bellies could use a little extra support.
This breathable pregnancy belly support band help relive back pain and give extra support during every day activities.
This support belt also provides light compression in the abdominal area to keep baby growing in the correct position.
The belt can also be worn post-partum to help heal your stretched abdominal muscles.
8. Ruched Maternity T-Shirt
Show off your baby bump in style!
The perfect shirt to pair with your maternity leggings.
You shouldn't have to sacrifice your style just because your belly (and waist) are expanding. These shirts are super comfortable, stretchy, and give you plenty of room to grow!
9. Back and Bump Comfort Pregnancy Pillow
This inflatable pillow is great for travel, lounging around the house, or floating in the pool.
Great for mamas who are used to sleeping on their tummies, getting a much needed massage, or finding a comfortable position to read a good book. You can inflate it or deflate it to your desired firmness to achieve the perfect level of comfort.
10. Full Body Pregnancy Pillow
These pillows are a lifesaver for pregnant ladies.
They are great for snuggling up in bed and supporting your growing belly. It can also be used folded up to create a more comfortable sitting position while reading, watching tv, working on your laptop, or even for breastfeeding.
For Personal Care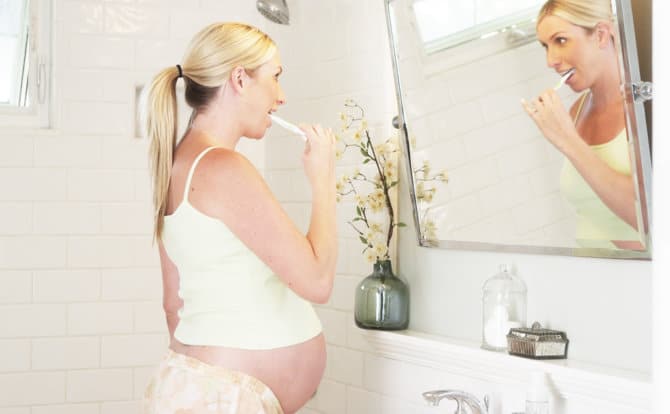 Just because you are growing a human doesn't mean that you have to neglect taking care of yourself.
If anything, you should be be spoiling yourself more! Pamper yourself (and your little bundle of joy) with these personal care pregnancy must haves.
11. Sound Beginnings Audio Monitor
Serenade your little bundle of joy with classical music using the sound beginnings audio monitor.
The stretchy soft band allows you to keep a MP3 player or iPod in the perfect position for baby to listen. Help create a strong bond with your child through playing music or talking to them.
12. Labor and Delivery Kit
Be sure you have everything you will need when you deliver your little one with the labor and delivery kit.
It includes breast pads, hand sanitizer, hand cream, eye mask, skin oil, a portable charger, a small carry-all pouch, lip and face balm, prenatal vitamins, handheld massager, nail file, hair ties, and grippy socks.
It all fits perfectly in the small, stylish bag which can be placed in your larger hospital bag with clothing and other hospital necessities.
13. Kegal Exerciser
Did you know having a strong pelvic floor can assist in labor and delivery?
Engaging in kegal exercises during pregnancy can also help speed up postpartum recovery.
Designed by pelvic floor specilists, this kegal exerciser is a step ahead anything else out there. Enabled Bluetooth technology and a smart phone app helps to track your kegal exercises in real time.
Now you will no longer have to worry about piddling yourself every time you cough or sneeze.
14. Belly Casting Kit
Hold onto that beautiful pregnant belly forever with a belly casting kit.
This kit includes enough material to cast your belly, arms, and thighs.
Leave it plain or decorate it with paint once it is dry. Recruit your partner or BFF to help, you will definitely need a second set of hands for this project. This even makes a great project to do during an intimate baby shower.
15. Belly Butter
Keep your belly beautiful and smooth with this all natural belly butter. Help prevent stretch marks on your belly, butt, and hips by slathering this luxurious body butter on in the morning and evening.
16. Full Foot Massager
Swollen feet, swollen ankles, swollen toes!
Get some relief from swollen feet with a complete full foot massager, it covers the entire foot from your ankle to your toes with a unique air pressure technology.
With 20 possible combinations you an get personalized relief to aide in relaxation, promote blood flow, and help with persistent pains.
Prenatal Nutrition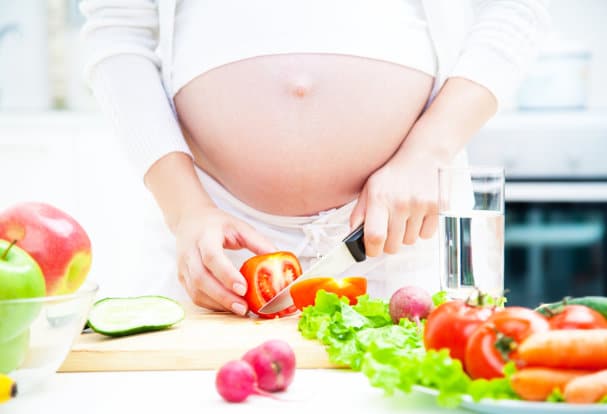 Make sure you feel your best during these next 9 months by giving yourself and your baby the best nutrition possible.
From vitamins to proper hydration, these pregnancy must haves will keep you healthy and energized.
17. Smarty Pants Prenatal Vitamins
Give baby the best beginning you possibly can with these tasty prenatal vitamins.
These little gummies are packed full of all the vitamins and minerals that mama and baby need for proper development. They are gluten and allergy free, made without synthetic ingredients, artificial flavors or colors, and non GMO.
Helps support fetal development, immunity, bone health, and immunity while providing the daily recommended doses of omega-3's, DHA, and EPA.
18. BellyBottle Pregnancy Water Bottle
This water bottle is a MUST for expectant mothers.
Pregnant woman should consume 50% more water daily than what they did before they were pregnant, which comes to about 96 ounces per day. Fill this baby up three times and you will have met your daily water quota.
The BellyBottle is so much more than your average water bottle.
It comes with cute little stickers to track your baby's growth week by week. It is also marked with an hourly tracker so you can make sure you are drinking enough throughout the day.
19. Preggie Pop Drops
If you suffer from morning sickness, these essential oil infused lozenges are sure to help bring you some relief.
With flavors like green apple, sour raspberry, tangerine, and lemon, you might even look forward to popping these drops.
20. Fiber Packed Lemon Cookies
The perfect excuse…uh reason…to eat cookies.
These treats not only taste great but are also great for you.
They help to relieve constipation and digestive issues during pregnancy.
They are made by moms, for moms and without all that artificial junk. These cookies are great to add to your breakfast, are gluten and GMO free, vegan, Kosher, and don't contain any preservatives, high fructose syrup or artificial colors or flavors.
BONUS: Calm Nights Tea
Getting a good nights sleep can be pretty difficult as your belly grows.
In addition to a super comfy pregnancy pillow, try incorporating some soothing night time tea into your bedtime routine.
Made with only the finest natural ingredients, this tea is safe for the whole family. Weather a pregnant mama or a overstimulated toddler, you can enjoy a cup without having to worry about any negative side effects.
Best Must Haves for Pregnant Women
There ya go!
My list for the must have things you should get when you become pregnant.
Have you tried any of these things? Which one is your #1 must have? Share in the comments!