Get everything you need to know about this amazing pregnancy planner for new moms.
I am a planner junkie (admit it, so are you!).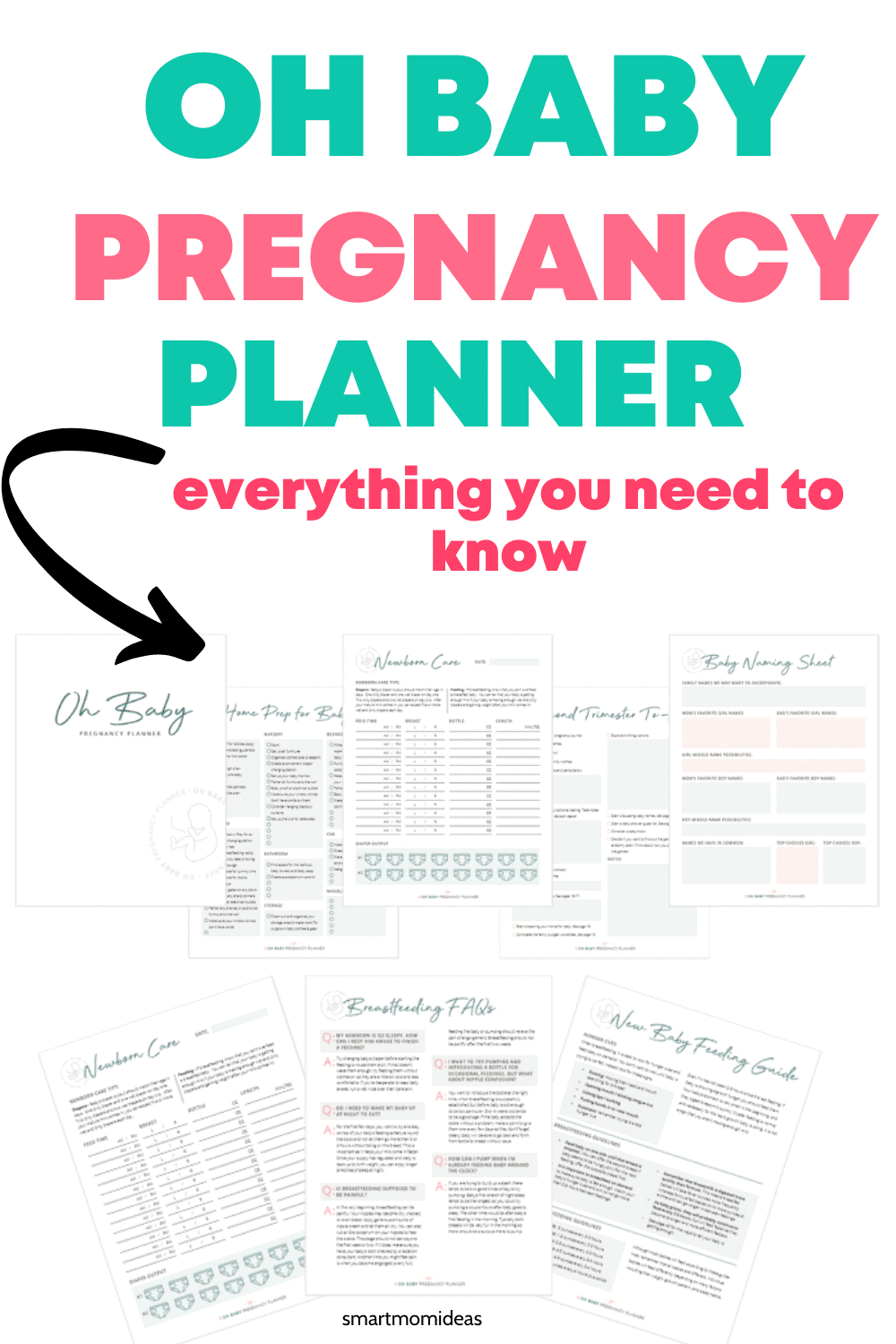 I only wish I would have had the Oh Baby Pregnancy Planner available when I had my twins.
There is so much information in this pregnancy planner by Alexandra from Coffee and Coos, it's crazy!
Fifty-three pages of everything you need to get your pregnancy, labor, and delivery off to a great start, as well as everything else that comes after.
So I wanted to share with you what you will get if you decide to get the Oh Baby Planner for your pregnancy or next pregnancy!
*Side note, the sections discussed here are not necessary in the same order as they are in the planner.
Pregnancy Journal


The first part of the planner is the pregnancy journal.
It includes one page for each four months through the entire 40 weeks.
Each page includes milestones to record, such as how you told your friends and family, cravings you are having, when you started showing, and how your partner has been most helpful.
Each page also has a section to include a photo of your baby bump, your weight and measurements, moments worth remembering, and checkboxes of how you have been feeling.
A Letter to Baby
Next, you have an area to write a letter to baby.
This section is meant for sentimental words and love to share with your little one when they get older.
The writing prompts include things like your hopes and dreams for baby, how you found out about the pregnancy and how you felt about it, and your family story of how you and daddy met.
There is one page for mommy to write on and one page for daddy to write on.
Trimester To-Dos


The next section is where your to-do list starts. There are so many different things to remember when you first find out about your pregnancy.
This to-do list helps to keep all of your notes and thoughts in one place.
Your to-dos include everything from taking your prenatal vitamins to installing your car seat in your vehicle.
Between each of the to-dos for each trimester are supplementary resources.
These include:
Your pregnancy must haves
Questions for your OBGYN
Your baby registry checklist
Daycare tour questions (if they are going to daycare)
A checklist for home prep for baby
A family budgeting planner
A sheet for baby names
A guest list for your baby shower
Hospital bag checklist, and so on…
Your Birth Plan
Having a birth plan is important no matter where or how you are giving birth. Birth plans don't have to be complicated.
The birth plan in this planner is super simple to fill out and includes your wishes for your labor and delivery. There is also a section for postpartum care and information for caring for your baby.
Having a birth plan written out makes it easy to communicate with your midwife, doctor, nurses, other hospital staff, and significant other your wishes for yourself and your baby during your labor and delivery.
Before Baby Arrives
There are a lot of things to take into consideration before baby arrives. There are several parts of the Oh Baby Pregnancy Planner that will help you to prepare.
These include a questionnaire for a hospital tour, a pre-baby shopping list (great for adding to a registry), a breastfeeding checklist, maternity leave checklist, and ways to prepare older siblings.
Hospital Tour
In some areas you have the option to give birth at several different hospitals or birthing centers. Filling out this checklist will help you to prepare and choose the right one for you.
Some of the questions on the hospital tour include:
What happens during baby's first hour of birth?
What are the options for the placenta and umbilical cord blood?
Is there a photographer available for newborn photos?
What is the visitor policy?
When are lactation consultants available?
While this checklist does cover a lot, it might also help you to think of other questions you might not have considered.
Pre-Baby Shopping List
You want to be sure that you have everything you will need at the hospital and at home before you go into labor. While there is a different sheet for your baby registry, the pre-baby shopping list also includes some items that you can add to your registry.
This includes household items like laundry detergent and hand sanitizer.
The pre-baby shopping list also includes some checkboxes to make sure that you have easy to make meals and drinks and snacks to have on hand.
This is especially important when you are breastfeeding. You should always have some easy to make and grab snacks and plenty of water to make enough milk and focus on caring for your little one.
Speaking of breastfeeding…
Breastfeeding Must Haves
If you are planning on breastfeeding, there are some essentials that you need to make sure you have to bring to the hospital and have at home.
Be sure that you are checking with your insurance about a breast pump months in advance. Many insurances cover the full cost of a medical grade breast pump.
When it comes to breastfeeding supplies, it can be really overwhelming for new mothers to figure out what they actually need.
Overall you need to make sure that you are comfortable and you do whatever you can to make your breastfeeding experience easy. The easier it is for you and baby, the longer you will stick to it.
Maternity Leave and Postpartum Lists

If you have to go back to work after baby, you likely have a lot of questions and concerns.
How long are you taking off?
What is the official maternity leave policy?
What are your rights when it comes to pumping at work?
What is your childcare situation going to look like? (there is also a whole other section dedicated just to daycare questions).
Your postpartum must haves includes items for in the hospital as well as at home.
After Baby Is Born

After you meet your little bundle of joy, there are many other things you need to get in order. When it comes to picking a doctor for your baby, you have the choice of a family doctor or a pediatrician.
Either way, there are some questions that you should ask them to make sure that they are the right fit for you and your child.
The Oh Baby Pregnancy Planner includes two pages of questions to ask your baby's potential doctor. These include things like:
What type of insurance do they take?
Will they be seeing your baby during your stay at the hospital?
The vaccination schedule.
How do you get ahold of someone when your child is sick?
If they have references and or reviews from other patients?
Then there is a whole second page of notes for your personal thoughts and considerations. Things like if you thought the office was clean, your personal thoughts and feelings on the doctor and staff and so on.
Daycare Questionnaire
While it is difficult to think about leaving your little one in someone else's care, you want to be sure that you pick the right care for your child.
I know this might sound crazy if you have just found out you are pregnant, but call around for daycares right away.
Many child care centers have waiting lists of a year or longer!
When you can, tour each available facility. Refer to the two page questionnaire, speak to the staff, the owners, and even to other parents if you know people who send their kids to a specific facility.
There is nothing more important than the health and safety of your child.
Don't be afraid to ask many, many questions. If it's a good facility they will be more than happy to answer all of your questions and give you an inside look at the facility and its daily operations.
Preparing Your Home
While you won't have to worry about your newborn getting into chemicals or sticking their fingers into any light sockets, it's good to prepare your home for baby sooner rather than later.
Your daily routines will change dramatically once you bring baby home, so take some time to be sure that you have everything squared away at home.
This includes finding a space to store baby clothes, ones that they grow out of and ones that they have to grow into yet.
Making yourself a breastfeeding caddy so you have all of your essentials within arms length. Finding a place to wash and store bottles, cups, toddler dishes, and other baby kitchen essentials.
Putting up baby gates and making sure that baby has a safe space to sleep.
Everything Else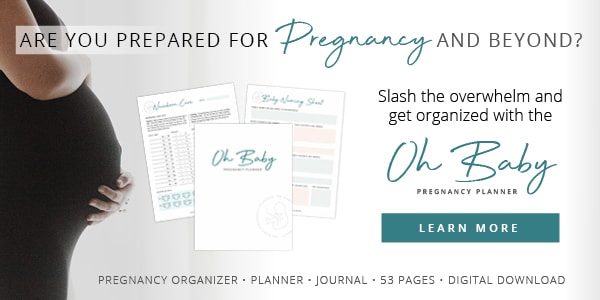 While there are a million and one things to help you prepare for baby, the Oh Baby Pregnancy Planner does a pretty darn good job of giving you a blueprint for everything you need.
Some of the other things included in the planner are:
A great guide with tips on how to introduce big brothers and sisters to the newest addition.
A newborn care chart with feeding and changing schedule.
A new baby feeding guide outlined with hunger cues and breastfeeding guidelines.
A safe sleep checklist.
A sample newborn schedule. While it might feel like you are flying by the seat of your pants most days, this sample schedule can provide you with some kind of normalcy.
Growth tracker.
Breastfeeding FAQ section.
Diaper bag checklist.
Emergency information and babysitter instructions.
While you can't plan out every little detail, you can do your best to prepare with the Oh Baby Pregnancy Planner.
Be Prepared With the Oh Baby Pregnancy Planner
If you just found out you're pregnant or about to have your baby, this pregnancy planner is for you! Like I said, I wish I had this when I was pregnant but I'm happy to know it's available now!
So go pick up your Oh Baby Pregnancy Planner today!
Share in the comments if you have this planner and what you like about it or that you're going to grab a copy of it!
Please pin me!