These are perfect nursing bras for large breast mamas!
If you have been "blessed" with a larger chest I'm sure you know how difficult it can be to find decent bras that fit you normally.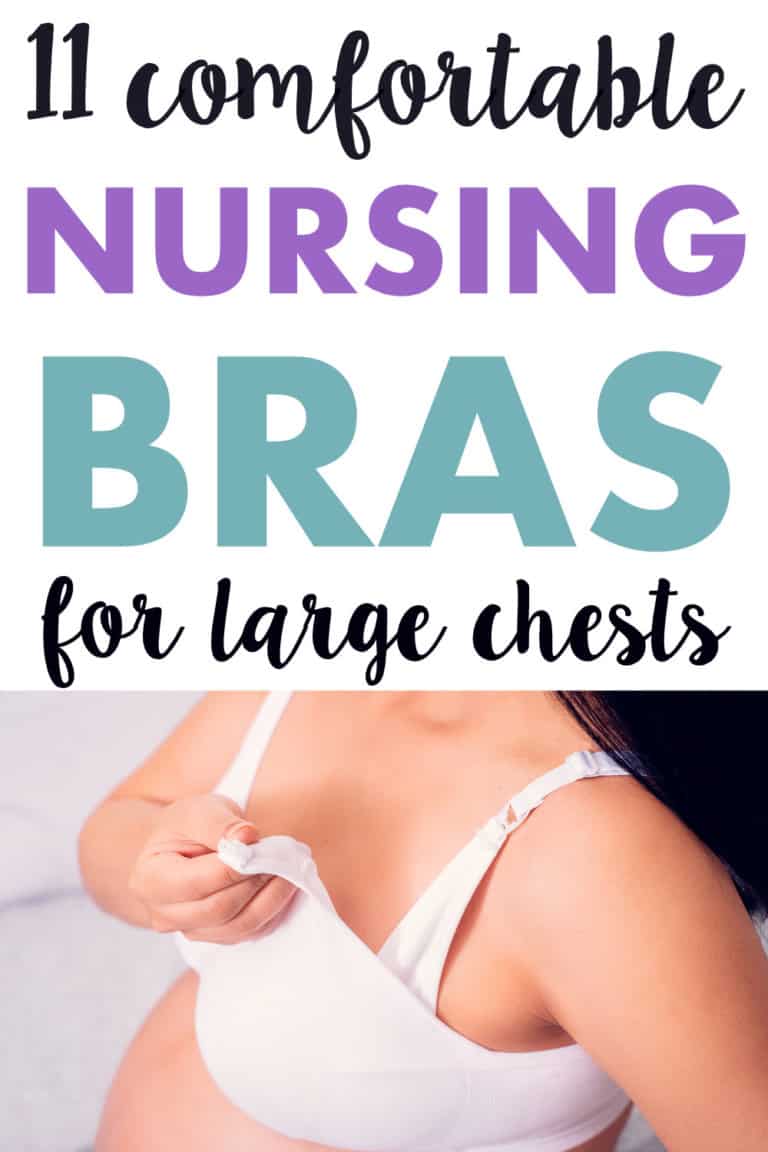 But what about nursing bras?
Especially when you have just given birth and your body is still adjusting to your hormones, milk letdown, and your baby's feeding schedule, your breasts are going to be larger and most likely sore.
You are not going to want a bra that pinches or restricts your milk production in any way.
You are going to want to find a nursing bra that is supportive, comfortable, and that gives you easy access to nurse your baby on demand.
Easier said than done if you are large chested.
You really can't just walk into Target or Walmart and pick out something off the rack (speaking from experience here ladies lol).
Especially if you are planning on breastfeeding for as long as possible, you are going to want something that is supportive, doesn't give you pools of underboob sweat, annoying rashes, or that can cause blocked milk ducts or strain your back!
Why You Need The Right Nursing Bras for Large Busts
Aside from the obvious reason of sheer comfort, wearing a poorly fitting bra while breastfeeding or pumping can cause a lot of issues with milk supply and flow.
If the bra is too tight around the rib cage or cup area, that can cause a decrease in milk production and slow your flow.
While you might be making a lot of milk to start off with, it can quickly decrease if there are clothing restrictions.
Generally speaking, an ill fitting nursing bra can lead to a lot of various health complications in addition to restrictions in milk supply.
Unnecessary swelling of breast tissue
Breast infections due to plugged or constricted milk ducts
Back pain in the lower and upper back
A decrease in milk flow or overall supply
Irritation on the shoulders from straps being too tight or too thin
Rashes under the breasts from warmth and sweat
Chapped and aggravated nipples
Overall general discomfort
Difficulty positioning yourself to feed the baby
You already have enough to worry about with feeding your baby, pumping, taking care of yourself, and healing from the birth.
Do get yourself a good nursing bra to effectively support your large breasts.
Best Nursing Bras for Large Breasts
Unfortunately, it's a little more difficult to find plus size nursing bras and even more so for those with larger cups and smaller band sizes.
So I've put together a list of the best nursing bras for large bust mamas.
1. Kindred Braverly French Terry Racerback
Having to deal with nursing clasps while you're half asleep trying to feed your baby can be a huge pain in the butt.
This is a great bra for wearing around the house and to bed while you are still breastfeeding.
The sizes range from x-small to 1X in a regular or busty cup size.
This brand in particular, designs their sizes specifically for women with E cups and above.
The pull on style allows for extreme comfort and zero hardware.
This design keeps women's changing bodies in mind with a cup sizing system that is flexible.
Plus, when you are done nursing, you can still wear this as a comfortable sleeping bra or a yoga bra.
2. Kindred Braverly Sublime Hands Free Sports Bra
Going out for a jog and having to feed your baby quickly?
This all-in-one sports bra really does it all.
It offers a pull over design, so you don't have to worry about those uncomfortable hooks and eye closures.
It provides enough support for a workout and is both a nursing and a pumping bra, so you never have to worry about switching to pump hands-free.
It's available in sizes x-small to 2X, so there are a wide range of sizes available for busty mothers.
There is also a patented two clip system that separates the nursing and pumping layers of the bra.
The universal pumping bra fits all wearable pumps and flanges so you don't have to cry over spilled milk with this bra.
These particular nursing bras for large busts fit anywhere from 30B to 46I with a somewhat stretchy fabric to allow for changes in breast sizes throughout pregnancy and nursing while still providing ample support.
3. Kindred Braverly Simply Sublime Seamless Nursing Bra
Are you looking for a nursing bra that feels much more like your traditional bras?
As a busty woman, it can be difficult sometimes to put on those pull over bras, especially after you just get out of the shower!
It isn't always easy wrangling those girls in where they need to be.
This variation of the Kindred Braverly sublime bra has the traditional bra closure on the back with the support that Kindred Braverly is known for.
With this being a "plus size" bra, there is an extra wide band underneath for more support and to prevent excess sweating and potential rashes.
With great full coverage cups and an extra thick band at the bottom, it keeps your ladies supported and helps to relieve back soreness.
4. Bravado Designs Body Silk Seamless Wireless Full Cup
When shopping for the best nursing bras for large busts, make sure to look for things that have "full cups" as some plus size bras might fit women with larger band sizes but are often too small in the cup size.
Full cups are generally for women with breast sizes G, H, I, and J.
While you might need to size up on this particular bra, they have many options to help you find your perfect fit.
This seamless bra offers a smooth silhouette under clothing and easy access to feed your baby on demand.
A full coverage cup provides extra support and a bit of lift for mothers with fuller breasts and smaller band sizes.
The 4-way stretch fabric is great for your growing and changing breasts offering comfort and support. This bra also offers removable foam cups for additional lift or to provide a bit of modesty.
5. iloveSIA Full Breast Nursing Bra 3-Pack
Nursing bras are expensive, heck, if you are a busty woman, all bras are expensive!
If you are on a tighter budget and $60 for one nursing bra is out of the question, then check out these affordable full bust alternatives.
This pack of three nursing bras is about half the price of others on the market, which makes them a great value.
The buttery-soft and breathable fabric is perfect for keeping your girls comfortable and in the right place. They have a wide band so you won't have to worry about digging and poking.
The inner nursing lining is wider to help support your breasts and also has removable foam inserts for added comfort.
It's compatible with most hands free pumping bras so you won't have to worry about swapping one out for the other.
Ranging from size 30A to 42F, they won't support the VERY busty ladies but will work for most.
6. Gratlin Women's Underwire Nursing Bras
When you give birth all you want is a nice and comforting nursing bra that doesn't have all the bells and whistles. Instead, you just want one that fits your large breasts and is adjustable.
The Gratlin women's underwire nursing bra is designed especially for women who wear cup sizes 34E and up.
It's made with soft fabric that won't irritate your skin, and it has adjustable straps and back closure so you can get the perfect fit.
This bra also features 3D foam padding on the sides that give support without adding bulk, as well as concealed underwire to keep everything in place.
And if that wasn't enough, it's also got easy-access clips for convenience when you're breastfeeding!
But does it really work?
Many nursing moms have tried this bra, and they all agree – this is one of the most supportive bras out there!
If you have larger breasts, you know how hard it can be to find something comfortable yet supportive.
The Gratlin Women's Underwire Nursing Bra fits perfectly and provides extra support where it counts – no more soreness or irritation after wearing it all day!
Plus, this bra is stylish and comes in several different colors – so you can look good while feeling comfortable.
7. Bravado! DESIGNS Maternity and Nursing Sleep Bra
I can't get enough of the BRAVADO look!
The lack of back closure means that it won't pinch or restrict movement, which makes it the perfect choice for sleeping in.
The material also feels incredibly soft against your skin, making it comfortable enough to wear all night long if necessary.
The adjustable straps ensure that you get the perfect fit and can avoid any unnecessary pressure points from forming on your chest area.
And, the cups tuck nicely under the breast for feeding which is essential when it comes to nighttime nursing sessions.
This nursing bra is a must-have item for big breasted mamas looking for a comfortable way to nurse their babies through the night without sacrificing their own comfort in the process.
Whether you're pregnant or already nursing, this sleep bra offers just enough support without feeling too constricting or bulky like other options on the market today.
Plus, its adjustable straps make sure that everyone can find their perfect fit no matter what size they are!
So if having a good night's rest is important to you (and let's face it – isn't it always?) then don't look any further than the Bravado Nursing Sleep Bra!
Top Nursing Bra Contenders
While these seven nursing bras for large breasts are the best of the best, here are my second hand picks! I'm going for budget and comfort!
Finding Your Best Nursing Bra for Large Busts
Buying bras can be a huge pain in the butt.
Especially for those with larger breasts. Finding the right support, straps that don't dig in, a bra that doesn't give you quad boob, or chafe underneath can be a feat all on its own.
When you are trying to find these qualities in a nursing or pumping bra, the search only becomes more difficult.
While technically you can get away with not wearing a nursing bra when you are nursing, it certainly makes it highly inconvenient and often much less comfortable.
Having a good nursing bra can also negate some potential and highly inconvenient health issues, especially for large busted women.
Nursing bras can also be used during pregnancy, after while nursing and pumping, and even post post-partum.
Breast size can change dramatically during the course of pregnancy as much as one to two sizes or even more.
They get swollen and engorged, more sensitive, and are most likely a little lopsided.
So finding a comfortable bra that isn't solely based on cup size can last you for a really long time.
What to Look for in a Nursing Bra for Large Breasts
There are tons of different brands of nursing and pumping bras on the market, but not as many that work well for large chested women.
So when shopping for bras (especially if you can't try them on first) look for particular words in the product description and be sure to read customer reviews!
A product description can say whatever it wants but the customer reviews is where you get the real story.
Look for things that are seamless, free of wires, have larger bands underneath and or on the back of the bra.
Materials that include nylon, spandex, polyester, and cotton for maximum breathability and stretch. Pay attention to the hardware on the bra and where it is placed.
The width of the straps can also be a big factor in comfortability.
If all else fails, just make sure your purchase is able to be returned if it doesn't work out.
Have fun shopping!
Please pin me!