Breastfeeding problems? Learn these lactation aids to help you boost your milk supply
During your pregnancy, did you have a plan?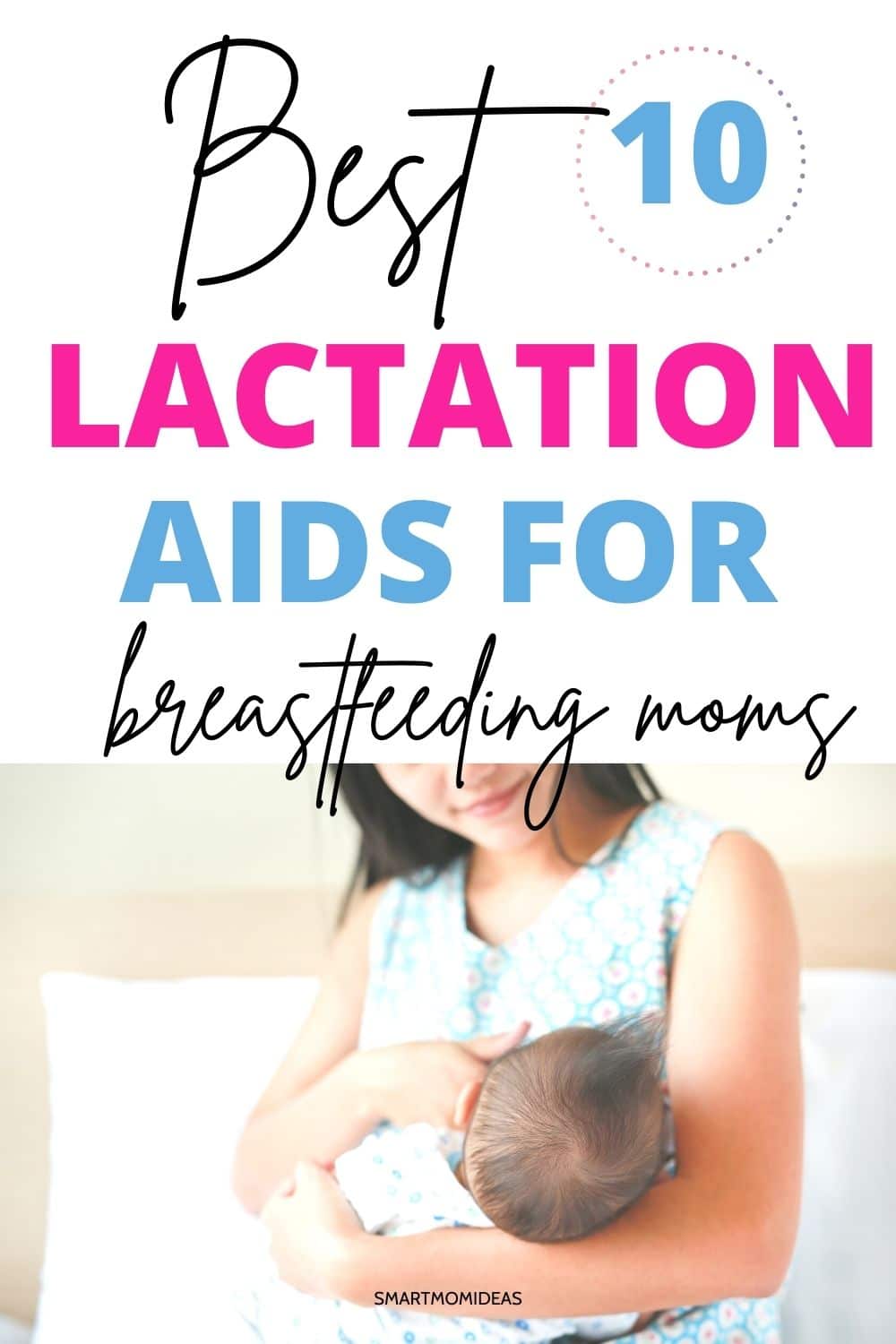 I mean that "perfect plan" for how you would care for your baby – sleep training, attachment parenting, breastfeeding, etc.
How quickly did those plans fall apart?
Babies don't come with manuals (darn) and what you plan to do and what actually happens can be vastly different.
One aspect of caring for a newborn that mothers struggle with the most is breastfeeding.
But one thing a lot of moms face is a lack of milk supply. This can lead to feelings of inadequacy and disappointment.
Thankfully, there are many methods you can try to increase your milk supply!
One of these is to try out a lactation aid to try and get your supply flowing. In this post learn all about lactation aids, if and how they work and lactation products to enjoy.
What Are Lactation Aids?
Lactation aids are products that contain ingredients that are believed to increase breast milk supply.
Herbs and other natural ingredients have been used for centuries to treat various ailments, including low milk supply. Lactation teas and cookies are specially formulated using galactagogues to boost the production of breast milk.
Using what?
Galactagogues are substances that promote lactation – the most popular ones used in lactation teas being fenugreek, blessed thistle and alfalfa.
You'll notice that most of the teas and cookies I mention below include one or more of these ingredients.
However, a tea made of only fenugreek would be, well, unpleasant. So you'll also notice many other aromatic and beneficial ingredients added to the mix.
For instance, a tea that combines fenugreek with lavender will promote a sense of calm while those that include lemon verbena or balm is going to have a pleasant and refreshing taste.
And, if you are not a regular tea drinker, you can always add a bit of honey for a natural and sweet taste!
Otherwise, there are many delicious cookies you can try!
Do Lactation Aids Really Work?
To be honest, there's not a lot of hard science to back this up. However, there is plenty of anecdotal data from mothers who have had great success with lactation aids!
You have to remember that a lactation tea or cookie alone will not solve your milk supply issues. This sort of treatment needs to be supplemented with increased breastfeeding frequency and proper hydration.
That being said, you'll likely find yourself better hydrated when you commit to drinking lactation teas every day.
Just don't overdo it with teas or cookies, since over-supplementing your body (even with organic ingredients) can have detrimental effects.
And don't be discouraged if a tea or cookie doesn't work. There are many different blends out there that work in many different ways for many different women.
Like any form of treatment you decide to do on your own, you should always consult with your healthcare provider or a lactation expert to verify if a lactation tea is right for you.
Teas to Avoid While Lactating
While you may feel desperate to get your milk flowing in order to nourish your little one, be cautious before you go tea-crazy.
Just like anything you consume while breastfeeding, herbal teas can enter your blood-stream and end up in your breast milk.
Ever eaten spicy food and then breastfed your baby? Not a fun time for baby.
This is why lactation blends that include lavender can help calm your little one while chamomile can help calm colic.
So, this means you have to be careful what herbs you sip while breastfeeding.
For example, sage tea, peppermint tea and oregano tea can actually decrease your milk supply. Likewise, ginseng tea, rhubarb root tea and aloe tea can be harmful to you and your baby.
You can be rest assured that most lactation teas are specially formulated with the health of you and your baby in mind.
However, if you are concerned about the ingredients and their effects on your health, you can always speak to a doctor or lactation expert.
Lactation Teas and Cookies for Breastfeeding Moms
1. Mama Knows Best Lactation Cookies
Mama Knows Best Cookies is not only fun to say, but are created to be convenient and health conscious when it comes to increasing your milk supply.
These cookies are made with GMO-free ingredients including gluten-free flours and milk-enhancing and non-herbal galactagogues (such as nutritional yeast and flaxseed).
2. Mama Earth Milkmaid Tea
Mama Earth is an organic herbal tea that contains ingredients widely used to help promote lactation as well as women's health.
It boosts a soothing effect and is made with organic ingredients such as fenugreek, fennel, lemon balm, marigold flowers and carob pieces. These give the tea a sweet and warming undertone.
This tea is also caffeine-free, so you can sip away all day long!
3. Milkmakers Lactation Cookie Bites
Milkmakers Lactation Cookie Bites are bite-sized little cookies that conveniently fit into your busy mom life!
These cookies feature ingredients traditionally used to support break milk supply such as oats, brewer's yeast, fenugreek and flax seed.
The box contains 10 packages of oatmeal chocolate chip cookies.
4. Milkmakers Lemon Lactation Tea
Milkmakers Lemon Lactation Tea uses key caffeine-free ingredients to support lactation including fenugreek and fennel seed.
You can enjoy it both hot and iced!
This box contains 12 reusable tea bags and the berry gives it a light and sweet flavor.
5. Boobie Bar
Boobie Bars, as the name implies, are lactation bars created by a neonatal nurse and lactation consultant to assist in increasing milk supply.
Each bar contains a blend of organic herbs and natural milk-making ingredients. They are dairy- and corn-free, 100% vegan and kosher.
You can eat them as is, crumble them into yogurt or throw one into a shake.
They are available in oatmeal chocolate chip.
6. Mother's Select Nursing Mothers Tea
Mother's Select Nursing Mothers Tea is designed not only to increase lactation but also help with appetite and digestion.
It provides a natural combination of fenugreek, milk thistle and marshmallow that supports healthy blood glucose and lipid levels.
It also provides antioxidants.
7. Pink Stork Lactation Tea
Pink Stork Nursing Tea is made from organically grown herbs with no added flavors or sugars. It's also GMO and caffeine-free.
This tea is blended to support lactation and contains fennel, fenugreek, caraway and aniseed. This blend will also promote relaxation and calm.
Additionally, it has been known to relieve gas issues with both baby and mom!
8. Let There Be Milk Best Lactation Liquid
Not all lactation aids need to come in tea or cookie form.
Let There Be Milk is an organic herbal tincture used to naturally boost breast milk production that contains shatavari, moringa/malunggay, milk thistle and vervain – all potent herbs used to support lactation.
This product is formulated by naturopathic doctors and a lactation consultant and can be applied under your tongue or in foods and liquids.
Because this is a potent herbal product, use exactly as directed under the advisement of your healthcare professional.
9. Milkies Nursing Time Tea
Milkies Nursing Time Tea is created with organic herbs to naturally increase breast milk quantity. It may also help alleviate gas and colic in newborn babies.
It has a refreshing lemon flavor and is caffeine-free. Ingredients include fennel and anise seed as well as goat's rue, blessed thistle and alfalfa.
Some mothers don't have luck with teas that contain fenugreek – so this tea is fenugreek-free!
10. Birth Song Botanicals Nursing Nectar Breastfeeding Tea
Birth Song Botanicals Nursing Nectar Breastfeeding Tea was created by a midwife to provide new mothers with support in naturally increasing breastmilk supply.
This tea includes organic chamomile, fennel seeds, fenugreek seeds and lavender flowers.
It has a sweet and spicy Chai-like fragrance and tastes delicious with a little honey!
The Reality of Brea
stfeeding Struggles
I completely understand how breastfeeding struggles may make you feel like throwing in the boob and grabbing up some infant formula.
Don't be too hard on yourself if your milk production drops and nothing seems to be working.
At the end of the day, the most important thing is that your baby is fed – whether that be breast milk or formula.
Trying everything you can to increase your milk supply and breastfeed your baby is the ultimate sign of an amazing mama!
So if you find yourself unable to produce an adequate supply of milk, give these aids a try!
Who knows? They may just be the key to success on your breastfeeding journey.
How about you?
Have you tried any lactation aids? Did they work? Tell us your story in the comments!