Celebrate St. Patricks Day with fun activities!
St. Patrick's day is an extremely under celebrated holiday!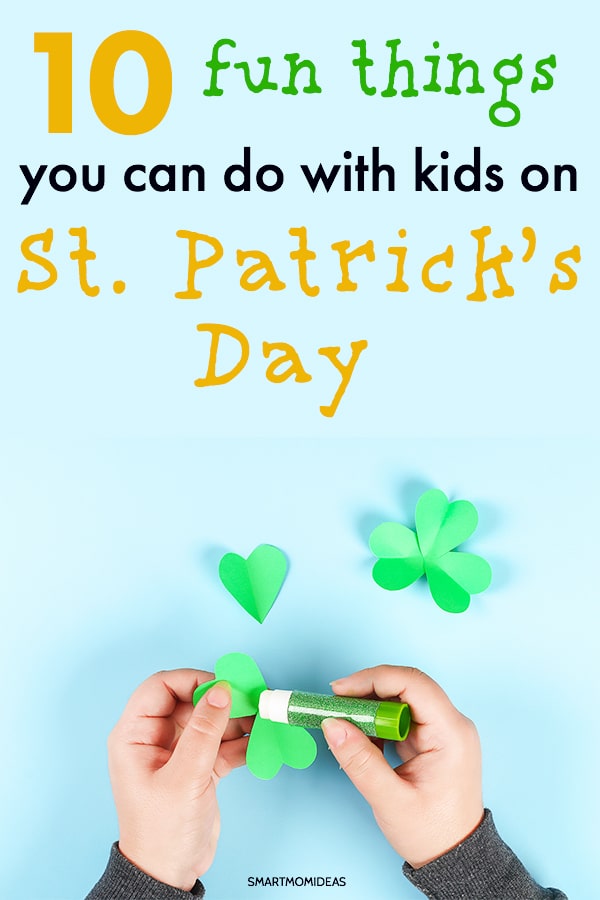 However there are so many fun ways that you can celebrate this mischievous holidays with your kiddos.
St. Patrick's Day is full of so many kid-friendly themes, like rainbows, gold coins, adorable leprechauns, and of course, green foods!
I mean, what better excuse to get your kids to try green foods they might otherwise make a yuck face at.
So I wanted to create a post packed full of ideas that you can do with your kids for St. Patrick's Day that include fun and easy crafts, various activities, and green foods and snacks!
Crafts
It's time to gather up your craft supplies and get creative with your little ones!
Here is a quick crafting tip for you: keep a box where you can put random things you might normally throw away for quick craft projects.
Things like toilet paper rolls, baby food jars or other small containers, twist ties, and old newspaper.
This way you have a stash of supplies you can use for quick and easy holiday crafts or for a rainy day. You would be amazed at how many crafts you can make out of toilet paper rolls.
1. Leprechaun Handprint
This is a fun craft for both little and big hands alike and so simple to make. With this simple craft, all you need is some construction paper or cardstock, scissors, some glue sticks, and the accompanying template.
Simply cut out the template, trace the pieces onto the appropriate colored paper and cut those out.
Take the orange paper, which will be the beard, and trace your little one's hand. Glue everything together in the correct order to make your little leprechaun face.
Even if you can't draw a stick figure you can make these adorable leprechauns to decorate with around your house.
Create a game out of it and make a bunch of them and hide them around the house for a little scavenger hunt.
2. Leprechaun Lookers
Once you have made the little leprechaun handprints and have hidden them around the house, or outside depending on the weather, have your little ones go on a scavenger hunt!
Those toilet paper rolls that you stashed away earlier come in really handy here!
Gather up two toilet paper rolls per looker you want to make, some various shades of green construction paper, pipe cleaners, and pompoms, scissors, glue sticks, and string.
To put together these little faux binoculars, cut the green construction paper the width of the toilet paper roll.
Apply glue to the roll and wrap the green paper around it so the roll is completely covered on the outside.
Then glue the two rolls together side by side to create the "lookers." Decorate with your pipe cleaners and pompoms (or glitter!). Punch a hole on either side of lookers and tie your string in there.
Now it's time to go look for those sneaky leprechauns and their gold.
3. St. Patrick's Day Pot of Gold Slime
What kid doesn't love slime? And you know what makes slime even better? GLITTER! Lots and lots of gold glitter.
Gather up your traditional slime ingredients, glue, contact solution, and baking soda.
Then make sure you have your gold glitter and shamrock confetti ready too! Mix together your glue and baking soda until well combined then add your glitter and confetti and finish off with your contact solution.
After the kids are all done playing with it, store in an airtight container to prevent it from drying out.
Food and Snacks
Creating holiday themed snacks is so much fun!
It gives you and your kiddos a chance to get creative in the kitchen with different foods and an excuse to have them try a few new things.
4. Rainbow Veggie Kabobs
If you have some picky eaters use these kabobs as an excuse to get them to try a few new fruits and veggies. It has been shown that kids are more likely to eat foods that they have helped prepare, so make sure are involving them in the process as much as possible.
From picking out produce to washing and cutting (if age approriate) the veggies.
Taking your little one shopping for the produce with you is also a great chance to teach them a little lesson about where their food comes from and how to pick out ripe produce, like don't pick green bananas!
Or you can go all in and create one type of kabob with veggies and another with fruits, dipping sauces optional but strongly encouraged!
5. Leprechaun Poop Cookies
A St. Patrick's Day spin on the super colorful unicorn poop cookies with green and gold cookie dough and optional sprinkles!
These are super easy to make and your kids will get a kick out of decorating poop shaped cookies.
Make a batch of sugar cookie dough and color half of it yellow/gold food coloring and the other half green. Take a small scoop of each and roll out into a long log shape putting the two colors together without actually mixing them.
Swirl them together to make the "poop" shape and bake according to the recipe directions. Once the cookies have finished baking and have cooled, decorate with edible stars, gold glitter, gold glittery writing frosting, edible pearls, or rainbow sprinkles.
6. Leprechaun Popcorn
Does your child have a St. Patrick's Day school party coming up?
If so, impress your mom friends and score some extra brownies points with the teacher wth this gourmet leprechaun popcorn. And by gourmet I mean you can throw it together in about 10 minutes the morning of.
It's as easy as popping a bag of popcorn, melting some colored chocolate, coating the popcorn, and adding some St. Patty's day flair!
You could even get super fancy and put it in individual bags with some cute little leprechaun labels on them.
7. Leprechaun Bark
The perfect combination of chocolate and brightly colored candies sure to put your little one down for a nap with a major sugar crash. What is so fun about this leprechaun bark is that you can get really creative and add just about any brightly colored, rainbow, or gold candies to it!
Start with a bag of chocolate or dark chocolate candy melts, melt them then spread on a parchment lined baking sheet.
Sprinkle with rainbow candies, multi colored sprinkles, mini marshmallows, gold ball sprinkles, or any other leprechaun or St. Patrick's Day themed candies.
You could get really crazy and use different colors of melting chocolate like white, green, or yellow.
Activities
Fun holidays like St. Patrick's Day don't always have to be about food or crafts. There are plenty of things you can do right in your own back yard or in the community.
8. St. Patrick's Day themed books
Venture out to your local library and find books on leprechauns and all things St. Patrick's Day related or order some from Amazon to add to your book collection.
Some books you might want to look for are:
How to Catch a Leprechaun – Leprechauns, like other elusive holiday creatures, are not easy to catch a glimpse of! The kids will be turning the house upside down looking for that crafty little fellow!
The Night Before St. Patrick's Day – A fun spin on the traditional Christmas classic.
There Was an Old Lady Who Swallowed a Clover! – That old lady is at it again but this time she is swallowing things to make the perfect rainbow!
The Itsy Bitsy Leprechaun – It's time to find out where that little rascal is hiding pots of gold.
Pete the Cat: The Great Leprechaun Chase – Pete the Cat has decided to open a leprechaun catching business but it's not as easy as he thinks it's going to be.
St. Patrick's Day – By renowned non-fiction writer Gale Gibbons, this book explains how this green holiday came to be in a child-friendly manner.
9. Go on a Green Scavenger Hunt
Kids love to go on scavenger hunts! This green scavenger hunt will have them running around outside and around the house finding things like something green that grows, something that is green and soft, naming an animal and a fruit that is green, and finding something you can wear that is green.
Go off of the template provided of use it as a suggestion and make up your own!
10. I Am Lucky Because I…
This is a fun and often funny activity to do with your little ones. Perfect if the weather outside is less than desirable for a scavenger hunt and only requires a piece of paper and a writing utensil.
This is also a great activity to get kids that are elementary school age to use their critical thinking skills.
Have them grab a piece of paper and a rainbow selection of markers. Have them write down why they feel they are lucky for what they have, what they can do, and for what they are.
The last one might be a little more difficult for younger kids but is a great opportunity to talk to your kids about what their positive attributes are, like caring, kind, and creative.
So pick one, or all, of these activities and get creative with some food and glitter!
Tell me in the comments which St. Patrick's Day activity your child or children loved to do the most!
Please remember to pin me!