Wonderful fall crafts for kids to do for fun and not be bored anymore!
Are you looking for some fun and easy fall crafts for kids?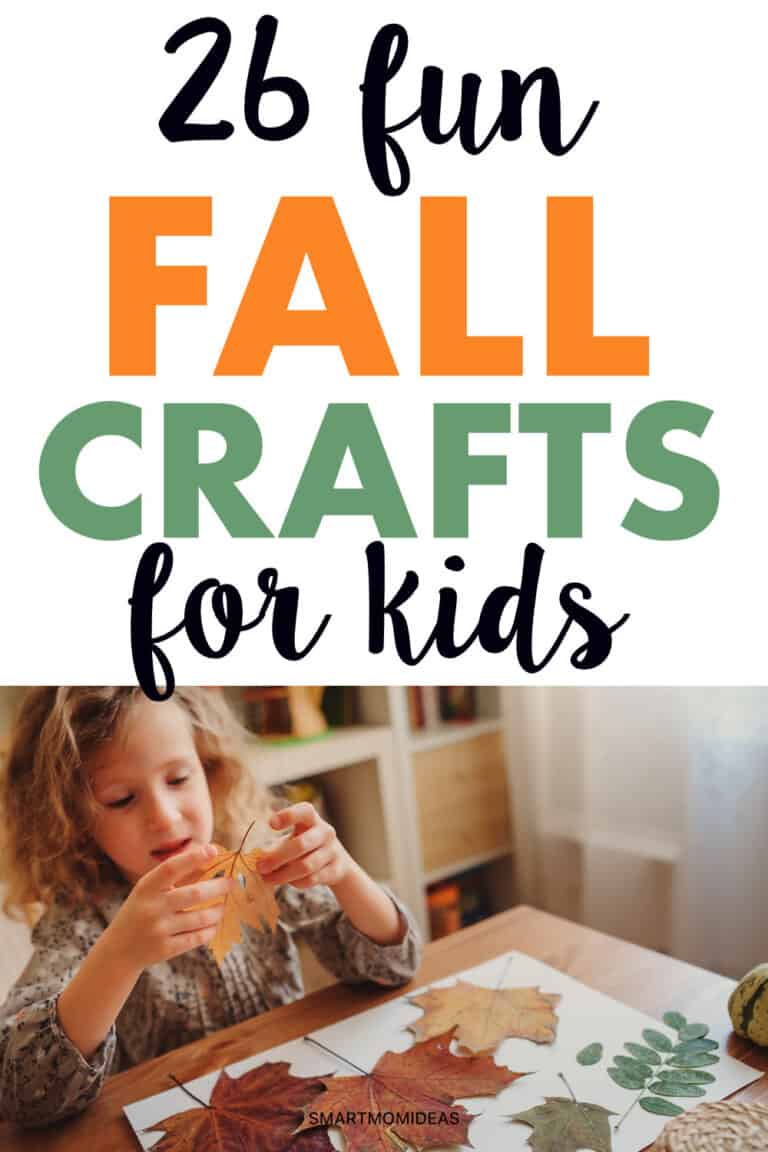 With the weather starting to cool off, I'm sure you're looking for some engaging indoor activities to keep your little ones busy.
To help you get your creative juices flowing, I've put together this list of fun fall crafts for kids that includes everything from the gorgeous colors of autumn to holidays such as Thanksgiving and Hallowe'en.
And every craft is budget-friendly and super easy to make!
Another thing I really love about these craft ideas is that they can easily be used for decorations around your home. Bonus!
So if you're ready to get creative and spend some quality time with your little ones, check out these fun fall crafts for kids!
1. Fingerprint Fall Tree
This super simple fall craft for kids is perfect for toddlers and preschoolers.
All you have to do is cut out the tree trunk and glue it to a white piece of paper. Then, let your little one have fun finger painting using autumn colors!
Finger paints are a great craft medium for children. It helps improve fine motor development and stimulates your child's senses.
2. Fall Windsocks
To make these beautiful fall windsocks, all you need is cardstock for the tube and handle, paint, foam leaf stickers (or cut out your own from foam paper), and crepe paper (or party streamers).
Or, you could have your little one use real leaves as stamps to decorate their windsock.
The possibilities are endless!
3. Paper Plate Owl
How adorable are these paper plate owls?
All you need is brown paper plates (or paint white ones brown), paint, construction paper, and ribbon.
Fold over the edges and glue down to create the owl shape, and let your kiddos have fun decorating their creations!
4. Yarn Pumpkins
This is one of those fall crafts for kids that make amazing decorations for your home!
Using a balloon for the shape, dip pieces of yarn into glue and wrap them around the balloon.
Make sure you let everything dry for at least 24 hours before popping the balloon, so the pumpkin holds its shape.
5. Leaf Suncatchers
Using construction paper and tissue paper, your little ones can easily create a beautiful leaf suncatcher for your windows.
Cut out hollow leaf shapes and line with clear contact paper.
Cut up small pieces of tissue paper and let your kids stick them to the contact paper. Easy!
6. Spiderweb Tape Art
Here's a great Hallowe'en craft for the kids! Simply tape a piece of cardboard to the wall and use painter's tape to outline a spiderweb.
Have your kids paints the cardboard, and when you remove the tape, there will be an awesome spiderweb design!
7. Salt Crystal Leaves
This may be more science than craft, but it's still a really cool fall activity!
To make salt crystal leaves, make leaf shapes out of pipe cleaners (or you can use real leaves!) and dip them into a mason jar of salt water.
Use a clothespin to suspend them in the liquid, and watch as crystals form on the leaves!
8. Fall Tree Luminaries
Here's another mason jar craft you can do with your kiddos this fall!
Simply have your little ones glue fall-colored tissue paper onto a mason jar.
You can then use a battery-operated tea light to make it shine!
9. Cinnamon Salt Dough Leaves
Cinnamon salt dough ornaments are so easy to make and smell so good!
Make a dough using flour, salt, water, food coloring, nutmeg, and cinnamon.
Grab leaf-shaped cookie cutters to make the shapes and bake at 240 F for around 3 hours to dry them out.
Don't forget to poke holes in the leaves before you bake so you can hang them around your home.
10. Cinnamon Slime
What kid doesn't love slime? I know mine do!
This fall-themed slime is sparkly, smells like cinnamon, and can be made in 5 minutes.
Add some fall vase fillers for extra fun!
11. Fall Leaf Crowns
If you're looking for quick and easy fall crafts for kids, check out this fall leaf crown!
Create a loop using construction paper that fits your child's head and let them staple on fall leaves from outside.
12. Stuffed Paper Apples
This lacing craft for kids is fun and easy to make!
Using brown or regular paper, have your little ones sponge paint using fall colors. Cut out apple shapes and poke holes along the edges.
Your kids can then lace the apples using string. Make sure to leave a gap to stuff the apples before finishing them up.
13. Fall Art Prints
This colorful and creative project uses leaves to create beautiful fall art prints!
Grab some leaves from outside and have your kids paint them before pressing them onto cardstock.
14. Coffee Filter Turkeys
These coffee filter turkeys would make adorable place settings for your Thanksgiving dinner!
Have your kids color the coffee filters using fall colors. Use a spray bottle to spray with water to create the tie-dye effect.
Once the filters are dry, use clothes pins to gather them into the tails. Your kiddos can use construction paper or markers to create the face.
15. Autumn Leaf Butterflies
I love fall crafts for kids that use leaves because it's an amazing chance to get your littles out into nature!
Gather some leaves, pinecones, rocks, and whatever else you can find. Using glue, your kids can then create beautiful butterflies with their finds.
16. Apple Bird Feeders
Help your feathered friends get ready for winter by making and hanging these super cute apple bird feeders.
They are really easy to make too! Cut an apple in half and hollow out the inside. Get your kids to mix bird seed with peanut butter and stuff the holes.
Tie a string to the stem and hang them outside.
17. Autumn Whirligigs
Not only is whirligig fun to say, but they are fun to make too!
Have your child paint the paper plate before cutting it in a spiral shape.
They can then glue on leaves or other decorations. Attach a string to one end, hang, and watch it twirl.
18. Posable Leaf Sprites
Check out these adorable posable leaf sprites! How cute!
And they are simple to make too. Cut out leaf shapes from construction paper and let your kiddos draw on the faces.
Glue pieces of pipe cleaner to the back, and you have a little leaf sprite.
19. Fall Wind Chime
This fall wind chime is easy to make and can be used to decorate your front porch this fall.
Get your kids to paint and decorate a tin can. Punch a hole in the top of the can and glue two walnuts to two pieces of string. Thread the string through the hole and secure it with a bead. That's it!
20. Paper Pumpkin People
This cute fall craft for kids is easy to make! You can draw or print out some pumpkin shapes for your little ones to color.
Then use strips of green construction paper folded into accordions to create the arms and legs.
21. Dixie Cup Squirrels
Check out these adorable Dixie Cup squirrels! All your child has to do is decorate the cup using paints or markers and googly eyes.
Take a strip of brown construction paper and curl the end around a pencil to make a tail.
22. Pumpkin Apple Stamps
Stamping is such a fun activity since you can really make a stamp out of anything!
However, apples make the perfect stamps for pumpkin shapes. Simply cut an apple and half and get your kiddos to dip them in orange paint.
Once they stamp their pumpkins and the paint dries, they can then create some silly pumpkin faces!
23. Glove Monsters
Check out this fun Hallowe'en craft! All you need is come cheap cotton gloves, buttons, and felt.
Have your kids sew on the buttons for the eyes (and learn a great life skill at the same time!) and glue on some felt for the mouth.
Stuff the glove and sew the bottom shut.
24. Pinecone Turkeys
There are so many crafts you can make with pinecones, but I love these cute little pinecone turkeys!
Get your kiddos to paint the pinecone using fall colors before decorating the face using felt and google eyes.
25. Leaf Self Portrait
Ready to gather some more leaves?
Have your child draw a picture of themselves on a piece of cardstock. They can then glue on the leaves they found to create some interesting and creative hairstyles!
26. Fall Toddler Art
For little ones that may not have the dexterity to make more intricate crafts, here is a super cute toddler fall craft idea!
Make footprints and handprints of your toddler using paint. Once dry, use markers to create fall-inspired designs like this leaf and pumpkin.
Super Fun Fall Crafts for Kids!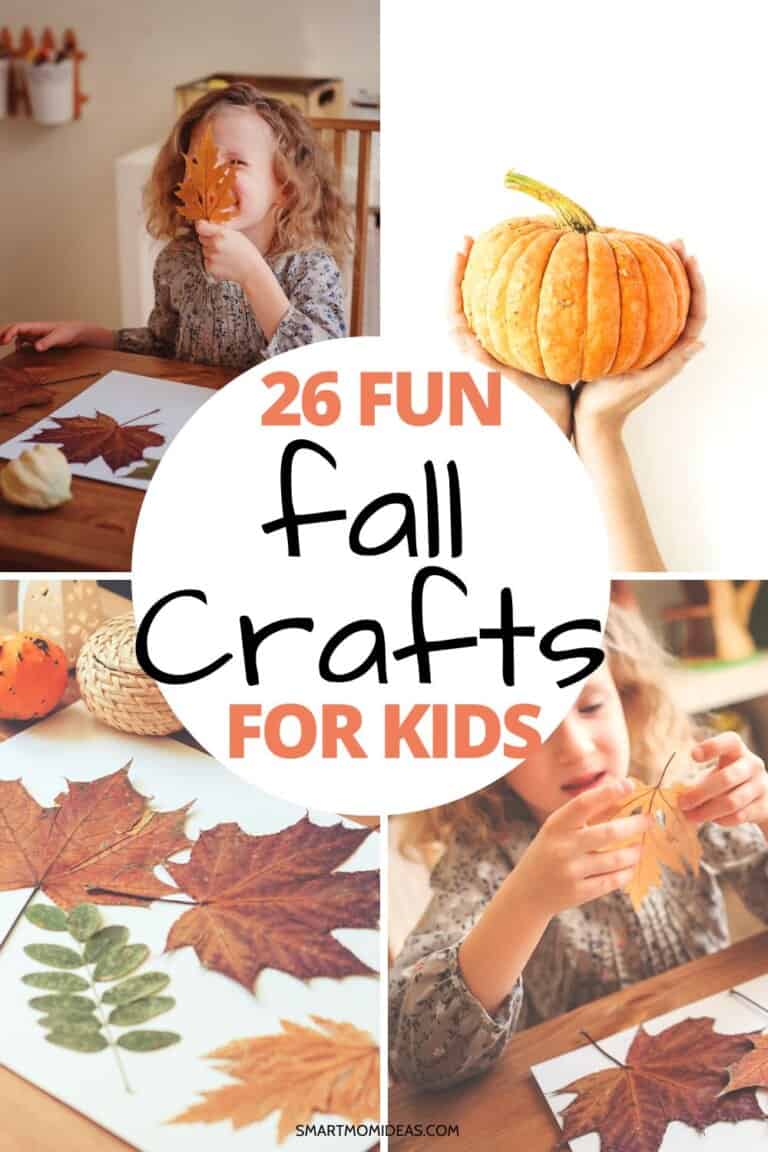 There you go!
If you're ready to get crafty this fall with your little ones, here are some amazing ideas to get you started.
Watch your kids while they do their crafts and when they are done you can hang them in your home and decorate for the fall season!
How much fun!
Check out my other crafty posts for other seasons and holidays:
And let me know in the comments which crafts you tried with your little ones!