Enjoy the holidays with some festive and fun matching family Christmas pj's!
Long gone are the days of Sears Studio portraits where the entire family dressed in their Sunday best to have their annual Christmas photo taken.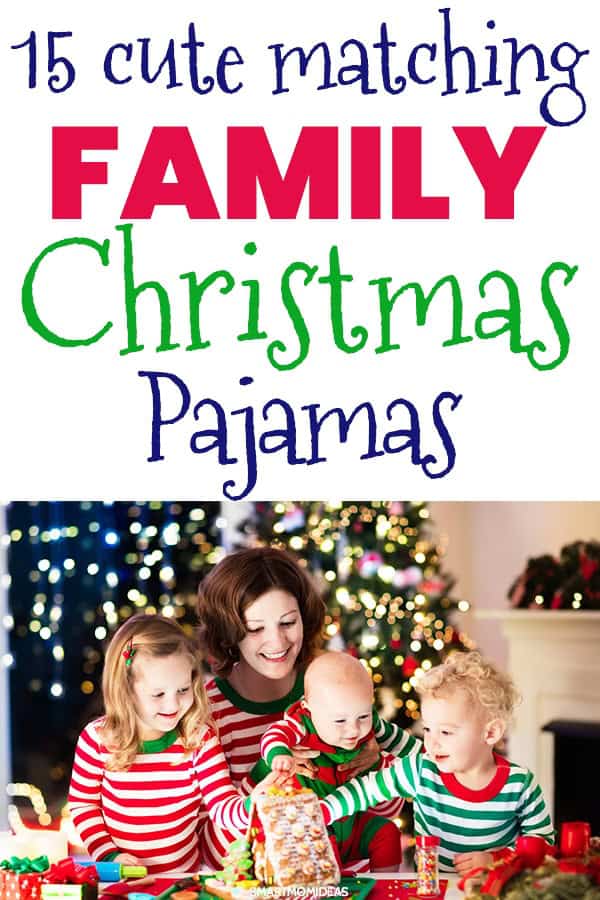 Nowadays, families are instead opting for fun and casual looks for their yearly Christmas card.
A recent trend includes wearing matching family Christmas pajamas!
With so many unique styles and designs available, you are sure to find the perfect look for your family.
All of these sets are available in adult, kid, toddler and infant sizes.
Look carefully and you'll see some styles available for your pet dog as well!
Before you order the perfect matching family Christmas pajama set, there are a couple of things to keep in mind:
Each pair of pajamas is sold separately – but you will notice how incredibly inexpensive each set is! Check the products details as well to see if the manufacturers offer a shipping discount for purchasing more than one pajama set.
Make sure that all children's sleepwear is snug-fitting or flame resistant. Carefully check the product's sizing guide before ordering.
Here are some absolutely adorable and fun family Christmas pajamas that are sure to start a new and festive tradition for the entire family:
1. Matching Fleece Buffalo Plaid Onesie
These beautiful Christmas-inspired pajamas are made with a traditional buffalo plaid pattern – perfect for Christmas pictures, lounging around or as a gift for family members or loved ones!
Nothing is more adorable than a Christmas onesie and this pajama set is soft, warm and machine-washable.
2. Red and Green Flannel Family Christmas Pajamas
This cozy and comfortable matching pajama set includes soft plaid pants and coordinating long-sleeve tops in a soft winter green.
Not only do these Christmas family pajamas come in sizes for adults and children – you can also buy matching pajamas for your pooch as well!
3. Bear Themed Christmas Pajamas Set
This absolutely cute matching pajama set has a very classic feel as well as individual tops for "Papa Bear", "Mama Bear", "Brother Bear", "Sister Bear" and "Baby Bear"!
Perfect for the entire family all winter long, these pajamas are a great way to make the holidays even more special and memorable.
4. "What the Elf?" Family Matching Sleepwear Pajamas Set
These pajamas feature a cartoon graphic with a traditional festive green color scheme. The adult styles have "What the Elf?" printed on the shirts while the toddler style has an adorable elf look or a cute stripped look.
Designed to be cozy and comfortable, these Christmas family pajamas would make for an awesome photoshoot for this year's Christmas card!
5. Reindeer Family Matching Christmas Pajama Set
If you're looking for a festive and classic matching Christmas pajama set, this one if for you! The shirts sport the word "Merry Christmas" with antlers sticking out. The little onesie is absolutely adorable, right?
These pajamas are made from extremely soft material and feature a beautiful Christmas checkered pattern.
6. Christmas Tree Family Christmas Pajamas
The designers of these Christmas family pajamas use natural high-quality fabrics to accommodate shrinking, but warn that sizes do run small. They recommend ordering a size up.
Isn't it just cute to dress up as a Christmas tree family for your Christmas card? Have your toddler hold the star on top of daddy and use that as your Christmas photo!
7. Matching Mickey Mouse Pajamas
I'm sure there's a kiddo or two in your household who loves Mickey Mouse! Now your entire family can celebrate Christmas morning with everyone's favorite Mouse and Mousette on their pajamas.
These pajamas are officially licensed and feature a Mickey Mouse design as well as Minnie Mouse design for adults, boys, girls, toddlers – and even your dog as well!
8. Grinch Family Christmas Pajamas Set
While children love the magic and whimsy of the Grinch movies and stories, adults sometimes like to identify with his initial attitude toward Christmas.
With this matching Christmas pajama set, no matter your perspective, the entire family can enjoy the Grinch in all his splendor.
Made with super-soft cotton, these jersey pajamas feature a festive Grinch graphic – a unique image for each member of the family!
And, yes, little Fido hasn't been forgotten…there are dog pajamas available as well!
9. Star Wars Plaid Matching Pajamas
These fun matching Christmas pajamas break the mold on the traditional red and green by incorporating Star Wars into the mix!
If you look carefully at the bottoms, you'll notice Princess Lei, R2-D2 and more iconic Star Wars characters.
This festive update to traditional jammies is available for adults, boys, girls, toddlers, infants and dogs for a picture-perfect matching look this Christmas!
10. Family Christmas Pajamas Set Onesie Jumpsuits
Nothing says "Get ready to snuggle down this winter!" like a pair of festive onsies! These fun matching pajamas feature a festive and fun Christmas light pattern.
This style is available for the whole family – men, women, boys, girls, toddlers and infants.
11. Family Matching Christmas Striped Pajamas Set
This comfortable matching striped pajama set is made from a cotton blend that ensures soft and long-lasting fabric – so just imagine wearing this adorable pajama set every year!
The adult and children sizes come in two pieces: a soft gray top with elastic drawstring striped pants.
The infant size is a super cute one-piece jumpsuit. The entire set features a beautiful graphic that reads "Believe."
12. Printed Matching Christmas Pajamas Set
Featuring a unique and festive graphic design, these family Christmas pajamas are available in adult, children and infant sizes.
The adult and children sizes are available in two pieces (long-sleeve top and pants) while the baby sizes come with a onesies, pants and matching hat.
Make sure to check out the adorable reindeer design as well!
13. Elf Squad Matching Pajamas
Get your elf squad ready with these adorable printed pajamas!
Available in a classic white and black plaid pattern, these family Christmas pajamas will make for a fun and festive Christmas photo.
Designed as a two-piece ensemble with a long-sleeve shirt and super comfy pants for adults and children, the infant pajamas are available in a cute little onesie.
14. Santa Hat Printed Matching Pajamas
This festive and holiday inspired design features a simplistic Santa Claus hat on a black long-sleeve top with matching red, black and white printed pants (check out the adorable reindeer in the pattern!).
Adult and kid sizes are two-piece pajama sets while the baby size is a matching one-piece romper – super cute for a Christmas morning family photo!
15. Reindeer Bottom Pajama Set
These soft and comfortable pajamas feature a unique reindeer print – on the bum – for every size! These onsies are available in sizes for the whole family: adults, kids, infants and the family doggo as well!
Made from a super warm cotton, this family Christmas pajama set features a very cute reindeer bottom you can use for your Christmas card!
There Ya Go!
Roll in the holidays with these adorable Christmas pajama sets for the entire family – including your dog!
Share with me in the comments which family pajama set you are going to wear!