Doodles to draw that are easy, fun and relaxing!
Doodling is more than just a distraction – it's a type of art form that allows you to explore your own creativity.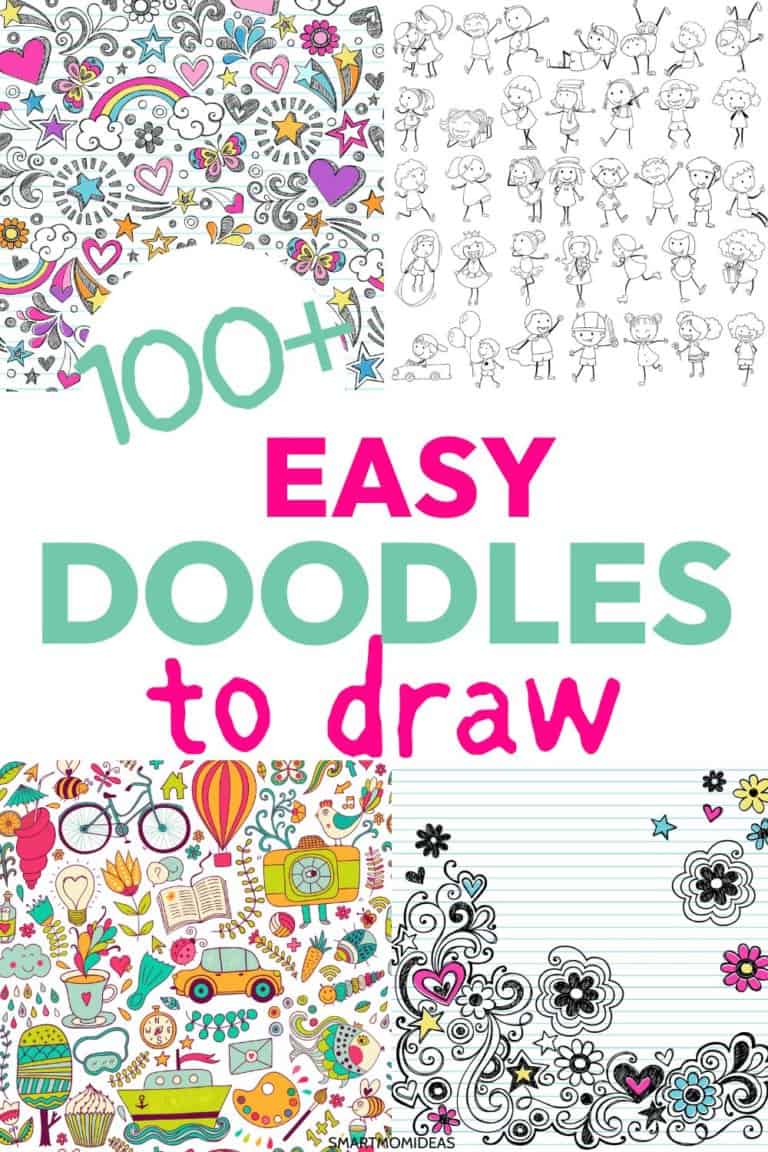 You don't have to be an artist to create fun and cute doodles.
They are super easy to draw!
I know many people who doodled during school or doodle during phone calls.
It's not a way to distract the brain but to help it focus.
That's right!
Doodling is good for you!
Whether you want to doodle in your bullet journal, create unique pieces of art, or help your kids find a way to focus, there are tons of easy doodles to draw that you can try.
Let's take a look at some easy doodles to draw and what you need to get started with doodling.
Easy Doodles to Draw – Tons of Ideas!
While there are thousands of fun doodles to draw, I found some really cute and easy ones to add to this list.
From animals to plants, here are some doodles to draw when you are bored, need to focus, or want to create unique pieces of art.
Cute Animal Doodles to Draw
Doodling cute animals is quick and easy to do! You can sketch these anywhere, from your journal to notes for your child's lunch box.
Sea Creature Doodles
If you love all things under the sea, take a look at these ocean-themed cool doodles to draw. You can easily make each creature unique by changing its shape and design.
Simple Floral Doodles to Draw
These versatile easy doodles to draw can easily add a touch of beauty and nature to your journal – or wherever you doodle!
Easy Doodle Borders
If you want to use borders to organize your bullet journal, these ones are super easy to draw and can be used in the corners of your pages as well.
Cactus Doodles
How cute are these cacti doodles? You can really have fun creating a unique design for each plant and its planter.
Weather Doodles
Weather doodles are a great way to record both the weather and your mood! You can use them in your bullet journal as a mood tracker to describe how you are feeling each day.
Cute Leaf Doodles to Draw
These simple leaf doodles to draw may look complicated, but they really only consist of straight and curvy lines. They're really not hard to doodle at all!
Christmas Doodles
If you want to decorate your journal for the holidays or create your own Christmas tags, these Christmas doodles are super cute and super easy!
Little Hallowe'en Doodles to Draw
You can also doodle to create a Hallowe'en theme. Use these doodles on treat bag labels, in your journal, and on sticky notes around the home – the possibilities are endless!
Love Doodles
You can show your loved ones how much you care by leaving these fun doodles to draw lying around for them to find.
Or, you can add these to your kiddo's Valentine's to share with their classmates and friends.
Yummy Bakery Doodles
These fun doodles to draw look good enough to eat! If you're a pasty lover or looking for a way to gussy up your recipe cards, take a look at these yummy bakery doodles.
Cute Girl Hairstyles
Aren' these so cute?
These fun doodles can be characters for your child's story! How cool is that? Make different characters with different hair dos and have fun telling your story!
Science
Get all geeky with these science doodles! Draw them and then color them and create some fun experiments with these fun drawings.
Birthday
Happy Birthday! Make a unique birthday card with these cute doodles!
Summer
Ahh! The hot sun, long car trips and sand in your bathing suit. Gotta love it!
And you can create that idea from this summer doodle art!
Video Game
Set up a cool scene with these video game controller doodles. They are easy to draw and you can add or remove things to make it more unique.
The Benefits of Doodling
Doodling has been shown to reduce anxiety by calming the mind and creating a quiet space – sort of like meditation!
It can also improve creativity and focus.
How many times did you find yourself doodling through school or a boring phone call?
It's not that you weren't paying attention, but the exact opposite – doodling helps your brain pay closer attention to what is happening around you when part of you wants to check out.
Here are some other benefits of doodling:
Doodling helps your brain from going into a default mode and disengaging from what is happening around you.
Doodling can improve your memory by keeping your brain at the right level of awareness so that you can pay attention to the information you are given.
Doodling makes you more creative, helping you develop the skills to problem solve and come up with new ideas.
Doodling helps you deal with your feelings by giving you a way to express your emotions without using words. This can be super helpful for children!
Doodling reduces stress by calming the part of your brain that activates during stressful times.
Even though doodling gets a bad rap, it can actually help you be more productive at work and help your children pay better attention in school.
So encourage doodling, and don't feel bad for doing it!
Doodle Tools – What Do You Need?
Honestly, all you need is paper and something to draw with to doodle. You can even find doodle things to draw on your hand!
But if you want to take your doodling to the next level, here are some tools to get you started:
Colored Pencils
Colored pencils are a great way to create fun and easy doodles.
They can create vibrant colors or be used to shade doodles to create depth.
While you can grab a pack at your local dollar store, I would recommend using good-quality colored pencils that won't break every time you try to sharpen them.
Watercolor Pencil Crayons
Watercolor pencil crayons create an amazing watercolor look.
You can color your doodle first and then brush it with a wet paintbrush or dip the pencil crayons in water first to create this effect.
Oil-Based Colored Pencils
Oil-based colored pencils are sturdier and produce more vibrant color. They create a pastel look when you use them to color your doodles.
Markers
If you're just starting out with doodling, or your kid wants to give it a try, you can always go with basic markers.
However, these tend to produce an overlapped looking when you try to color larger areas. Otherwise, they work perfectly fine!
Watercolor Markers
Watercolor markers are cool to use because they produce a neat watercolor effect – much like the watercolor pencil crayons, but you don't have to add water to these.
They usually come with two ends on each marker, a finer point and a wider point.
Posca Markers
Posca markers are huge among YouTubers and TikTokers who post their art and doodles!
My daughter has some and she loves using it for her drawings and coloring!
They are paint-based markers that create a painted look.
Posca markers are non-alcohol, odorless, and water-resistant.
Because they actually contain paint, they should be used on thicker paper. But they can also be used on canvas and even to paint rocks!
Bullet Journal
Most people like to doodle in their bullet journals as a way to personalize their pages and make them more relevant to their ideas and goals.
Bullet journals are special journals that have dot grids on their pages to make designing and drawing easier.
You can use a bullet journal strictly for doodling, but you can also create pages to track your moods, your habits, remember important dates, and more.
Blank Phone Cases
Yes! You can even create adorable phone cases using your doodles and designs!
Just grab a blank phone case and use your Posca markers to draw something creative and unique.
Make sure you get the right size to fit your phone.
Doodle Away!
These easy doodles to draw are a great way for you and your kiddos to explore your creativity, improve your focus, and create cute pieces of art.
Which doodles are you excited to try? Let me know in the comments.
And don't forget to pin!