Get 20 date night ideas to get the spark back after being new parents!
Ever since your precious little one was born, do you find yourself staring longingly at your partner, reminiscing about the days when your life involved only the two of you?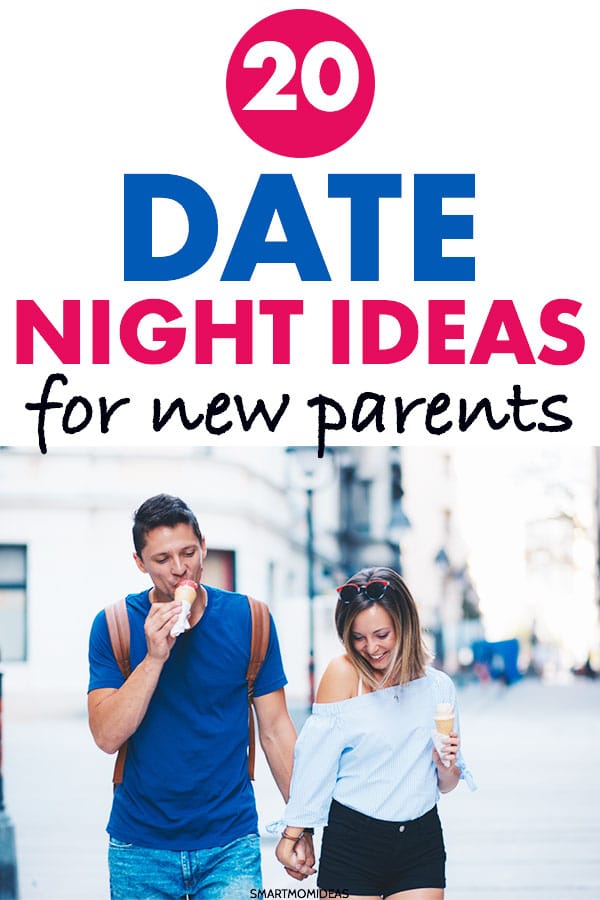 Most moms do.
I know I have and still do.
When I see old pictures of just my husband and I carefree, riding bikes, going out to eat or just hanging at home.
Those were the days!
Caring for an infant requires so much time and energy and you may find yourself with none to spare when it comes to your partner.
Making time for connection is vital in maintaining a happy and healthy relationship.
If you find you are losing yourself to the role of "parent" then you may forget to actually connect with your significant other.
Date Night Challenges
You may be wondering where this magical time comes from that you're supposed to use to date your partner. Again, having an infant is time consuming and most parents struggle to fit even one date night into their schedules.
You can always ask family and friends to watch your little one, or hire a sitter, so you can enjoy some time with your partner.
Keep in mind too that date "nights" don't necessarily have to happen in the evening. So if someone is more than happy to take your child throughout the day, go for it.
Likewise, having a date night doesn't require actually leaving the house. You can easily create a special occasion for just the two of you when your infant is sleeping.
However you swing it, scheduling a regular date night allows you and your significant other to focus on each other and reestablish the bond you shared before your little one arrived.
Date Night Ideas
1. Have an Indoor Picnic
After the wee one has gone down for a sleep, throw a blanket on the floor and bring along some packed-up sandwiches, drinks and other snacks.
2. Set Up a Spa Night
As a new mother, you're probably ready for a little relaxation and pampering – and your partner probably is too. Break down gender stereotypes by enjoying a spa night with your significant other.
3. Do a "Sip and Paint" Night
These unique events involve getting together with a group of people, having a drink or two, and painting a picture. The host guides you through the process and in the end you have a lovely piece of art.
4. Take a Cooking Class
Many large-chain grocery stores offer cooking classes focused on different styles of food. You and your partner can learn anything from how to make quick and healthy meals to how to prepare exotic cuisine.
5. Check out a Local Fair or Farmer's Market
Summer is a great time to get out and see what local vendors have to offer. Stroll hand-in-hand as you browse the stalls and grab some homemade food along the way.
6. Relive Your First Date
If you're looking to put some romance back into your relationship, why not go back to where it all started? Revisit the place where you first met or where you went on your first date.
7. Serve Up Some Breakfast in Bed
If your little one sleeps later in the morning, take the opportunity to serve some breakfast in bed for you and your partner to enjoy.
8. Take a Blanket to the Beach
Date nights don't have to be fancy. Simply grab a blanket and head to a nearby beach. Sometimes just sitting and talking is romantic enough to re-spark a connection.
9. Visit a Local Book Store
Go your separate ways and pick a book for each other. You may be surprised that your partner knows your tastes so well! Or he may even pick out something you never would have thought to choose for yourself.
10. Find the Best Beer/Burger/Pizza/Wings in Town
Issues yourselves a personal challenge by seeking out the best of the best foods in your town. Go to a different restaurant each date night and sample a particular food you are interested in.
11. Travel the World! (Without Leaving Your Home)
This one may take a bit more prep but it is definitely a unique date night idea. Once a week, visit a different country or culture through food and music. Cook up an international dish and listen to music popular in that country.
12. Have a Chat in a Coffee Shop
There's something calming and cozy about a coffee shop. Grab a cup of your favorite java and curl up in a corner for a nice relaxing chat.
13. Go for a Hike
Depending on your preferred level of activity, you can go on a rigorous mountain climb or simply stroll through a local nature park. Whatever you choose, this is a great opportunity to connect while enjoying nature.
14. Check Out Some Unique Foods
Break away from your usual restaurant go-to's and opt instead to experience something unique and exotic. Thai, Japanese and Middle Eastern cuisines are just a few examples of what you and your partner can treat your taste buds to.
15. Take on an Escape Room
Escape rooms are a fun and challenging way to connect with your partner. You both have to work together to solve puzzles and "escape" from the room you are trapped in.
16. Go for a Stroll in the Park
Bring along some seed or oats for the local wildlife and enjoy a leisurely stroll in the park. Find a bench with a nice view and allow yourselves to lose track of time.
17. Go to IKEA (or Any Large Department Store)
IKEA is basically a playground for grownups, but other department stores are fun as well. Challenge each other to find the weirdest item the store has for sale.
18. Go to the Movies
Always a classic but never boring, going to the movies is the perfect opportunity to simply enjoy each others' company. Talking is not required – but cuddling definitely is.
19. Get Ready for a Nerf War
If you are really looking for something zany and exciting, you can initiate a Nerf war with your significant other. Arm yourselves with Nerf guns and turn your home into your own personal battle zone.
20. Make Some Romance Happen in the Bedroom
Ultimately, you want to make sure you and your partner are physically connected as well. Use candles and music to set a romantic atmosphere or try something new like lingerie and role-playing.
Date Night Success
Remember that the point of date night is not to simply "get out" of the house or away from your child – the point is to create a situation in which you and your partner can focus on each other.
Date nights don't have to be expensive and lavish. Whatever activity fosters a sense of connection between the two of is a success.