Learn to love tech with the best smart bassinet to help baby sleep better!
If there is anything that you should "splurge" on for your baby, it is a smart bassinet.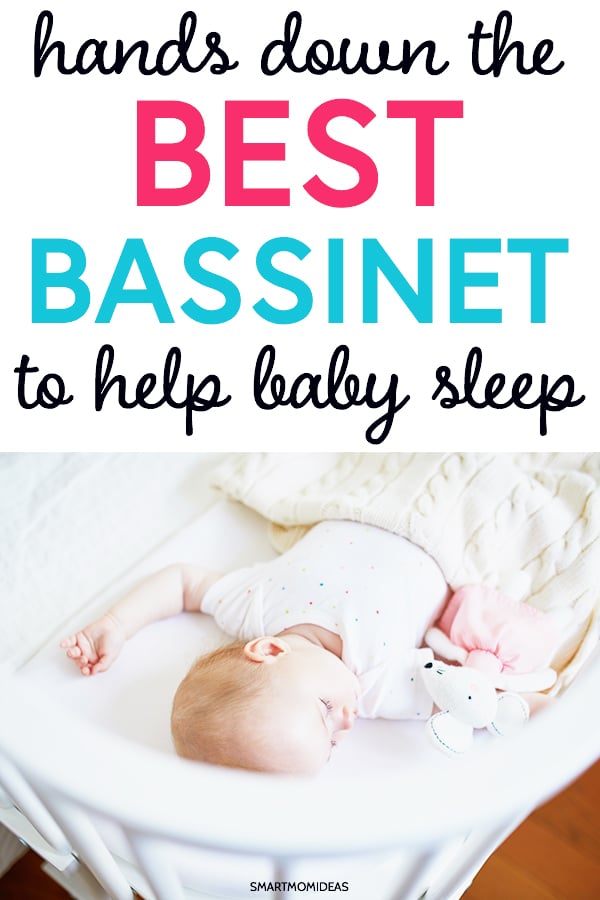 There seems to be a new baby technology coming out every day. But how do you know what smart sleeper is best for your little bundle of joy?
It can be difficult to choose from all of the available options.
New parents are already tired to begin with if your newborn isn't sleeping well, believe me, I know!
The last thing you want to worry about as a new parent is be so tired that snuggling your baby could be dangerous.
Luckily, people realized this problem and smart bassinets (and other smart baby technology) was born!
A Lack of Sleep
With traditional bassinets, your baby just lays in there and can easily be awoken by environmental sounds or unintentional movements.
There is also the possibility that they could roll over, even if they are swaddled, and be in danger of suffocation.
It is a very sad statistic, but about 3,500 babies each year in the U.S. are lost to sleep related incidences.
We all know that babies should sleep on their backs in order to minimize the potential for SIDS and other sleep related deaths.
But how can a smart sleeper actually help keep your baby safe and happy?
With most traditional bassinets you simply lay baby on a thin, flat mattress and there is nothing to soothe them other than you manually rocking them to sleep.
And while babies can fall asleep in many positions, laying on mommy or daddy, laying on the couch, in the car seat, or co-sleeping in bed, it is not safe for them to sleep in many of those positions.
When you have a crabby baby, you try to get them to sleep whenever and wherever, just so you can get a little shut eye.
If your baby has colic or your house isn't always quite (other kids or pets can be very noisy), getting your little one to sleep for a solid few hours isn't always easy. So what are some common ways to get your little one to sleep?
Common Solutions to Help Baby Sleep
There are a few things that you can do to control the environment to help your baby sleep well during the day and at night.
Establishing a schedule and a routine is a great place to start.
Although I know this can be difficult, especially if you have more than one child or have a caregiver (other than yourself) for your baby.
Try and create a positive association with sleep for your baby by creating a relaxing bedtime routine that they will enjoy.
Dim lights, soft music, gentle rocking, will signal to your baby that it is time for sleep.
At some point your baby needs to learn to self-soothe.
This simply means that you try to soothe them less and let them cry it out.
I know this can be difficult for many parents, but this will not make your baby love you any less because you let them cry for a bit. However, you don't want to start to sleep train too early as your baby needs to be developmentally ready.
Four months is the earliest that most people start at, but even if your baby is older you can work on helping them learn to self-soothe.
If you are breastfeeding, you might want to consider weaning off night feedings. Many times babies get up in the middle of the night to feed simply as a soothing mechanism not because they are actually hungry.
You might also try dream feeding. This is when you feed your baby while they are still sleeping to prevent them from waking up right after you fall asleep.
Create a calming environment, especially at night in baby's bedroom.
Having the room darkened, at a good temperature, and possibly with some white noise is a great sleeping environment for baby.
Also make sure you aren't keeping your baby up too late at night or too long during the day. Keeping them up later in the hopes that they will sleep longer is only going to backfire on you.
Lastly, be patient! Those sleepless nights and late night feedings won't last forever. Treasure them while you can.
An Intro to Smart Technology and Smart Bassinets
As parents we do our best to keep our children safe and happy.
But sometimes even with our best efforts things happen.
Smart baby technology and smart bassinets have been developed to help make parenting easier and keep babies happy and safe.
Smart baby technology is a very broad term that includes anything techie that helps make parenting easier; from video baby monitors to bassinets that help put baby to sleep (and keep them sleeping).
Parents have been raising babies for centuries without fancy gadgets, however, these smart baby technolgies have a lot to offer.
Weather it is saving you a trip to the nursery in the middle of the night or keeping your baby safe from potentially fatal suffocation hazards, smart baby technology can help to enrich your little one's life and make your life a little easier at the same time.
One of the greatest things about all these new smart baby products that are coming out are the ease of use.
Many of them are plug and play and you don't have to worry about any complicated set up or an encyclopedia worth of directions. Because, seriously, who needs that when you are already sleep deprived?
The one thing that people might find difficult to swallow about new baby smart technologies is the price of some products.
These smart technologies can range anywhere from $200 to $1200 and more. However, can you really put a price on the safety and wellbeing of your baby (or you being able to get quality sleep)?
I didn't think so…
What's so Cool About Smart Baby Technologies
The neatest thing about all these smart products is that there is something for everyone.
Many of the companies that make these smart baby products are filling in these gaps in keeping baby safe.
From self installing car seats that consistently monitor your baby's safety to monitors to make sure they are still breathing during the night. Furthermore, many of these technologies are becoming increasingly affordable as technology develops and more and more products come to market.
New smart bassinets are particularly big right now and getting your baby to sleep and keeping them sleeping affects every other area of their day and yours.
The Best Smart Bassinet

Let me introduce you to the SNOO Smart Sleeper by Happiest Baby!
This is the best smart bassinet on the market.
The SNOO is designed to help your baby get more sleep (which means you can get more sleep).
Not only is this smart sleeper going to be a life saver for you and your baby, it will also become a beautiful addition to your home with it's sleek, modern design.
Features and Benefits
The SNOO creates a womb like environment that helps soothe your fussy baby and helps them to fall asleep quicker and keep them sleeping longer.
It has a microphone in it to detect crying and speakers to play white noise sounds.
It also has a motor that helps to rock baby to sleep. The rocking and white noise is responsive to your baby's crying. Meaning, if they keep getting more fussy, the rocking will speed up and the white noise will increase.
However, if they do not become calm, the rocking and noise will stop and alert you for assistance.
One of the most impressive aspects it that it can calm most babies in about a minute!
With the companion app for your smartphone you can even track all of your baby's sleeping sessions and break down your baby's sleep patterns.
Here are some of the amazing features and benefits of the SNOO!
Gentle, automated rocking to help put baby to sleep
The bassinet automatically chooses the best type of motion to soothe your baby (slow swing or faster jiggle)
Breathable walls made of dual mesh for maximum safety
A swaddle that clips to the sides to keep baby laying on their backs and prevents rolling over
A gradual weaning feature to help baby transition to a crib
The SNOO chooses the best white noise to help soothe baby
The SNOO was designed to mimic the environment in your womb.
The swaddle mimics the feeling of being bundled up in your belly while the white noise mimics the heartbeat and other noises baby hears in the womb. The SNOO is like your personal night nurse (that doesn't charge by the hour).
It adjusts its noise and motion to help soothe your baby faster and keep them happy longer. This in turn can help sleep-deprived parents get a little more sleep. Even an hour can make a huge difference!
Top 5 Runner Ups
There are plenty of smart bassinets on the market today. Here are the five runner ups to the SNOO.
Halo Bassinest Swivel Sleeper
The Halo is not only a smart bassinet, it is also a co sleeper. It's super simple to adjust the height of the bassinet to any bed and swivels 360 degrees.
The side of the bassinet is also lower, which makes grabbing baby for midnight feedings easy on your arms.
On the front of the bassinet there is a soothing center which includes soothing sounds, lullabies, a night light, a back to bed reminder, and a 30 minute auto shut off. And of course, mesh sidewalls for breathability.
This is an ideal bassinet for mothers that have had a c-section and can't move around a lot.
Swaddleme Co Sleeper
A great bassinet for babies with colic! The Swaddleme Co Sleeper is able to be positioned at two different inclines, a 10 degree and a 30 degree. This sturdy, budget-friendly bassinet also comes with mesh walls and is a great portable option.
The rocking feature of this bassinet is manual but does have a vibration function to help soothe baby. The 2-speed vibration setting helps baby to fall asleep faster while they feel like they are in their own little cocoon.
Fisher-Price Soothing Motions Bassinet
This bassinet has a lot of bells and whistles to keep baby happy.
Styled after traditional bassinets, there is a mobile above the bassinet for baby to look at. You can either manually rock baby or turn on the soothing vibrations. The soothing center on the side of the bassinet can play calming music and sounds.
It also projects light on the ceiling or a soft night light. Lastly, the entire basket of the bassinet is mesh so you can easily see baby.
Graco Dream Suite Bassinet and Changer
This is such a unique design and will save you both time and space in your nursery.
The Graco Dream Suite easily flips from a bassinet to a changing table with one hand. It also has a two speed vibration to help soothe baby to sleep.
It is an all-in-one nursery necessity that allows baby to sleep close to you, but also stores all of baby's essentials, such as diapers, wipes, and extra clothes.
Delta Sweet Beginnings Bassinet
The Delta Sweet Beginnings Bassinet is styled much like a traditional bassinet. It has a durable and sturdy steel frame and comfortable, breathable fabric. It also includes a nightlight and soothing music to help baby fall asleep.
There is also a basket underneath the bassinet to hold diapers or a change of clothes.
Get Baby Sleeping Tonight
Even with the best technology, your baby still needs you.
Having a smart bassinet can potentially give you and your baby more sleep, which can be a huge lifesaver for sleep-deprived parents.
But there are many other factors that can help baby to sleep better. Create a good night and nap time routine so baby understands that it is time for sleep.
Adding in smart baby technologies and a smart bassinet can help to save you some sleep and some sanity.
When your baby has improved sleep, so many other areas of parenting seem to become easier with it. While putting together a smart nursery can come with a high price tag, you must also consider how else you are benefiting.
You will get better sleep not only because your baby is sleeping better but also because you have piece of mind.
The SNOO is by far one of the greatest smart baby technologies on the market with its safety features and adaptive technology. Every baby deserves to have one!