Get the best Play Doh sets to keep your toddler busy for hours of fun!
With moms working from home more and trying to keep toddlers occupied at the same time, what better way than to give them some fun Play-Doh sets to play with?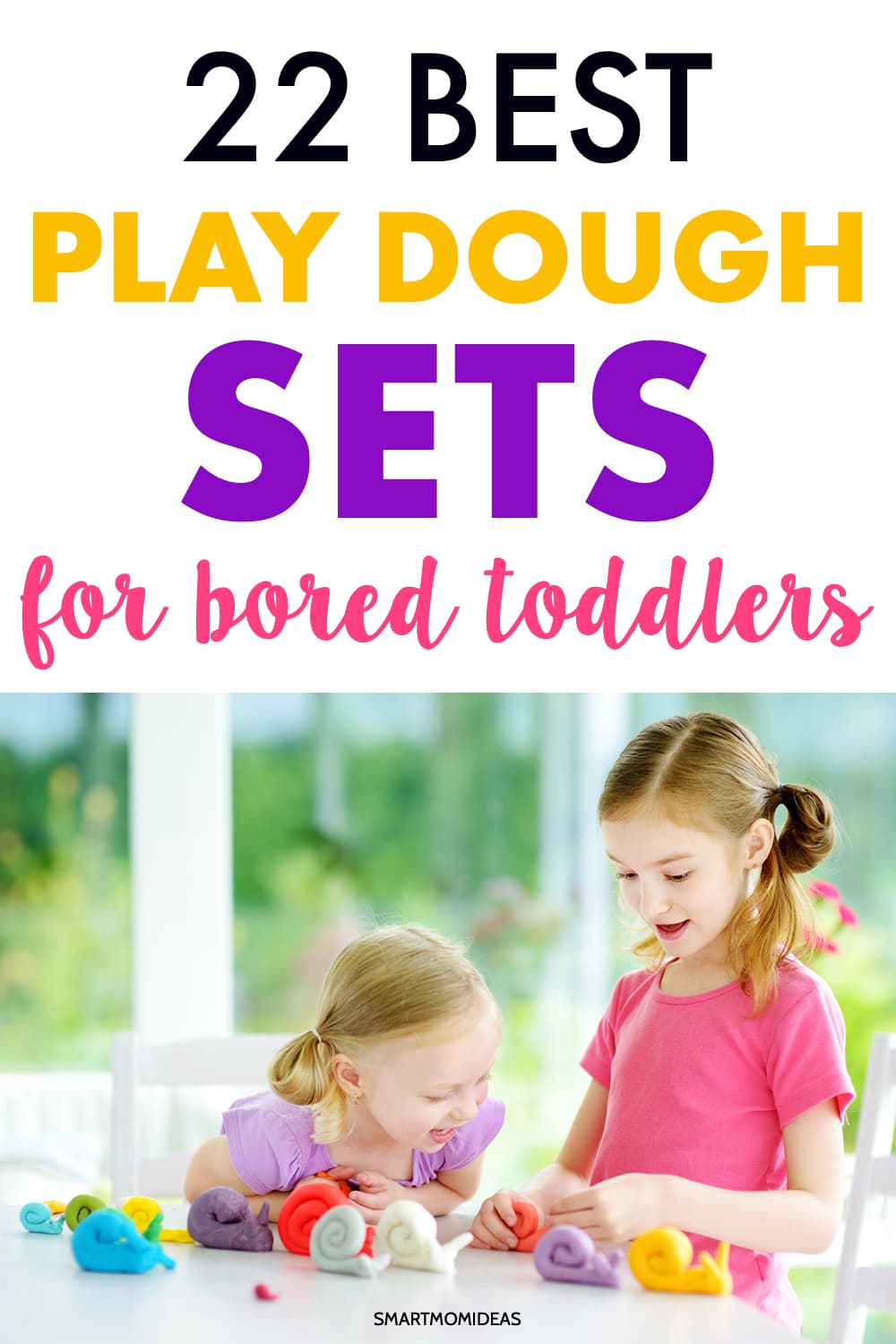 From barber shops to Trolls, there are tons of different kinds of play doh sets for toddlers of all interests.
The wonderful thing about Play Doh is that it is an open ended toy that allows kids to explore their creativity and imagine new things.
All of the sets mentioned below are great for ages three and up, are non-toxic, and will provide hours or fun!
1. Play-Doh Play 'n Store Activity Table
This is a great first play doh set for toddlers.
It not only offers them their own little space to play and make a mess on, it also neatly stores away all of their playdough and tools all in one convenient activity table.
The kit itself comes with the activity table, 8-2 ounce cans of play doh and a host of different cookie cutters and other tools to poke and prod the dough.
The activity table even has some small molds on the sides to squish dough into and make fun shapes of fruits and flowers.
2. Play-Doh Fun Factory Deluxe Set
This play doh fun factory deluxe set is certainly a classic.
It includes 30 tools with the classic play doh press to squish the dough through. It also has a roller and cutter for making all sorts of fun shapes and plenty of cookie cutters for making crazy designs.
And of course, it includes the 6 classic colors to get your play doh collection started.
3. Play Dough Tools Ice Cream Maker Machine
Make fun foods come out of a cow's nose? Yes, you read that right. This "ice cream maker machine" makes fun and crazy colored foods by squishing it out of the cow's nose.
From green nose spaghetti to pink broccoli, the options are only limited by their imaginations.
4. Play-Doh Trolls World Tour Rainbow Hair Poppy Styling
If your toddler is a fan of Trolls, then they are going to love this Trolls World Tour hairstyling station.
Complete with crimping and cutting tools and tiny molds for making those cute flowers Queen Poppy wears in her hair.
There are three different pieces that you can switch out in order to make Poppy's hair grow in different and crazy ways.
5. Play Dough Table Set with Storage and Tool Molds Kit Kids
If you like the idea of a table set to [try and] keep all their play doh and tools organized, then you are going to love this table and storage set.
You can easily store the play doh tubs underneath the table and all the tools right along with it.
It looks like a fun little food cart complete with images of food and a cupcake tier.
6. Play-Doh Kitchen Creations Magical Oven
When my kids were toddlers they always loved to play with food related toys and we bought this this set for Christmas.
This kitchen creations magical oven is like the play doh version of the easy bake oven we all know and love.
With this fun set, your little ones can create play doh pies, cakes, and pastries, all while pretending they are baking them in their little oven. It even includes some fun molds on the front of their favorite baked goods, like gingerbread men and croissants.
7. Kitchen Creations Sizzling Stovetop
If it is steak and potatoes that they would rather be whipping up in their play kitchens, then they are going to love this sizzling stovetop play set.
Perfect for little budding chefs that want to cook just like mom and dad. It includes everything they need to get cooking, the stovetop, tongs, plates, pans, spatulas, fork, and knife. Some of the fun things they can cook up with the included food stamps are eggs, steak, burgers, and fish.
And don't forget the veggies!
8. Ice Cream Mold Set
After they are done cooking up dinner, they can whip up some fun ice cream desserts.
Create tasty chocolate cones and pretty pink popsicles with this fun set. Just remind them that they shouldn't be taste testing these, they certainly aren't as sweet as they look.
9. Dough Extruders Set
Every kid with play doh should have these dough extruders.
They are such a fun addition to any play doh creation. From making things that might actually resemble cookies to just having fun squeezing them out, your toddler is sure to have a blast with these crazy extruders.
10. Play-Doh Wheels Gravel Yard Construction
Time to build something different with this wheels and gravel construction set.
This fun set includes a gravel grinder, steamroller, dump truck, and fun play doh colors to match. Grind up the dough with the gravel grinder, haul it away in the dump truck, or roll it flat with the steam roller.
11. Play-Doh Starter Set
This play doh starter set is perfect for little fingers to grip onto with oversized scissors and tools. It features four classic colors and nine toys, great for beginners or adding to an existing set. It also comes in a handy little storage tote to cart along with you wherever your toddler's imagination might take them.
12. Play-Doh Toolin' Around Toy Tools Set
Cut, hammer, screw, and saw with the Toolin' Around set.
The set includes 5 handy tools for kids to pretend to build and take apart. Forget about a trip to the hardware store, they will have everything they need right here. From making nail imprints, hammer stamps, and measurement lines, they will be able to create anything they want.
13. Play-Doh Stamp 'n Top Pizza Oven
Kitchen and food sets are very popular play doh sets for toddlers. Now they can whip up world famous pizzas with ease with the silly cheese machine and pizza oven.
They can go traditional with their pizza toppings with things like sausage and cheese, or get crazy with dessert pizzas. It includes all of the necessary pizza accessories, like the pizza paddle, cutter, and roller to make tasty creations.
14. BUILDME Creative Creatures Dough Builders
If your toddler is a fan or Mr. Potato head, then they will get a kick out of the creative creature builders.
With silly body parts like hands, feet, noses, ears, and eyeballs, they will be building crazy creatures for hours. This bucket full of fun and easy accessories will have their imaginations running wild with ideas for creative creatures.
15. Play-Doh Pinkfong Baby Shark Set
Of course, this list wouldn't be complete without a Baby Shark set.
With this set your toddler can create all of the baby, mommy, and daddy sharks they want. With all the shark shaped cut outs and the additional sea life molds, this will keep your baby shark busy for awhile!
16. Buzz 'n Cut Fuzzy Pumper Barber Shop
This is a classic play doh toy right here! The Buzz 'n Cut barber shop is still one of my twins' favorite Play Doh sets!
They really get a kick out of squishing the play doh through the doll to make the hair and then cutting it all off. They can create all sorts of fun hairstyles and crazy do's with this set.
17. Play-Doh Doctor Drill 'n Fill Set
Have a budding dentist on your hands? This doctor drill 'n fill set is not only a fun toy, but it also helps to get little ones interested in personal hygiene and dental care. Create teeth, brush them, or give them braces. It even comes with a toy drill to get out those nasty cavities.
This was another of my twin's favorite!
18. Play-Doh Sweet Shoppe Cookie Creations
We've covered pizzas, cakes, ice cream, and steaks, but what about cookies?! Create crazy or gourmet cookies with this cookie creation set. The set includes a textured rolling pin for fun imprints and several cookie cutter shapes for creating one of a kind cookies.
19. Clay Dinosaur Toys Set for Kids
Can your toddler not get enough dinos? This dinosaur Play-Doh set is perfect for little ones who dream of digging up dino bones. The set comes with several different dino molds, extruders, and even volcanos.
The perfect prehistoric pastime for little adventurers.
20. Play-Doh Animal Crew Cluck-A-Dee Feather Fun Chicken
Create a crazy and fun farm adventure with the Cluck-a-Dee feather chicken.
Place different colors of play doh into the chicken neck and push down for a flocking good time. Your little chicken can even lay some delicious eggs, already served over easy.
21. Play-Doh My Little Pony Pinkie Pie Cupcake Party
Help Pinkie Pie get all set up for her cupcake party with this My Little Pony Play-Doh set. My daughter absolutely loved this set and played with it almost every day as a toddler!
Create colorful one of a kind creations with the cupcake molds and My Little Pony dough cutter. It also includes the perfect dough colors for their friendly creations.
22. Play-Doh Growin' Garden Toy Gardening Tools Set
Just because your little ones might be stuck inside doesn't mean that they can't create something beautiful. This gardening play doh set is perfect for budding gardeners. They can grow beautiful flowers, water their little creations, and dig up some fun with this adorable little set.
Don't Forget to Get More Dough!
There are so many fun creations that your toddler can make with Play-Doh. Of course, make sure they have enough of the actual dough to keep their creations coming.
Over to you – which Play-Doh set is your favorite? Share with me in the comments!