Find The Best First Christmas Baby Ornament!
Baby's first Christmas is a very exciting time for the whole family. From setting up the tree to meeting Santa for the first time. While your baby might not remember all the details, it's still nice to make it a special family occasion.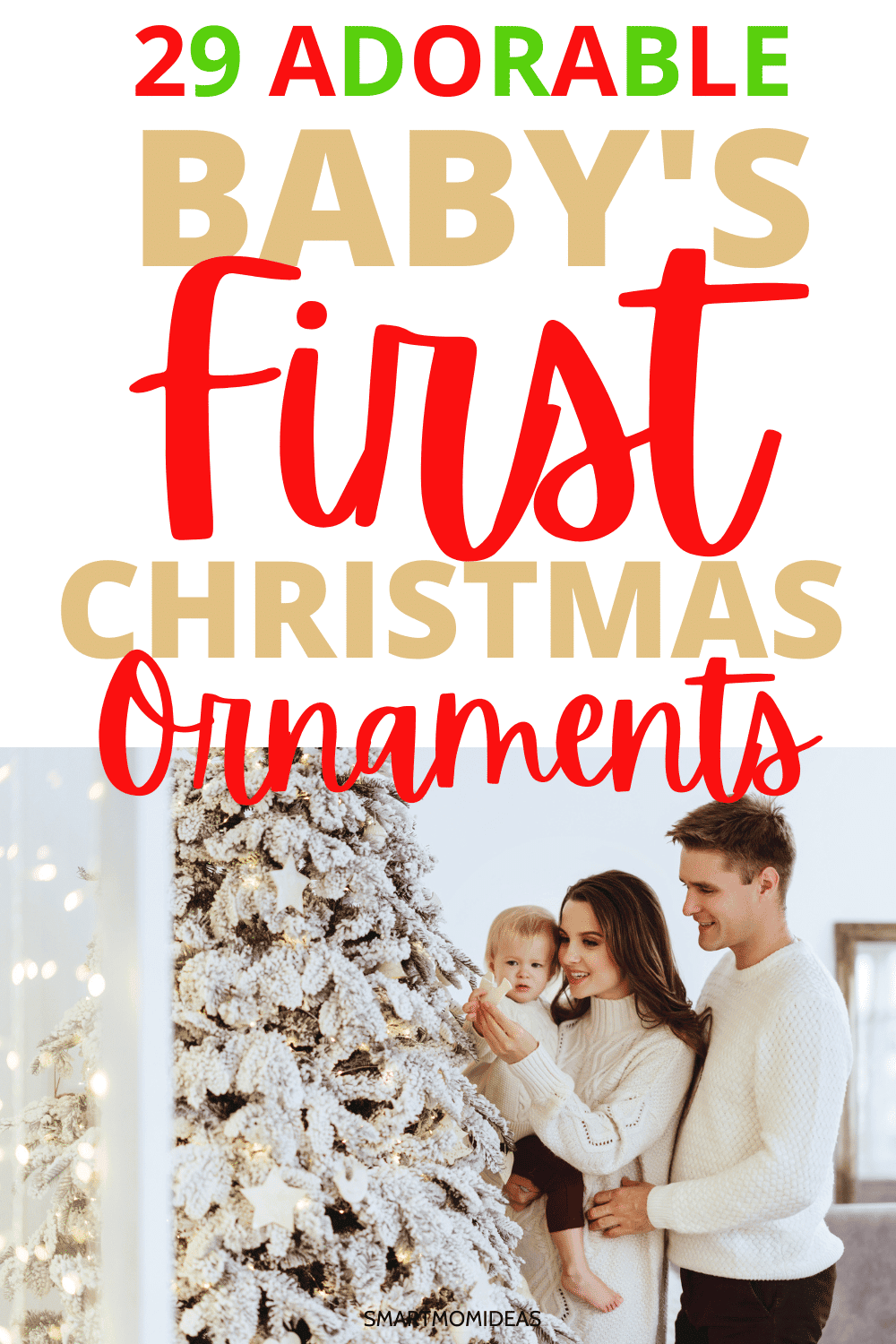 Whether you are purchasing an ornament of your own child or as a gift for the newest member of the family, these ornaments will look great on any Christmas tree for years to come.
What better way to celebrate than with baby's first Christmas ornament.
It is something they can look back on when they are older and will cherish for many years to come. They will even be able to add these ornaments to their own Christmas tree as an adult.
In this post I wanted to give you some ideas for the perfect ornament for your little one's first Christmas.
Whether you are looking for a classic bulb style or something more modern, we got you covered!
Here are 29 adorable baby's first Christmas ornaments to celebrate that special day!
Baby In A Gift Box

Show how much your baby is a gift with this adorable personalized ornament. Available in all blue, all pink, or a fun, the gender neutral holiday colors of green and red, this ornament will look wonderful on any tree. You can even customize the ornament with baby's name and year.
Teddy In A Pink Wagon
This precious Hallmark keepsake ornament is perfect for the little girl in your life celebrating her very first Christmas. This adorable teddy sits in a pink wagon next to a tiny, pink Christmas tree.
3 Wooden Ornaments
If this is baby number one, then this set of three wooden ornaments will make a perfect addition to the tree. One ornament is for baby's first Christmas, one is for becoming a family of three, and the third is for the first Christmas as mommy and daddy.
Family of Three
This is another adorable ornament to celebrate a new baby and becoming a family of three (or four if you had twins). Personalize this ornament with "mom," "dad," and baby's name. This beautiful ornament is hand-painted and lightweight so you won't have to worry about it weighing down the branches.
First Christmas Booties
Of course this list won't be complete without some adorable little porcelain booties. This ornament makes a perfect gift from a grandparent to their new grandbaby. Designed to look like knit booties and complete with a satin ribbon to hand from the tree.
Glass and Footprints
While this ornament is a little small to fit their real footprints on, it's adorable all the same. You can personalize this clear glass ornament with baby's name and year. Available in both pink and blue, this makes a wonderful baby's first Christmas ornament from friends or family.
Shatterproof Bulb with Photo
Quick, snap a photo of your little one in their favorite holiday outfit! Bulb ornaments are certainly a classic to add to the tree. With this one, you won't have to worry about your little one breaking it in a few years when they are a toddler. Because as you will soon find out, Christmas decorating can be a challenge when you have a toddler trying to grab everything off the tree.
My 1st Christmas Bulb
Can't seem to get a good enough photo of your little one? Then opt for a shatterproof bulb without their picture. Still a classic ornament that you can personalize with their name and year.
Silver Heart with Teddy
Silver ornaments are another classic for baby's first Christmas ornament. In the middle of this silver heart hangs an adorable 2D teddy bear. Made from high quality and durable material, this special gift will stand the test of time.
Hand-Crafted Glass Ornament
Searching for a hand-crafted and one of a kind ornament for baby's first Christmas? This handmade ornament features a sparkling star and baby's name engraved on the back.
Sock Monkey
Sock monkey is a classic and lovable character that your little one will recognize when they get older. This ornament is sitting a sock with a heart that says "First Christmas."
Wood Slice Ornament
If it is a rustic feel you are going for, then this custom, engraved wood slice ornament makes a perfect addition to baby's first Christmas celebration. You can even add baby's birth stats on the back of the ornament, such as length, weight, date and time of birth.
Minimalist Ornament
If it is a simple and minimalist ornament that you are searching for, then this ceramic piece is perfect for baby's first Christmas. Stamped with baby's name and year, this simplistic ornament will look perfect on any tree.
Wooden Block
While most of the baby's first Christmas ornaments on our list include a name and year, this six-sided wooden block includes so much more. You can include their initial, full name, "baby's first Christmas," on this unique ornament.
LED Lighted Glass Ball
This unique ornament is cute and bright. This glass ball has an LED candle inside that shines bright on your Christmas tree or wreath. The ornament includes Christmas decals like a gingerbread, Santa, candy cane and more.
Onesie Ornament
Make sure to never forget birth stats with this adorable, onesie ornament. It's blue with a glitter outline of the entire onsie. It's also hand-painted making it look like a customized ornament.
Our Little Cub

This cute jack-in-the box bear ornament includes an adorable bear cub popping out of the box. The back of the box shows two beautiful painted red snowflake designs completing the look.
Baby Fox Ornament
This adorable baby fox ornament will make a perfect addition to your Christmas tree. Available in a few different looks, this beautiful ceramic ornament highlights baby's first Christmas with a rustic background and a white trees and snow.
Very First Christmas
Celebrate all the magic of baby's firsts this holiday season with this adorable, ornament that you can place a picture of your child in. From fresh baked holiday cookies, a visit from Santa, and their first touch of snow. While they might not remember all these special things when they get older, they can have fun hanging their first Christmas ornament.
Snowman and Heart
This snowman and heart ornament is another classic that adorns Christmas trees everywhere. Add baby's name to the snowman hat and year to the star for a cute, customized gift.
Metal Rattle Ornament
Made from copper and nickel, this ornament features an old baby rattle. With a nickel finish, the rattle shines and glistens under the Christmas tree.
Wooden Photo Ornament
It's always nice to include a photo of baby for their first Christmas ornament. Customize this rustic looking ornament with embellishments.
Newborn Photo Ornament
Put those newborn photos to good use with this beautiful photo ornament. Made out of metal, this first Christmas ornament will last for years to come. With this keepsake ornament you can add new photos each year of your child growing.
Baby Crib Ornament
This cute baby crib first Christmas ornament can be personalized. From baby standing in the crib, this beautiful ornament will look amazing on your Christmas tree. You can also add baby's name and year for personalization.
Elephant Ornament
This elephant ornament will become a holiday memory for years to come. This is certainly a one of a kind Christmas ornament that your child will cherish for many years to come.
Rocking Horse Ornament
This rocking horse first Christmas ornament can either be a Rudolph reindeer too. A well made and durable ornament that will last for many, many years. This ornament is moveable too!
Personalized Year Ornament
What makes this ornament so cute, other than the personalized engraving, is instead of baby's first name and the year making up the ornament.
White Bell Ornament
This little bell ornament makes a lovely baby's first Christmas addition. The name and date is custom painted and hand lettered. The bell itself is available in either tin or white for a unique look.
Baby's First Pandemic
Of course we just had to include a pandemic related ornament into our collection. Commemorate a crazy year with this ornament. The baby is wearing a mask and the ornament says, "My First Pandemic."
Fun Picking the First Christmas Ornament For Your Baby
No matter what type of ornament you choose, baby's first Christmas ornament will make a great addition to your family tree.
Share in the comments your first Christmas ornament!
Please pin me!