Learn if Milkology Breastfeeding Class is for you!
A class for breastfeeding? Shouldn't that come naturally?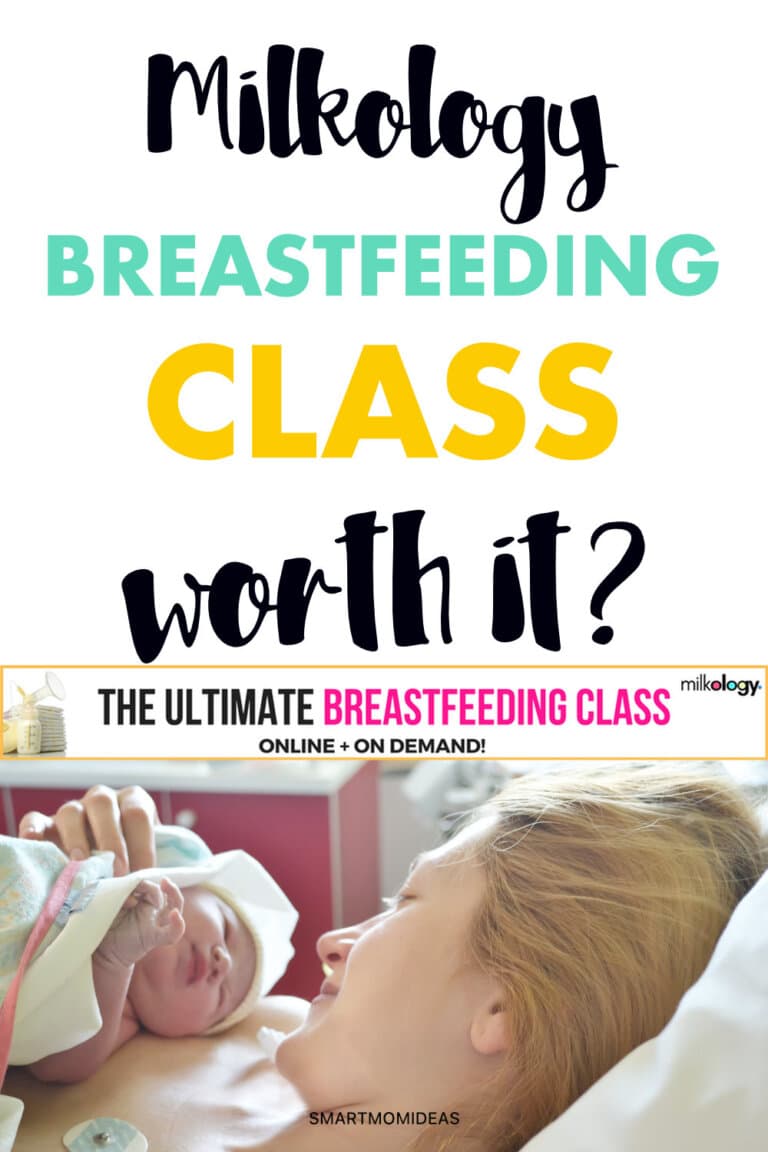 Well, childbirth is supposed to come naturally as well but we all know how thankful mothers around the world are for the epidural.
My point is that although certain aspects of motherhood are expected to come "naturally", the truth is, we all need a little help sometimes.
It's okay if you don't want to feel the pain of labor.
It's okay if you don't know how to change a diaper.
And it's okay if you have no idea how to breastfeed!
That's why classes such as Milkology exist – to help expecting and nursing mothers navigate the challenges of breastfeeding.
Because, even though a newborn will latch immediately following birth, they kind of suck at it at first.
With the right knowledge and tools, you can begin your breastfeeding journey with confidence.
So let's look at the Milkology breastfeeding classes and see if they are, in fact, worth it:
Milkology: The Ultimate Breastfeeding Class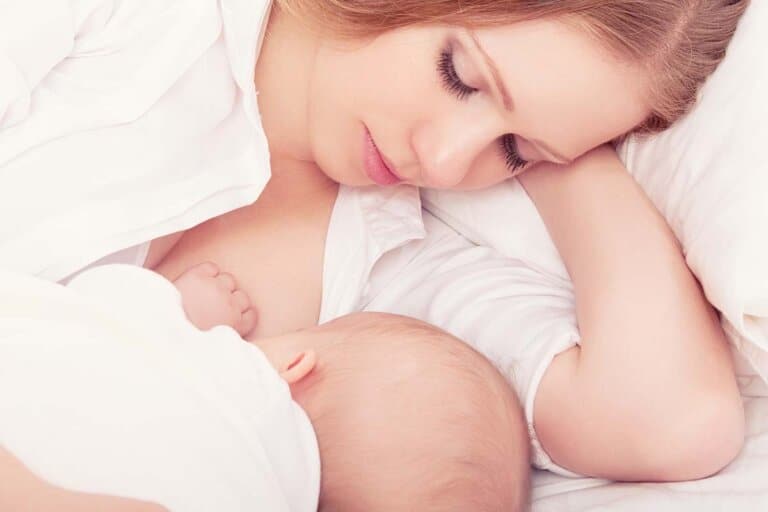 I love that when you're in the hospital you will at some point have a nurse come and show you how to breastfeed.
However, these instructions are so "technical" and don't really address any in-between questions about breastfeeding you may have.
That's why I love Milkology's Ultimate Breastfeeding Class. It's a great way to get started with breastfeeding – especially when you have no idea what you're doing!
The class is only 90 minutes long (so quick!) and covers topics such as:
Latching
Increasing milk production
How to tell if your baby is getting enough milk
Common mistakes
Effective breastfeeding positions
Finding support
And more!
The class is organized into 13 videos and includes a troubleshooting guide that addresses common issues you may face while breastfeeding.
You'll also get class notes to have as reference (so you don't have to take notes yourself) and an eBook full of breastfeeding secrets!
This class was put together by a Certified Lactation Educator named Stacey, who is a mother of three and founder of Milkology.
She is dedicated to helping mothers feel less stressed and more confident when it comes to having a wonderful lactation experience with their babies!
So if you do decide to take this course, you are in good hands! There's nothing better than having that extra support and guidance throughout your breastfeeding journey.
Milkology: The Ultimate Back to Work Pumping Class

Doesn't that breastfeeding class sound amazing? Well, we're not done because Stacey also has an entire course dedicating to pumping so you can go back to work!
If you've breastfed before and have tried to pump while at work, you know how difficult this can be.
Pumping at home before you leave baby to go to work or enjoy an evening out is so much easier than pumping and storing milk during your shift!
Plus, many work environments unfortunately do not have room to accommodate nursing moms.
I know of women who have ended up quitting because they are dedicated to breastfeeding their babies but can't handle the extra hassle and stress.
However, there is a way to transition back to work and still provide your baby with nourishing breastmilk.
Milkology's Ultimate Back to Work Pumping Class includes everything you need to know about pumping and equips you for success throughout your breastfeeding journey while working!
This course is only 45 minutes long (even better!) and goes over things like how to maximize your milk expression, how to get your baby to take a bottle, and tips for easing your transition back to work.
You'll even learn how to build a freezer stash of milk while on maternity leave as well as how to choose the right pump and make plans with your employer.
This class also has some exciting bonus material such as an eBook full of pro pumping tips, class notes (so you don't have to), and a video that helps you out if you're not pumping enough.
Oh! I should also mention that these breastfeeding classes include lifetime access – so you can revisit the course whenever you want and how often you want!
This is great especially since the breastfeeding journey is a changing one. You can always come back to the classes and review the information if things aren't working out for you.
Awesome, right?
Why Should I Take an Online Breastfeeding Class?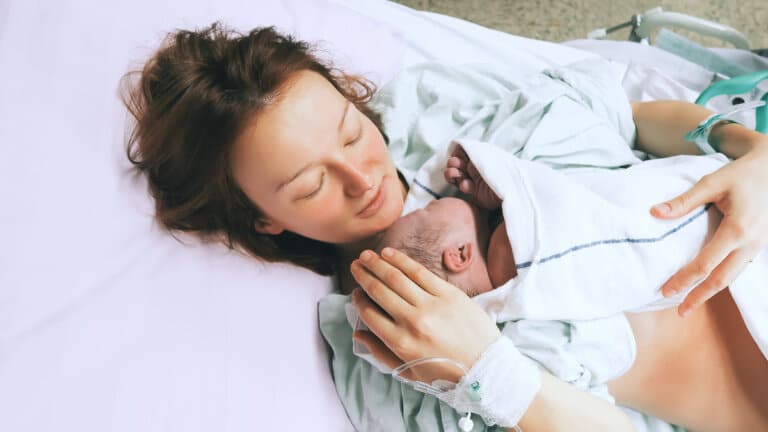 Online breastfeeding classes do so much more than just show you how to breastfeed.
They help you conceptualize what the entire experience is going to be like and prepare you for your breastfeeding journey with knowledge and confidence!
Added bonus? If you get your partner to sit with you during the online classes, it can help prepare them to support you while you are breastfeeding.
Here are some other reasons why you should consider taking a breastfeeding class:
Common Breastfeeding Challenges
Breastfeeding is not without its difficulties and an online breastfeeding class can help you navigate common challenges such as:
Improper Latch: When your baby is not latching properly, you'll know it! This can lead to sore nipples and could mean that your baby is not getting enough breastmilk.
Low Milk Supply: Every women's body is unique when it comes to milk production but consistent breastfeeding has been shown to increase low milk supply.
Cluster Feeding: Sometimes newborns feed constantly and frequently. This is known as cluster feeding and, trust me, learning breastfeeding techniques is really going to help you out when this happens!
A breastfeeding class such as Milkology will help you overcome these challenges right from the comfort of your home so you can focus on enjoying the time you get to spend with your little one.
Breast Versus Bottle
The new buzz term when it comes to this debate is "Fed is Best" and I couldn't agree more!
So while there are definitely perks to breastfeeding your baby, feeding them period is the most important thing.
However, if you are interested in breastfeeding, I encourage you to give it a try. It doesn't always work out right away but when you learn the proper techniques (and a few tricks along the way), it can be completely doable!
That's why an online breastfeeding class is perfect not only for new moms but moms that have been struggling with breastfeeding as well.
And sometimes just having the knowledge and support from an expert will help you feel more confident when breastfeeding your baby.
Online Classes Versus In-Person Classes
One word: pajamas.
Other than the fact that you don't have to get dressed to attend an online breastfeeding class, you can enjoy the convenience of doing the course on your own time without having to leave your home.
Plus, you can follow along in the privacy of your own home!
While in-person classes are great for meeting other moms and socializing, taking Milkology's breastfeeding class at home means you can finish it at your own pace and focus on the lessons being taught without being distracted.
The entire course is prerecorded so you don't have to worry about logging on at specific times and, with lifetime access, you can take them at home whenever you want.
When Should I Take an Online Breastfeeding Class?

Because Milkology's breastfeeding classes include lifetime access, you can really take them whenever you want!
So you can finish the classes during your pregnancy to prep you for breastfeeding and pumping and then take them again after your baby is born for some real-life practice.
But the recommendation is that you consider taking a breastfeeding class during your third trimester (28 weeks+) along with a birthing class so that the information is fresh in your mind once your baby arrives.
I love the idea of online classes and I wish they had been available when I was put on bed rest before my twins were born. You can learn so much and gain so much confidence on a schedule that works for you in the comfort of your home.
Your Breastfeeding Journey
Whether you are having your first baby or your tenth, you never know what will happen to your plans after the baby arrives.
Perhaps your first child breastfed like a champ but your second is having none of it.
It's important for me to say that if your breastfeeding journey does not go as planned or you end up switching to the bottle – you are not a bad mother.
Remember what I said: Fed is best! Your desire to care for and nurture your child is more important than whether you breastfeed or bottle-feed.
That being said, I do encourage all mothers to try. With the right support and education, you may be surprised at what you can accomplish during your breastfeeding journey!
Milkology's breastfeeding classes will help – and they are totally worth it.
How about you? Do you think a breastfeeding class would help in your journey?
Let me know in the comments.
And don't forget to pin!