Make ahead Christmas cookie recipes for the busy mom!
There is no time in a mother's life that she feels more rushed and bombarded than when Christmas sneaks up on her.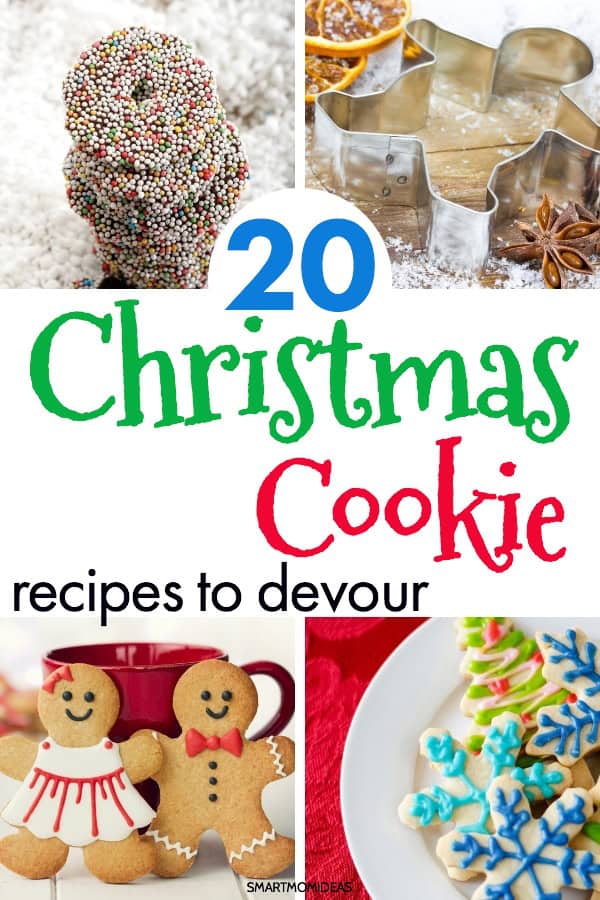 As summer's hot days fade into autumn's crisp nights, Christmas can seem like a lifetime away.
Until you wake up one morning and realize your little ones are already eating chocolates out the advent calendar.
Any semi-organized mother will tell you that the secret to Christmas preparedness is to stay ahead of the game. Easy to say, hard to do.
This year, instead of rushing through the stores last minute to grab gifts for teachers, aunts, uncles and babysitters, try whipping up a few batches of make ahead Christmas cookies.
Who can say "no" to such a sweet treat?
What Are Make Ahead Christmas Cookie Recipes?
Make ahead Christmas cookies are exactly as they seem – cookies you can make ahead.
The beauty is that instead of baking and worrying about gifting the goods before they spoil, make ahead cookies can be prepared, baked and frozen to use at a later date.
The implications of this can reach far beyond Christmas as well: birthdays, luncheons, potlucks, bakes sales. Imagine having a batch of cookies in your freezer ready to go when you need them.
But for the sake of getting a leg up on the Christmas season, we're going to focus on some yummy make ahead Christmas cookie recipes. Jot down your favorite recipes and never let Christmas sneak up on you again!
Christmas Cookie Recipes
In all honesty, any cookie can be baked, cooled and frozen. Simply place the cooled cookies in a single layer on a parchment-line baking sheet and freeze. Once frozen, place them in a freezer-safe storage bag.
Don't forget to label the bags with the name of the cookie and the date. Baked cookies will keep in the freezer for 3 to 4 weeks.
1. Cherry Chocolate Crinkle Cookies by The Weary Chef
These delicious cookies beautifully marry the sweetness of chocolate with the taste of cherry.
The Weary Chef took a simply Betty Crocker recipe and added the cherry as a festive twist.
2. Funfetti Shortbread Bites by Cooking Classy
These fun little shortbread bites by Cooking Classy are festive and tasty!
Pack these up in a small box or mug and gift them to your friends and family – or grab them from the freezer for a quick treat in your little one's lunchbox. Just make sure you don't sneak too many for yourself!
3. Red Velvet Spritz Cookies by Taste of Home
These look as delicious as they are beautiful! Taste of Home concocted this recipe because she had never seen one for this type of cookie before.
And good thing she did, because these cookies are festive with a red velvet flavor with a hint of peppermint.
4. Snow Capped Gingersnaps by Liv for Cake
These chewy gingersnap cookies are dipped in white chocolate and topped with crystalized ginger. Nothing says warm winter evenings by the fire than this aromatic and sweet ginger cookie.
Liv for Cake suggests sticking to the shortening in the recipe instead of swapping it out for butter – it makes the process of melting the chocolate go a lot smoother (no pun intended).
5. Cranberry Orange Pinwheels by Cooking on the Front Burner
Cooking on the Front Burner whipped up a batch of these cookies for an online food blogger cookie swap! What an amazing idea!
Cranberry and orange are an amazing flavor duo for the holiday season and these cookies are super easy to make.
6. Maple Oatmeal Cookies by Celebrating Sweets
Celebrating Sweets bring us this rich and versatile cookie with a soft and chewy texture, punctuated by a hint of maple flavor. You can use this cookie base to add in whatever additional ingredients you want – dried cranberries, chocolate chips or any kind of nut!
Even though Christmas is often seen as the holiday of indulgence, you can indulge in healthier ways, right?
7. Orange Cardamom Cookies by Savory Experiments
These orange cardamom cookies by Savory Experiments offers a creative and unique festive flavor.
Cardamom gives these cookies an amazing flavor combination of citrus, mint and spice.
8. Grinch Cookies by Simplistically Living
Simplistically Living reminds us to have some fun with our Christmas baking with her Grinch-inspired chocolate chip cookies.
Sometimes a simple change of color can add a fun and festive flair to a classic cookie recipe!
9. Homemade Gingerbread Cookies by Sally's Baking Addiction
You can't have Christmas cookies without the traditional Gingerbread people. Sally's Baking Addiction's super simple recipes makes this cookie a total breeze.
Get the little ones involves by cutting out shapes and decorating their creations!
10. Dark Chocolate Candy Cane Cookies by Liv for Cake
Liv for Cake's beautiful creation bring us a delicious combination of chocolate and peppermint.
These cookies are reminiscent of stirring a warm hot chocolate with a candy cane to create a refreshing and comforting flavor combination.
11. Gooey Butter Cookies by Dinner at the Zoo
When the words "gooey" and "butter" are used in the same sentence, you know your taste buds are in for a treat.
Dinner at the Zoo's buttery cookies look like they melt in your mouth!
12. Soft Batch Christmas Sprinkle Cookies by Yuma's Kitchen
Nothing says "festivities" like a cookie doused in sprinkles.
This recipe from Yuma's Kitchen makes for a soft and buttery cookie with lots of sprinkles baked right on top.
13. Chocolate Sugar Cookies by Lovely Culinary
Lovely Culinary flips the script on regular sugar cookies by adding the decadence of chocolate.
These cut-out cookies can be made into different shapes and sizes. Let your kiddos help out with the cookie cutters!
14. Keto Chocolate Crinkle Cookies by Hungry for Inspiration
Even if you're on a Keto diet, there are cookie recipes that are gluten-free, sugar-free and Keto friendly.
This one from Hungry for Inspiration has only 0.7g net carbs per cookie!
15. Keto Chocolate Peanut Butter No Bake Cookies by Peace Love and Low Carb
Here is another Keto friendly cookie recipes, but this time Peace Love and Low Carb treats us to a no bake option!
These cookies are low carb, Keto and gluten-free.
16. The Easiest Vegan Sugar Cookies by Loving It Vega
For those who adhere to a plant-based diet, these easy vegan cookies by Loving It Vegan are the perfect way to enjoy Christmas cookies as you enjoy a vegan lifestyle.
Use festive cookie cutters to give these cookies a Holiday flair!
17. Scottish Vegan Shortbread by The Compassion Kitchen
This vegan recipe by The Compassion Kitchen proves that you don't have to sacrifice tradition if you live a vegan lifestyle.
And this recipe is made with only 4 ingredients!
18. Christmas Jello Cookies by Creative Home Making
Creative Homemaking offers this fun, festive and totally cute jello cookie for the holiday season.
It's a super easy recipe that can be thrown together quickly and frozen for a later date!
19. Soft and Chewy 7 Layer Cookies by Mel's Kitchen Café
Mel's Kitchen Café emphasizes that these are not layered bars – they are layered cookies!
One layer of cookie is great, but 7 layers is amazing! This unique cookie is sure to be a hit at Christmas.
20. Rice Krispies Treat Cookies by The Kitchy Kitchen
The Kitchy Kitchen offers this spin on a childhood classic by taking the Rice Krispies Treat and turning it into a cookie.
Her motivation? Taking two recipes and "smooshing" them together. In this case she takes a simple biscuit recipes and combines it with RK treats.
Do you have a favorite Christmas cookie you'd like to share? I'd love to see it in the comments below!