Discover these amazing baby hacks that even your mom never told you!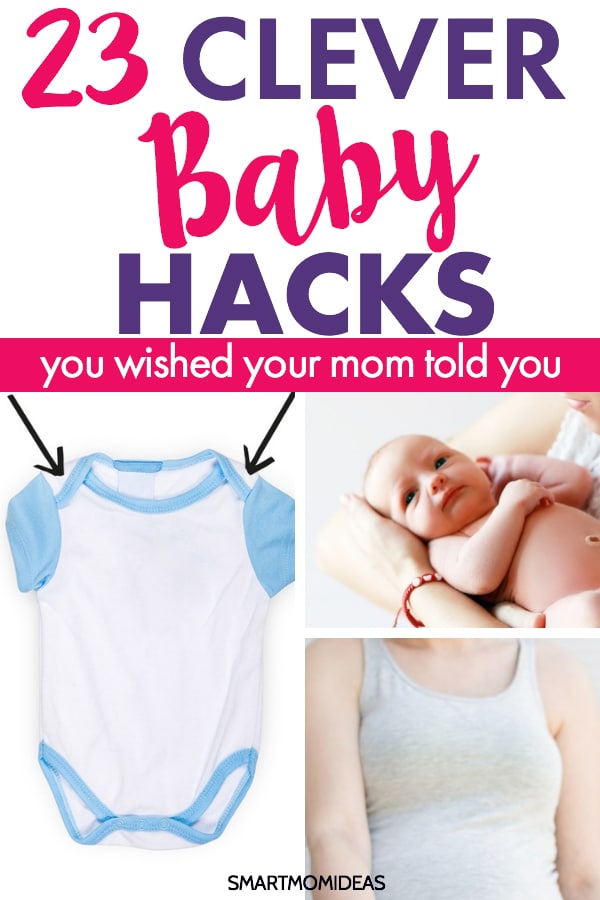 Are you a new or expecting mommy?
Or are you experienced in mommy-ing yet still on the lookout for baby hacks that'll help simplify all that you do to care for your little one?
If you're sleep deprived, ever so busy, and can't even find the time to brush your teeth and comb your hair, a few incredible baby hack refreshers will help you save time and stress, mama.
These are hacks you wished your mom told you about but never did! These are hacks that are new and amazing mama! I wish I knew of them when my twins were baby!
If you're even a tad bit like the rest of us mothers, you spend your "free time" brainstorming ways to get more organized and run your home more smoothly and effectively.
Now, let's help save you that time, stress, and money with these 23 baby hacks!
1. Quick Diaper Hack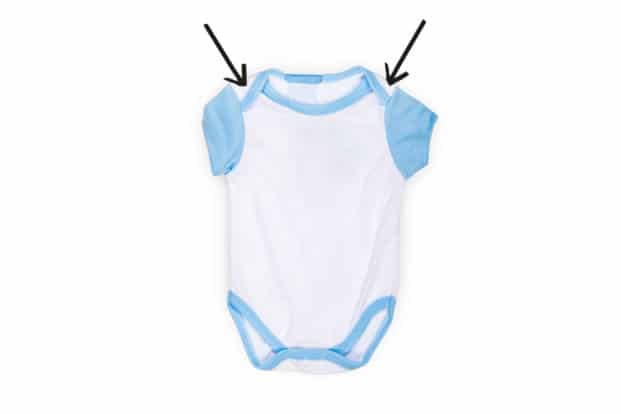 Newborns are known for the explosive poopy diapers. You know, the ones that ride up the back and are complete mess? Instead of trying to take off the onesie and risk getting poop all over your baby, pull the onesie down!
Those flaps that ALL onesies have serves a purpose mama. Grab em' and pull down to remove the dirty onesie.
2. Use a Pacifier to Give Medicine Via a Syringe
Giving medicine is no fun for mommy and drinking it is no fun for baby. Here's an idea!
Use a pacifier that has a small hole in it to give your baby the medicine. It will be more familiar (if baby already uses a pacifier) than trying to suck straight from a syringe. Probably more comfortable too.
Plus, cutting a hole in your pacifier has more than one purpose – it's a painless and easy way to stop your toddler using a binky!
3. Baby Closet Dividers
How much time do you spend each time you look in the closet to choose your baby's outfit?
If you can't seem to tame the mess no matter what, try this! Use a separate divider for each 3-month clothing size increment. For example, 3 months, 6 months, 9 months, 12 months, and so on.
If you have older children, it'll be so much easier for them when you send them into the room to choose an outfit for your baby. No more going through baby's entire closet each morning!
Supplies:
Card stick (or a cereal box)
Scissors
Pattern paper
Glue stick (or spray adhesive)
Two circles to trace (small and large)
4. Breastfeeding Hack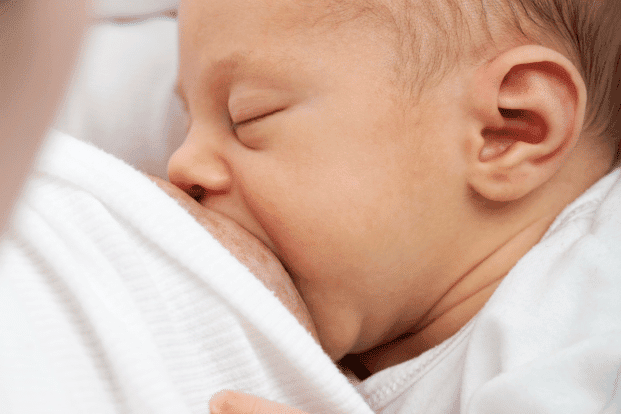 Wear a tank top under your shirt when you're breastfeeding in public. It saves extra baby items like a nursing cover and has you covered if you forget that nursing cover (*raises hand!)
5. DIY Drawer Dividers
Overall, it's kinda hard to organize baby items (even in drawers!). Or is it just me? The socks. The headbands. The shoes. The onsies. Everything is just so….small!
Drawers dividers just make sense. Ditch the "Toss it in now, I'll find it later" habit. This hack is super easy and worth the effort. Get organized, mama. Once and for all.
Supplies:
Omnigrip non-slip quilter's ruler
Measuring tape
X-acto knife
6. Store Breastmilk Bags
Do you or someone in your home drink soda? If so, you already have the 1 and only supply you need. The empty cardboard soda box makes for a perfect storage container for your breastmilk.
Isn't this awesome! Stacking them in your fridge isn't the easiest thing and bowls take up too much room! Plus, repurposing is always a good thing!
7. Remove Poop Stains
Poop duty is no joke. I think every mom was gifted by her baby with at least one blowout. I've laughed to myself at the times when it actually crossed my mind to throw away the entire onesie because the stain was so terrifying.
But this hack right here works extremely well. Cold water and using a bar soap – I use Ivory – will take it right out.
I was shocked that something so simple preserved my twins' clothes! Bar soap is actually good for ANY stains and it worked for when my twins were eating solids too!
A must for every household!
8. Baby Food Storage
Storing your baby's food and snacks in a shoe hanger organizer on the back of a door may sound a bit odd. But it can work well because it's both convenient to grab and it can be very storage efficient if you have limited space.
9. Easy Way to Never Lose Your Baby's Bib
If you go through about 10 or more bibs a day, you're gonna be a happy mama when you start doing this. Just hook a few extra bibs on the back of your baby's high chair and you're set for the next few meals!
10. DIY Headband Organization
Almost every home with children has what some call a "catch all" space. Where is yours?
The top of your baby's dresser or changing table? Underneath the bathroom sink?
A "catch all" place is where you and other members of the family habitually put miscellaneous things either because your busy or they seem to have no other place to go.
Some of us may have been organized before we had kiddos, but we've all been there at some point, right? Digging around looking for that ONE pink headband with the white flower for 10 or 15 minutes.
I found this little adorable way to organize your baby's headbands. It's pretty simple! All you need is project wood and some clothes pins. That extra 10 minutes could be spend some other way.
11. Use a Mesh Bag When Washing Socks
Remember the book The Plant That Ate Dirty Socks? Does such a plant exist in your home? It sure seems like those socks disappear no matter how carefully you wash, dry them, and carry them to the bed to fold them. Why?!
So what's the solution? Keep buying new baby socks each month?
Thankfully the answer is absolutely not.
I used a mesh bag when the twins were little, but if you are crafty you can make one yourself!
12. Diaper Organizer
You can create ease in your own home by conveniently stocking each room with diapers and other supplies so you don't have to do a lot of walking back and forth. Especially if you're still healing, mama.
Stock up your bathroom with the things you'll need while you're in there. Eliminate the need to carry the items back and forth and putting them back into the right place in the nursery room.
13. Tape a Chart on the Medicine Bottle to Track When You Give Your Baby Medicine
The early stages of postpartum motherhood can be so overwhelming. If your baby needs special medical attention and medicines, it can be hard to keep up with all the doses.
Creating a chart to track the dates, times, and dose amounts can be easier than trying to keep up with a separate chart.
And believe me, you WILL be sleep deprived. I had to keep track of the twins feeding schedule, hubby and I's Tylenol and Advil schedule and diaper schedule and our eating schedule! We were a wreck! 🙂
This is definitely a great hack that I'll be sure to use when my twins get sick!
14. Baby Car Kit
There's no way on earth you can ever go wrong with a baby care kit that lives in the trunk of your car 24/7. Especially if you live in a place where you face harsh winters.
Having things like hand sanitizer, wipes, extra clothes, snacks, diapers, receiving blanks, extra hats and warm garments etc, are vital to have because you will need them. You just never really know when!
An ice cooler can also come in handy for park days or when you're out for half the day running errands. Instead of buying drinks and food on the go you can pour ice over your homemade lunch.
15. Pack an Extra Shirt for Yourself in the Diaper Bag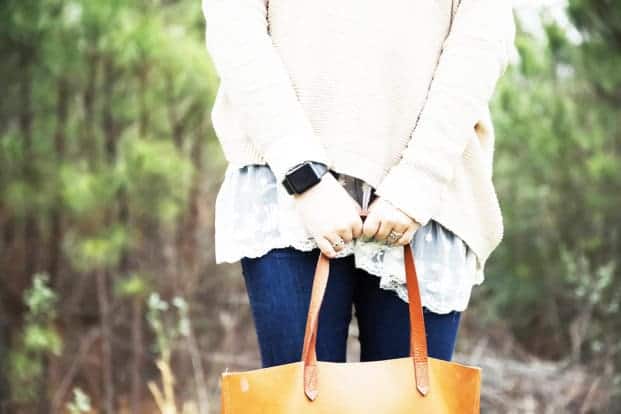 Yes, I did say for you ( I know you've got baby covered already). If you've not experienced it yet, the time will come when you'll be happy for the extra shirt. If your baby is eating table foods now and eating while sitting on your lap when you're away from home it can get pretty messy.
Yep, on second thought consider packing and extra pair or bottoms too!
16. Check for Wet or Soiled Diapers FAST
There is a really easy way to tell if your baby has pooped or peed without having to open the diaper. Just look at the line on the outside of the diaper. If the line is blue, it's time for a change.
17. Easy Grab Toy and Book Station
Rather than carrying toys and books to and from the room, you can have a select few that remain in your living room that your baby can play with. When those toys become boring, you can swap them out for other ones. You can use also contain all your toys.
I like using soft totes rather than baskets in case my twins decide to be daredevils and fly off the ottoman!
18. Use a Brush to Put on Diaper Cream
This works in two ways. It helps you avoid getting the cream on your hands and it also helps with sanitation if you're in public and can't wash your hands.
You can use a soft makeup brush. Just make sure to keep it clean and store it well between each use.
19. Mother's Milk Pacifier Popsicles
Has your baby's teething phase got you puzzled or almost is tears? Mama believe me, I know what that feels like. Helpless and desperate pretty much sums it up. All you need to make these popsicles are pacifiers, your breastmilk, and baby-friendly ice cube trays.
5 More Quick Baby Hacks You Need to Know
Avoid getting peed on by your boy – Boy and girls alike usually pee when their diaper is changed. Boys, on the other hand, "aim" higher. Placing a wet baby wipe right below your baby's belly button is said to reduce the likeness that you'll get peed on by him.
Fill an empty wipes container with bags to throw away diapers –vIf you're not using an odor-locking diaper pail

in your home, you can fill an empty plastic wipes container to store plastic bags in. Wrapping each diaper in a plastic bag will help seal the odor so it doesn't leave a smell. This helps when in your home, someone else's or on the go.

Pad baby's carseat handle to avoid strain – Your baby's growth plus the weight of the car seat can cause major strain on your body. While this isn't a fix, it can provide some relief. Head over to the Dollar Store and get one of those pool noodles. Cut it, and fit it around the handle of the carseat where your arms goes to provide comfort. Make sure to remove the noodle when driving.
Attach a pacifier and toys when baby wearing to keep baby happy – I loved baby wearing when I dishes, cook, and do other things around the house. If your baby wants more engagement, attaching toys can free you up more to do what you need to while your baby plays.
Awesome Newborn Hacks for First Time Moms
There you have it, mama! 23 budget-friendly baby hacks that you and your baby will love. Getting and staying organized with the littles doesn't happen in a day. But making a few small tweaks can make a huge difference. As you go along, experience is your best teacher! Keep adjusting to what you find works very well for you family.
As you get more mommy years under your belt, you'll naturally share more of your own baby hacks.
Come to think of it, please share with us right here! Please leave a comment down below and let us know what's worked well for you.
Don't forget to pin me!