Find out what car cleaning kit is perfect for you and your family!
What does your car look like right now?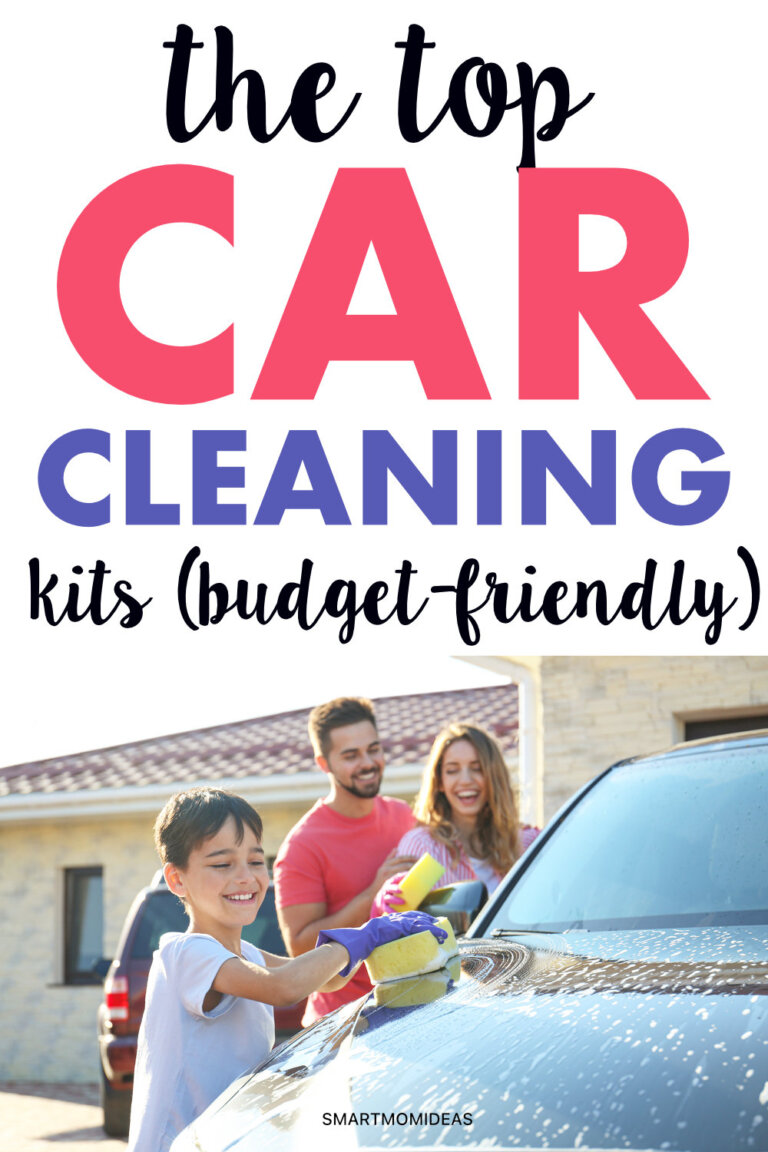 As the mother of twins, I'm not sure I want to answer that question!
While we certainly don't live in our car, it can definitely get messy from time to time.
Plus, where I live, if it's not the salt from winter roads messing up the exterior, it's the muck from spring weather!
And don't get me started on the garage organization process!
I know that as a mom, you have enough on your plate to worry about the condition of your car.
But, as a mother, you probably feel compelled to keep it as clean as possible.
That's why I wanted to talk about these top car cleaning kits that I know you'll love!
Each comes with the tools you need to keep your car sparkling clean, inside and out.
And at the end of the article, I've listed some amazing tips to help you maintain the cleanliness of your car, even if you feel you don't have the time.
Ready to get started?
Best Car Cleaning Kit: Armor All Car Wash and Cleaner Kit

The number one best car cleaning kit on Amazon is the Armor All Car Wash and Cleaner Kit!
It has everything a mom needs to keep her car spin and span.
This kit includes a highly absorbent, soft, gentle, and durable microfiber wash mitt that is machine washable! Plus, you'll find a lint-free microfiber drying towel that can hold eight times its weight and dries large areas quickly and efficiently.
The multi-purpose foam cleaner is formulated for powerful deep cleaning, and the odor eliminator will help keep your car smelling fresh with a refreshing burst of fragrance.
Runner-Up: Chemical Guys Wash Cleaning Kit for Car
The best car cleaning kit runner-up is the Chemical Guys 14-piece wash kit.
This car washing cleaning kit includes a really neat foam gun that hooks up to any standard hose, producing a foamy clean with no additional tools.
The foam gun is a really fun way to get your little ones involved in cleaning the exterior of your car!
The rest of the kit includes butter wet wax, honeydew foam, wheel gel, glass cleaner, a microfiber wash mitt, a short handle brush, microfiber towels, and a bucket.
Car Cleaning Kit Top Contenders
The above car cleaning kits are the highest rated on Amazon, but here are some top contenders you should check out as well:
1. Autodeco Pink Car Wash Cleaning Kit
Not that I think women need to use pink tools to get the job done, but you can't deny that this car cleaning kit is super cute!
Plus, it comes with everything you need to clean the interior and exterior of your vehicle. Each tool is made from durable and soft materials to provide a lint-free and scratch-free shine.
The best part?
You can use this kit to clean your kitchen, office, windows, and other areas of your home!
2. Kodagia Car Wash Kit
The Kodagia Car Wash Kit also comes with soft and durable tools to provide a scratch-free shine.
The tire brushes are perfect for getting into the wheel gap to clear out gunk and grime.
The cleaning sponges and towels are lint-free and suitable for both dry and wet cleaning. Check out the folding bucket that makes for easy storage!
3. Scrubit Car Wash Kit
This car washing cleaning kit includes a wax kit and all of the supplies and tools you need to spruce up the inside and outside of your car.
Included are car wash soap and wheel cleaner, as well as a compact squeegee to keep your windows sparkling.
4. Aurelio Car Cleaning Kit
The Aurelio Car Cleaning Kit comes with a detachable long-handle, 180-degree brush mop, giving you extra reach, especially if you have a taller vehicle such as a van or SUV.
This kit is designed for quick and easy use with durable tools and a collapsible bucket.
5. Jaronx Home Car Interior Cleaning Kit
If you're looking for a car interior cleaning kit, I've got you covered!
You can run your vehicle through the car wash and take care of the inside with the Jaronx Home cleaning kit.
This 14-piece set includes a variety of detailing brushes, sponge pads, and a cleaner for your vents. There are also brushes that will take care of exterior rust.
6. Drillbrush Car Cleaning Brush Kit
Ready to go heavy-duty? The Drillbrush car cleaning brush kit includes four brushes that can easily attach to your drill for a deep and scratch-free clean!
These brushes are soft enough to shine your car's exterior but rugged enough to clean and scrub aluminum, chrome, and painted rims.
7. Cleaning Gel for Cars
Just hear me out!
Looking for an easy and fun way to clean your car?
For this Cleaning Gel for Cars, simply push the gel into any cracks or crevices in your car, and press the attached vent cleaner on top – the dust will be carried away in no time!
It's made of a durable cleaning gel and smells sweet when using it.
It easily picks up dust, dirt, and dust – making your car look brand new again!
One thing to note is it can turn your fingers blue so wear gloves when handling this gel.
8. Car Vacuum Cleaner
Making sure your car is clean doesn't have to be a chore!
With this Car Vacuum Cleaner, you can keep your car's interior looking neat and tidy with very little effort.
This handy little vacuum is light weight only weighing 2.5 lbs and easy to use.
It comes with 3 attachments for detailing, as well as a filter cleaning brush.
Plus, the LED light is a great for nighttime or trying to clean under seats.
This car vacuum is easy to store under the seat for impromptu car cleaning on-the-go.
9. Ontel Car Wash Cannon Foam Blaster
Looking for an easy and efficient way to wash your car?
The Ontel Car Wash Cannon Foam Blaster comes with a cool foam blasting technology, making it a cinch to clean your car.
It's like going to the car wash at your house!
Simply attach it to your hose and start blasting away.
The spray and rinse setting is perfect for removing caked-on dirt and grime, while the other spray settings make sure your entire car shines like new.
No more scrubbing with sponges or brushes – just spray and rinse!
10. Streak Free Window Cleaner
The Streak Free Window Cleaner gives you streak-free, sparkling clean windows every time.
Plus, it's safe to use on tinted windows and clear plastic surfaces, so you can rest assured it won't damage your car's interior.
Car Cleaning Tips for Moms
While car cleaning kits can do wonders for actually cleaning your car, here are some tips for keeping your vehicle clean and organized:
1. Accept the Mess
Let's be honest: You will drive yourself crazy trying to keep your car spotless when you have kids!
Keeping your car clean as a mom may require more effort and rules than you are willing to deal with. So, while a car cleaning kit will make the job easier, it's probably best that you learn how not to stress about it.
At some point, your kids will grow up and make fewer messes in your car. Until that day, don't panic about the state of your vehicle!
2. Get Car Cleaning Supplies
Apart from getting the best car cleaning kit, it's helpful to have cleaning products on hand for quick wipedowns while you are on the go.
This is why I love the Armor All car cleaning kit because it comes with various wipes to make interior cleaning quick and easy. It can also be helpful to have a duster handy to take care of crumbs, dirt, and grass.
But you can also invest in floor mats to help deal with spills and crumbs. They can be easily removed and hosed down when necessary.
3. Create a Cleaning Schedule
I'm not saying that you should regularly dedicate a bunch of time to completely cleaning your car (see Tip #1!), but a cleaning schedule will help you keep your car in a decent state.
For instance, every Friday you can do a quick clean-through to remove any garbage, dust the floors, and wipe down your car's interior surfaces.
Keeping up with regular tidying of your car means that you will have to spend less time giving it a thorough clean-out – whenever you get around to it.
Car Cleaning Rules!
If you want to prevent messes from happening in the first place, you can always establish some car rules.
For instance, you may decide to not allow anyone to eat in the car.
I can hear you laughing, but it's definitely one way to keep your car from getting dirty.
However, in our busy world, this is not always feasible. As an alternative, you can limit the types of foods your kiddos are allowed to eat in the car, avoiding easy-to-spill (and hard to clean up) items such as milk and dry cereal.
Apart from food, you can make a rule that whatever household items make their way to the car (like toys, sweaters, etc.) have to be brought in after the trip.
Organize
You can be proactive in keeping your car clean by having an organizational system. For example, have a garbage can to collect garbage or a small tote to catch those toys and sweaters that need to come inside.
Or check out these car seat organizers that allow your kids to store their items without the backseat looking like the aftermath of a tornado.
Use totes to organize outdoor items such as beach toys and picnic blankets to take advantage of your trunk space.
Get the Kids Involved
Keeping your car clean can seem like a lot of work, but there's no reason the kiddos can't help out!
All of these car cleaning kits I mentioned come with super-soft microfiber cloths so your little ones can have a ball scrubbing the car without risk of damage to the exterior.
On a nice sunny day, throw on some bathing suits and have fun with the hose!
Even little hands can make the job easier.
Let's Get Clean!
With a car cleaning kit, you can make sure your car is fresh and clean, and, with the above tips, keeping it that way is super easy!
Now it's your turn – Which car cleaning kit do you think is best?
And do you have any other tips for keeping your car clean when you have kids?
Let me know in the comments!