Find the best pregnancy app for your amazing journey and create beautiful memories of this exciting time in your life!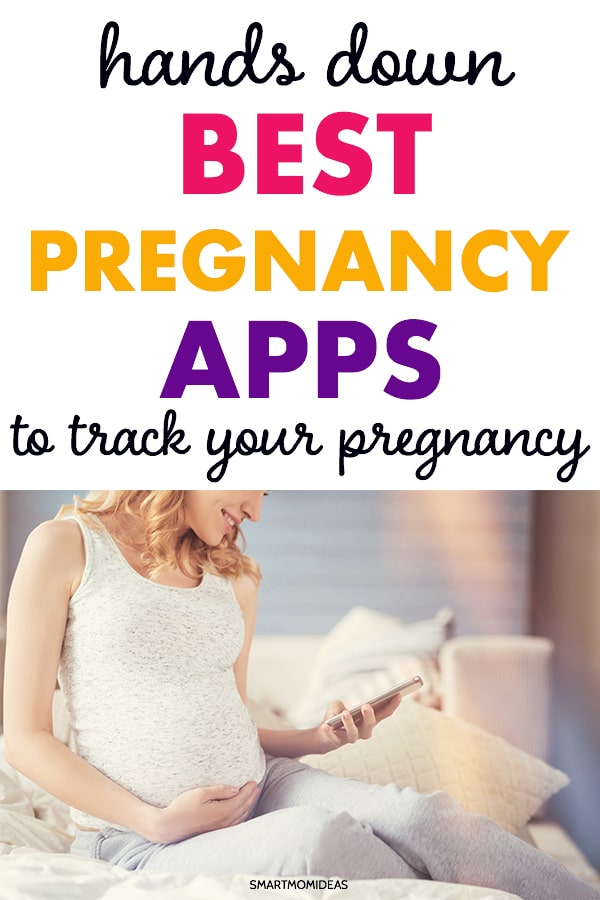 Have you been browsing online looking for the best pregnancy app that has a lot to offer, gives you a fun experience, answers your questions, and keeps you excited about logging in regularly?
It can be hard to find the right one when there are hundreds of apps to choose from. Each day that goes by brings you one day closer to your due date, mama.
You should be enjoying the best app that provides what you want and need throughout your journey.
I'm going to share 10 of the best pregnancy apps you can choose from to help you track your baby's growth throughout your pregnancy. These apps also have many other benefits and goodies to help keep you and baby safe and healthy.
Check them out!
1. Mama Natural
Let me start with the best pregnancy app I've found. The main reason I love Mama Natural is because…you guessed it! All of her tips, content, and advise are geared toward mothers who are committed to (or considering) a natural path.
As you can imagine, her app mirrors those same values.
Benefits:
Week by week updates on your baby's size and development
Sign up for emails, text, and communication through Facebook messenger
Tips on choosing a midwife
Natural ways to relieve pregnancy symptoms
Answers to common questions and more!
2. What to Expect Pregnancy & Baby App
This app is really cool if you're searching for more than just general information about your pregnancy and baby's development. We've all done that. And is it ever time consuming?!
The content you'll receive is personal and geared towards giving you the best experience throughout your pregnancy.
If you're looking for support and to build relationships with other moms, this app may be best for you!
Shows baby's size in development throughout your pregnancy
You'll receive personalized content such as pregnancy tips and health news
You'll also receive support from other moms-to-be and have a chance to hear their stories.
Week by week development info and videos designed to help you understand the changes happening in your body.
A community of other moms that includes real time advice, meetups and photo sharing
Choose the right group for you based on your location, parenting style, birth month, interests, and medical conditions.
3. The Bump Pregnancy App
The Bump is a FREE app that gives you insights and information from experts that are backed by scientific research.
It has over a 4-star rating and other mamas speak highly of the excellent formatting and how well they answer the big and small mother-to-be questions.
Benefits:
Real-time answers to all of your questions
Planner that helps you with each doctor's visit
Daily baby editorial articles
Shows you how big your baby is along the way
Interactive 3D visual of your baby's growth
Catalog of baby products and reviews sold at major retailers
4. Hello Belly: Pregnancy Tips and Tracker
Get helpful tips from medical experts everyday to help you throughout your pregnancy (without the medical jargon of course).
This app is not free, but you can try it out for a month free of charge.
Benefits:
Pregnancy due date calculator
Find out what's normal, what's going on in your body, and what you should be eating.
Must-know information for the first 6 months after your baby is born
Insights about your baby's week by week development
Checklists and handbooks for nutrition, symptoms, shopping, and before birth to do list.
3D and AR visuals of your baby in the womb
And more!
5. Baby Center Pregnancy and Baby App
This is a great app to use if you're pregnant or trying to conceive. It's free, and you can use their ovulation calendar to find out the best times of conception.
One thing I like about this app is that it's extremely helpful during your pregnancy.
But even better, it's designed to be just as helpful after you've had baby. It's there to help you throughout your baby's first year of life. 🙂
Benefits:
Tips for a healthy pregnancy
Track and learn about your baby's development week by week with images and videos
Connect with other mothers who are the same number of months as you
Use the kick counter to track your baby and your labor with a contraction timer
Receive expert advice on sleep, eating, feeding, health and more!
Create (all in one place) photos of all of your baby's firsts!
6. Sprout Pregnancy and Baby App
Sprout helps you to not only track your baby's development, but also gives you an advantage in staying organized (pregnancy brain is real!).
This pregnancy app also helps keeps you educated on the changes your body is experiencing and what to expect as you make your way to the big day.
This app definitely has a personal feel as it allows you to give your baby a name in your account. Bring in the excitement about meeting your precious little one!
Benefits:
Experience real-life moments of your baby's kicks and heartbeat!
Includes a pregnancy journal with PDF view or print features. It includes 350 fun entry ideas and gives you a place to put all of your pregnancy photos and fun memories.
Personalized timeline of your pregnancy journey
Checklists
Daily and weekly information about your baby's development
Useful tools (weight tracker, kick counter, and contraction timer)
7. Glow Pregnancy App
Track your baby's development throughout your pregnancy and get the support you need to make it to the end with less stress.
If you struggle with getting and staying organized, try out Glow Pregnancy.
Benefits:
Due date calculator
Information about your baby's development
Health log for your entire pregnancy
Health insights (get the information you need to have a healthy, happy pregnancy the whole way through)
Let this app keep you organized when it comes to all of your appointments
8. Pregnancy +
Follow your pregnancy and baby's development week by week with high quality beautiful images.
This app is awesome because it can be customized for dads and other family members too!
Get all the information you need in one place to keep you on track in the practical day to day areas of your life, mama.
Benefits:
Daily pregnancy info
Personal diary
Pregnancy weight log
Doctor visits log
Color and scan images
Baby shopping list
Kick counter and contraction timer
Over 1000 baby names
Baby size visualizer and more!
9. Ovia Pregnancy Tracker
This app comes highly recommended by mothers who have used it! Dig in to the wealth of information and tools to make your pregnancy less stressful and more fun!
There is so much going on in your body each day, week, and month. Why not learn all you can on this journey?! This app makes it easy.
Ovia gives you a personal experience throughout your pregnancy. Jump in for your exciting countdown!
Benefits:
Log your symptoms as you track your baby's growth and development
Learn what to expect during each stage of your pregnancy
Baby size comparison features (choose to see your baby's current size compared to a fruit, toy, pastry, or baby animal!)
Due date calculator
Track your health (sleep, weight, blood pressure, symptoms, appointments, notes, mood, and baby's first kick!)
Track your baby's hand and foot size
Weekly video during each week of your pregnancy
Get your questions answered (symptoms, food, and medication safety)
Daily articles about what's going on in your pregnancy each day
10. WebMD Pregnancy
Here's another app that helps you stay organized while learning through the process.
Show off your cute belly bump in the pictures you'll take to create weekly memories as your tummy grows! 🙂
Benefits:
Week by week pregnancy photos of your baby
Log your questions for each of your doctor's visits
Checklists (what to bring to the hospital, what baby gear to purchase, and more!)
Belly photo album- take a picture of your belly each week and watch it grow! Start making memories you'll be thankful to look at later on.
Pregnancy community- join other expecting mothers to get help, support, and advice.
Get customized content if you're expecting twins! 🙂
Find the Right One For You!
This is such an exciting time for you, mama! You now know the best pregnancy apps to help you track your pregnancy and get all the information and support you need.
It's exciting to be able to learn and walk through this amazing journey with other mothers as well. I encourage you to try out these apps to see which one you like best.
It may seem like you'll never forget this incredible (and sometimes challenging) journey. But trust me, you can! That's why tracking it and creating daily or weekly memories is so important. Especially if you have more children down the line.
Make each day special and every moment count for your happiness and overall well-being, mama.
The big day is approaching and I'm so excited for you!
Comment down below with any of your favorite pregnancy apps you've found. If you love it, I'd be happy to add it to this list!
Don't forget to pin me!